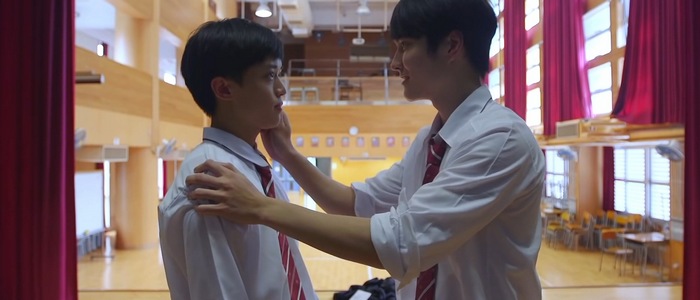 I Go To School Not By Bus is a Hong Kong BL movie about a high school romance. An artistic student and his athletic classmate begin a sweet friendship that develops into a romantic attraction. However, they are constantly challenged by nosy classmates and homophobic teachers, making them self-conscious about their close bond.
Despite the silly name, I Go To School Not By Bus features a sincere and heartfelt connection between two gay youths. This short film uses its thirty minutes effectively, conveying an authentic relationship with engaging drama. The movie's second half feels a bit incomplete, making me wish the story could have been expanded fully.
I Go To School Not By Bus Summary
What is the movie called?
放肆
Where was the film made?
Hong Kong
When was the film released?
2015
How long is the movie?
Around 35 minutes
What is the genre?
High school romance
How would you describe the film?
Sad and emotional
Who is the director?
Morris Ng
Is I Go To School Not By Bus BL?
Yes, there is a gay romance.
Plot

Ming and Hei are two ordinary high school students. Ming is quiet, sensitive, and creative. He loves to draw and design, although his teachers keep saying an art career won't make him any money. Meanwhile, Hei is outgoing, energetic, and athletic. He loves sports and aspires to become a gym teacher.
Despite their opposite personalities, Ming and Hei start hanging out with each other more frequently. Hei is known around the school campus as an openly gay student. Due to his close bond with Ming, several female classmates speculate a potential romance is brewing between them. The gossip makes Ming feel uncomfortable and self-conscious.
The teachers at Ming and Hei's school are not warm or supportive. One of the teachers, Mr. Mak, is intensely bigoted and preaches his homophobic views in class. While Hei has learned to shrug off his lectures, Mr. Mak's strict words resonate with Ming. He feels even more uncertain about his sexuality and his growing bond with Hei.
I Go To School Not By Bus Cast
Characters
Ming Zeno Koo (顧定軒) Zeno Koo Instagram

Ming is a high school student who loves art and design. He is part of the school's theatre club, helping to create beautiful sets. Ming is sensitive and introverted, feeling self-conscious about the gossip around the school. Although he isn't physically active, Hei motivates Ming to train and exercise together.
Hei Vincent Leung (梁啟倫)

Hei is a high school student who loves sports and fitness. He aspires to become a physical education teacher in the future. Hei is lively, outgoing, and full of boisterous energy. As an openly gay student, he shrugs off his classmates' nosy gossip and his teachers' homophobic lectures.
Supporting Cast

Mr. Mak
Sing Lai (卓成)

Ms. Ho
Hoi Ching (凱晴)

Rose
Zoey Ho (何倩盈)

Eva
Kate Wong (黃凱綺)
Cast Highlights
Ming's actor (Zeno Koo) has taken on a few LGBT roles in his career. He has portrayed another gay character in the 2015 short film The Sea's Blue Is Not My Blue. In addition, he also played a trans character in the 2018 Hong Kong film Tracey.
I Go To School Not By Bus Review
Review

I Go To School Not By Bus is a decent BL movie that depicts the budding relationship between two high school students. Although it's a short film, the story is told concisely and compellingly in just thirty minutes. It uses the time wisely to establish the characters, their rapport, and all the drama surrounding their bond. You'll find yourself quickly immersed in their campus romance, which feels sweet, genuine, and down-to-earth.
The first half of the movie is persuasive. As the main characters interact in various one-on-one exchanges, there's a gradual transition from friendship to attraction. The scenes between them are cute, portraying the innocence and intimacy of two teenagers who fall in love. At the same time, I Go To School Not By Bus sets up palpable tension around the couple. Faced with gossip and homophobia, the future of their romance seems uncertain, making you cherish their moments together.
The second half of the film is exciting. The plot is brought to a powerful climax, which feels emotional and exhilarating to watch. I love the confrontation between Ming and Hei, highlighted by meaningful dialogue that touches upon the narrative themes. Unfortunately, the aftermath isn't satisfying when the movie leaps to an abrupt conclusion. All that buildup goes to waste, cutting off the plot just as we get to the heart of the drama. There's a sense of incompleteness to the ending with so much story left to be told.
I Go To School Not By Bus is elevated by the acting. The above-average performances take an ordinary high school love story and turn it into an epic romance. Ming's actor (Zeno Koo) does a superb job, conveying sensitivity, vulnerability, and authenticity in his emotions. Plus, Zeno is adorable and exudes the aura of a perfect BL twink. 😙 His costar (Vincent Leung) isn't on the same level and does falter on occasions. Nonetheless, both leads sell a convincing romance that I buy into completely.
A few scenes are plagued by unclear audio issues, the sign of filming under budget constraints. You may observe a lack of polish in other aspects here and there, minor faults that are tolerable yet noticeable. I suspect budget issues probably explain why the movie is so short and ends at an unsatisfying point. It's regrettable I Go To School Not By Bus doesn't have more production resources, because the story and romance shine despite the limitations. If you don't mind a diamond in the rough, this film is a special little gem that deserves your support.
I Go To School Not By Bus Movie
I Go To School Not By Bus Information
Links