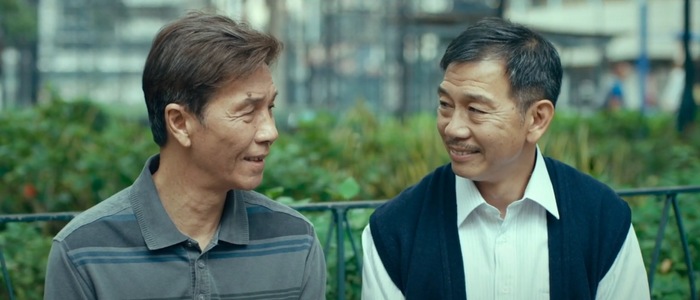 Also known as Twilight's Kiss, Suk Suk is a Hong Kong movie about a secret romance between two elderly gay men. Both characters are deeply closeted seniors who married, raised children, and led conventionally heterosexual lives. Yet, they fall in love at an unlikely age, maintaining a forbidden affair that their families can never know.
Suk Suk is a rare gem that stands out exquisitely in the genre of gay cinema. It showcases a tender and affectionate relationship between two older men, something you won't see in many LGBT films. This subtle movie makes a stunning impression with its complex characters, elegant storytelling, and poignant tone.
Suk Suk Summary
What is the movie called?
叔叔
Where was the film made?
Hong Kong
When was the movie released?
2019
How long is Suk Suk?
Around 1 hour and 30 minutes
What is the genre?
Romance
How would you describe the film?
Deep and thoughtful
Who is the director?
Ray Yeung
Is Suk Suk BL?
Yes, Suk Suk has a gay romance.
Plot

Pak is an elderly taxi driver married to his wife for many decades. He has two adult children and an adorable granddaughter. Beneath his blissful family façade, Pak is a closeted gay man who goes cruising in public restrooms. One day, he tries searching for hookups at a nearby park, where Pak meets another senior named Hoi. The two of them get to know each other, quickly developing a rapport.
Hoi is retired and has been divorced for a long time. After his separation, he remained a single father who raised his son Wan by himself. Hoi currently lives with his son's family, including a granddaughter whom he adores. Since his son and daughter-in-law are highly religious, Hoi also became a convert. The relationship between Hoi and Wan is strained. Wan criticizes his elderly father a lot, giving him a tough time.
Pak and Hoi deepen their bond, eventually consummating their attraction at a gay bathhouse. At first, Pak maintained a distance around his secret lover, unwilling to display their closeness in public. He warmed up over time, allowing Hoi into his personal life. As their affair intensifies, Pak constantly makes excuses to sneak around with his new lover. However, his wife Ching has observed the changes in her husband's behaviour. Meanwhile, Hoi is also hiding the truth from his son and won't be honest about his sexuality.
Hoi has a close circle of senior gay friends, who are part of an LGBT organization. As they grow older, it's harder for Hoi's friends like Chiu and Dior to live independently without family support. They would like to appeal to the government about setting up an exclusively gay retirement house. However, few members in their community are willing to endorse the idea on a public platform. They are reluctant to come out, speak up, and fight for their rights.
Suk Suk Trailer
Suk Suk Cast
Characters
Pak Tai Bo (張嘉年) Tai Bo Facebook

Pak is an elderly married man with a wife, two adult children, and a granddaughter. He works as a taxi driver and takes great pride in his work. Deep down, Pak is a closeted gay man who has secret hookups in public restrooms. His life changes once he meets Hoi as their forbidden romance begins.
Hoi Ben Yuen (袁富華) Ben Yuen Instagram

Hoi is a retired man who used to work in a camera store. He has been divorced a long time, raising his son Wan as a single dad. Currently, Hoi lives with his son, daughter-in-law, and granddaughter in the same apartment. Hoi is religious, converted by his deeply spiritual son.
Supporting Cast

Ching
Patra Au (區嘉雯)

Wan
Siuyea Lo (盧鎮業)

Chiu
Kong To (江圖)

Dior
Shmily (施魅力)

Edmond
Sing Lam (林耀聲)

Fong
Wong Hiu Yee (王曉怡)

Zheng
Hu Yixin (胡軼心)

Lok
Gordon Wong (黃國輝)

Lei Lei
Pun Chi Sin (潘姿善)

Grace
Wong Ching Yu (黃靖瑜)

Joyce
Lau Ting Kwan (劉亭君)
Cast Highlights
The lead actors Tai Bo and Ben Yuen were both nominated for the Golden Horse Awards for their performances in Suk Suk. The actress Patra Au was also nominated for her supporting role.
Tai Bo won in the Best Actor category for Suk Suk at the Hong Kong Film Awards. Patra Au also won the Best Supporting Actress award. In the previous year, Ben Yuen won the Best Supporting Actor award for his performance in another LGBT film Tracey.
Edmond's actor Sing Lam starred in several gay storylines in his career, including TV dramas Margaret & David – Green Bean (2016), VR Exorcist (2018), and the movie Stoma (2020).
Director Ray Yeung led two other LGBT films before Suk Suk. His works include Cut Sleeve Boys (2005) and Front Cover (2015). Interestingly, both are English-language movies with gay romances featuring Asian characters.
Suk Suk Review
Review

Suk Suk (otherwise known as Twilight's Kiss) is an exceptionally unique movie in the landscape of LGBT cinema. In all my years of watching gay films worldwide, I can't recall too many stories about elderly men falling in love. Typically, this genre is dominated by strapping young studs of a certain age and demographic. It's not often the spotlight shines on the senior characters, portraying a tender and affectionate relationship between them. Suk Suk feels daring, distinctive, and revolutionary, unlike anything else out there.
Although groundbreaking in many ways, Suk Suk is actually a pretty conventional love story. The plot focuses on two closeted gay men who have a secret affair, not exactly a new concept. However, the strength of the movie lies in its elegant simplicity. The protagonists are remarkably down-to-earth, leading such ordinary lives that I'm impressed by the authenticity. Their portrayals are supported by excellent writing, giving us intimate insights into these well-developed characters.
A surprisingly tender romance develops between Pak and Hoi. They grow close over their cerebral bond, but there's also a tasteful emphasis on their physical attraction. The characters are shown kissing, having sex, and reciprocating affection with each other. I'm astonished by their bold relationship scenes since elderly gay characters are almost always depicted as celibate and sexless. Suk Suk is refreshing because it defies societal stigma and showcases a well-rounded relationship on multiple levels.
While the physical passion is commendable, where this movie shines the most is the emotional aspect. Both Pak and Hoi are flawed protagonists who nonetheless evoke sympathy from their complex circumstances. However, Suk Suk is a sentimental and introspective film that never overpowers you with melodrama. In fact, the storytelling is beautifully understated without any heated arguments, hysterical tears, or dramatic climaxes. It is delicate and shows a lot of restraint, subtly weaving its soft melancholic undertones into the narrative.
The acting performances are stellar. Both leads (Tai Bo and Ben Yuen) draw from their decades of career experience, bringing a poignant and nuanced interpretation of their characters. They are natural, comfortable, and confident in every scene. In interviews, the director Ray Yeung highlighted the challenge of finding older performers open-minded enough to sign onto this LGBT project. The Suk Suk actors must be commended for their professionalism, tackling this gay romance without any compromises.
In case my effusively positive review wasn't obvious, I loved Suk Suk. I acknowledge a few areas that could use more development, like enriching the relationship dynamics with the wife or the son. The narrative may also be too slow and subtle for some viewers. However, these minor quibbles do not detract from my overall appreciation of the film. As a whole, it's a sensitive and thoughtful movie with monumental cultural significance. I'd highly recommend Suk Suk for any gay cinema enthusiasts.
Story review
Sensitive story

Alright, I'm calling out your ageism. Many of you won't be interested in Suk Suk because it's a love story about two older men. I hope I'm wrong, but do you admit this movie doesn't hold as much allure as other BL stories I've reviewed on this website? The norm for a fictional gay relationship features young good looking guys around their twenties. A film about seniors falling in love might seem uninteresting to you.
Of course, the geriatric romance is also Suk Suk's selling point. It's a refreshing take at the genre, exploring a generation of gay men that doesn't get much media representation. It's even rarer to see such an intimate portrayal of romance between these elderly characters. Unfortunately, few movies like Suk Suk get made because this premise isn't mainstream or marketable. It may not come as a surprise, but films about closeted old men aren't considered commercially viable.
Against all the odds, a filmmaker took a gamble with Suk Suk. The result is an intimate gay romance told through a unique perspective. It captures the magic of finding love, even when you are in your sixties or beyond. While this niche movie won't appeal to everyone, I enjoyed the authentic story with a meaningful message. Give Suk Suk a chance and you may enjoy it too!
Romance review
Secret romance

Gay elderly characters aren't depicted as sexually active in media. They seldom find romance, and their sexual desires certainly don't get highlighted with much detail. Suk Suk defies conventional norms by not shying away from the affectionate scenes. A crucial part of this romance is the physical attraction between Pak and Hoi, which the movie displays vividly. The two characters kiss, caress each other's bodies, and even consummate their love.
It must be noted that the relationship scenes aren't graphic or explicit. Instead, they are tender, artistic, and tasteful. The physicality is subtle, but we see enough interactions that the attraction between Pak and Hoi feels authentic. Dare I say, Suk Suk is more intimate and risqué than some BL dramas with younger actors.
However, the romance doesn't just highlight their physical bond. Pak and Hoi also share an emotional kinship as two closeted men who repressed their sexuality to fit in with society. In a different era, with a more open-minded community, perhaps these characters wouldn't have to hide who they were. As their secret affair ignites, a part of me knows this relationship doesn't have longevity. The bliss between them is a short-lived illusion, gone by the time they return to their families and pretend to be straight again.
Acting review
Great acting

Both actors (Tai Bo and Ben Yuen) put in splendid performances, packed with subtle expressions and authentic feelings. Part of the challenge in Suk Suk is that the drama feels very understated. There aren't any epic scenes where the characters cry, argue, or confront each other. Instead, the actors have to rely on conveying their emotions subtly and elegantly. As a result, there's a quiet yet dignified restraint to their performances.
Unsurprisingly, the cast won many acting awards in Hong Kong and also secured nominations in the prestigious Golden Horse Awards. Tai Bo already won the Best Actor award for another movie two decades ago, so this nomination is another milestone in his established career.
Ending review
Sad ending

Suk Suk has a sad ending where Pak and Hoi don't end up together. For a while, Pak seemed conflicted between choosing his wife and his secret gay lover. However, he made up his mind after experiencing a few emotionally significant incidents with his family.
Pak shared a heartfelt exchange with his daughter Fong. She thanked him for giving up his taxi career, allowing her husband to take over and have a stable job.
After quitting his job, Pak received allowance money from his son. Lok wanted his father to have an income so that he could enjoy his retirement life.
Although both events seem minor, they show how much Pak's children adore their father. If he comes out, Pak risks losing their respect. He spent decades as a devoted husband and father, working hard to build a happy family unit around himself. After thinking long and hard, Pak realizes that he cherishes his wife and children more than his gay lover. Even if it means not being honest with himself, Pak is willing to make that sacrifice to keep his current life intact.
Suk Suk Analysis
Analysis
Suk suk meaning

Suk Suk means uncle in Cantonese. In Hong Kong, suk suk (叔叔) is used as a term of endearment to describe an older man. Typically, this label is associated with middle-aged men. The Cantonese term for grandpa identifies Pak and Hoi's age demographic more accurately. However, calling them "suk suk" works as well. In fact, it's considered polite since their age gets downplayed. It's the same as referring to an old man as an uncle instead of a grandpa.
You may have noticed that Suk Suk goes by another English-translated movie title, Twilight's Kiss. Apparently, the original name got changed in some countries because it sounds too similar to "Suck Suck", which comes with negative connotations. The new title refers to how Pak and Hoi are together in their twilight years. I debated on whether to call the movie Suk Suk or Twilight's Kiss in this review. Ultimately, I picked Suk Suk because it feels more intimate to me as a Cantonese speaker.
Pak

In addition to being a gay romance, Suk Suk is a family drama that explores the nuances of a closeted married man. On the surface, Pak is surrounded by a loving family, including two kids and a cute granddaughter. Beneath his façade, he's cruising public restrooms for secret gay hookups. Despite being married to a woman for many decades, he's sexually unsatisfied and craves for the male touch.
Pak's story resonates because he feels like an authentic character. I can imagine many Paks in real life around the world, all married men who spent their lives in the closet. The realistic writing helps with his characterization, especially those dinner scenes with Pak's family. Their dialogue seems mundane, but the characters sound like an ordinary Hong Kong family during a gathering. The realistic dinner scenes immersed me in the movie, making Pak's family life feel down-to-earth and believable.
Pak might not be a faithful husband, but he's a devoted father who has excellent relationships with his kids. When Pak gave his taxi to Fong's husband, it was a significant gesture of love and support for his daughter. It shows how much he cares for his children. Had Pak lived honestly as a gay man, he wouldn't have experienced parenthood or its rewarding journey. Pak's dilemma is that he had to choose between his identity or his family. And he, like many men from his generation, picked the latter option.
Hoi

Although Hoi is also closeted, his family situation is different from Pak. Hoi is a single divorced dad who raised his son Wan by himself. In a unique twist, he hasn't come out because of his son. Typically, the roles are reversed and it's the child who hides his sexuality from the parent. However, Hoi fears the judgment, rejection, and repercussions of living openly as a gay man.
You'd think Hoi and his son should have a close relationship, but Wan treats his dad harshly. When Wan is first introduced, you may be startled by the character's antagonism towards his dad. In one scene, he yells at his dad for feeding sweets to Grace because of her health. In a quieter tone, he also tells his dad to not eat any himself. It shows that Wan cares about his dad's well-being, even if he masks his compassion with a veil of bitterness.
As we see more interactions between Hoi and his son, it becomes clear that Wan knows about his dad's sexuality. Hoi thinks he kept the secret hidden, but Wan definitely knows and doesn't address the elephant in the room. He adopts an unofficial ~don't ask, don't tell~ stance about his dad being gay. Wan's awareness might explain some of his fervent devotion to religion. It also sheds light on Hoi and Wan's complicated relationship, filled with tension, confusion, and unspoken truths.
Extramarital affair

As poignant as I find Pak and Hoi's romance, I don't advocate for gay men who cheat on their wives. Pak's extramarital affair must be scrutinized instead of romanticized. While I'm sympathetic to the characters' circumstances, I can't overlook the sleaziness of the love story in Suk Suk. Any happiness between the gay leads comes at the expense of Pak's long-suffering wife Ching.
The movie implies that Ching suspects her husband is having an affair. After living together for decades, she's in tune with her husband's emotions and observes a recent change in his behaviour. She senses Pak is unhappy, just like how he could tell when his wife feels upset. The movie is sprinkled with little moments that show how much these two understand each other. There may not be physical intimacy between them, but they demonstrate spousal love and support.
Although Ching is worried about her husband, she never has an honest conversation with him. She's afraid of confirming her suspicions and finding out the truth. What ugliness will come out if Ching confronts him about his affair? If they separate at their age, she'll lose the stability of marriage and a lifelong companion who takes care of her. Ching decides it's better to look the other way at her husband's indiscretions. Like Pak, she'll sacrifice some happiness to keep the pretense of their marriage intact.
Elderly life

Suk Suk has a unique subplot involving Hoi's circle of friends, all elderly men in a close-knitted gay community. The movie gives us a glimpse into their lives, camaraderie, and struggles. Some live alone without families, unlike Pak and Hoi who have kids to take care of them. It shows another dimension to being a senior gay man like Chiu. He must cope with growing old and take care of his health issues by himself.
The gay retirement home storyline is another thought-provoking topic handled sensitively by the movie. In recent years, gay-friendly retirement communities have been on the rise in progressive countries. There's a demand for these accommodations, especially since older LGBT individuals are more susceptible to living alone without family support. I'm glad Suk Suk brought up this topic for discussion and raised awareness.
By the way, the movie's events happened in real life. In 2016, the actor portraying Dior (Shmily) spoke publicly to the government about building retirement homes for the elderly gay community. The actor was basically playing a fictionalized version of himself, and he's as much of an LGBT advocate outside the movie. The gay retirement home development plans never became a reality, but his admirable efforts are still worthy of our respect.
LGBT equality in Hong Kong

Unfortunately, a gay retirement home seems impossible in Hong Kong. The most unrealistic part of Suk Suk is when the characters appeal to the legislative council for LGBT rights. Let's get real, the Hong Kong government will never champion gay equality, not when it has already imprisoned countless brave activists. The most vocal advocates fighting relentlessly to make this city a better place are stigmatized and prosecuted.
Hong Kong protesters are jailed for speaking up about freedom, democracy, and human rights every day. Meanwhile, the corrupt lawmakers ruin the city as they take orders from their puppetmasters in the homophobic Chinese government. As China squeezes the dwindling liberties out of Hong Kong, the city's LGBT equality will trend towards a rapid decline.
In today's Hong Kong, characters like Dior and Chiu could get senselessly thrown into jail for being too outspoken. Pak, Hoi, and many others will remain oppressed, keep their heads down, and pretend to live normally under tyrannical rule. If this unfair society sounds depressing, please pay attention to the democratic voices of Hongkongers and express your support.
Suk Suk Ending Explained
Ending
Pak and Hoi breakup

Suk Suk has a sad ending where Pak ends his relationship with Hoi. The breakup isn't explicit and they never say the official words. However, Pak returns the gift that Hoi gave him previously. Pak says that he doesn't need the cross anymore, emphasizing that his family doesn't believe in religion. Note how he brings up his family, the real reason why their relationship won't work out.
The breakup scene mirrors an earlier moment in the movie. Both characters are seated in the same place overlooking the sea. In the earlier scene, the mood is hopeful when Pak accepts the token of affection from Hoi. You almost believe Pak is willing to give this relationship a chance. However, the last scene is pessimistic as Pak rejects the love and walks away from his affair.
Unfortunately, it feels true-to-life that Pak wouldn't sacrifice his family for a short-term fling. He already hid his sexuality for decades, and his character will bring this secret with him to his grave. Although Hoi partially expected this outcome, he's still visibly shaken by the breakup. Whether you see it coming or not, getting rejected by the one you love hurts. 💔
Closeted Hoi

Hoi's friends want to elect a spokesperson for their upcoming speech about the gay retirement home. Dior is the only one willing to speak up, whereas Chiu doesn't want the spotlight on him. Edmond asks Hoi if he's interested in volunteering. However, Hoi bluntly says he'll never live in a gay retirement home, fearing his son might find out about his sexuality. In the end, Dior and Chiu become the speakers. As much as Chiu resisted, he ultimately stepped up and advocated for his liberties.
Despite Hoi's precautions, the Suk Suk ending reveals that Wan knows his father is gay all along. There was foreshadowing in an earlier scene, where Wan yelled at his wife for asking Hoi too many questions about his new friend. His anger came from a place of panic, because he knew his dad was cheating and didn't want to force him to lie. Wan prefers the current arrangement where nobody confronts the truth. Hoi won't confess to being gay, while Wan pretends not to know.
In the ending, Wan overhears his father listening to a gay rights speech through the thin apartment walls. Of course, Wan already knew about his father's secret beforehand, but this scene makes it evident for the viewers. It gives us an example of how Hoi could get sloppy and inadvertently reveal that he's gay. After living together for decades, you can imagine other past instances where Hoi slipped up around his astute son.
Wan

Wan hesitates before he knocks on the door and tells his dad to turn down the volume. He's reluctant to embarrass his father, like catching him while viewing an adult video. Except, in this case, he's watching an impassioned speech about gay equality instead. 😅 By speaking up, Wan subtly lets his father know that his sexuality isn't a secret. However, it's implied he wants to keep the truth quiet. In other words, you can be gay, but don't let me know.
Wan's feelings on his dad's sexuality lie somewhere in the middle between acceptance and condemnation. He doesn't totally embrace his gay father, preferring to keep up the inconspicuous charade. However, he also isn't completely heartless. Wan still wants to include his dad in the family. He feels an affinity, or at least a sense of obligation, to the man who singlehandedly raised him.
At the end of the movie, their relationship dynamic remains complicated. Until Hoi is ready to be honest, the father-son duo will be stuck in this perpetual limbo of half-truths and half-lies.
Ending explained

The final scene features Pak entering a church and sitting down with a solemn look on his face. In typical Suk Suk fashion, it's an understated conclusion without any dialogue, melodrama, or tears. You have to read between the lines to interpret the symbolism of this ambiguous ending.
Earlier in the movie, Hoi emphasized the importance of religion in his life. He believes that his spiritual belief allows him to reconnect with his son in the afterlife. That's why Hoi gave Pak the cross, convinced him to visit the church, and tried turning his lover into a concert. He thinks religion will be their connection in the afterlife. At the time, Pak didn't believe the theory and refused to attend church with him.
However, Pak changes his mind after their breakup. Despite his earlier skepticism, he steps into a church for the first time in his life. No, his character doesn't suddenly become religious overnight. Instead, Pak is guided by the desire to reconnect with Hoi in the afterlife. He acknowledges they can't be together in this life, but Pak holds the hope their spirits can reunite again after they die. 😢
Suk Suk Online
Links