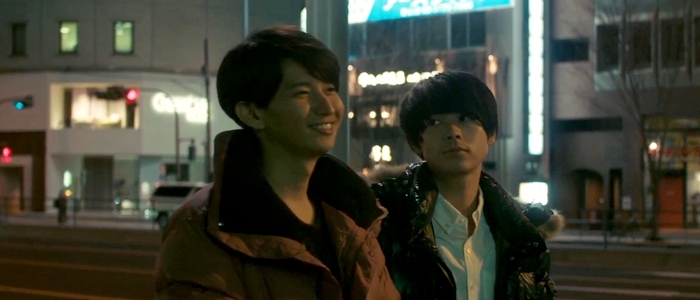 The Cornered Mouse Dreams of Cheese is a Japanese BL movie based on a manga. The main character is an unfaithful married man cheating on his wife. When his detective friend discovers the affair, he agrees to keep it a secret in exchange for a passionate kiss. Their first kiss unlocks a turbulent relationship between the pair, in a journey filled with desire, mistrust, and heartbreak.
Although the characters in The Cornered Mouse Dreams of Cheese are troubled and flawed, their volatile dynamic is compelling to watch. This unconventional love story is backed by steamy moments, delicate emotions, and powerful acting performances. It's one of my favourite BL romances and I revisit the movie each time with fondness.
The Cornered Mouse Dreams of Cheese Movie Summary
What is the movie called?
窮鼠はチーズの夢を見る
Where was the film made?
Japan
When was the movie released?
2020
How long is the movie?
Around 2 hours
What is the genre?
Romance
How would you describe the film?
Sad and bittersweet
Is the movie based on manga?
Yes, written by Setona Mizushiro
Is it a BL film?
Yes, the movie has BL encounters.
Plot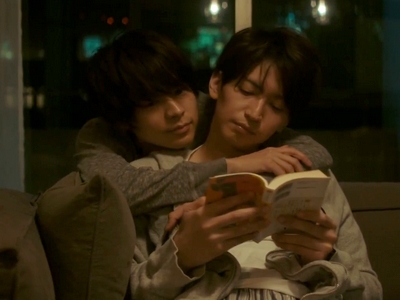 Kyouichi is a married man who has been cheating on his wife with a mistress. One day, he is approached by his university friend Imagase, who presents incriminating evidence of his adultery. Imagase works as a private detective, recently hired by Kyouichi's wife to investigate his infidelity. In exchange for keeping the affair a secret, Kyouichi reluctantly agrees to share a passionate kiss with Imagase.
After their first encounter, Imagase catches Kyouichi cheating yet again. When Imagase threatens to tell the truth to his wife, Kyouichi tempts him with another making-out session. This time, the two of them go beyond just kissing, as their secret tryst takes on a sexual nature. Although Imagase didn't expose the affair as promised, Kyouichi's wife is so unhappy with her marriage that she leaves him anyway.
Imagase begins to spend a lot more time hanging out with the newly single divorcee Kyouichi. Although Kyouichi remains distant around him at first, he warms to Imagase's presence over time. The two of them shack up in Kyouichi's apartment, sharing clothes and even sleeping in the same bed together. Imagase is overjoyed because he had a massive crush on Kyouichi since they met in university eight years ago.
Despite their growing intimacy, Kyouichi refuses to commit to an actual relationship with Imagase. He is consistently tempted to sleep with other women, making Imagase jealous, obsessive, and upset. Kyouichi doesn't see Imagase as a viable love interest and still seems uncomfortable about having a relationship with a man. Poor Imagase is left feeling increasingly desperate as he clings to his unwavering love for Kyouichi, who may never love him back.
The Cornered Cheese Dreams of Cheese Movie Trailer
The Cornered Mouse Dreams of Cheese Movie Cast
Characters
Kyouichi
Tadayoshi Okura (大倉忠義)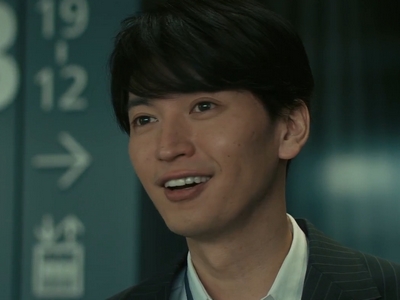 Kyouichi works at an advertising agency. He is married, but has been cheating on his wife with another mistress. With a fondness for small romantic gestures, the ladies seem to love Kyouichi and flock to him in droves. Beneath his friendly personality, he can be passive, indecisive, and frustratingly spineless.
Imagase
Ryo Narita (成田凌)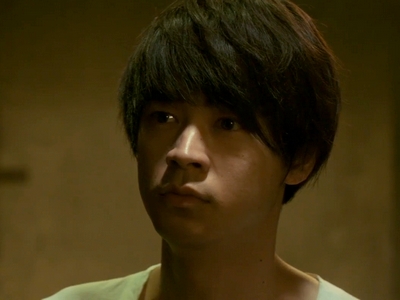 Imagase works as a private detective. He reconnects with his old university crush Kyouichi while working on an investigation. With no prospect of personal boundaries, Imagase is obsessive about his love for Kyouichi and has an intense streak of jealousy. He is not above checking his partner's text messages, stalking him, and spying on his every move.
Supporting Cast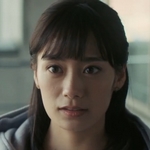 Tamaki
Shiori Yoshida (吉田志織)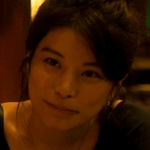 Natsuo
Honami Sato (さとうほなみ)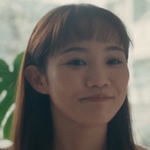 Chikako
Miyu Sakihi (咲妃みゆ)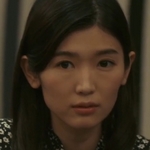 Kyouichi's mistress
Noriko Kijima (木嶋のりこ)
The Cornered Mouse Dreams of Cheese Movie Review
Review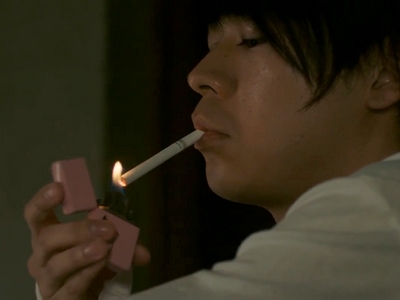 I need to emphasize how excited I was to watch The Cornered Mouse Dreams of Cheese. This might be one of my most anticipated BL movies in the past few years. My review will be super biased because I LOVE the manga and have a HUGE crush on one of the actors. When I found out Ryo Narita was cast in this movie adaptation, I shed a tear of happiness. Is this what having your dreams come true feels like? 😭
Despite my incredibly high expectations, The Cornered Mouse Dreams of Cheese was even better than I had imagined. This mesmerizing movie brought one of my favourite stories to life with such a delicate sensitivity. Although I knew how the events would unfold, I was still transfixed by every scene, every argument, and every heartbreaking moment. From start to finish, the relationship drama felt so emotionally gripping that it took my breath away.
The Cornered Mouse Dreams of Cheese explores the dysfunctional romance between Kyouichi and Imagase, both deeply flawed characters. The two of them go through an emotional journey with many ups and downs. Their relationship is like a flickering flame, but Kyouichi isn't doing enough to keep it alive. At the same time, Imagase wants to cling onto it so badly that he hurts himself in the process. What makes The Cornered Mouse Dreams of Cheese so compelling is that the love feels so brittle, threatening to break at any moment, yet surprising you with its resilience at times.
The two outstanding leads anchor the exhilarating drama behind The Cornered Mouse Dreams of Cheese. Imagase's actor (Ryo Narita) is outstanding in this role, capturing the emotional vulnerability in his character perfectly with a sprinkle of eccentricity. The actor is just as exceptional at delivering the big powerful performances as he is in pulling off the smaller, more subtle moments. I already liked him so much before this project, but his wonderful portrayal of Imagase's character just made me an even bigger fan.
Initially, I didn't love the ending in The Cornered Mouse Dreams of Cheese, which deviated from the original manga. Those who torture themselves over faithful adaptions will probably HATE this polarizing ending. However, the more I thought about it afterwards, the more I learned to appreciate the symbolism behind how the movie concluded. There's beautiful artistry to this opaque ending, which carries a subtle sense of optimism beneath the bleakness on the surface.
Earlier in my review, I joked about shedding tears of happiness, but that actually describes how I feel after finishing this movie. I was beyond impressed with The Cornered Mouse Dreams of Cheese, which exceeded all my expectations. From the riveting relationship drama to the powerful acting performances, this story resonates with me no matter how many times I revisit it. I'm so happy to consider The Cornered Mouse Dreams of Cheese as one of my favourite gay movies of all time.
Story Review
Riveting story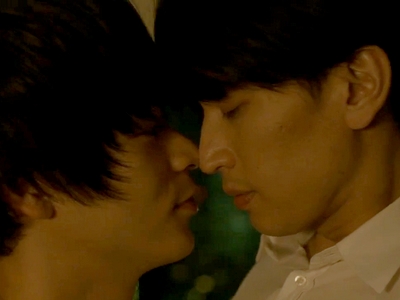 This movie is a tortured love story about a dysfunctional couple. Kyouichi is a serial adulterer incapable of honesty, while Imagase is an obsessive stalker with a jealous streak. They develop feelings in spite of triggering each other's worst qualities. For Kyouichi, he is insecure about commitment, and unable to come to terms with his same-sex attraction. For Imagase, he is vulnerable over his intense passion, with a crippling fear that his partner doesn't feel the same way.
These flawed yet complex characters drive the story in The Cornered Mouse Dreams of Cheese. No, they aren't always likable. And no, their romance isn't exactly healthy either. Nevertheless, the two of them are compelling together with a volatile relationship dynamic that goes through many emotional ups and downs. It's a turbulent journey with lots of melodrama, betrayal, and mistrust, but also just as much joy, tenderness, and passion.
😎 Who's the best character?
Imagase
Imagase is a wonderfully complex character with so many personality flaws, yet he shows such a raw vulnerability that I can't help but sympathize with him. He's also played by the brilliant Ryo Narita, who delivers a powerfully nuanced performance in this role.
🍑 Is there any nudity?
Lots of nudity
Oh my goodness, yes. There is a lot of nudity in The Cornered Mouse Dreams of Cheese. You see both leads butt naked in a handful of scenes, with clear camera angles, bright lighting conditions, and all the works. You also see copious amounts of explicit sex during the movie.
🎯 Are there any triggers?
Adultery & toxic relationships
The characters in this movie are quite problematic, so many of their actions and behaviours will have you gritting your teeth. 😬 For starters, Kyouichi does a lot of cheating throughout the story. Imagase also does plenty of morally shady things, driven by jealousy and obsession. Plus, there's a pointedly homophobic exchange with Kyouichi's ex-girlfriend, and she says some pretty unpleasant things to Imagase.
⭐ What's the best part?
The story
Like I said in my review, I'm totally biased because I've loved the manga for a long time. The Cornered Mouse Dreams of Cheese is not my first foray into BL, but it's one of the first fictional works that really resonated with me in this genre. I just love the story so much, full of flawed characters, tortured romances, complex dynamics, and volatile drama at every turn. Seeing a favourite story of mine come to life in the movie so vividly is just phenomenal.
📝 What would you change?
The ending
It's not that I hated the ending, but just that I loved everything else about the movie and wouldn't want to make any changes elsewhere. I go back and forth with the ending, unsure whether I prefer the manga version or the movie version. Do I want a happy ending served on a platter, or do I want a more abstract and open-ended conclusion?
Romance Review
Exciting romance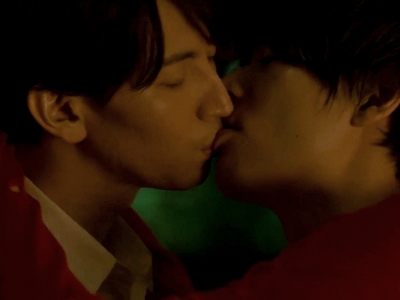 The romance between Kyouichi and Imagase is exciting to watch because it can get quite naughty. Not many BL stories begin with a love interest blackmailing another man into kissing him. This isn't the healthiest start to a relationship, to put it mildly. Although it doesn't justify Imagase's actions, Kyouichi is pretty scummy himself, repeatedly cheating even after getting caught. The severity of Imagase's blackmail would've seemed a lot worse if Kyouichi wasn't just as morally questionable.
We don't know Kyouichi's thought process when he agreed to Imagase's outrageous offer at first. However, if you did it once and felt comfortable enough to kiss him again, this activity may not be something you're completely averse to. Even when Imagase went beyond the boundaries of their agreement (you didn't specify WHERE I can kiss, hehe~ 😛), Kyouichi put up surprisingly little resistance.
There's a big difference between letting him kiss you on the lips and letting him kiss you on your balls, so Kyouichi had every reason to push back. But he didn't.
Gay fantasy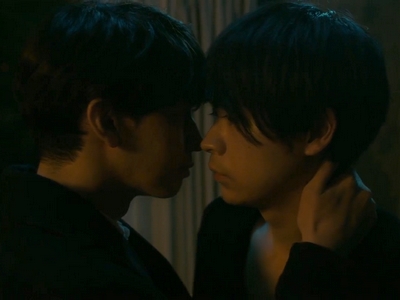 Please don't be offended by what I'm going to say next, but the excitement also comes from the inappropriate fantasy of converting a straight guy. Let's be clear that I'm NOT endorsing this toxic concept. However, there's an undeniable appeal from winning over someone whom you never thought would reciprocate your feelings.
Imagine a handsome guy who's straight, married, and your university crush. And now, there's a possibility that he will get together with you. This is like an unreal once-in-a-lifetime scenario coming true.
It's almost inconceivable to think that Kyouichi could be coaxed into a kiss, sharing the same bed, or even sexual intercourse, but these events happened anyway. Each level of intimacy is like an adventure into unchartered territory, pushing the boundaries of how far Imagase can go before Kyouichi resists.
Kyouichi and Imagase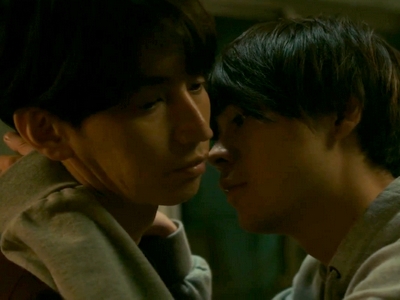 The fluidity in Kyouichi's sexuality was a pleasant surprise, as was his comfort in letting Imagase settle into his life routine. It just kinda happened naturally, and Imagase started hanging around the apartment until Kyouichi got used to his presence. Once the two of them became unofficial roommates, Kyouichi can be so surprisingly sweet sometimes. He'd initiate romantic gestures, offer spontaneous gifts, and drop intimate remarks that make Imagase's heart skip a beat.
Unfortunately, the problem with Kyouichi is that he won't commit to a relationship, unwilling to take that necessary step from 'friends with benefits' to 'out and proud lovers'. By this point, Imagase is already so fully invested in this romance that every rejection from Kyouichi feels triggering. Just when they finally made progress as a couple, Imagase senses that he's losing grasp of Kyouichi again. It worries him, it frightens him, and it drives him mad with anguish.
That is the heartbreaking tragedy of their romance. One of them is too guarded, while the other is too vulnerable. It results in a volatile relationship where neither is satisfied.
Acting Review
Ryo Narita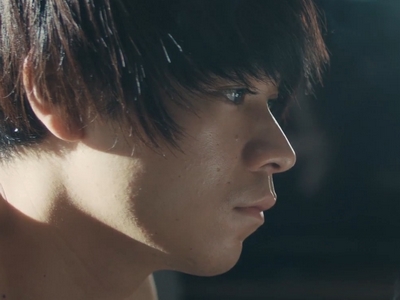 Is this the section where I get to gush over Ryo Narita as much as possible? Good, because I can do this all day. I thought his acting performance in The Cornered Mouse Dreams of Cheese was remarkable on so many levels. Don't just take my word for it though. He actually won an award for his brilliant performance in this movie, so talent always wins. 🏆
First, let's talk about the extent of his physical transformation into the Imagase character. In real life, Ryo Narita is a pretty boy, like the prototype of a handsome, boyish, and clean-cut Japanese star. However, in the movie, he pulls off that unkempt, grungy, and moody look so distinctive of Imagase's character. He looks really different from his past roles.
I'm not just talking about the clothes or the side-swept bangs, but also his mannerisms, expressions, and entire demeanour. Here's an actor who really embodied the character, as if he adopted a whole new physical persona.
Imagase's portrayal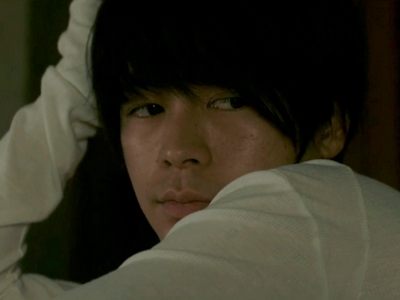 Ryo Narita had such a firm grasp over Imagase's personality, fully immersing himself into the mindset of this character. Imagase is not an easy role to pull off. This character is jealous, obsessive, and manipulative, driven by feelings of longing, anguish, and a desperate desire to be loved.
With a less capable actor, this portrayal could've veered off into a senseless, unlikable caricature. Yet, he captured the vulnerability perfectly well, with an underlying hint of belligerence that is true to his personality. He made this complicated character feel authentic, sympathetic, and ultimately poignant.
Best acting moment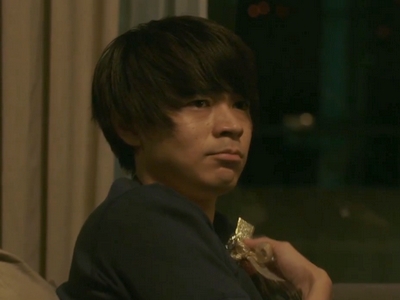 And finally, the emotional complexity in his performance is so intricate and nuanced. I loved the emotions he portrayed when Kyouichi broke up with him, but I think his best performance was during a more minor moment earlier in the film. It was the scene right after Kyouichi gave him a bottle of wine for his birthday, which was a surprisingly romantic gesture that Imagase never anticipated.
At that moment, the actor's expression depicted a fascinating mosaic of emotions. He was surprised, confused, grateful, and overjoyed. However, there's also a hint of uncertainty about this fleeting moment of happiness and how long it will last. His reaction was so subtle yet nuanced, and I'm just amazed that he could convey so many intricacies in such a refined way.
In conclusion, Ryo Narita gave such an excellent all-around performance in The Cornered Mouse Dreams of Cheese. I can rewatch this movie, again and again, knowing that I can look forward to his wonderfully nuanced portrayal each time.
Sex scenes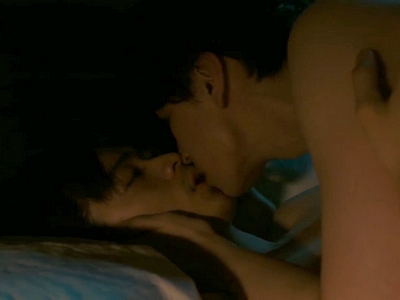 I want to highlight the steamy gay sex scenes in The Cornered Mouse Dreams of Cheese, because this is not something that many actors would be comfortable doing on-screen. The sex scenes in the movie amazed me, because I never expected them to go that far in nudity and explicitness, with mushy sound effects no less. 😳 Yet, Tadayoshi Okura and Ryo Narita really put themselves out there, powering through these sexual encounters with astonishing ferocity.
Sex is a normal part of these characters' lives and the movie gladly shows it in explicit detail. There's no denying the raw sexual chemistry between the couple, with actors who are very, very, very comfortable at showing affection towards each other. You wouldn't see this capacity of passion typically in BL, and only rarely in some Western LGBT movies, as well as 18+ pornography.
In terms of physical intimacy, the boundaries are pushed to a new extreme and they've outdone themselves beyond what I could ever imagine.
Ending Review
Different from the manga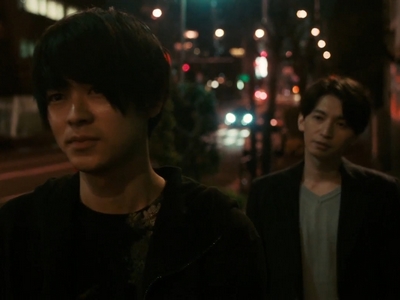 The film version of The Cornered Mouse Dreams of Cheese has a sad ending, quite different from the original manga. This movie does not end with Kyouichi and Imagase getting back together after they broke up. Instead, Kyouichi has called off his relationship with Tamaki, and now he's committed to staying single until Imagase wants to take him back.
My first instinct after watching the movie was that I hated this ending. WTF!? No, make the two of them reunite again like in the manga! After some thought, I came to terms with the movie's ending, which seemed more fitting with the narrative. While I would've loved for Kyouichi and Imagase to just end up together happily ever after, this ending has a more thought-provoking message.
Poignant ending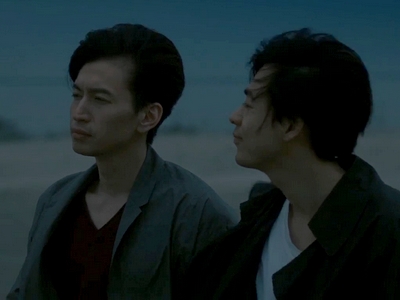 And the more I thought about it, the more I appreciated the way this movie concluded. This ending is symbolically beautiful because it underlines Kyouichi's massive growth as a person since his relationship with Imagase. Before, he was a bed-hopping lothario who would cheat on his romantic partners without a second thought. Now, Kyouichi actually chooses to be single, after calling off the perfect heterosexual marriage to his ideal woman. He's sincere about waiting for Imagase no matter how long it takes.
The old Kyouichi would've just married Tamaki, dragging her along as he cheated behind her back. The new and improved Kyouichi ends this relationship with her, because he knows he only wants to commit to Imagase. He's sincere, he's decisive, and he's willing to wait for his ex-lover no matter how long it takes. Imagase waited for eight years until Kyouichi loved him back. Now, it's Kyouichi's turn to wait.
The Cornered Mouse Dreams of Cheese Ending Explained
Ending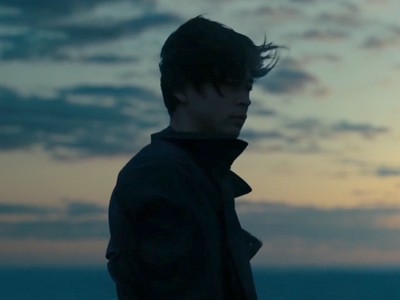 The Cornered Mouse Dreams of Cheese has a sad ending. In the final act, Kyouichi gets engaged to Tamaki, a sweet and enthusiastic girl who dotes on him. Although she is the perfect wife for Kyouichi, he remains perpetually unhappy after breaking up with Imagase. Tamaki is observant and notices that her fiancée still hasn't thrown away the yellow ceramic ashtray from his ex. Kyouichi simply stores it in a kitchen cupboard, symbolic of how he has been compartmentalizing his feelings since the break-up.
Behind his fiancée's back, Kyouichi approaches Imagase, who had been waiting obsessively outside his home every night. The two of them spend a passionate evening together having sex. Afterwards, Imagase makes a snarky comment about the ugly blue curtains that Tamaki installed in the apartment. He asks Kyouichi to break up with her. Surprisingly, Kyouichi agrees to end his relationship with Tamaki tomorrow, but Imagase doesn't believe he has the guts to do it. Kyouichi seems serious, insisting that he wants to settle down with Imagase instead.
Imagase spends the entire night sitting on his favourite stool, mulling over Kyouichi's words. By the next morning, Imagase is gone from Kyouichi's life without a trace.
As promised, Kyouichi ceases his relationship with Tamaki, explaining that he still has feelings for his ex. Tamaki tearfully begs him to reconsider, but he has made up his mind and apologizes to her. Kyouichi knows there's a possibility that Imagase may have left him for good this time. Nonetheless, he'll remain single and keep waiting for his ex to come back, whenever that day may come.
In a flashback, Kyouichi remembers his conversation with Imagase on the beach, back when they first broke up. Imagase calls out Kyouichi for his inability to commit to any relationship, and that he'll never understand what it's like to love someone wholeheartedly. Imagase faces Kyouichi one last time with an anguished yet defeated expression, before he turns away and cries out to the ocean that he really loves him.
In the present time, we see Imagase having sex with another guy, but he can't go through with it and starts to sob. The final scene ends with Kyouichi alone in his apartment. The curtains have been replaced and the yellow ashtray is now sitting prominently on the table. He climbs onto the stool and just sits there observing the room, like Imagase used to do. And the movie ends there, with Kyoichi quietly waiting for Imagase to come back.
Ending explained
Sad ending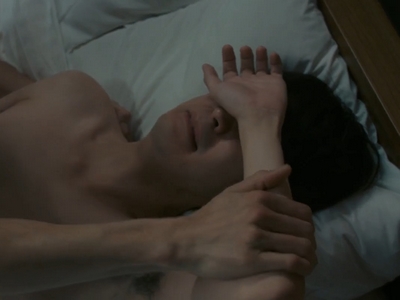 At first glance, The Cornered Mouse Dreams of Cheese movie has a sad ending, because Kyouichi and Imagase don't end up together. By the end of the film, Kyouichi is alone. Imagase is miserable, and neither feels fulfilled without each other. Compared to the manga, where they reunite in a grand spectacle of love, this movie ending doesn't offer that blissful closure you'd want from a happy love story.
However, this ending isn't as bleak as it may seem. In fact, the movie carries a potentially hopeful message about the relationship. As Kyouichi makes significantly positive changes in his life, the ending hints that he'll have a healthier romance with Imagase if they ever get back together. As long as you believe Kyouichi and Imagase will find their way back to each other, there's a hopeful ending even if we don't see it happening on-screen.
Why Kyouichi & Imagase broke up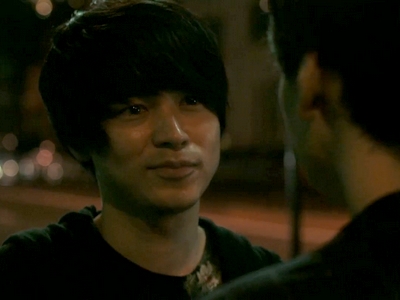 To understand the movie's ending, you have to look back at why Imagase left Kyouichi after their last sexual encounter. During their final conversation together, Kyouichi tells Imagase that he wants them to settle down together. He'll break off his engagement with Tamaki, ask Imagase to move in with him, and take their relationship seriously this time. In theory, this commitment was everything that Imagase ever wanted and it should've made him overjoyed.
The problem is that Imagase doesn't believe Kyouichi will actually stay committed to him. Given Kyouichi's previous romantic history and his track record with adultery, it's no surprise Imagase feels this way. In fact, their entire relationship was based on how Kyouichi lost interest in his wife and cheated on her. Imagase has witnessed his partner's unfaithfulness so many times in the past, and he doubts this time would be any different no matter how earnest Kyouichi might seem. As the old saying goes: once a cheater, always a cheater.
Imagase left because he doesn't want to be heartbroken when Kyouichi inevitably betrays him. This is the guy who already broke up with him once, the guy who won't be affectionate with him in public, and the guy who never had a successful relationship before. All the signs indicate that Kyouichi won't change from his old habits. It means Imagase will get sucked back into a vicious cycle of jealousy and obsession if Kyouichi starts dating again.
Ultimately, Imagase doesn't trust Kyouichi enough to think their relationship will succeed this time. And so, he bails out before going through another devastating heartbreak again.
Imagase vs. Tamaki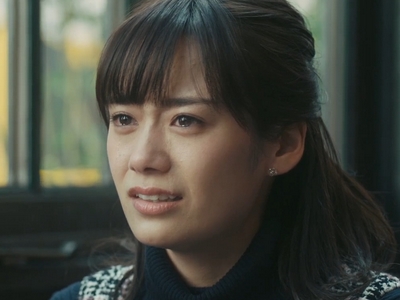 From the moment he met Tamaki, Imagase pegged this woman as a threat to Kyouichi's affections. He can't measure up against someone like her, whose personality is sweet, docile, and relentlessly chipper, almost everything that Imagase is not. He doesn't think Kyouichi would ever choose him over a heterosexual marriage with this perfectly tailored wife.
However, Imagase underestimated how much he means to Kyouichi. Although Tamaki tries so hard to please her fiancée, she cannot fill the void that Imagase left behind in his heart. Being with her only made Kyouichi realize how unhappy he was without Imagase in his life. It's clear to Kyouichi now that Imagase cannot be replaced simply with another woman (or another man, as his foray into a gay bar showed us).
Much like his marriage, Kyouichi's relationship with Tamaki is devoid of passion, a fact that was highlighted after the incredibly mind-blowing sex he had with Imagase. That sexual rendezvous with Imagase was the last nail in the coffin, confirming to Kyouichi that he can never love Tamaki with the same intensity.
Kyouichi and Tamaki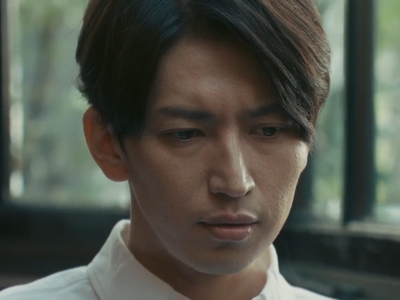 The moment where Kyouichi breaks up with Tamaki contrasts with an earlier scene where his wife asked for a divorce. With Chikako, she was the one who initiated the exchange. One of her complaints is Kyouichi's passiveness, letting their marriage deteriorate to the point that she can't endure the dreariness anymore. But with Tamaki, it was Kyouichi who ended the relationship quickly and decisively.
Learning from his past mistakes, he didn't want to drag along Tamaki in a passionless romance to the point where she'd resent him. Kyouichi could've married this woman, easily cheated on her, and strung her along until his ex came back. The old Kyouichi may have done just that. However, it shows a lot of character growth that he decides to end this relationship now. Kyouichi already knows he doesn't love Tamaki, so he won't give her false hope anymore.
In the past, his character was notorious for jumping from one relationship to the next. It's momentous for Kyouichi to decide that he would rather be single than settle with someone he doesn't love. He has changed from the start of the movie, becoming more responsible with his relationship management.
Ending symbolism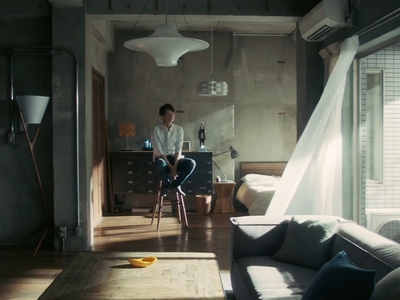 This brings us to the final shot of the movie. In this beautifully composed scene, Kyouichi sits alone in his apartment. There's no dialogue, no voiceover narration, and no explicit message about deciphering the ending. However, you will notice three important symbolic details in the movie ending:
1. Tamaki's curtains are gone. Those ugly blue drapes that she chose have disappeared from his apartment, replaced by the billowy white curtains that he used to have. It's a clear symbolic sign that Tamaki no longer has any influence over his life. Instead, Kyouichi wants to revert back to the old comfortable lifestyle that he shared with Imagase.
2. Imagase's ashtray is back. Previously, the movie has already established that the yellow ceramic ashtray is an emblem of Imagase. In the ending, we see Kyouichi washing this ashtray before placing it on the living room table. No longer is he hiding this ashtray in a cupboard, but he's proudly displaying it out in the open. The prominent placement shows that Kyouichi doesn't want to hide Imagase from his life anymore. Also, cleaning the ashtray indicates that Kyouichi wants to take better care of Imagase's memento, preserving the memory of his ex.
3. Kyouichi sits on Imagase's stool. The stool is Imagase's favourite spot in the apartment, where he used to sit with his knees up and observe the room. Sitting in this exact spot represents that Kyouichi wants to see things from Imagase's perspective. During the beach flashback, Imagase criticized him for not understanding how to fully love someone. As he sits on the stool in deep pensive thought, I'd like to believe Kyouichi is a little closer to understanding that feeling Imagase described.
Ending review
Hopeful ending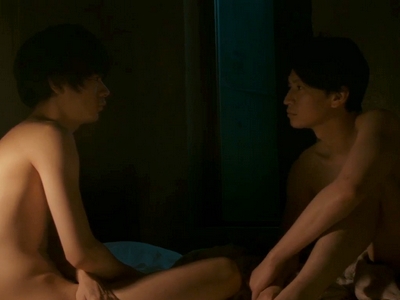 Let's be honest, Kyouichi and Imagase had a toxic relationship from the start. Even if they reunited in the end, there's no telling whether Kyouichi would cheat again. Maybe Imagase would get jealous for yet another time. Or perhaps the two of them would split up once more. Something in their relationship dynamic needed to change, or else they were probably gonna end up in the same self-destructive place as their first breakup.
Fortunately, Kyouichi changed a lot as a person by the end of the movie. He doesn't want to cheat anymore, he doesn't want to find a new romantic partner, and he doesn't want to waste time flip-flopping between relationships. Kyouichi has decided that he only wants to commit to Imagase, even if there's no guarantee that his ex will want him back. And if he can't be with Imagase, then Kyouichi would rather be alone than shack up with anyone else.
Kyouichi is making drastic changes in his life to prove to Imagase that he wants a relationship with him. The movie's ending feels hopeful as long as you are convinced by Kyouichi's conviction. Let's assume he won't fall back to old habits while waiting for Imagase to come back.
Kyouichi's personal growth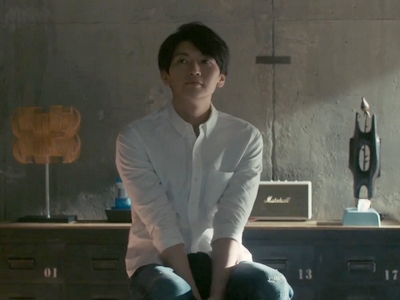 The ending in The Cornered Mouse Dreams of Cheese demonstrates Kyouichi's immense personal growth, which will make a big difference if he's ever in a relationship with Imagase again. His mindset is more mature and much healthier than before. Most importantly, Kyouichi's abstinence will reassure Imagase that he's serious about committing to their relationship. If Imagase ever returns, he won't have to worry about feeling jealous or obsessive anymore, because his boyfriend has proven himself to be a changed man.
That is why I think the movie ending carries an optimistic message, because Kyouichi is actually making an effort to become a better person for Imagase. Don't think of this as the end of their romantic relationship, but rather as the start of Kyouichi's personal growth journey. When Imagase is ready, he'll come back one day and be touched by Kyouichi's sincerity. Only this time, they will have a more stable relationship in their second chance at love.
Kyouichi and Imagase reunion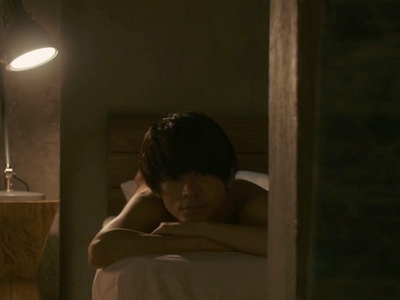 The lingering question is whether Imagase will actually come back to this relationship again. Imagine if Kyouichi goes through all that trouble to improve himself as a person, but then Imagase never shows up in his life again. Technically, I'm not ruling out this possibility. The open-ended nature of the movie allows for some really tragic outcomes if you assume the worst-case scenario. 😢
But honestly, given everything that we know about his character, I believe Imagase will go back to Kyouichi at some point. We've already seen him struggling without Kyouichi, unable to move on emotionally. I think someone as inquisitive as Imagase can't help himself but keep tabs on his ex. Eventually, he'll see the changes Kyouichi made in his life (no more engagement, no more Tamaki, no more ugly curtains). He might be able to trust him again.
Imagase is a softie and he loves Kyouichi too much to stay away from him forever. It might take weeks, months, or even years, but I'm optimistic that the two of them will be reunited in the future.
The Cornered Mouse Dreams of Cheese Movie Scenes
Best Scenes
Here's a list of the best scenes in The Cornered Mouse Dreams of Cheese:
Kyouichi and Imagase second kiss
The start of Kyouichi and Imagase's relationship was pretty sketchy. Their first two kisses take place in seedy hotel rooms, where Imagase forces his kisses on Kyouichi due to their blackmail arrangement. I'm not even sure if I would call them kisses, because it looks more like he is LICKING his tongue all over Kyouichi's face. 👅
The first time they kissed, Kyouichi was noticeably hesitant. By their second encounter, Imagase was already on his knees and unhooking his belt, which goes beyond what they originally agreed upon. I like the unpredictability in this scene, unsure where the boundaries are and how far they would take their physical intimacy. Which body part will he "kiss" next?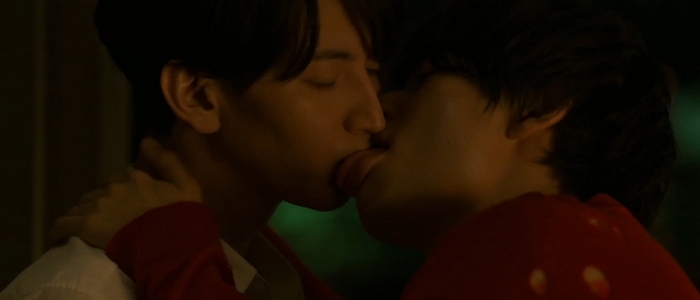 Kyouichi and Chikako divorce
It wasn't surprising when Chikako asked for a divorce, but there was still a sense of overpowering helplessness in this scene. After everything Kyouichi did to cover up his affair, he couldn't save his dying marriage after all. Of course, all the passion had evaporated from their relationship a long time ago, but Kyouichi didn't want to admit it until now.
With a good heartfelt performance from Chikako's actress, you can feel the extent of her emotional discontent. This is a woman who reached her breaking point and she wanted out from a loveless marriage.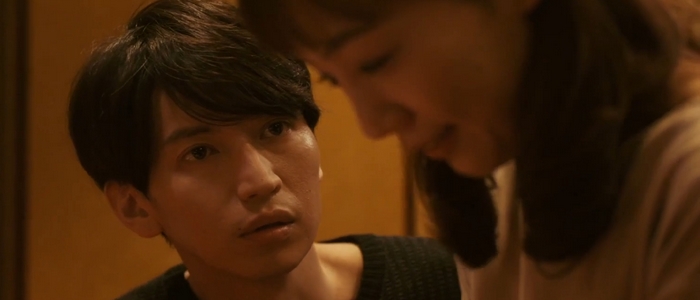 Kyouichi and Imagase game
The scene of Kyouichi and Imagase poking each other's nipples was really funny. Although it might seem dumb and frivolous, I wanted to highlight a happy, lighthearted moment in their relationship. As silly as it was, this scene captured how comfortable Kyouichi has gotten around Imagase. You don't goof around touching someone's nipples like this unless you're completely at ease with them. 😄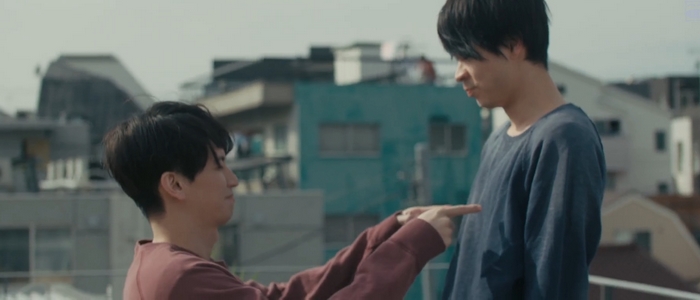 Imagase vs. Natsuo
The first time Imagase and Natsuo reunited in the restaurant, they pretended to be on friendly terms. However, this charade quickly got dropped the next time they met, once Natsuo understood the nature of their Kyouichi and Imagase's relationship. Both Imagase and Natsuo got their claws out in an intense catfight, and the moment she used the word "gutter" to describe Imagase was chilling to the bone.
Of course, the scene only got a million times messier once Kyouichi joined in. Although Natuso managed to talk Kyouichi into choosing her, his body is way more honest and he couldn't get it up for her. The night ended with Kyouichi crawling back home and Imagase putting his rod inside him. So, I think we all know who emerged as the real winner in the Imagase vs. Natsuo fight. 🤭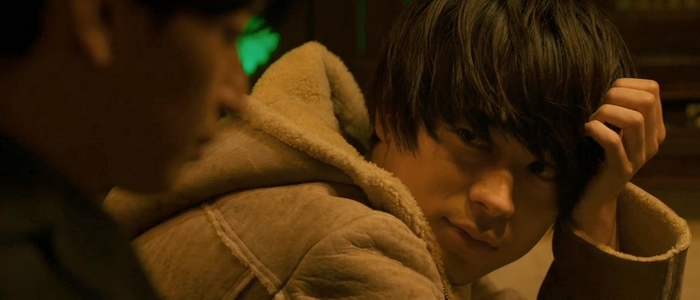 Imagase's birthday gift
I love the moment where Kyouichi surprised Imagase with a birthday gift. It was such a sweet gesture that showed Imagase his love is being reciprocated, and their relationship isn't one-sided anymore. Kyouichi actually put some thought into what would make a special birthday present, not just picking up any odd thing at the gift shop. He doesn't know anything about buying wine, but still went out of his way to get this gift for Imagase.
Of course, Imagase would cherish any gift that Kyouichi got him, vowing to never drink the bottle of wine because he wants to cherish it forever. Kyouichi states that he'll just buy another bottle of wine for his next birthday. His tone was so matter-of-factly, as if he naturally assumed the two of them would still be together a year from now.
You can tell how grateful Imagase felt by his reassuring words, maybe even more so than the gift itself. After so much hardship and persistence, it must've comforted Imagase, knowing that Kyouichi responded to his love.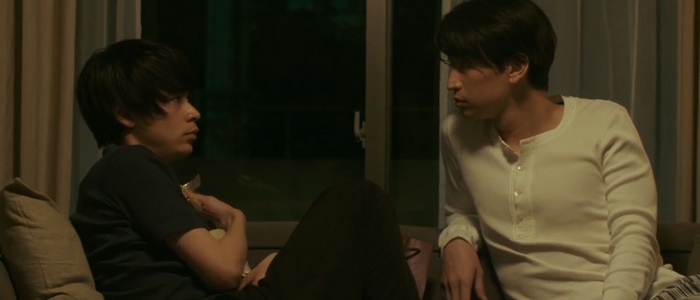 Kyouichi and Imagase breakup
The breakup scene between Kyouichi and Imagase was a powerful moment. Driven by jealousy, Imagase grows paranoid about Kyouichi's relationship with Tamaki even though nothing is going on between them. In the heat of the moment, Imagase may have said some things he regretted. He definitely expected Kyouichi to put up more of a fight to save their relationship, but Kyouichi just called it quits instead.
This scene highlights the fundamental problem in their romance, because it's evident that Imagase still loved Kyouichi more than the other way around. Although Imagase loves Kyouichi with all his heart, he knows his partner doesn't feel as strongly about their relationship. Imagase can't trust his boyfriend fully because Kyouichi never offers reassurance that he loves him just as much.
There were some brilliant performances from both actors in this scene. My heart broke for poor Imagase as he teared up, coming to the realization that he'd lose Kyouichi forever. 😢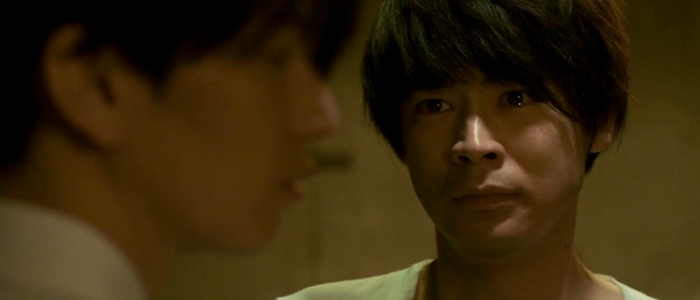 Tamaki asks about Imagase
After breaking up with Imagase over his cheating allegations, Kyouichi started a relationship with Tamaki in a self-fulfilling prophecy. I really liked the dialogue in this scene, where Tamaki becomes curious about the ex-"girlfriend" who lived at his apartment. From her perspective, a woman who smokes seems mature and sophisticated, but might also feel surprisingly lonely on the inside. While I don't think her description matches Imagase perfectly, it captures the essence of his character.
Their conversation continued in a melancholy way, making Kyouichi reflect on how Imagase had felt during their relationship together. Tamaki mused about the prospect of losing yourself by loving somebody too much, which really hit a sore spot when I heard it. Poor Imagase.
During this scene, one moment that I loved was when Tamaki sat on Imagase's favourite stool. As soon as Kyouichi saw her sitting there, he found a way to get her off the stool. Bish, that seat is reserved for Imagase only~ 🪑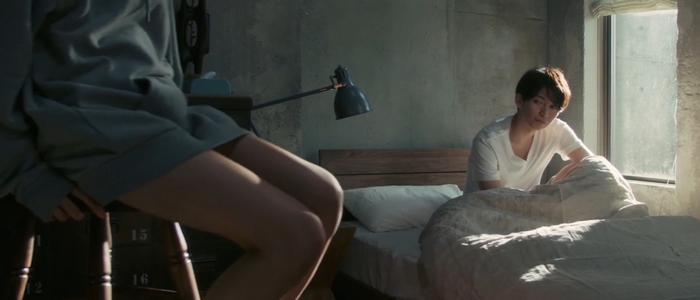 Kyouichi at a gay bar
Despite getting together with Tamaki, Kyouichi still longs for Imagase. A tormented Kyouichi considers the possibility that he's attracted to guys, which he thinks could be the reason why Tamaki can't help him forget about Imagase. When Kyouichi visits a gay bar, the sexualized environment makes him feel uneasy, confirming that his feelings for Imagase go beyond a physical attraction. He can't just replace Imagase with any other gay guy (or any other woman, for that matter).
As Kyouichi experiences this emotional turmoil, there's a stylishly composed scene where he's crying next to a gay couple making out next to him. The contrast between him and the kissing couple is really striking.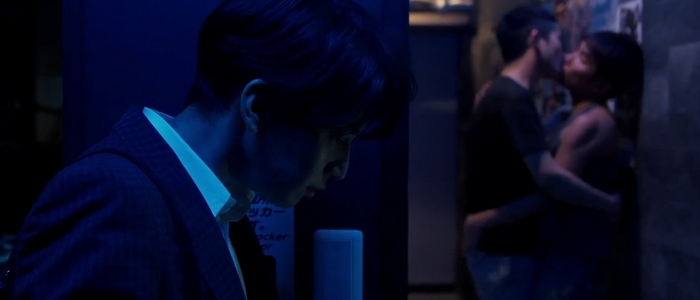 Kyouichi and Imagase beach scene
I haven't discussed the cinematography a lot in my The Cornered Mouse Dreams of Cheese review, but the movie can be so beautifully shot at times. The beach scene was immensely atmospheric, with large grey clouds filling the sky and the glimmer of a sunrise on the horizon. It really helps to set the mood for this emotionally charged moment, where Imagase professes his love for Kyouichi as their relationship comes to an end.
During the scene, Imagase stares long and hard at Kyouichi without saying anything for a while. There's a look of resignation on his face before he turns away. Imagase had wanted this relationship for so long, trying to hold onto their happiness together, but now he finally admits defeat. As Imagase cries out into the ocean about how much he loves Kyouichi, it breaks his heart knowing that Kyouichi's feelings for him aren't as equally strong. He believes Kyouichi will never be able to understand the extent of how much Imagase actually loves him.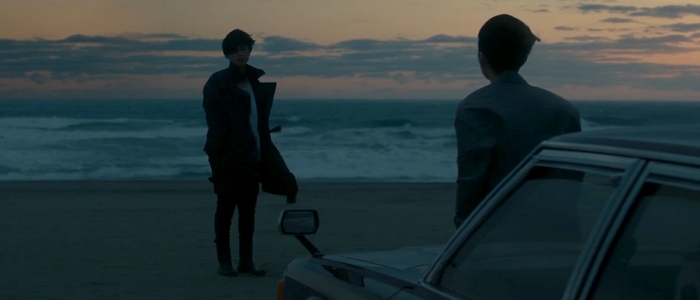 The Cornered Mouse Dreams of Cheese Movie Interview
The Cornered Mouse Dreams of Cheese Movie Info
Links