Country Boy 2 Summary
What is the drama called?
บ้านพักหลังป่วนกับก๊วนเด็กเมือง 2
Where was the series made?
Thailand
When was the drama released?
2022
How long is Country Boy 2?
Around 1 hour
What is the genre?
Romance
How would you describe the series?
Calm and gentle
How many episodes are in Country Boy 2?
2 episodes
How long is each episode?
Around 30 to 40 minutes
Plot

Keptawan is a teenager who lives in the countryside, where his mother runs a bedsit. The business used to struggle financially. It has become more successful thanks to a recent marketing campaign by Nabdao, Keptawan's new friend from the city. When Nabdao last visited the bedsit, he exchanged contact information with Keptawan. The two teens stay in touch via phone calls and text messages.
Keptawan leaves his rural hometown to work in the city for several weeks. He begins a new job at his uncle's coffee shop as a barista. Unfortunately, Keptawan struggles and makes careless mistakes all the time. Sometimes, he serves the wrong orders or spills the drinks. His uncle constantly chastises him, using derogatory language because Keptawan comes from the countryside.
After his arrival, Keptawan has called Nabdao to inform his about his new job in the city. The two teens agree to meet up. However, Nabdao is busy with school exams during this time. His sole focus is on studying and he doesn't have time for socializing. As a result, Nabdao and Keptawan still haven't seen each other after weeks have passed.
Country Boy 2 Trailer
Country Boy 2 Cast
Characters
Keptawan
Oak Puwanart Runapnain (ภูวนารถ รู้แนบเนียน)

Keptawan is a teenager from the countryside. His mother runs a successful bedsit. Keptawan arrives at the city and begins working as a barista for his uncle's coffee shop. Despite making many mistakes in his new job, Keptawan maintains his cheerful and upbeat attitude.
Nabdao
Mon Hatsawatchon Wongsrisai (หัสวรรษชนม์ วงศ์ศรีใส)

Nabdao is Keptawan's friend from the city. They met when Nabdao visited the bedsit on a trip. The two teenagers exchanged contact info and stayed in touch afterwards. Nabdao is currently busy with exams and feels stressed by the academic pressure.
Supporting Cast

Deun
Keptawan's mom

Uncle Bum
Keptawan's uncle

Ju
Nabdao's friend
Country Boy 2 Review
Review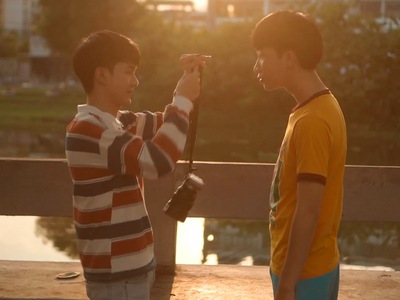 Country Boy 2 begins with a promising premise. The lead steps out of his comfort zone, leaving his rural hometown for the first time. His coming-of-age journey could've highlighted the cultural differences between living in the countryside and the city. Unfortunately, the main character has few meaningful encounters or memorable experiences. This meandering sequel barely scratches the surface of its limited, lacklustre, and lightweight narrative.
The first episode is slow and mundane. Country Boy 2 dedicates thirty minutes to inconsequential scenes that don't advance the plot, develop the protagonists, or showcase the romance. Barely anything significant happens in Keptawan's barista job other than him making small careless mistakes. The tension with the uncle exposes his character's prejudices, but Country Boy 2 doesn't dig deeply into this conflict. Worst of all, the two leads have banal interactions, only communicating via phone calls & text messages.
Country Boy 2 comes from an indie filmmaker, but it has solid production values. Like last season, this small-budget series looks respectable with its simple yet elegant visual presentation. The young leads also appear comfortable on-screen. The actor playing Nabdao (Mon) is adorable, a perfect match as a love interest in a cute teen BL drama. I have a slight criticism for his costar (Oak), who needs more restraint over his expressions and mannerisms. His overeager reactions seem theatrical sometimes, and he should dial down the performance by a notch.
Summary
Mundane story
Country Boy 2 has an intriguing concept, bringing the teen protagonist from the countryside to the city. However, the mundane story doesn't unfold meaningfully and suffers from too much filler.
Superficial romance
The romance lacks substance. Based on the handful of superficial interactions, I don't sense Keptawan and Nabdao falling in love. Their bond resembles a friendship than an attraction.
Okay acting
The young leads appear comfortable on camera. Oak's actor could tone down his facial expressions and body language for a more natural performance.
Happy ending
Country Boy 2 has a cute and sweet ending that wraps up this love story pleasantly. It's an appropriate conclusion for this ordinary teenage relationship.
Decent artistry
Like last season, this series has decent production values. The simple and elegant cinematography is almost as polished as BL dramas with bigger budgets.
60%
Country Boy 2 improves upon its first season, a step in the correct direction. However, the sequel is still held back by amateurish storytelling and an unconvincing romance.
Country Boy 2 Episodes
Episode Guide
Country Boy 2 has a total of 2 episodes. Each episode is around 30 to 40 minutes long. It is a short BL drama, and you can finish the entire series in under 1 hour. Country Boy 2 started on March 29, 2022 and ended on April 5, 2022.
Episode 1
32 minutes
The first episode of Country Boy 2 shows Keptawan leaving his rural hometown for a few weeks. He plans to work at his uncle's coffee shop in the city. However, his hostile uncle doesn't treat Keptawan kindly, especially since the teenager makes careless mistakes at work. The uncle also shows prejudice against the countryside lifestyle. Meanwhile, Nabdao is preoccupied with exams. He doesn't have the time to meet up with Keptawan during this busy period. Nonetheless, he tries his best to communicate with his new friend.
Episode 2
38 minutes
In Episode 2, Keptawan and Nabdao finally have an opportunity to meet up. Although Nabdao is worried about his poor grades at school, Keptawan comforts him and shares optimistic advice. The two teenagers hang out, take photos, and go shopping. Unfortunately, Keptawan has to leave for his hometown again. As they bid farewell, Nabdao makes a decision regarding his relationship with Keptawan.
Country Boy Season 1
Prequel
Country Boy 2021 series Drama review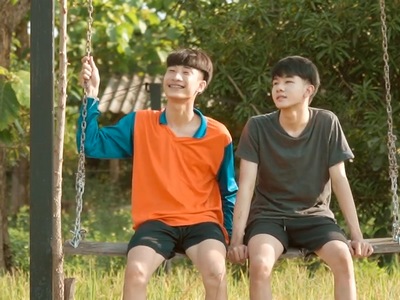 Country Boy 2 is a sequel to the 2021 Thai BL series. The first season introduces the two lead characters and describes the circumstances of how they meet. Nabdao and a small group of friends are from the city, embarking on a trip. They arrive at a countryside bedsit, run by Keptawan and his mom. Nabdao and his friends run a marketing campaign to turn the struggling business into a tourist attraction. Along the way, the two leads begin forming a connection.
I wasn't a fan of the original Country Boy. In my opinion, the first season was a lacklustre BL series. Although the location was beautifully filmed, the storytelling and romance underwhelmed me. Country Boy 2 is an improvement by comparison. The sequel still has some shortcomings, but I enjoyed it more than the predecessor.
Country Boy 2 Information
Links
Wayufilm Production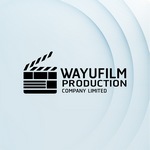 Wayufilm Production is the Thai BL studio that made My Bromance (2014). It has also produced other BL projects, including The Rain Stories (2016), NightTime (2019), My Friendship (2020), Country Boy (2021), and Country Boy 2 (2022).