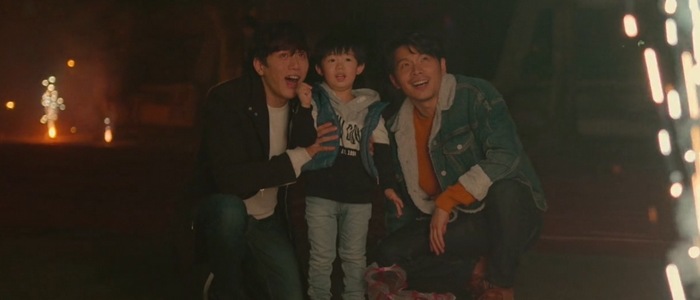 Dear Tenant is a critically acclaimed Taiwanese movie, featuring a gay protagonist, his adopted child, and their poignant family drama. The main character is a widower taking care of his partner's son and an ailing mother-in-law. However, he becomes engulfed in controversy after facing severe police allegations. Emotions run high as the story unravels, revealing the truth behind the accusations against him.
Powered by phenomenal acting performances, this profound film explores the themes of pain, trauma, and loss poignantly. Dear Tenant tends to overindulge in melodrama and tragedy, becoming too emotionally heavy to watch in some places. However, it's still a multifaceted LGBT movie with a special message to convey.
Dear Tenant Summary
What is the movie called?
親愛的房客
Where was the film made?
Taiwan
When was the movie released?
2020
How long is Dear Tenant?
Around 1 hour and 45 minutes
How would you describe the film?
Sad and bittersweet
Who is the director?
Cheng Yu Chieh
Is Dear Tenant BL?
No, but it has a gay lead character.
Plot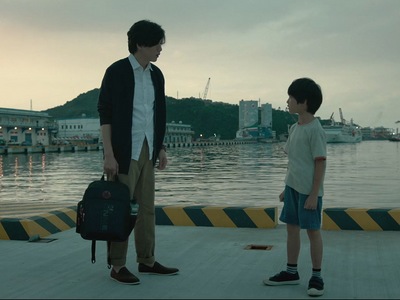 The movie begins with Jian-yi detained in a jail cell. He is brought before a court, where the prosecutor accuses him of committing murder and possessing drugs. Jian-yi remains expressionless as he listens to these severe charges against him.
Before his arrest, Jian-yi works as an ordinary piano teacher. He dated a man named Li-wei, who passed away and left his young son from a past marriage in Jian-yi's care. After his partner's death, Jian-yi becomes You-yu's guardian. They share the same house as You-yu's grandmother Xiu-yu, an old woman with health issues. Since You-yu and Xiu-yu come from his partner's side of the family, Jian-yu has no actual blood relation. To the outside world, he is the unrelated tenant who shares the same house as them.
Due to Xiu-yu, Jian-yi has concealed his romantic relationship with Li-wei. You-yu doesn't know that his father and Jian-yi used to be lovers. Nonetheless, he still looks up to Jian-yi as a parental figure and they have a close relationship. However, Xiu-yu is a belligerent old woman and constantly gives her son-in-law a tough time. She blames Jian-yi for playing a role in her son's death.
Xiu-yu has another son, Li-gang, who is Li-wei's younger brother. Years ago, Li-gang accumulated loads of business debt, which he is still paying off today. Li-gang had abandoned his life in Taiwan to flee the creditors. At the start of the year, he visits his mother and promises to pay off his debts soon. Six months later, he is shocked when his mom suddenly passed away overnight.
In her will, Xiu-yu passed the homeownership to her grandson You-yu, which upsets Li-wei. He grows suspicious over the circumstances of his mom's death. Li-wei believes Jian-yi might have swindled Xiu-yu into making this unfavourable decision. He called the police, asking them to investigate the house tenant who might have killed his mother.
Dear Tenant Trailer
Dear Tenant Cast
Characters
Jian-yi Morning Mo (莫子儀)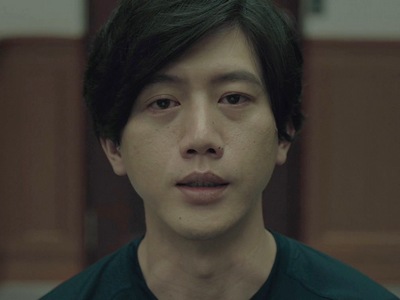 Jian-yi is an ordinary piano teacher and the guardian of a young boy from his partner's previous marriage. He used to date You-yu's father Li-wei, but his partner passed away. Jian-yi lives with You-yu and his grandmother Xiu-yu in the same house. Since Jian-yi has no official relationship with them, he is simply "the tenant" to the outside world.
You-yu Runyin Bai (白潤音)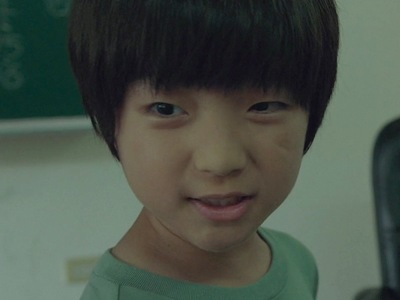 You-yu is a young boy whose father Li-wei had passed away. His mother is also no longer in the picture. Since his father's death, You-yu lives with his grandmother and Jian-yi. You-yu is close with Jian-yi, even though he doesn't know that his father had a long-term romantic relationship with this man.
Xiu-yu Shu-fang Chen (陳淑芳)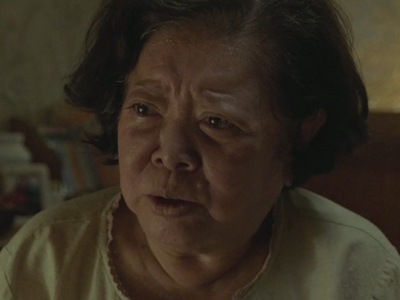 Xiu-yu is You-yu's grandmother. She is an old woman with health problems and deteriorating mobility issues. Xiu-yu lives with her grandson and her son-in-law Jian-yi. However, she gives Jian-yi a tough time and blames him for her son's death. Xiu-yu also has another son, Li-gang, who fled to China due to his outstanding debts.
Supporting Cast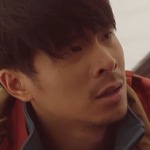 Li-wei
Jack Yao (姚淳耀)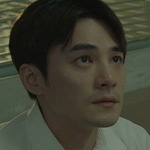 Li-gang
Jay Shih (是元介)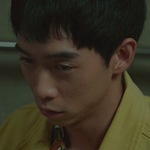 Eric
Tommi Wang (王可元)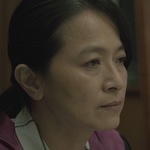 Prosecutor
Chiung-Hsuan Hsieh (謝瓊煖)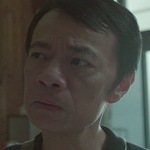 Police Sergeant
Wu Pong-fong (吳朋奉)
Cast highlights
During the 57th Golden Horse Awards, Jian-yi's actor Morning Mo won the Best Leading Actor award for his role in Dear Tenant. Xiu-yu's actress Yu-chieh Cheng also won the Best Supporting Actress award for her performance in this movie.
Dear Tenant Review
Review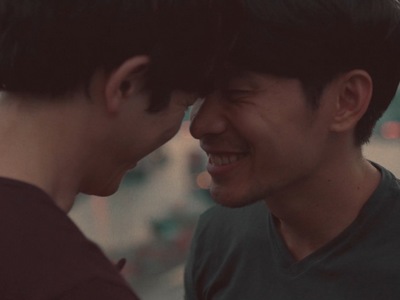 Dear Tenant is a bleak, depressing movie that makes you lose hope. The main character constantly faces homophobia, hardships, and injustices due to his sexuality. Despite his long-term relationship with another man, his identity is reduced to "the tenant" in the view of the law. You'll feel sympathetic towards his predicament, furious about the systematic discrimination against him, and heartbroken when he's pummelled by setbacks. The pessimism in Dear Tenant is relentless.
As devastating as the movie might seem, it is emotionally complex with profound themes and poignant messages. Although the plot focuses on the struggles of a gay man, there are also multifaceted layers that branch out to different aspects of life. Dear Tenant goes beyond the constraints of an LGBT film, conveying a universal narrative that can resonate broadly and deeply. When the intriguing mystery around Jian-yi's mother-in-law unfolds, her elegant storyline feels relatable and intimate.
At times, the events that happen in Dear Tenant can seem aggravating. The other characters are hostile, antagonistic, and of course, very homophobic. There is a point where practically everyone in Jian-yi's life has turned against him, even his adopted son. It feels as if he's carrying the weight of the world on his shoulders, and nobody shows any understanding. Midway through the film, I had to take a mental health break after getting so riled up by Jian-yi's insurmountable hardships. Why did nobody warn me that Dear Tenant would be such a triggering film?
As Jian-yi's agony continues with no end in sight, the perpetual tragedy started to weigh on my emotional toll. This film didn't have light moments, virtually no romance occurred, and I lost all optimism about what will happen next. It slowly dawned on me that I wasn't enjoying Dear Tenant. The movie exceeded my inherent quota for angst in a fictional piece of work. I found myself detaching from the story, almost as a defence mechanism, because every scene was so damn miserable. The melodrama felt excessive and unbearable, in my opinion.
However, Dear Tenant hooked me back again with the phenomenal acting showcases. The two veteran actors portraying Jian-yi (Morning Mo) and Xiu-yu (Shu-fang Chen) give arresting performances that make you take notice. There was exceptional acting on display in numerous scenes, particularly during the emotional climax of the film. These performers nailed every nuanced feeling required from them. It's no surprise both Morning Mo and Shu-fang Chen won prestigious awards for their masterful performances.
As expected, Dear Tenant has a sombre ending in line with the film's melancholy tone. From a thematic perspective, I thought it was a suitable conclusion that wrapped up the narrative delicately. From an emotional standpoint, I was prepared for this heartbreaking ending. My bruised heart has already taken hundreds of punches and kicks, so what's one final blow to the gut? Overall, I acknowledge Dear Tenant has a deep and sophisticated story worthy of acclaim. However, the lack of joy, romance, and optimism held me back from fully embracing the movie.
Story review
Family drama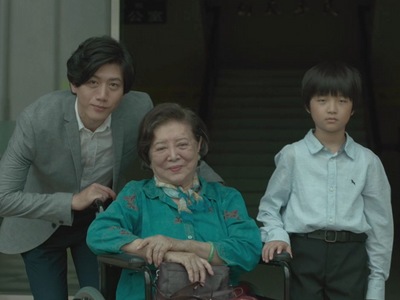 Dear Tenant is essentially a family drama, except the main character isn't legally recognized as part of the family unit due to his sexuality. There's a defining line in the movie when Jian-yi asks, "If I were a woman who lost her husband and had been taking care of the family, would you be asking me the same question?" As a gay man, Jian-yi is treated differently like an outsider, like a mere tenant, like a murder suspect who leeched off an old woman for her house.
In reality, Jian-yi is a grieving widower who takes care of his partner's son and mother. Despite having no legal responsibility, he considers them part of his family, and the feeling is relatively mutual. Xiu-yu might be harsh towards her son-in-law, but she recognizes his kindness and depends on him more than her surviving son. You-yu doesn't know the relationship Jian-yi has with his father, but stills treats him like a parental figure. He sees Jian-yi as a stepfather or "Father #2".
Unfortunately, this perfectly normal family unit comes under suspicion after Xiu-yu's death. Li-gang is driven by greed and grief, fabricating false allegations that Jian-yi killed his mother. Ironically, Jian-yi was the one to care for his ailing mother-in-law in her final days, while her actual son went MIA. Unfortunately, it's easier for the police to believe the narrative that Jian-yi took advantage of this elderly woman. Their bias and discrimination against him have clouded the police investigation, leading to a series of infuriating events that prompt Jian-yi's arrest.
Jian-yi and You-yu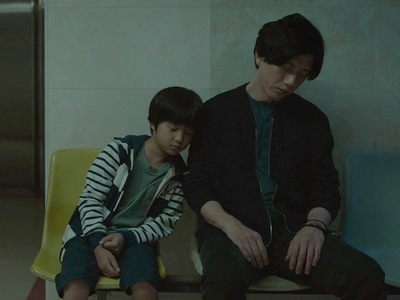 What makes Jian-yi's arrest disheartening is that he singlehandedly raised this family for the past five years. Imagine if Jian-yi wasn't in the picture after Li-wei's death. Does Xiu-yu have the physical capability to take care of her young grandson by herself? She certainly couldn't rely on Li-gang, a deadbeat son who abandoned his mother and left her with debt. He wasn't there as she suffered in her final days. It was Jian-yi who stayed by her side, patiently and loyally.
Keep in mind Jian-yi didn't sign up to be a father. He dated Li-wei, whose son from a past marriage came along as the package deal. Nonetheless, Jian-yi stepped up after his partner's death, raising You-yu with love and patience like his legitimate child. His dedication paid off, and You-yu demonstrated many times how fond he is of "Father #2". His memorable response in the adoption scene moves Jian-yi to tears, grateful that You-yu views him as a beloved parental figure.
How preposterous of Li-gang to accuse Jian-yi for killing his mother and being an unfit guardian to You-yu. When in fact, the exact opposite is true. If anything, Li-gang should be thanking his brother-in-law for holding this family together in his absence. Instead, this asshole made a false accusation, destroyed Jian-yi's reputation, and separated him from his legally adopted son.
The worst part is that Li-gang ends up being validated. He gets the house ownership, You-yu's legal custody, and a smug satisfaction of taking everything away from Jian-yi. It drives me mad to see Li-gang rewarded for his negligence and Jian-yi punished for his devotion. The truth is that if Jian-yi were a woman, he wouldn't face this type of doubt and discrimination. Although You-yu sees him as a father figure, the rest of the world still treats Jian-yi as merely a house tenant. 😢
Jian-yi and Xiu-yu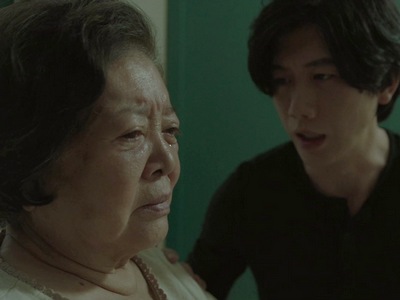 Dear Tenant is powered by the compelling relationship dynamic between Jian-yi and his mother-in-law. Your first impression of this belligerent old woman might not be positive. Xiu-yu is outrageously petty, making abhorrent statements to Jian-yi's face. As he changes the bandage on her decaying leg, she scowls and quips at him, "Do you think doing this for me will bring my son from the dead?" It's a cruel remark, but Jian-yi doesn't react to keep the peace.
Deep down, Xiu-yu secretly appreciates Jian-yi and everything he does for her. So, why does she speak resentfully to him?
Part of her hostility comes from pride. Xiu-yu acts tough with lots of dignity, like she doesn't need Jian-yi. She doesn't want to grovel and beg for his help.
Another reason is frustration. Xiu-yu is an old woman suffering from severe physical pain. Lashing out at Jian-yi releases some of her tension and stress. Plus, he's an easy target who won't speak back to her.
Finally, her animosity stems from fear. What would she do if Jian-yi abandons her? Her emotional terrorism is a tactic. She brings up her son's death to make Jian-yi feel guilty, like he has a moral obligation to care for her.
Near the end of her life, Xiu-yu stops putting on a front and lets down her emotional barriers. Her stance softens dramatically, as Xiu-yu lets Jian-yi know how much she cherishes him. Letting him adopt You-yu is a momentous decision that shows her trust in him. She can pass away peacefully, knowing that Jian-yi will take care of her beloved grandson.
Xiu-yu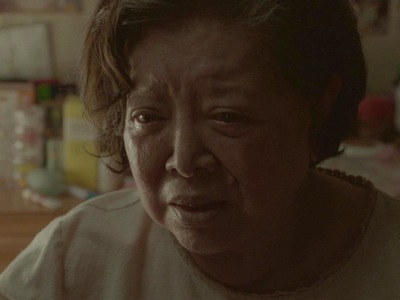 A powerful storyline emerges in the film's second half, exploring Xiu-yu's anguish as she copes with her deteriorating health. She suffers from agonizing pain every day, only getting temporary relief from painkillers. Her sepsis has worsened to the point that she needs to amputate her leg, a frightening prospect that Xiu-yu cannot overcome.
"Why do I have to live in such agony!?" Xiu-yu yells at Jian-yi after her medical diagnosis, "Hospital every day! Medicine, dialysis, amputation! Then, more medicine, dialysis, and amputation! Why do I have to suffer so much!?" And then she breaks down in uncontrollable tears, utterly vulnerable and defenceless. Jian-yi is by her side, powerless to help his mother-in-law, except to get her more potent painkillers.
What happens to Xiu-yu feels as terrifying as it is heartbreaking. Growing older is a natural part of life, making her character's experiences very relatable. You may have elderly relatives facing a similar predicament. You may also be worried about yourself, feeling anxiety over the physical limitations of your body. The actress does an excellent job at conveying her vulnerability. Her fear feels raw and authentic, so much that it evokes chills watching this senior woman in profound distress.
Romance review
Jian-yi and Li-wei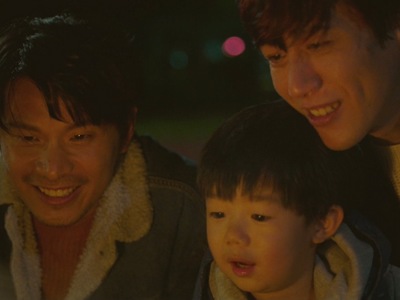 There is minimal romance in Dear Tenant. We only see glimpses of the relationship between Jian-yi and Li-wei through short flashbacks. They seemed happy together, from what we could see. However, every scene must come with an asterisk, for we know that Li-wei dies and Jian-yi is left a widower.
Jian-yi and Li-wei didn't begin their love story under idyllic circumstances. Li-wei used to date Jian-yi, but then left him and got married to a woman. Out of jealousy, Jian-yi informed Li-wei's wife that her husband was gay. Li-wei grew furious after finding out what his partner did. On the one hand, it was wrong of Jian-yi to out Li-wei to his wife. On the other hand, Li-wei shouldn't have married a woman if he couldn't love her, so he hardly maintained any moral high ground. 🙄
Despite how they met, the more prevalent aspect of Jian-yi and Li-wei's relationship was their happiness together. During their long-term relationship, they enjoyed a period of domestic bliss. It was the two of them, living in the same house and raising a young You-yu together. Life couldn't be more perfect for this ordinary gay couple, until tragedy struck and put an abrupt end to their matrimony.
Jian-yi and Eric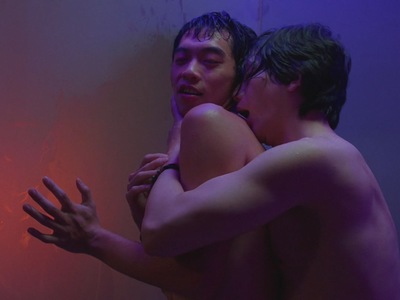 After Li-wei's death, Jian-yi didn't close up shop and became abstinent. Instead, he downloaded a hookup app and had a casual fling with a guy named Eric. Their sex scene is graphic and provocative, very jarring from the rest of the movie. I suspect the explicitness is to test the viewers on how comfortable they are with gay sexuality. It's easy to condemn the film characters for being homophobic, but did you think less of Jian-yi after seeing him hook up with a random guy?
Any judgment of Jian-yi having casual sex adds credibility to the police's assumption that he is an unfit guardian. Before you condemn him, consider his circumstances. In the past five years, he devoted his life to caring for a sick woman and a young child, while grieving over his dead lover. Plus, Jian-yi's sexual desires didn't go away just because his partner died. The hookup proves his character is not a perfect saint. Jian-yi is only human, susceptible to vulnerability at times. He craves adult companionship to feel less lonely in his life.
Jian-yi cried after having sex with Eric, proving that he still can't get over his ex. Unfortunately, the police only saw the hookup app and assumed the worst of him. "Aha! Gotchya, you sexual deviant!" It was the proof they needed to validate their homophobia before assassinating Jian-yi's character. It doesn't make sense how a sex encounter can discredit Jian-yi's five-year history as a doting caregiver, but that's how these bigots work. Every aspect of Jian-yi's sexuality comes under scrutiny until they can justify he's a murderer and a bad parent.
Deleted scene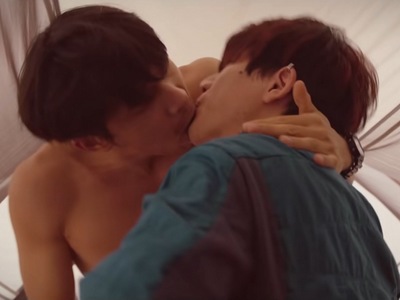 Speaking of sexscapades, did you know there was deleted footage of Jian-yi and Li-wei hooking up? After the film was released, the director released a short five-minute scene highlighting the Jian-yi and Li-wei romance. Other deleted clips got released too, but this leaked sex tape is obviously the one that we wanna see the most! 😝
During this scene, Li-wei invites Jian-yi to go hiking in the mountains. Jian-yi is surprised to hear from him since his ex hasn't answered his calls in the past few years. Li-wei is anxious, evasive, and gives vague responses. After they set up the tent and climbed inside, Li-wei ambushes his partner with a sudden kiss. However, Jian-yi pushes him away, unable to forgive his ex for abandoning their relationship. Jian-yi confronts Li-wei, asking him to understand how much he suffered after their break-up.
Li-wei doesn't offer any explanation or apology. Instead, he stares into Jian-yi's eyes while caressing his face tenderly. It was a telling glance that conveyed so many unspoken emotions between them. It was a look that said, of course he knew Jian-yi had been suffering, because Li-wei felt the exact same as him. As Jian-yi's anger dissolves into sobs, the two characters share a passionate kiss inside the tent. They quickly strip off and consummate.
Overall, the deleted scene had a very Brokeback Mountain vibe. Honestly, I can understand why the footage didn't make the final cut, since it wasn't the most essential scene. Plus, their kissing had a very straight-actor vibe. You can tell when they mask any awkwardness by being extra aggressive with their movements. Nonetheless, I appreciate seeing a more intimate glimpse of the Jian-yi and Li-wei relationship. It makes their love story more epic, as a pair of forbidden lovers come together after realizing they cannot live without each other.
Acting review
Epic acting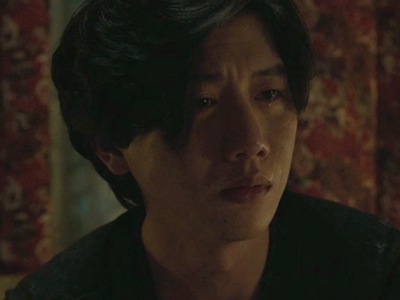 Both actors portraying Jian-yi (Morning Mo) and Xiu-yu (Shu-fang Chen) won the Golden Horse Awards for their performances in this movie. For those who aren't familiar, that's like winning the Asian equivalent of the Oscars. The cast has received lots of critical accolades, and with good reason. Their portrayals are authentic, nuanced, and powerful.
Xiu-yu and Jian-yi's final conversation together is the highlight of the film. It's a poignant exchange between a dying woman and her caregiver. All the emotions are on point. You can see the pain in her expression and hear the anguish in her voice. You can feel the vulnerability and helplessness of these characters. As their discussion turns to Li-wei, Jian-yi breaks down into devastating sobs. The grief on display is so raw, so real, and so intricate. Both actors take the well-written script and elevate it to a masterful level.
Dear Tenant Ending Explained
Ending
Sad ending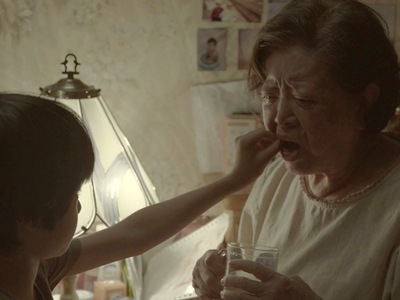 Dear Tenant has a sad ending where Jian-yi loses custody of You-yu after the police investigation. Although Jian-yi admits to killing his mother-in-law, the truth is more complex. As Xiu-yu's health deteriorates, she is told her leg must be amputated. The suffering becomes unbearable for her, so Jian-yi buys under-the-table painkillers from his friend Eric. After being given strict instructions to only consume light dosages, Jian-yi stores the drugs in a kitchen container.
At night, Xiu-yu wakes up and discovers that she has lost her eyesight. She wakes up You-yu, who has been sleeping next to his grandmother. Xiu-yu instructs him to retrieve the painkillers from the kitchen. He obliges, unknowingly giving her the tools to kill herself. As You-yu feeds her each pill one by one, Xiu-yu gives him a poignant farewell. She made a conscious decision to kill herself, using her young grandchild as an instrument of the crime.
When the police found out what happened, You-yu confirmed he was the one who gave those pills to Xiu-yu. The film skips forward several months later. Jian-yi is no longer imprisoned and has resumed work as a piano teacher. However, You-yu is no longer under his care. Instead, You-yu lives with his uncle, who has sold the house and moved the two of them to China. The final scene features You-yu singing the song that Jian wrote. The lyrics are symbolic, describing a bird who wants to fly back home.
Ending review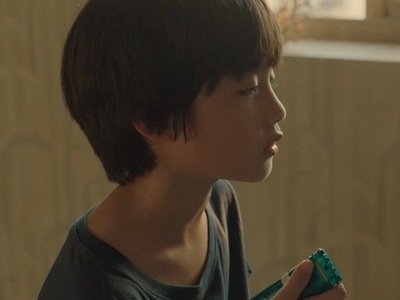 What a depressing ending. Dear Tenant concludes with a gay man losing his partner, his family, and his legally adopted child. Okay, I know You-yu murdering his grandmother under Jian-yi's care doesn't reflect well on his parenting skills. However, he has spent the past five years taking care of them, supporting this family, and proving his credibility as a parent. All that history is discredited, as the legal process separates a father away from his child.
Poor You-yu went from living happily and freely with Jian-yi to moving with his loser uncle in China. Talk about a severe downgrade. I imagine You-yu is like Harry Potter, crammed inside a cupboard under the staircase. His song indicates that You-yu still thinks about Jian-yi and wants to reunite with him. However, I don't see how that will be possible under these circumstances.
The two characters live in two separate countries, and I highly doubt Li-gang will bring his nephew to visit Jian-yi. There will be many grisly years until You-yu can emancipate and regain his freedom. Even if Li-gang dies, I don't think You-yu would reunite with Jian-yi. More likely, he'd be thrown into an orphanage instead. It's a bleak ending, one where homophobia and inequality won over love and loyalty. We'll have to assume Jian-yi and You-yu lead their separate lives while keeping each other in their hearts.
Li-wei's death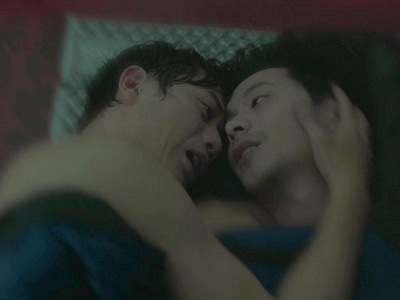 Near the movie's ending, we discover how Li-wei dies. Five years ago, Jian-yi and his partner embarked on a hiking expedition together. However, Li-wei didn't feel well and suffered from altitude sickness. As they rested in the tent, Li-wei surprised Jian-yi with a romantic present, a bracelet made of glass beads. However, Jian-yi got upset because it was a similar present that Li-wei gave his ex-wife.
As their conversation grew heated, Jian-yi revealed that he was the one to out Li-wei to his wife. Li-wei became furious, blaming Jian-yi for causing You-yu to lose his mother. In the following day, Jian-yi woke up to discover that his partner was missing from the tent. After a tense night, you can imagine Li-wei wanting time alone, get some fresh air, and clear his head. However, it proved to be a deadly decision. While traversing outside, Li-wei's weak body had collapsed and he became unconscious for a long time.
Although Jian-yi found his partner and tried to resurrect him, it was too late. In his dying breath, Li-wei told Jian-yi to look after You-yu. It was a promise that Jian-yi fulfilled with a heavy heart, supporting his partner's family through the next five years. In present day, you might notice that Jian-yi still wears the bracelet Li-wei had given him. The movie never brings it up, but this subtle detail proves how his character carries memories of Li-wei with him every day.
Jian-yi's guilt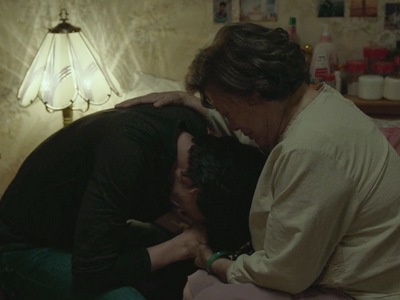 Every day since Li-wei's death, Jian-yi has suffered from overwhelming guilt. When Xiu-yu taunts him about how he caused her son to die, Jian-yi doesn't retort because he believes the accusation is true. His grief becomes more pointed when you realize their last interaction together was a massive quarrel. Li-wei tried to give him a romantic gift, and Jian-yi responded with an unpleasant revelation about his marriage. It was a terrible way to say goodbye, with regrettable final words that Jian-yi wished he could retract.
Although Xiu-yu didn't know the specific details of what happened, she sensed how much the guilt ate away at Jian-yi. For these past five years, Jian-yi carried a heavy emotional burden, unable to forgive himself over what happened. He cared for Li-wei's family, not just out of the goodness in his heart, but also because it was a dying man's last wish. The remorse, the responsibility, and the repentance constantly weighed on Jian-yi.
During their final conversation together, Xiu-yu told her son-in-law with a tender voice, "I stopped blaming you a long time ago. You need to stop blaming yourself too." After suffering for so long, Xiu-yu gives him the reassurance and atonement that Jian-yi desperately needed. He sobbed into her embrace, unleashing a torrent of repressed emotions. As the two people most affected by Li-wei's death, she understood his torment and offered him necessary closure. Her consoling words were like an emotional painkiller for his wounded and tortured soul.
Dear Tenant Music Video
Dear Tenant Online
Links