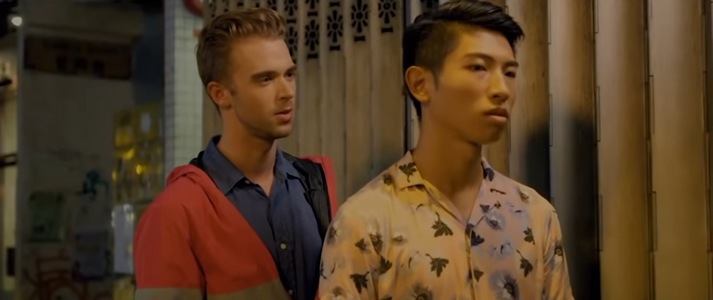 Delivery Boy is an English-speaking gay movie made in Hong Kong. This short film is about a delivery worker with a secret crush on his regular customer. One day, an unexpected opportunity allows the characters to interact for the first time. They form an easygoing rapport that develops into something more.
I enjoy the novelty of an English-language gay movie in Hong Kong. Otherwise, Delivery Boy is a pretty ordinary short film with a basic plot. It tells a cute and compact love story in fifteen minutes. However, it doesn't differentiate from the typical BL romances you've already seen in this genre.
Delivery Boy Summary
What is the film called?
外賣仔
Where was the movie made?
Hong Kong
When was the film released?
2019
How long is the Delivery Boy movie?
15 minutes
What is the genre?
Romance
How would you describe the movie?
Cute and sweet
Who is the director?
Hugo Kenzo
Is Delivery Boy BL?
Yes, this movie has a gay romance.
Plot

Chunho is a food delivery worker in Hong Kong. He delivers meals regularly to a customer named Eric. Chunho has developed an infatuation with the handsome expat, nicknaming him the pork and leek guy. Chunho confides in his friend, Jasper, and gushes about his secret crush frequently. However, Eric takes the food orders each time without minding the delivery boy. Eric doesn't even know who Chunho is.
One day, Eric and Chunho randomly meet on the streets. Eric has dropped his groceries on the ground, and Chunho goes to help him retrieve the items. The characters meet properly for the first time. Eric doesn't recognize the delivery boy, but Chunho plays along as if it's their initial introduction. Chunho offers to help Eric carry the groceries home. He's excited about the opportunity to finally step inside Eric's apartment.
Delivery Boy Cast
Characters
Chunho
Champi Lo

Chunho is a food delivery worker in Hong Kong. He has a secret crush on his regular customer, Eric. Despite his infatuation, Eric hasn't talked to Chunho and doesn't know he exists. Chunho often confides in his friend, Jasper, about his mundane interactions with Eric.
Eric
Phillip Smith

Eric is an expat who lives in Hong Kong. He orders food regularly at his home. Chunho delivers his meals each time, but Eric doesn't notice him. Eric has no idea the ordinary delivery boy harbours a secret crush on him.
Supporting Cast

Jasper
Thisby Cheng

Mr. Taylor
Mike Leeder
Cast Highlights
The movie's director is Hugo Kenzo, born in Brazil from Japanese parents. He currently lives in Hong Kong. Hugo has directed another short LGBTQ movie called No Pants, his debut film.
Delivery Boy Review
Review

Delivery Boy conveys a cute, adequate gay romance in fifteen minutes. The narrative is concise and coherent, delivering all the events smoothly. However, the story isn't remarkable enough to differentiate it from many other LGBT films in the genre. The plot is too basic, the length too short, and the characters too simplistic. Delivery Boy feels ordinary, like an average movie that doesn't do anything exceptionally well.
A delivery worker is a quirky choice for a lead in a gay movie. Once you get past the initial novelty, Chunho is a plain protagonist defined solely by his job and infatuation. Similarly, his love interest has even fewer distinguishable traits. The film fails to explain Eric's appeal or why Chunho seems attracted to him before they meet. I don't want to focus on Eric being an expatriate in Hong Kong. Yet, that's the only unique detail about his vanilla character. The basis of Chunho's crush is a physical attraction instead of anything substantial about Eric as a person.
Chunho and Eric have a few pleasant conversations upon meeting. They only make platonic small talk, so nothing in their exchanges signifies an amorous connection. It's bizarre these characters glean any romance from their mundane dialogue or forgettable interactions. Yet, Delivery Boy acts as if Chunho and Eric have forged a solid bond when they hardly know each other. Later, Eric behaves like a jerk, making him seem even less appealing. He redeems himself a little in the ending, but it isn't enough to make me believe in the authenticity of this couple.
Delivery Boy has a few unique features that make it stand out from other BL dramas or gay cinema. Firstly, it's a rare English-speaking film set against the backdrop of Hong Kong with Cantonese lingo mixed into the script. Using the dual languages in this bilingual movie isn't something done by many storytellers. Secondly, Chunho and Eric form an interracial couple that is underrepresented in BL or the gay media landscape. You don't see many Asian-Caucasian romances in LBGT fiction, a niche not particularly famous for diversifying its pairings.
I like the eclectic fusion of Eastern and Western influences in Delivery Boy. The movie blends two cultures and languages seamlessly, creating a distinctive harmony. As much as I appreciate the unique theme, the fifteen-minute narrative isn't long enough to examine it in depth. Apparently, the director Hugo Kenzo is working on a full-feature film of this story. I hope he retains the angle of highlighting cultural diversity when remaking Delivery Boy. A romance between a Hong Kong native and an expat can explore different identities, traditions, and ideologies compellingly.
Summary
Simple story
Delivery Boy offers a cute love story between a delivery worker and his regular customer. Although the storytelling is concise and coherent, the plot seems too basic without much complexity.
Basic romance
Chunho and Eric only have a few platonic exchanges that don't signify a romantic connection. This couple doesn't feel authentic, considering Chunho only seems attracted to Eric physically.
Average acting
The two leads give average performances that don't necessarily elevate the material. They're alright, but I don't have much to remark.
Happy ending
Delivery Boy has a happy ending where Eric makes up to Chunho after their earlier disagreement. The short film concludes with a sentimental monologue from Eric's character.
Average artistry
The production values are steady for a small filmmaking team. Otherwise, I don't have much to say about the visuals or soundtrack. They're okay, albeit not particularly inspiring.
65%
Delivery Boy is an average gay movie. It suffers from a simplistic plot, plain romance, and limited characterizations. However, I appreciate its harmonious fusion of Eastern and Western cultural influences.
Delivery Boy Movie
Delivery Boy Information
Links