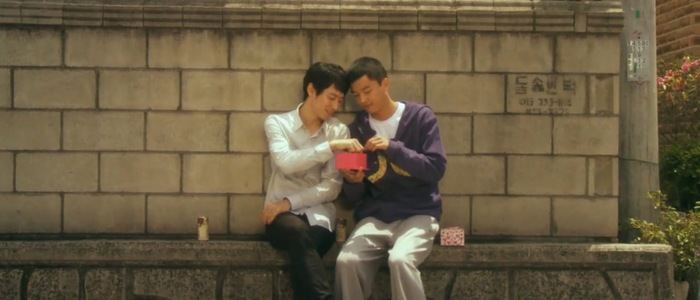 Made in 2009, Just Friends? is a Korean short movie about a young gay couple. The main character visits his boyfriend, who currently serves in the military. Despite their loving relationship, the two men are discreet about this secret romance. They must hide their covert flirting and intimate exchanges in the presence of family.
Just Friends is a fun, delightful, and campy gay movie. The bold coming-out story highlights an adorable romance, supported by astute social commentary that is still relevant today. This film also has a charming couple, racy encounters, tongue-in-cheek humour, and energetic musical numbers. It absolutely succeeds in entertaining me throughout the thirty minutes.
Just Friends BL Movie Summary
What is the film called?
친구사이?
Where was the movie made?
South Korea
When was the film released?
2009
How long Just Friends?
Around 30 minutes
What is the genre?
Romance
How would you describe the movie?
Happy and upbeat
Who is the director?
Kim Jho Kwang-soo
Is Just Friends BL?
Yes, the movie has a gay romance.
Plot

Seok Yi and Min Soo are a loving couple in a committed relationship. Currently, Min Soo serves in the Korean military. Seok Yi visits his boyfriend with the homemade confections he prepared all night. He boards the bus and meets Chae Eun, a girl who is also bringing sweets to her boyfriend. The two chat excitedly, but Seok Yi is careful about avoiding pronouns when addressing his boyfriend.
After arriving at the military facility, Seok Yi must fill out a contact form that states his relationship with Min Soo. Cheekily, Seok Yi writes that he is Min Soo's boyfriend. However, he crosses out the label due to discretion. Even though Seok Yi and Min Soo are dating, they must hide their romance while in public. The two men are delighted to see each other during the visitation. However, they are surprised when Min Soo's mom unexpectedly appears.
Just Friends Movie Trailer
Just Friends Movie Cast
Characters
Seon Yi
Lee Je Hoon (이제훈)

Seok Yi is a university student who works part-time at a restaurant. However, he plans on quitting school to focus on his culinary aspirations. Seok Yi has a boyfriend, Min Soo, who is currently serving his military duty. Seok Yi also plans to enroll in the military next month.
Min Soo
Yeon Woo Jin (연우진)

Min Soo is a soldier in the Korean military. He is in a secret relationship with Seok Yi, but they don't disclose their romance to the public. Min Soo has a close relationship with his mom and lives with her. However, she doesn't know that Min Soo and Seok Yi are dating.
Supporting Cast

Min Soo's mom
Lee Seon Joo (이선주)

Chae Eun
Lee Chae Eun (이채은)
Cast Highlights
The director of Just Friends is Kim Jho Kwang Soo. This openly gay Korean director has made various BL short movies in his career. His portfolio includes Boy Meets Boy (2008), Love 100°C (2010), Two Weddings and a Funeral (2012), and One Night Only (2014). His most recent work is Made on the Rooftop, a short film in 2021.
Just Friends Movie Review
Review

Just Friends is a gay movie ahead of its time. Released in 2009, this cute coming-out story is bursting with joy and enthusiasm. It succeeds in so many ways, managing to be funny, clever, bold, emotional, and effortlessly charming. The film conveys an adorable and passionate romance, but it also highlights the poignant struggles faced by gay men. Over a decade later, some modern Korean BL dramas don't contain half of the spirit and savvy that Just Friends possesses.
Packaged as a lighthearted romance, it's easy to underestimate Just Friends as frivolous. Admittedly, the movie has campy moments with cheery musical numbers at the beginning and the end. The film doesn't take itself too seriously, using upbeat songs and tongue-in-cheek humour to energize the narrative. The quirky comedy defuses a sad scenario where the leads cannot date in public. Unlike many stories about closeted gay guys, Just Friends doesn't want to evoke pity from the viewers. Instead, it inspires laughter, mischief, and optimism.
Despite the occasional goofiness, Just Friends delivers astute social commentary. The movie depicts the casual discrimination experienced by gay men, who must remain secretive and self-conscious in a conservative society. It introduces a straight couple to provide contrast and emphasize unfair discrepancies. There's little overt homophobia in the film. However, it doesn't need to state the obvious because we're so used to living with these heterosexist norms. Beneath a silly façade, Just Friends conveys mature & meaningful messages about LGBT experiences.
Just Friends has a super cute romance. The leads are two lovestruck young men who can barely contain their giddiness about seeing each other. Their early exchanges seem flirty and playful, bound to make you smile. Later, the passion intensifies between them, leading to several provocative interactions filled with sexual tension. The first bedroom scene is genuinely scandalous, putting me on edge as they navigate their covert affections. The second encounter is just as explosive, and the characters don't hold back from their animalistic impulses.
At thirty minutes long, Just Friends doesn't have enough time to explore its narrative themes to the end. As a result, the conclusion feels slightly condensed. While the plot achieves a juicy climax, I would've appreciated seeing more development between the aftermath and the ending. Nonetheless, I cherish the defiance and exuberance expressed in the final segment. True to the movie's values, Just Friends finishes with a lively celebration of love, pride, and identity. It doesn't wrap up every loose end neatly, but I was satisfied with the closure.
Just Friends astonishes me because it was made over a decade ago. 2009 wasn't a thriving era for the BL genre. Gay representation was minimal in media, especially across the Korean cinema landscape. Yet, the movie persisted in telling a happy, sensitive, and thoughtful love story between two men. Unsurprisingly, this harmless film met censorship woes from the usual culprits, limiting its visibility. Years later, I hope attitudes have evolved. Perhaps more people can watch Just Friends with an open mind, recognizing its creativity, comedy, and courage.
Summary
Upbeat story
Just Friends is an entertaining romantic comedy packed with joy and enthusiasm. The story doesn't take itself too seriously, but still conveys thoughtful social commentary on LGBT experiences.
Cute romance
There's a super adorable romance between the leads. Their flirty exchanges escalate into passionate encounters. Also, their secret relationship dynamic creates exciting scenarios for covert affections.
Decent acting
I love the vibrant energy from Min Soo's actor (Yeon Woo Jin). His costar (Lee Je Hoon) is hammy in some scenes. Nonetheless, I enjoy their comfortable rapport. They come across as cute boyfriends.
Happy ending
Just Friends has a happy ending that celebrates love and identity proudly. The movie ran out of time and didn't expand on the events after the climax. However, I was still satisfied with the closure.
Okay artistry
I acknowledge the movie has artistic and attractive visuals in various moments. Yet, it can't hide the low-budget appearance that is pretty evident in the production values.
84%
Just Friends is a fun, campy, and upbeat gay film ahead of its time. I was thoroughly entertained by the cute romance and the bold coming-out story. Overall, this movie is a triumph for the BL genre.
Just Friends BL Movie Information
Links