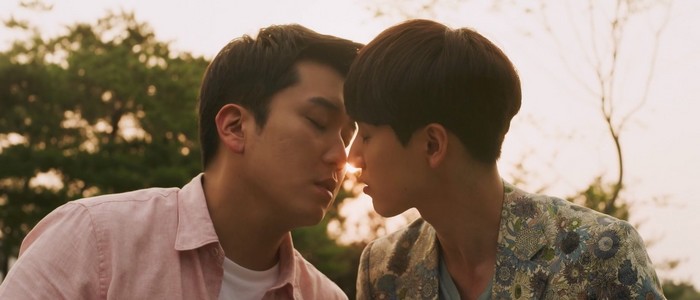 Made on the Rooftop is a Korean movie about a gay couple going through a breakup. After a recent argument, the main character moves out of his boyfriend's apartment. He becomes roommates with his best friend, enjoying single life together. His ex apologizes and wants to make amends. As the protagonist contemplates reconciliation, a shocking incident threatens their relationship.
Beneath the cheerful comedy and carefree tone, Made on the Rooftop tackles emotional topics. I appreciate the movie's messages about navigating adversity with a positive mindset. It strikes the right balance between heaviness and lightheartedness for an enjoyable viewing experience. Although there are two couples, the love stories lack a sense of passion and seduction. This film is more effective at conveying friendship than romance.
Made on the Rooftop Summary
What is the movie called?
메이드 인 루프탑
Where was the film made?
South Korea
When was the movie released?
2021
How long is Made on the Rooftop?
Around 1 hour and 30 minutes
How would you describe the film?
Nice and gentle
Who is the director?
Kim Jho Kwang Soo
Is Made on the Rooftop BL?
Yes, there are two gay couples.
Plot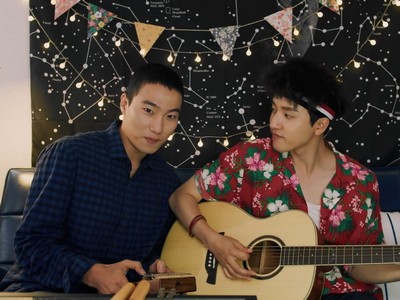 Ha Neul lives with Jeong Min, his boyfriend of three years. They raise a Siamese cat, Ari. Ha Neul is currently unemployed and seeking work. His job status is a source of insecurity, making him feel like he is freeloading off his boyfriend. Yet, he doesn't have any special skill or particular passion. He also doesn't have much career experience.
The couple recently had a massive argument. During the fight, Ha Neul made fun of his boyfriend's sexual prowess. "I don't need a boyfriend who can't even get hard!" Ha Neul stormed out of their apartment to cool his head. After he returned, Jeong Min changed the locks and refused to let him inside. With nowhere to go, Ha Neul must crash with his best friend Bong Sik.
Bong Sik is a streamer with a significant online following. He relies on his audience's donations to make a living. Although Bong Sik uses the money to buy premium brands, he lives in a small, shoddy flat. Bong Sik likes hanging out on the apartment rooftop, where he grows a small garden. He introduces Ha Neul to Sun Ha, his friendly and talkative neighbour. Sun Ja and Bong Sik like teasing each other. Although Bong Sik seems annoyed with her, Ha Neul can tell they have a close relationship.
Bong Sik plays badminton with friends. During one of the games, he meets Min Ho, who introduces himself. Min Ho reveals he is a fan of Bong Sik and watches his streams. Over time, the two chat more frequently. Min Ho is interested in dating. However, Bong Sik claims he isn't interested in finding anyone. Despite the rejection, Min Ho continues to pursue him. Bong Sik is moved by his suitor's advances.
Meanwhile, Ha Neul meets with his ex-boyfriend. Jeong Min starts crying. He is apologetic and wants to reconcile. However, Ha Neul doesn't forgive him. In private, Ha Neul has already decided that he wants to get back together. He's just playing hard to get, toying with his boyfriend to make him suffer a little more. However, a nasty surprise happens that night, altering their relationship forever.
Made on the Rooftop Trailer
Made on the Rooftop Cast
Characters
Ha Neul
Lee Hong Nae (이홍내)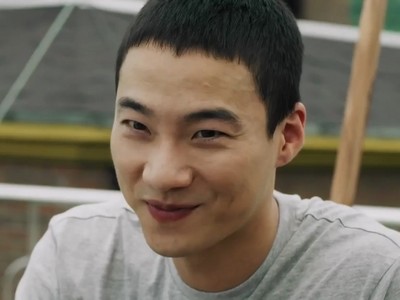 Ha Neul is Jeong Min's long-term boyfriend. They have been dating for three years. The couple lives together and raises a Siamese cat named Ari. After a recent argument, Ha Neul breaks up with Jeong Min and moves out of their apartment. He becomes roommates with his best friend, Bong Sik. Ha Neul is currently unemployed and seeking a job.
Lee Hong Nae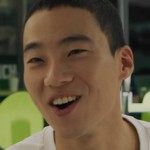 Lee Hong Nae (이홍내) is a Korean actor. He is born on January 28, 1990. His first BL project is the 2021 movie, Made on the Rooftop.
Bong Sik
Jung Hwi (정휘)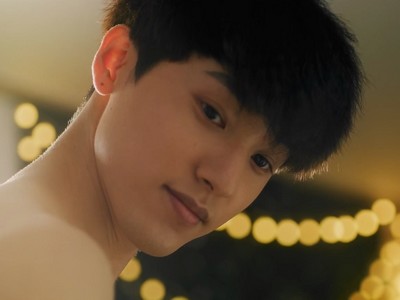 Bong Sik is Ha Neul's best friend. After Ha Neul's breakup, Bong Sik allows him to crash at his place for a while. The two friends vow to enjoy single life together. Bong Sik works as a streamer and makes a decent amount of money from his viewers' donations. He meets Min Ho, one of his fans who wants to get to know him better.
Jung Hwi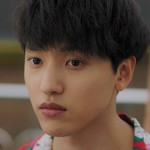 Jung Hwi (정휘) is a Korean actor. He is born on May 27, 1991. His first BL project is the 2021 movie, Made on the Rooftop.
Supporting Cast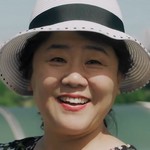 Sun Ja
Lee Jung Eun (이정은)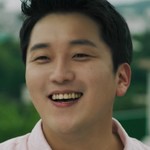 Min Ho
Kwak Min Gyoo (곽민규)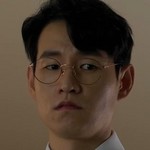 Jeong Min
Kang Jung Woo (강정우)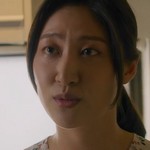 Jeong Yeon
Yeom Moon Kyung (염문경)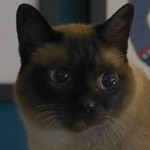 Ari
Cast Highlights
Jeong Yeon's actress (Yeom Moon Kyung) is the screenwriter of Made on the Rooftop.
Made on the Rooftop Review
Review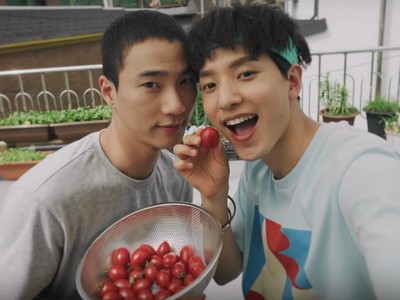 Made on the Rooftop features two gay protagonists who go through a slump in their love lives. One just left a long-term relationship, while the other is perpetually single and opposes dating. They embark on motivational journeys of love, healing, and self-discovery. While the movie explores emotional storylines, it balances the solemn moments with gentle humour and lighthearted banter. Made on the Rooftop doesn't dwell on sadness and tackles adversity with a healthy dose of positivity.
This movie seems genuine. From the casual conversations to the flawed characters, Made on the Rooftop captures an authentic atmosphere. Despite a few dramatized moments, the story feels like it can happen in the real world. The plot mirrors the insecurities or relationship problems faced by everyday couples. Both protagonists have relatable experiences. You can understand their perspectives, immerse yourself in their emotions, and root for them to overcome hardships. Made on the Rooftop is grounded in reality, allowing viewers to connect with this down-to-earth film.
Ha Neul and Bong Sik have lively personalities. Initially, Ha Neul makes a poor first impression, berating his boyfriend in a petty quarrel. However, his character goes on a heartfelt redemption arc and learns many lessons. He transforms into a sympathetic protagonist by the end of the film. Likewise, Bong Sik closed his heart to love until he met a sincere suitor. He conquers his self-doubts and no longer fears committing to relationships. Both characters are likeable due to the charming leads (Lee Hong Nae and Jung Hwi), who inject vibrant enthusiasm into their roles.
Made on the Rooftop splits its attention between the two protagonists whose storylines rarely overlap. Although Ha Neul and Bong confide in each other about their problems, they lead separate lives and encounter different issues. One faces intense drama after his breakup, while the other goes on cutesy dates. Sometimes, the film feels like an odd mash-up of unrelated narratives that don't belong together. Also, there isn't enough time to develop either plot deeply, leaving a lack of complexity. I'd rather have one cohesive movie than two scattered and superficial journeys.
The movie includes two couples. However, Ha Neul and Jeong Min's storyline has little emphasis on romance. From heated arguments to tearful accusations, their dysfunctional relationship drama makes me question what they saw in each other. The movie doesn't bother to expand Jeong Min's character beyond the closeted gay man archetype. He feels like a plot device. The other pairing has more traditional BL scenes. Although Bong Sik and Min Ho's courtship seems sweet, their interactions lack passion. The flirtation is wholesome yet run-of-the-mill, barely exciting me.
Made on the Rooftop has a happy ending. Bong Sik's storyline offers closure and highlights his character growth. Ha Neul also learns to be independent, regardless of whether he has a boyfriend. Annoyingly, the movie finishes at the most exciting part. I wish it would explore the aftermath of Ha Neul and Jeong Min's relationship. The ambiguous conclusion feels unsatisfying since I am invested in what happens to this couple. Even so, Made on the Rooftop leaves a positive impression. I have enjoyed this cozy, uplifting movie and appreciate its sentimental messages.
Summary
Sincere story
Made on the Rooftop explores the love lives of its two protagonists. The story successfully combines emotional relationship drama with lighthearted humour. However, the plots aren't too complex.
Lacklustre romance
This movie features two couples. There's little romance between Ha Neul and his boyfriend, who only argue and cry. Bong Sik and Min Ho show more affection, but their scenes are generic.
Lively acting
The leads (Lee Hong Nae and Jung Hwi) give spirited performances and inject enthusiasm into their roles. Also, the cast handles the dramatic moments well, bringing gravitas to crucial scenes.
Happy ending
Made on the Rooftop has a happy ending for both protagonists. Bong Sik learns to open his heart to committed relationships. Ha Neul also gains independence, regardless of his boyfriend's status.
Vibrant artistry
The movie carries a lively, enthusiastic vibe. Its colourful visuals, upbeat soundtrack, and groovy wardrobe bring much enthusiasm to the film. I like the song that Bong Sik & Ha Neul performs!
75%
Made on the Rooftop is a cozy gay movie that balances emotional storylines with cheerful humour. Despite the lacklustre romances, the uplifting story portrays compelling character growth.
Made on the Rooftop Information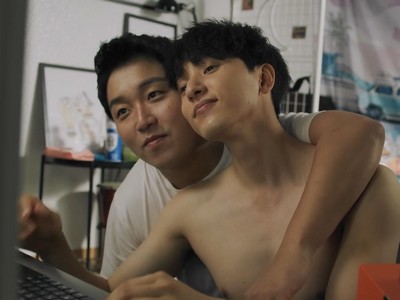 Start Date June 23, 2021
Movie Length 1 hour and 30 minutes
Made on the Rooftop is a Korean movie that released on June 23, 2021. It is a medium-length film, which you can finish in around 1 hour and 30 minutes. Kim Jho Kwang Soo is the movie director.
Links
Rainbow Factory
Rainbow Factory (레인보우팩토리) is a Korean BL studio that made the 2022 series, The New Employee. In the past, this studio has been involved in several projects with a LGBTQ+ focus.
Director
Kim Jho Kwang Soo (김조광수) is a Korean director. He has worked on various LGBTQ+ movies and dramas. His first BL project is the 2008 short movie, Boy Meets Boy. He also directed Just Friends (2009), Love 100° C (2010), Two Weddings and a Funeral (2012), and One Night Only (2014). His other works include Made on the Rooftop (2021) and The New Employee (2022).