Rerun is a Thai short movie about a gay couple's relationship drama. The main characters began as university friends. They bond over their niche tastes in art and music. One evening, they have an intimate discussion about their future together. The protagonist promises to curate his friend's first art exhibition. However, an unexpected opportunity threatens to tear apart the pair.
Unfortunately, I have a lukewarm response to Rerun. The short movie is light on romantic content and doesn't expand on the couple's relationship. Instead of feeling emotionally attached, I observe their angsty drama through an indifferent lens. The acting performances are impressive during several scenes. Nonetheless, the lacklustre story isn't substantial enough to resonate in my mind upon completion.
Rerun Movie Summary
What is the film called?
RERUN
Where was the movie made?
Thailand
When was the film released?
2023
How long is Rerun?
Around 20 minutes
What is the genre?
Romance
How would you describe the movie?
Sad and emotional
Who is the director?
Sasawat Loesrit
Is Rerun BL?
Yes, the film features a gay couple.
Plot

The movie begins from Kit's perspective. He is a guest at his friend's wedding. Eame and Thame are getting married. Kit goes on stage to make a short speech, sending his best wishes to the newlyweds. Eame teases him about his relationship status. Even though Kit claims he's single, she jokes and insists he must have a lover.
As Kit scans the crowd, he makes eye contact with Chou. They exchange solemn glances at each other. The two shared a complicated past. They first met in the senior year of university. Both art students discover their mutual love for niche music and agree to see a concert together. Chou is glad he finally has someone to keep him company. Their outing goes well, bringing the friends closer. Kit and Chou almost shared an intimate moment.
That night, Kit and Chou lie in bed together. They discuss their future. Chou expresses his gratitude for finding someone who enjoys the same activities as him. They share similar tastes in music, art, food, and games. Chou plans to hold a solo art exhibition in the future. He asks Kit to be his curator. Kit jokes that his friend jokes appears to be giving a confession. Chou doubles down and wants to initiate a relationship with him. After a thoughtful moment, Kit accepts.
A year later, Kit and Chou are dating. However, there is trouble in paradise. Chou receives a valuable opportunity to host his first art exhibition at a gallery. However, he approached an experienced curator to organize the event. Kit feels betrayed by his boyfriend's decision. The couple has a heated confrontation about what this exhibition means to them. As they exchange words, the couple discovers their love for each other may not be on the same wavelength.
Rerun Movie Trailer
Rerun Movie Cast
Characters
Kit
PP Krit Amnuaydechkorn (พีพี กฤษฏ์ อำนวยเดชกร)

Kit has been friends with Chou since university. They share the same niche tastes in music and other hobbies. Kit works as an art curator. He agrees to help Chou organize his first art exhibition in the future. Kit and Chou share a mutual friend, Eame.
PP Krit Amnuaydechkorn

PP Krit Amnuaydechkorn (พีพี กฤษฏ์ อำนวยเดชกร) is a Thai actor. He is born on April 30, 1999. His first BL project is the 2019 drama, My Ambulance. He stars in the famous I Told Sunset About You (2020) and its sequel I Promised You the Moon (2021). He returns to acting in 2023 with the short movie, Rerun.
Chou
Nine Naphat Siangsomboon (ณภัทร เสียงสมบุญ)

Chou is Kit's university friend. They have known each other since their senior year. Both art students share similar tastes in music. Chou appreciates Kit's companionship and feels thankful to have found someone with the same interests. In the future, Chou plans to hold his first art exhibition. He asks Kit to become his curator.
Nine Naphat Siangsomboon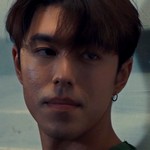 Nine Naphat Siangsomboon (ณภัทร เสียงสมบุญ) is a Thai actor. He is born on May 5, 1996. His first BL project is the 2023 short movie, Rerun.
Supporting Cast

Eame
Kit's friend

Thame
Eame's lover
Cast Highlights
The actor portraying Kit (PP Krit) is the lead of the famous Thai BL series I Told Sunset About You (2020). He also appears in the 2021 sequel I Promised You the Moon.
Rerun Movie Review
Review

Rerun tells a short gay love story in three parts. The first act depicts the couple's blossoming attraction. The movie tries its best to portray the leads falling in love, albeit it only has several minutes to make the magic happen. As a result, we get an abbreviated version of the relationship. The couple's intimacy is shown through chummy body language. Likewise, their flirtation packs into a few knowing glances. Instead of serving a full-fledged romance, Rerun gives you the express version of the narrative.
Although rushed, Rerun successfully illustrates camaraderie and familiarity between the leads. Several moments tease their intimacy, whether an arm around the shoulder or lying side by side in bed. There's enough suggestiveness to get your imagination flowing. Kit's actor (PP Krit) gives sultry gazes at his partner, amplifying the romantic atmosphere. With that said, the movie focuses on an emotional connection rather than a physical bond. The couple seldom touches and never kisses. The BL content may not seem compelling or convincing for some viewers.
The second act introduces tensions in the romance. However, the conflict seems sudden without build-up. We barely see Kit and Chou settle down as a couple, but they're already feuding in the next scene. The time skip is detrimental because it glosses over too much relationship development. Show us more memories, experiences, and interactions. The characters need a history together to make me feel invested in their love story. Also, I dislike how the movie delivers a crucial plot point through email messages. It isn't an intuitive way to present information to viewers.
The leads have a heated confrontation at the story's climax. PP handles the dramatic exchange skillfully, bringing the same gravitas he demonstrated in I Told Sunset About You. Despite the scene's brevity, he acts with remarkable speed and precision. This talented performer delivers authentic emotions that resonate deeply. He can instantly draw the audience into the intensity, leaving a lasting impact. Furthermore, the movie's moody ambiance carries a cinematic flair. The stylish visuals accentuate the storytelling, from the dim lighting to the symbolic imagery.
Finally, the third act shows the couple reuniting after spending time apart. Absence makes the heart fonder. Kit and Chou have an intimate chat, hinting at the possibility of reconciliation. There's enough ambiguity to make you analyze the dialogue, decipher the expressions, and hope for the best. However, the shift is too jarring. The characters just finished arguing in the previous scene. But now, the story wants to convince us they are back on amicable terms. The relationship swings like a pendulum from one extreme to another, giving me emotional whiplash.
Rerun has positive qualities, including sensitive acting performances and vintage aesthetics. The plot also shows potential, highlighting a couple's epic journey through ups and downs. With more time, this movie may have fleshed out its ideas or ironed out the pacing issues. In its current state, the film doesn't connect with me emotionally. I observe the angsty relationship drama like an indifferent bystander, hardly caring about what happens. Overall, Rerun feels lacklustre. It offers a quick outline of a fascinating story rather than a complete romantic experience.
Summary
Lacklustre story
Rerun tries to convey angsty relationship drama in twenty minutes. However, there isn't enough time to expand on its ideas, flesh out the characters, or develop the romance.
Condensed romance
The movie delivers an abbreviated version of a BL romance. It glosses over a lot of relationship development. It also focuses more on an emotional connection than a physical bond.
Emotional acting
Kit's actor (PP Krit) acts his butt off. From sultry gazes to anguished expressions, he has mastered his emotions in every scene. This performer brings gravitas to the dramatic exchanges.
Open ending
Rerun has an open ending that leaves the couple's relationship ambiguous. Chou makes it clear that he still has feelings for Kit. You may feel hopeful about their reconciliation.
Vintage artistry
This series carries a cinematic flair, from saturated colours to symbolic imagery. The aesthetics have a vintage feel, adding richness and ambiance to the visual storytelling.
64%
Rerun is a moody short movie that delivers sensitive acting performances. However, the lacklustre story and barebones romance don't move me. I feel indifferent to the angsty relationship saga.
Rerun BL Movie
Rerun Movie Information

Start Date September 13, 2023
Movie Length 20 minutes
Rerun is a Thai movie that released on September 13, 2023. It is a short film, which you can finish in around 20 minutes.
Sasawat Loesrit is the movie director. It is made by PP Krit Entertainment.
Links
PP Krit Entertainment

PP Krit Entertainment is a Thai studio. Its founder is Thai actor PP Krit Amnuaydechkorn, the star of BL dramas I Told Sunset About You (2020) and I Promised You the Moon (2021). The studio made the short film Rerun (2023).