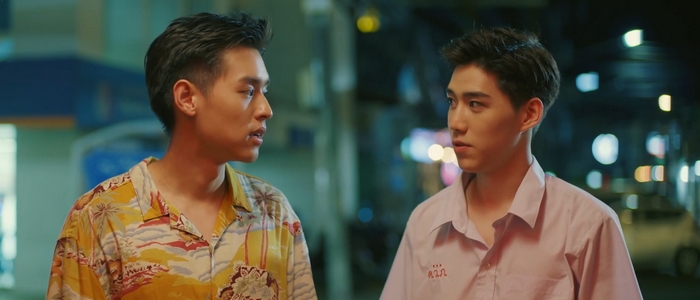 I Told Sunset About You is a coming-of-age Thai BL drama about two childhood friends who turned into bitter rivals. They become close again during the university admission process, as the former enemies rebuild their broken friendship. When the feelings between them deepen, they experience intense passion, confusion, betrayal, and heartbreak.
There's a lot to love about I Told Sunset About You. Every aspect of its production is top-notch, including the stellar acting, stunning cinematography, and sensational story packed with emotional drama. This excellent BL series explores the themes of friendship, redemption, and personal identity.
I Told Sunset About You Summary
What is the drama called?
แปลรักฉันด้วยใจเธอ
Where was the series made?
Thailand
When was the drama released?
2020
How long is I Told Sunset About You?
Around 7 hours
What is the genre?
School drama
How would you describe the series?
Sad and emotional
How many episodes are there?
5 episodes + sequel
How long is each episode?
Around 75 minutes
Plot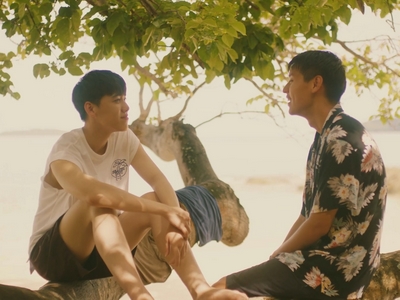 Since a young age, Teh knew he wanted to become an actor. With his childhood best friend Oh-aew, the two of them would dress up and play roleplaying games to pass the time. They had a strong friendship, and Teh didn't mind when Oh-aew landed the leading role of the school play instead of him. He was happy for his friend, even helping him rehearse for the role.
After the school performance, Oh-aew decided that he also wanted to become an actor. However, this made Teh upset as he believed his friend was trying to steal his lifelong dream away from him. In the heat of the moment, hurtful words were exchanged between them. Their friendship quickly fell apart after the argument, with the two of them refusing to speak to each another.
Years later, both Teh and Oh-aew applied for the same acting program to study at a prestigious university. The admission process was highly competitive, only guaranteeing a limited number of spots to the candidates with the best auditions. Those who failed to secure an early admission will have to enroll in the program through their academic grades.
Tensions were high between Teh and Oh-aew when they met again through their mutual group of friends. Their relationship only worsened when Teh mocked Oh-aew for his poor grades in a remedial class. However, Teh had a change of heart after witnessing Oh-aew's devastation when he failed to get admitted into the acting program. Feeling genuinely remorseful, Teh wanted to clear the air between them and offered a tearful apology.
Although Oh-aew forgave his childhood friend, he remained quite guarded around him. Teh knew he had to try extra hard to win back his trust and rebuild their deteriorated friendship. Teh offered to become Oh-aew's private tutor, helping him to study and improve his grades. Over time, the two of them started to become close again, but they may rekindle more than just a friendship when romantic feelings are thrown into the mix.
Sequel
I Told Sunset About You has a sequel called I Promised You The Moon. The second season follows the characters as they transition to their university years.
I Told Sunset About You Trailer
I Told Sunset About You Cast
Characters
Teh Billkin Putthipong Assaratanakul (พุฒิพงศ์ อัสสรัตนกุล) Billkin Instagram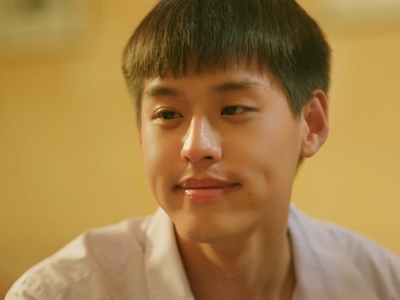 Teh is a charming and enthusiastic high school student who loves to act. Becoming an actor has been his lifelong dream, ever since he was inspired by his idol Yung Jien in a Chinese drama. Although Teh is brimming with confidence, he's sometimes plagued with insecurities about himself. Teh has an accomplished older brother, while his theatrical mother runs a family restaurant.
Oh-aew Krit Amnuaydechkorn (กฤษฏ์ อำนวยเดชกร) Krit Instagram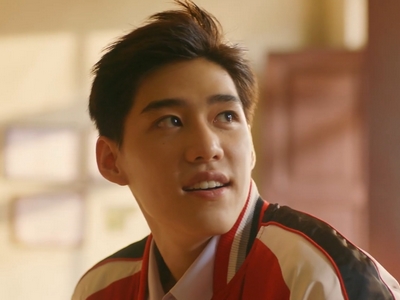 Oh-aew is the president of his high school drama club. He discovered his love for acting in a school play, which caused resentment from Teh and the two of them stopped being friends. Popular and sociable, Oh-aew has built a large social media following online. His family runs an island resort and he has to take the ferry home every night.
Tarn Smile Parada Thitawachira (ภาลฎา ฐิตะวชิระ) Smile Instagram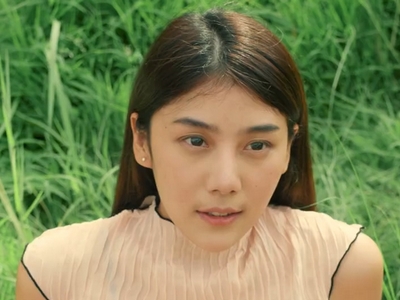 Tarn is Teh's high school friend. Teh has been flirting with Tarn for the past two years, constantly asking her to become his girlfriend. An ambitious art student, Tarn takes her studies seriously and doesn't want to be distracted by a relationship until she secures admission into her dream university. However, she's quite smitten with Teh and finds herself falling for his endearing personality.
Bas Khunpol Pongpol Panyamit (ปองพล ปัญญามิตร) Khunpol Instagram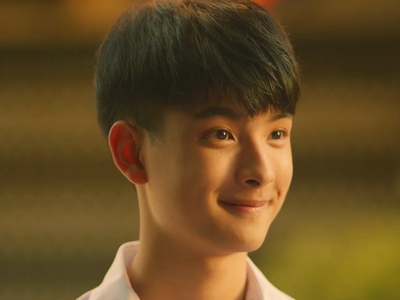 Bas is Oh-aew's friendly and well-mannered high school friend. Back when he was a new transfer student, Oh-aew helped Bas integrate into his close circle of friends. He knows how to drive and gives Oh-aew a ride to school every day. Oh-aew has a crush on his high school friend, but doesn't know if Bas feels the same way about him.
Supporting Cast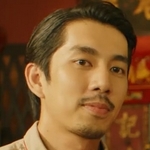 Hoon
Nat Kitcharit (ณัฏฐ์ กิจจริต)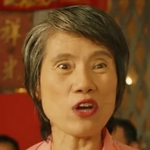 Teh's mom
Kanchana Pakviwat (กาญจนา ภาควิวรรธ)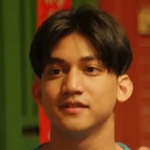 Phillip
Dream Theethat Suk-im (ธีธัต สุขอิ่ม)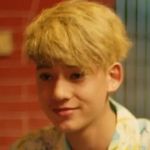 Mod
Christiaan Churaporn Bos (จุราพร บอส)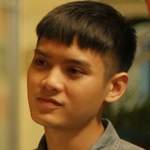 Kai
Rolex Jirayus Khaobaimai (จิรายุส ขาวใบไม้)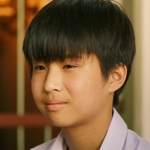 Teh (Child)
Nobel Pitchanan Jiemsirikarn (พิชชานันท์ เจียมศิริกาญจน์)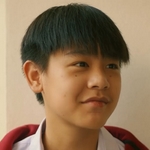 Oh-aew (Child)
Pupa Inthanon Seangsiripaisarn (อินทนนท์ แสงศิริไพศาล)
I Told Sunset About You Review
Review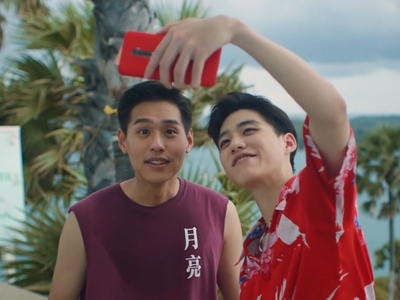 I Told Sunset About You is an outstanding BL drama with an emotional story, backed by excellent acting and beautiful cinematography. The production values are impressive, with a great amount of thought and care put into crafting every scene. You don't often come across a BL series with so much polish, in a genre often restricted by very small budgets, but everything looks so bright, warm, and refined in I Told Sunset About You.
I love the main characters in I Told Sunset About You, both of whom are very nuanced and flawed. The actors do a fantastic job with their multifaceted portrayals. On the best of days, these two teenagers can be charming, vivacious, and so immensely likable. Yet, there's also a side of them where they can be moody, stubborn, and irrational. You may lose your patience with them sometimes, but you're also sympathetic to their struggles and want to root for them to overcome their hardships.
The beginning of I Told Sunset About You is super engaging, where it explored a childhood friendship that fell apart, the subsequent tension, and their eventual reconciliation. The emotions were so raw and vulnerable, as Teh and Oh-aew tried to repair a friendship without fully trusting each other yet. As the series progresses, their relationship becomes rife with sexual tension, adding a new complex dimension to their compelling dynamic.
A lot of explosive drama unfolds in the second half, leading to very intense conflicts and angst in the last two episodes. By this point, the characters verge on being too annoying, and some of their decisions are especially frustrating. When there's so much overwrought crying in scene after scene, the heavy melodrama starts to weigh on you near the end. A little more lightheartedness, or even just a small break from the tension, would've made the viewing experience feel less emotionally draining.
Nonetheless, I Told Sunset About You is such a thrilling journey and I'm completely absorbed by the rich emotions in every scene. From the confident storytelling to the powerful acting, this is easily one of the best BL series that gets top marks in so many areas. I would highly recommend I Told Sunset About You, which is an epic showcase of the BL genre at its best.
I Told Sunset About You Episodes
Episode Guide
I Told Sunset About You has a total of 5 episodes. Each episode is around 75 minutes long. The last episode is around 90 minutes long. This is a long length BL drama, and you can finish the entire series in under 7 hours. I Told Sunset About You started on October 22, 2020 and ended on November 19, 2020. There's also a sequel called I Promised You The Moon, released in May 2021.
⭐ Best episode
Episode 2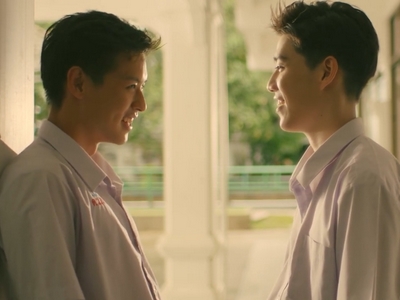 I picked Episode 2 because it's the happiest episode in I Told Sunset About You, not bogged down by too much serious angst or melodrama. The relationship between Teh and Oh-aew is in a great place. Their scenes are fun, warm, and lively. There's some minor conflict and misunderstanding between them, but it gets resolved pretty quickly.
💕 Most romantic episode
Episode 3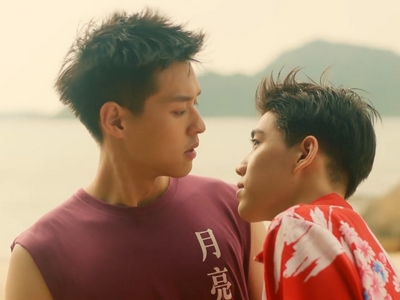 Episode 3 is packed with lots of unresolved sexual tension between Teh and Oh-aew. They come close to being intimate on several occasions, especially after Oh-aew confronts Teh about his feelings in the hammock. Teh recites the lyrics to a Chinese love song, which is his not-so-subtle way of confessing his feelings. The episode ends with a physically affectionate exchange, as the couple spends the night at Teh's home.
😭 Tearjerker episode
Episode 5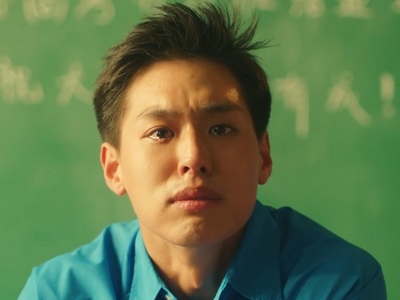 Episode 5 is a series of emotional punches for all the characters involved. The previous episode is already extremely intense, but the tension doesn't let loose and the melodrama is amplified tenfold in this episode. It's tough watching Teh's life fall apart after he gave up his university scholarship. He endures lot of scrutiny from his mother, his ex-girlfriend, and his teachers, and it takes a huge toll on his mental state.
Worst of all, his relationship with Oh-aew doesn't improve even after his big gallant sacrifice. In fact, Oh-aew and Bas become a couple right before his very eyes. This episode also contains tearful scenes as Teh comes out to his brother, Oh-aew breaks up with Bas, and Tarn gets her heart broken by Teh (hilariously enough, the only scene where Teh doesn't cry is when he breaks up with Tarn 🙃). Basically, every character gets an opportunity to cry their little eyes out in Episode 5.
😡 Most triggering episode
Episode 4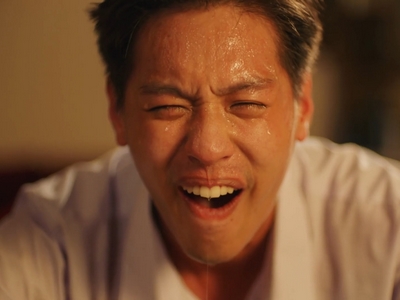 What can be more triggering than the episode where Teh rescinds his university offer and faces a shitstorm for what he did. When he's not getting chewed out by his mom or his fake girlfriend, Teh feels guilty over the generosity of his brother. To make things worse, Oh-aew is completely ungrateful and even mocks him for what he did. Teh's self-esteem could not sink any lower than that moment.
On top of all the drama with Teh, this episode also features some very heavy emotional turmoil with Oh-aew, as he struggles to cope with Teh's rejection. Oh-aew starts blaming himself, keeps questioning what he did wrong, and begs him to be together. Later, he is wallowing in self-doubt and confusion, even questioning his own sexual identity. His emotional meltdown is heartbreaking to watch.
💋 First kiss episode
Episode 4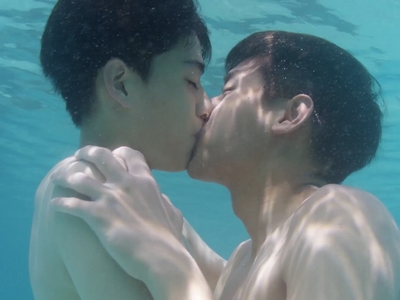 Technically, the first kiss happened in Episode 2 between Teh and Tarn, but we don't include heterosexual activities in BL Watcher. 😒 The first and only kiss between Teh and Oh-aew came in Episode 4. It's a very cinematic kiss that goes on for quite a while. The kiss came at a point where the sexual tension was overflowing between the two characters, so this moment was like a great release of pent-up energy.
👨‍❤️‍💋‍👨 Episodes with intimacy
Episode 3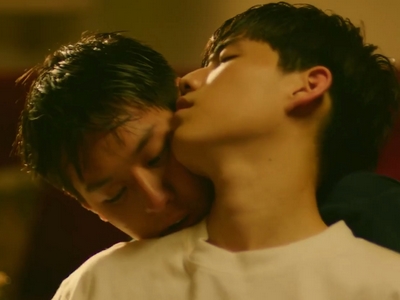 The end of Episode 3 gets quite steamy. It begins with Teh and Oh-aew rubbing each other's legs on the living room sofa. After being interrupted by his mom, they continue their sexual foreplay in the privacy of his bedroom.
Teh begins groping and gyrating against Oh-aew's body, but stopping himself just in time before the action escalates any further. Once Teh grabs Oh-aew's chest and realizes there's a lack of breasts, he suddenly feels self-conscious again. 👐🏻
💪🏻 Episodes with skin
Episode 1, 3, 4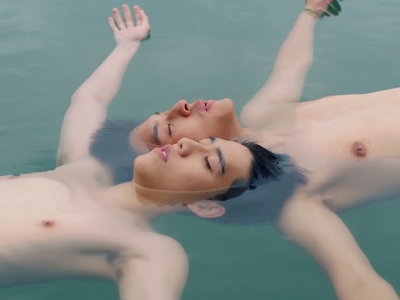 Teh and his friends go swimming at the beach in Episode 1, so we see flashes of skin here and there. He also gets shirtless quite a few times throughout the series. We first see Oh-aew shirtless in the bathtub in Episode 3, and then we also see him shirtless again in Episode 4 when he tries on his mother's bra.
👨🏻‍🤝‍👨🏻 Episodes as a couple
Episode 5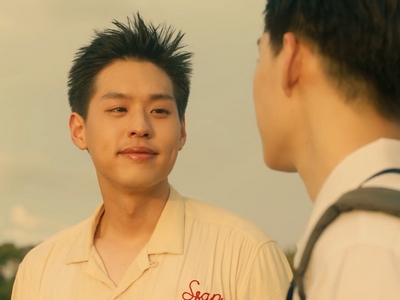 In the last scene of Episode 5, Teh finally asks Oh-aew to be his boyfriend as they watched the sunset together. Earlier in the episode, Teh broke up with Tarn and Oh-aew broke up with Bas, so they are both newly single again. In response to his question, Oh-aew is so overjoyed that he's speechless. He almost breaks down in happy tears, and then the two of them embrace with the sunset as their backdrop.
Best Scenes
Episode 1
School play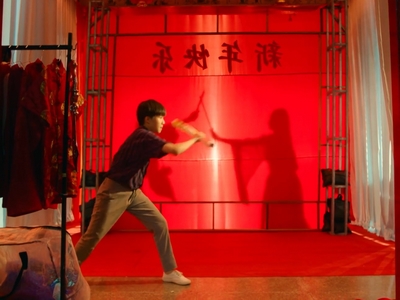 I loved the way I Told You About Sunset began with an extensive look into Teh and Oh-aew's childhood friendship. The scenes were quite fun and memorable, plus it helped that they cast two fantastic young actors in their roles.
One of the highlights was definitely the school play, where Tae helped his friend overcome the stage fright. There's a brilliant moment where Teh imitated the swordplay backstage, and we see him duelling with the shadows of the main actors on stage. It was such a simple yet elegant piece of cinematography, which required an artistic eye to pull it off so beautifully.
I was really impressed with how well-crafted this scene was. It was one of the first moments that made me take notice of the thoughtfulness in I Told Sunset About You's production.
The apology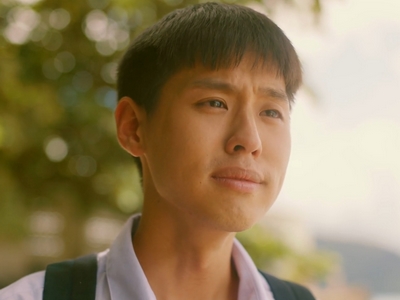 Teh's apology is a powerful moment in I Told Sunset About You. Leading up to this scene, tensions were at an all-time high between the two former friends. Earlier, they got into a heated argument, where Teh mocked Oh-aew's poor grades. His hurtful comment definitely struck a nerve.
In this scene, Oh-aew feels devastated when he didn't get an early admission spot from the university. As you can imagine, the last person he wants to see right now is his nemesis. Although Oh-aew goes into hiding, Teh follows him to the beach where they used to spend time together as kids. Teh sees how upset Oh-aew is, and he becomes emotional himself.
His apology was so simple, no more than a few more sentences, but the impact felt momentous and epic. Here are two childhood friends who have been at odds with each other for years, and Teh finally extends an olive branch for the first time. It takes courage, humility, and sincerity to let go of your grudge, admit you were wrong, and offer a heartfelt apology.
Oh-aew's response was just as simple. With tears in his eyes, he nods his head and signifies that the apology was accepted. This scene could've gone very differently, and Oh-aew has every reason to stay angry at Teh. Nonetheless, he chooses to forgive his former friend, no matter what happened in the past.
Everything in this scene was superbly done. I love the acting, I love the cinematography, and I love the raw emotions on display. The drama here might feel very mundane, but it's natural and compelling. It made me a bit sappy to see Teh and Oh-aew become friends again. 😭
I Told Sunset About You Information
Links
Nadao Bangkok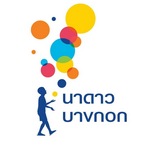 Nadao Bangkok is a Thai studio that made I Told Sunset About You (2020) and its sequel I Promised You the Moon (2021). It also made Great Man Academy (2019) and My Ambulance (2019), along with other Thai dramas.