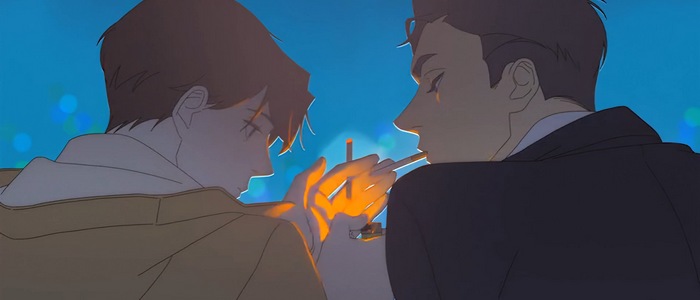 Hyperventilation is an 18+ Korean BL anime series with six short episodes. The protagonist used to be a social outcast in high school due to his lung condition, causing him to hyperventilate all the time. He formed a connection with the popular class president, who showed compassion towards him. Years later, they meet again during a school reunion, rekindling old feelings between the former classmates.
I'm impressed with Hyperventilation, a breathtaking love story that really hits the mark. The narrative is riveting and wraps up elegantly in just fifteen minutes. Although the art quality is inconsistent, this anime maintains a beautiful atmosphere that highlights the delicate emotions.
Hyperventilation Anime Summary
What is the anime called?
과호흡
How many episodes are in Hyperventilation?
6 episodes + special
When was the anime released?
2017
How long is Hyperventilation?
Around 20 minutes
What is the genre?
Romance
How would you describe the anime?
Spicy & romantic
Is the anime based on a manhwa?
Yes, written by Bboong Bbang Kkyu
Is Hyperventilation BL?
Yes, Hyperventilation is an explicit 18+ BL anime.
Plot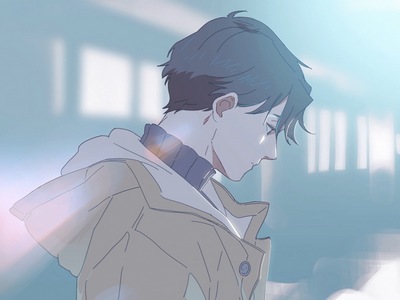 Myongi has a collapsed lung, also known as pneumothorax, which causes him to hyperventilate uncontrollably. Along with Myongi's quiet personality, his disruptive medical condition makes him a social outcast in high school. He sits out during P.E. lessons and excuses himself from class lectures. His classmates even gossip that Myongi can skip military duty because of his lung problem.
Myongi is a loner in school with no friends. However, his classmate Sunho sometimes tries to converse with him. Sunho is the class president. Popular and sociable, he is almost the exact opposite of Myongi in their personalities. Sunho is also a stellar athlete with a ripped body and rock-solid abs. His physique captures Myongi's eye and makes him blush.
Years later, Myongi and Sunho meet again in a high school reunion. Now adults, seeing each other again has rekindled the repressed feelings from their youths. However, their encounter also brings back painful memories and personal insecurities from Myongi's past.
Hyperventilation Anime Cast
Characters
Myongi Wolha (월하)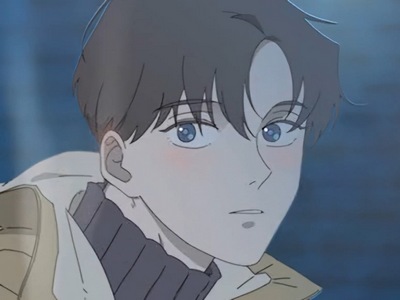 Myongi has a lung condition called pneumothorax, which makes him hyperventilate convulsively. His health problems made him a social outcast in high school and he had no friends. Years later, Myongi shows up at the class reunion and encounters Sunho, his old crush. Since his high school days, Myongi has started smoking.
Sunho Sejun Choi (최세준)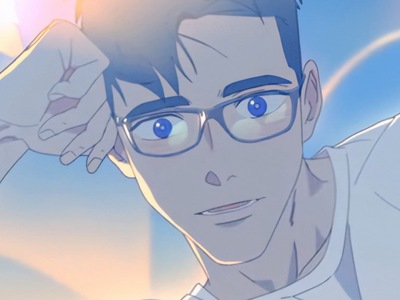 Sunho is Myongi's high school classmate. He used to be the class president, an ace athlete, and had lots of friends. Myongi harboured a crush on him. Years later, they meet again at the class reunion, except Sunho shows up wearing a wedding ring. Like Myongi, Sunho is also a smoker.
Hyperventilation Anime Trailer
Hyperventilation Anime Review
Review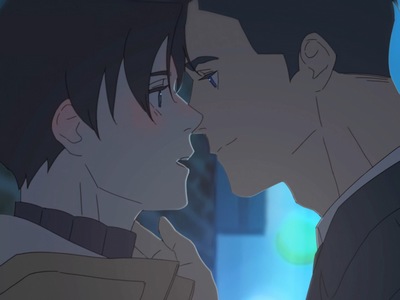 Hyperventilation is a stylish and elegant BL series that tells a simple love story in fifteen minutes. This anime achieves a lot in a short amount of time, building palpable sexual tension between the main characters. Their interactions are compelling and keep you intrigued to learn more about the relationship. Best of all, Hyperventilation is rich with exquisite ambiance, using colours, lighting, and visual cues to cultivate a sexy atmosphere. The results are stunning, taking my breath away with how smoothly all the elements come together.
The anime begins at a high school reunion, where old feelings reignite between two former classmates. Later, there are flashbacks of their time together as teenagers, offering insights into what transpired between them. Each episode reveals a new dimension to their relationship, unfolding layers upon layers to form a complex dynamic. Despite the simplicity of the narrative, Hyperventilation feels thoughtful, sophisticated, and emotionally nuanced. The well-crafted plot is presented by an artistic storyteller, conveying a cohesive message in every scene.
Hyperventilation features a captivating romance that gets my heart pumping. The more I learn about these characters, the more compelled I am by their chemistry. The sexual tension between Myongi and Sunho builds up like a crescendo, which finally unleashes in a sizzling scene. It should be noted this 18+ anime has explicit encounters, not shying away from physical intimacy. Yet, the sex is merely treated as part of the story, so any eroticism doesn't overpower the plot.
I go back and forth on how I feel about the art, which varies in its consistency. Some scenes are drawn better than others and the same quality isn't maintained throughout the anime. At times, the characters don't look particularly appealing with their sharp angular lines. However, Hyperventilation can appear gorgeous when it tries, showcasing atmospheric visuals that help to accentuate the story. By the way, the epilogue special looks sensational, making me wish that's the art style used in the main series.
Hyperventilation is limited by its short length. The story gets told excellently in fifteen minutes, but it couldn't hurt to add more content, expand on the characters, and build upon their romance. Nonetheless, this anime makes a positive impression in its current state, including a lovely conclusion and a beautifully drawn epilogue special. Overall, Hyperventilation is an outstanding product in the BL genre, highlighting a successful love story with sensitivity and flair. This impressive series is a perfect example of indie excellence.
Summary
Thoughtful story
Although the story is too short, Hyperventilation uses those fifteen minutes to tell a rich and compelling love story. The narrative feels thoughtfully crafted, with many layers unfolding.
Sizzling romance
The characters share a sizzling romance. This anime does a wonderful job portraying a sexy love story that gets my heart racing.
Decent artwork
The artwork lacks consistency in some scenes and the characters don't always look appealing. However, this anime can look really beautiful when it tries.
Happy ending
Hyperventilation has a happy ending that leaves me very satisfied. I just wish the anime was longer and could have expanded its universe more.
Beautiful style
This stylish anime is rich with ambiance. This stylish anime series uses colour and visual cues to create a beautiful ambiance.
84%
Hyperventilation might be short and simple, but the sensitive love story is elegantly told. The complex relationship dynamic between the characters keeps you intrigued until the end.
Hyperventilation Anime Episodes
Episode Guide
Hyperventilation has a total of 6 episodes. Each episode is around 2 to 3 minutes long. In addition, there's a 5-minute epilogue special that takes place after the events of the finale. It's a short BL drama, and you can finish the entire series in under 30 minutes. Hyperventilation originally aired on October 11, 2017.
Hyperventilation Anime Information
Links
ABJ Company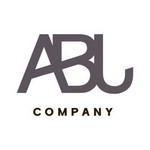 ABJ Company is a South Korean animation studio. Its first BL project is the 2017 series, Hyperventilation. It has also released Mignon in 2023.
Creator
Bboung Bbang Kkyu (뿡빵뀨) is a Korean artist and animator. Their first BL project is the 2017 anime drama, Hyperventilation. Other works include Unbelievable Space Love (2018) and Mignon (2023).