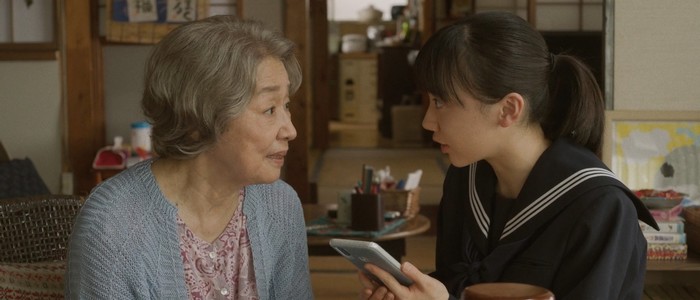 BL Metamorphosis is a Japanese movie about the sweet, cozy friendship between an elderly woman and a teenage girl. The main character is a bookstore clerk who befriends a senior customer after discovering their mutual love for BL manga. Despite their age gap, they meet regularly to discuss these love stories. The older protagonist helps her younger companion to overcome self-doubt and embrace this hobby wholeheartedly.
Adapted from an acclaimed manga, BL Metamorphosis is a warm and gentle movie. It celebrates the Boys Love genre, highlighting the universal appeal for fans of all ages. The story contains admirable messages about friendship, pursuing your passion, and trying new experiences. There's almost no relationship content, so it won't satisfy those who want to watch a traditional BL romance. Nonetheless, I appreciate this uplifting film with a gentle touch.
BL Metamorphosis Summary
What is the film called?
メタモルフォーゼの縁側
Where was the movie made?
Japan
When was the film released?
2022
How long is BL Metamorphosis?
Around 2 hours
How would you describe the movie?
Safe and wholesome
Who is the director?
Shunsuke Kariyama
Is BL Metamorphosis a BL movie?
No, BL Metamorphosis has no BL content.
Plot

Urara is a shy 17-year-old girl who loves reading BL manga. However, she feels self-conscious about her hobby. Urara doesn't tell anyone else about this passion, not even her childhood friend Tsumugu. Urara and Tsumugu have a close bond. Recently, he has begun spending more time with Eri, another female classmate. Urara observes their budding relationship quietly without comment.
Urara works part-time at a bookstore. One day, she encounters an elderly customer who makes a curious purchase. Yuki, a 75-year-old widow, buys her first BL manga. Initially, Yuki didn't know "I Just Want to See You" was a BL story. She bought the book solely because of the pretty artwork on the cover. As she reads the manga, Yuki is surprised when the male characters kiss in the book. Nevertheless, she is enchanted by the teenage love story.
Yuki returns to the bookshop to buy another installment of "I Just Want to See You". However, there's no more stock left. Urara, the employee helping her at the time, offers to call when a new order arrives. A friendly conversation forms between them. Yuki reveals she's a newcomer to the BL genre, but the teen romance resonated with her. "It makes me want to cheer them on," she explains. They carry their chat at a nearby café. Afterwards, Yuki and Urara agree to exchange contact information to discuss more BL in the future.
"I Just Want to See You" is an ongoing manga that hasn't finished yet. After Yuki catches up to the latest installment, she asks Urara for other BL manga recommendations. Urara visits the older woman's home with a bag of her favourite books. She worries some stories won't appeal to Yuki because they have steamier scenes. However, her friend is thankful for these commendations. As time passes, Urara continues visiting Yuki's place to chat about BL. The elderly woman prepares meals and teaches her about calligraphy, one of her favourite activities.
Urara and Yuki get along, developing a cozy friendship despite their age difference. Although Urara shares her BL hobby with Yuki, she remains secretive around everyone else. At school, she lies and pretends not to be interested in the genre. Meanwhile, Yuki's health problems worsen. Her frail physical condition makes her daughter, Hanae, concerned. Hanae doesn't want her mom to live alone anymore, although Yuki resists the idea of relocating.
BL Metamorphosis Trailer
BL Metamorphosis Cast
Characters
Urara
Mana Ashida (芦田愛菜)

Urara is a 17-year-old teenager who works at a bookstore. She secretly loves reading BL manga. However, she feels self-conscious and doesn't open up about this hobby with anyone. Urara develops a surprising friendship with Yuki due to their mutual interest in the "I Just Want to See You" manga. Urara befriends the elderly woman and even recommends manga to her.
Mana Ashida

Mana Ashida (芦田愛菜) is a Japanese actress. She is born on June 23, 2004. Her career started as a child actress, and her breakout role is the 2010 Japanese series Mother.
Yuki
Nobuko Miyamoto (宮本信子)

Yuki is a 75-year-old woman who lives by herself. Her adult daughter visits occasionally and feels concerned about her mom's frail health. Yet, Yuki resists the idea of relocating to live with Hane. One day, Yuki buys her first BL manga due to the pretty artwork on the cover. She forms a friendship with Urara, the teenage bookstore clerk.
Nobuko Miyamoto

Nobuko Miyamoto (宮本信子) is a Japanese actress. She is born on March 27, 1945. Her illustrious career includes eight Best Actress nominations at the Japanese Academy Awards. She won the coveted title in 1988 for the Japanese drama, A Taxing Woman.
Supporting Cast

Tsumugu
Kyohei Takahashi (高橋恭平)

Eri
Yuki Shioya (汐谷友希)

Komeda
Kotone Furukawa (古川琴音)

Chimaki
Asumi Kikuchi (菊池和澄)

Hanae
Tomoko Ikuta (生田智子)

Urara's mom
Taeko Ito (伊東妙子)

Numata
Ken Mitsuishi (光石研)

Masaki
Shuutaro Ooka (大岡周太朗)
Cast Highlights
Hanae's actress (Tomoko Ikuta) has a small guest role in the 2018 Japanese BL series Ossan's Love. She played the main character's mother.
BL Metamorphosis Review
Review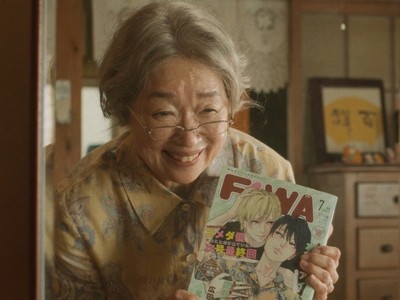 BL Metamorphosis is a warm, cozy movie about an unlikely friendship. The main characters befriend each other despite their generation gap, bonding over a mutual interest in yaoi manga. You'll smile at the delightfully wholesome interactions between a senior woman and a teenage girl. The film depicts their hobby compassionately. Nobody judges them for liking BL, even if the elderly protagonist doesn't fit the demographics of a typical fan. BL Metamorphosis celebrates kindness, understanding, and positivity.
Despite the gentle vibes, there's occasional tension in BL Metamorphosis. The conflict comes from Urara's self-doubt. She is her worst enemy and seems insecure about this hobby. Even after BL becomes trendy in school, Urara denies her interest. It ties to her ongoing feelings of inferiority, a struggle that Yuki helps her overcome. Metamorphosis, a word that defines change, reflects Urara's journey as she transforms her perspective. What used to bring her shame turns into a source of pride. This movie sends empowering messages about conquering your demons.
Yuki's storyline also deals with change. She must battle the challenges of aging, particularly when her health declines. As Yuki confronts her physical setbacks, she takes comfort in her bond with Urara. Thanks to her teen companion, Yuki remains young at heart. She's introduced to BL, a new experience that makes her feel passionate, enthusiastic, and reinvigorated late in life. Most of all, Yuki is grateful for their friendship. She enjoys mentoring Urara and providing wise guidance. The last stage of Yuki's metamorphosis involves leaving her imprint on a new life cycle.
BL Metamorphosis isn't a dramatic movie. The plot develops ordinarily, never building to an intense climax, shocking twists, or heated confrontations. Despite the lack of action, I was charmed and engaged throughout this two-hour film. I feel attached to the endearing protagonists, care about their lives, and root for them to succeed. Both leads do a superb job with their portrayals. They speak authentically, behave realistically, and make this story feel more credible. The skilled actresses humanize their characters, giving Urara and Yuki much emotional nuance.
As you can tell, BL Metamorphosis drastically differs from many projects in this genre. No, it is not a BL movie. The plot focuses on the two female fans and their platonic friendship. Technically, there is BL content in a limited capacity. The leads follow a serialized manga whose characters fall in love. We occasionally see art panels depicting intimate encounters between Sakura and Yuma. Nonetheless, it'd be misleading to claim the film includes a romance. Without a conventional couple, BL Metamorphosis may not appeal to some viewers who only want to watch a love story.
BL Metamorphosis has a faintly happy ending with a tinge of sadness. I speculated that Yuki's health troubles might steer the plot to a dark place, but the film never goes there. Instead, it reiterates that change inevitably occurs as we grow older. Our lives can't stay the same forever. With Yuki's influence, Urara becomes a self-assured woman. I'm satisfied knowing her personal journey feels complete. Overall, BL Metamorphosis is an uplifting movie that fills me with positive vibes. It tells a different story from the norm, making me cherish BL from a new perspective.
Summary
Uplifting story
BL Metamorphosis tells a cozy story about two women who become friends despite their age gap. The gentle movie celebrates kindness and compassion. It contains thoughtful messages about change.
No romance
This movie has no BL romance. It focuses on two BL fans and their platonic friendship. There's BL content in a small capacity. As the leads read a manga, we see art panels of intimate moments.
Authentic acting
Both leads (Mana Ashida and Nobuko Miyamoto) portray their roles endearingly. They speak and behave authentically. Both actresses humanize the characters, giving Urara and Yuki emotional depth.
Gentle ending
BL Metamorphosis has a faintly happy ending with a tinge of sadness. It reiterates that change inevitably comes as we grow older. Urara transforms into a self-assured woman with Yuki's guidance.
Soothing artistry
The movie is supported by solid production values. It conveys a calm, soothing vibe that puts the viewers at ease. Each scene feels soft, cozy, and relaxing.
76%
BL Metamorphosis is a gentle story about friendship and growth. It contains wholesome characters and compassionate messages. Despite the lack of romance, this movie fills me with positive vibes.
BL Metamorphosis Series
Spin-Off
I Just Want to See You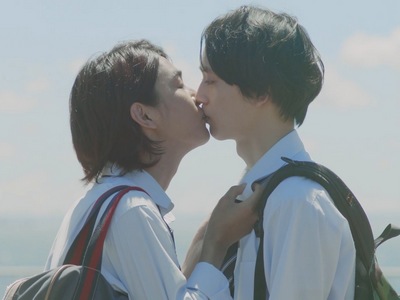 BL Metamorphosis has a spin-off series, I Just Want to See You. In the film, the main characters bond over their mutual love for the "I Just Want to See You" manga. This fictional story became an actual live-action drama with four short episodes. You don't need to watch "I Just Want to See You" to enjoy BL Metamorphosis. The movie and the series are unrelated, featuring different stories and characters. The only thing in common is that the protagonists' names exist in the movie's universe.
I Just Want to See You covers a teenage love story between Yuma and Sakura. These high school students are best friends rocked by a surprise love confession. Unlike BL Metamorphosis, the series actually has BL content. However, the story is short and only covers a limited scope of romance. Nonetheless, it has the same warm and cozy vibe as the movie. If you enjoyed BL Metamorphosis, I Just Want to See You is a decent companion piece with a similar atmosphere.
BL Metamorphosis Information

Start Date June 17, 2022
Movie Length 2 hours
BL Metamorphosis is a Japanese movie that released on June 17, 2022. It is a long film, which you can complete in around 2 hours. Shunsuke Kariyama (狩山俊輔) is the movie director.
BL Metamorphosis is a movie adaptation. The original story is a Japanese manga by Kaori Tsurutani (鶴谷香央理).
Links