609 Bedtime Story is a Thai BL fantasy series about a murder mystery involving two parallel universes. One night, the main character is magically transported to an alternate world. In this timeline, another resident lives in his apartment. Although they have never met, the protagonist discovers this stranger will soon be assassinated. They must navigate between universes, catch the culprit, and stop the murder.
I often don't understand what is happening in 609 Bedtime Story. The bizarre plot confuses me. There are too many inexplicable events, convoluted twists, and abstract concepts. In addition, the lead romance develops weirdly and turns into a messy love triangle. With that said, the ridiculous antics entertain me sometimes. I laugh at the dumb shenanigans and view this series as campy fun.
609 Bedtime Story Summary
What is the drama called?
เบดไทม์สตอรี่
Where was the series made?
Thailand
When was the drama released?
2022
How long is 609 Bedtime Story?
Around 9 hours
What is the genre?
Thriller
How would you describe the series?
Wild and intense
How many episodes are 609 Bedtime Story?
12 episodes
How long is each episode?
Around 35 to 50 minutes
Plot

Mum is a bar owner who runs a local business with his best friend, Games. The handsome Mum often performs music for the crowd, drawing a sizable crowd at each performance. He's popular with single ladies. Mum frequently hooks up with his female bar patrons, gaining him an infamous playboy reputation. He never settles down with anyone for a long-term relationship, which troubles his sister, Mint.
Mum and Mint have a close bond. After their parents pass away, the siblings are each other's only living relatives. Mint is a confident young woman who likes to assert control over her brother's life. He obeys her orders and doesn't want to upset her. Unlike her casanova brother, Mint is unlucky in love and remains hopelessly single. She has been pining after her university friend, who seems reluctant to enter a relationship with her. Even though she has other suitors, Mint is focused on this one guy.
Games is romantically interested in Vee, the cute accountant who works for his bar. It's his first time pursuing a guy, which surprises Mum. Games tells his straight friend to be more open-minded to gender and new experiences. Yet, Mum remains reserved. He can't imagine himself dating another guy. Games teases his friend and jokingly places a curse on him, claiming he'll fall in love with a pretty boy. Mum is against this idea.
Games has a cheeky and boisterous personality. He openly flirts with Vee and has asked his employee to date him. However, Vee remains hesitant. He wants them to stay friends. Vee recently left a long-term relationship with his ex-boyfriend, A. His ex dumped him to marry a woman. Vee is still healing from his breakup and doesn't want another boyfriend so soon. Feeling undeterred, Games hopes to win over Vee with his sincerity. Vee starts getting swayed by Games' charm offence.
Mum lives alone in a one-bedroom apartment, also known as Suite 309. One night, he goes to sleep and magically wakes up in a parallel universe. He meets Dew, the occupant of this apartment in the alternate world. Consumed by inexplicable passion, the two strangers kiss and make love. Before Mum can ask questions, an unknown assassin suddenly barges into the room. He fires a gun, killing Dew. Mum returns to his world, feeling confused and horrified. He wants to figure out what happened and stop Dew's murder.
609 Bedtime Story Cast
Characters
Mum
Ohm Thitiwat Ritprasert (โอห์ม ฐิติวัฒน์ ฤทธิ์ประเสริฐ)

Mum runs a bar with his friend Games. Occasionally, he performs music at the bar, drawing a sizable crowd. Mum is popular with the ladies and has gained a reputation as a playboy. He is single and lives alone in a one-bedroom apartment flat. After Mum's parents have passed away, his sister Mint is his only living relative. The two siblings are close.
Ohm Thitiwat Ritprasert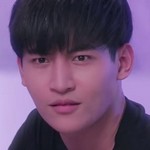 Ohm Thitiwat Ritprasert (โอห์ม ฐิติวัฒน์ ฤทธิ์ประเสริฐ) is a Thai actor. He is born on March 26, 1997. His first BL project is the 2019 drama, Until We Meet Again. He also starred in Oh! My Sunshine Night (2022) and 609 Bedtime Story (2022). In addition, Ohm appeared in Saenha Maya (2020), Close Friend (2021), Close Friend 2 (2022), and Between Us (2022).
Dew
Fluke Natouch Siripongthon (ฟลุ้ค ณธัช ศิริพงษ์ธร)

Dew is the occupant of Mum's apartment flat in the parallel universe. They meet under strange circumstances and form a tight connection. Dew comes from an affluent background and works for his family business. He obeys his family, facing pressure from his strict and overambitious father. Dew wants to launch his own fashion brand.
Fluke Natouch Siripongthon

Fluke Natouch Siripongthon (ฟลุ้ค ณธัช ศิริพงษ์ธร) is a Thai actor. He is born on June 1, 1996. His first BL project is the 2013 movie Change. He also starred in the films My Bromance (2014), Red Wine in the Night (2015). and My Bromance 2 (2021). Fluke is the star of various BL dramas, including Until We Meet Again (2019), Close Friend (2021), Oh! My Sunshine Night (2022), and 609 Bedtime Story (2022). He will appear in Boyband (2023), Make a Wish (2023), and Shadow (2023).
Games
Potae Watcharayu Suradet (โปเต้ วัชรายุธ์ สุรเดช)

Games is Mum's friend. They run the bar together. Games is cheeky and outgoing, often making jokes to liven the atmosphere. He has a crush on his employee, Vee. Although Games tries initiating a relationship, Vee won't reciprocate his feelings. Games tries to convince his subordinate to change his mind.
Potae Watcharayu Suradet

Potae Watcharayu Suradet (โปเต้ วัชรายุธ์ สุรเดช) is a Thai actor. His first BL project is the 2022 drama, 609 Bedtime Story.
Vee
Plustor Pronpiphat Pattanasettanon (พรพิพัฒน์ พัฒนเศรษฐานนท์)

Vee is an accountant who works at Games and Mum's bar. He recently broke up with his boyfriend, A, who married a woman. Vee is traumatized by his romantic history, making him hesitant to enter a new romance so soon. He is hesitant when his boss, Games, starts hitting on him.
Plustor Pronpiphat Pattanasettanon

Plustor Pronpiphat Pattanasettanon (พรพิพัฒน์ พัฒนเศรษฐานนท์) is a Thai actor. He is born on March 13, 1996. He has appeared in My Dear Loser: Edge of 17 (2017), Happy Birthday (2018), and Friend Zone (2018), all of which have BL storylines. In addition, Plustor appeared in Thanon Sai Saneha (2022) and 609 Bedtime Story (2022).
Supporting Cast

Mint
Amy Thasorn Klinnium (เอมี่ ทสร กลิ่นเนียม)

Aun
Kenji Wasin Panunaporn (วศิน ภาณุมาภรณ์)

Joey
Get Sorawut Arunwattananunt (เก็ต สรวุฒิ อรุณวัฒนานันท์)

Ton
Tom Jakkrit Yompayorm (ทอม จักรกฤต ไยมพยอม)

Nook
Memie Nutcha Laohalertchai (มีมี่ นัชชา เลาหาเลิศชัย)

Ping
Atom Pracharapon Thepsukdee (อะตอม พชรพล เทพสุขดี)

A
Nat Sakdatorn (ณัฐ ศักดาทร)

Pratin
Ajiravudh Subarnbhesaj (ทันโต เสฏโฐ มนุสเสสุ)

Dew's dad
Chua Sornchai Chatwiriyachai (ฉั่ว ศรชัย ฉัตรวิริยะชัย)

Dew's mom
Phiao Duangjai Hiransri (ดวงใจ หิรัญศรี)

Noon
Cast Highlights
The leads (Ohm and Fluke) first appeared together in the 2019 BL drama Until We Meet Again. They were also a couple in Close Friend (2021) and its sequel Close Friend 2 (2022). In addition, Ohm and Fluke were costars in Oh! My Sunshine Night (2022).
Vee's actor (Plustor) and his ex-boyfriend A (Nat) appeared in the 2018 Thai drama Friend Zone.
Aun's actor (Kenji) had a supporting role in the 2021 series Lovely Writer.
Joey's actor (Get) had a supporting role in the 2021 series The Yearbook.
609 Bedtime Story Review
Review

Midway through 609 Bedtime Story, an embarrassing realization dawned upon me. I didn't understand what was happening in the plot. I had a vague idea of the storylines. There was something about parallel universes, a murder, and a love triangle. However, numerous scenes and chats baffled me. Despite my confusion, I had no desire to revisit the earlier episodes for clarification. With a good BL series, I can rewatch it many times. With 609 Bedtime Story, once is enough for me.
To write this review, I forced myself to sit through a second viewing of 609 Bedtime Story. The good news is I can grasp the concepts better. The bad news is my enjoyment hasn't increased. I still find the plot impossibly convoluted, disjointed, and illogical. The premise should've been exciting, as the leads travel between alternate worlds to change timelines and stop a murderer. This idea sounds intriguing on paper. Yet, the execution is muddled. There are too many irrelevant characters, dull side plots, and needless exchanges. The lousy writing stomps out the adrenaline in the story.
The romance develops strangely. Early on, Mum seems unusually close with a stranger he barely knows. Why are you so attached? Another issue is that the characters don't spend much time together. Mum and Dew only interact inside the apartment at night. Otherwise, they lead entirely separate lives in their own worlds. In some episodes, Mum hangs out with the supporting cast more than his love interest. Also, most romantic encounters happen in a tiny bedroom. The couple doesn't venture outside and share other experiences. The scope of their interactions is limited.
Even though Mum and Dew don't meet often, they deliver solid BL content. The couple has numerous intimate moments. After all, there isn't much they can do in that apartment besides kissing and screwing. Both leads display physical affection comfortably and share a familiar rapport. Unfortunately, the story introduces a messy love triangle that dampens the romance. Dew's two-timing antics reflect terribly on his character, making him seem deceitful and indecisive. As a result, I have trouble rooting for Dew and Mum's star-crossed pairing with a clean conscience.
609 Bedtime Story entertains me sometimes. The plot becomes so out there that I laugh at the ridiculous antics instead of scrutinizing everything. The series also exhibits a campy flair, from the over-the-top assassination to the scandalous love triangle drama. This cheeky BL drama has a sense of humour and doesn't take itself too seriously. In addition, the cast gives steady performances. Mum's actor (Ohm) shines in his role, exuding charm and charisma in spades. I also enjoy the secondary couple's chemistry. Games and Vee make a cute pair with adorable scenes.
609 Bedtime Story has two separate endings. The first occurs in a darker timeline, but I hate how the events unfold. Everyone's annoying behaviour amplifies, aggravating the hell out of me. I prefer the happier ending, although this version is too sanitized. All the conflicts get resolved rosily with as little conflict as possible. I feel like Goldilocks and want a conclusion somewhere in between these two extremes. Overall, 609 Bedtime Story is disappointing. I had hoped for a thrilling fantasy BL drama with a high-concept plot. Instead, the series is an overcomplicated mess.
Summary
Convoluted story
609 Bedtime Story has a convoluted plot that feels disjointed and illogical. While the premise of parallel worlds sounds exciting, the execution is muddled. There are too many needless side stories.
Messy romance
The leads share numerous physically intimate encounters. However, their bond develops inexplicably. Later, the story introduces a messy love triangle that makes me root against the lead couple.
Steady acting
Everyone gives steady performances. Mum's actor (Ohm) exudes charm and charisma in his role. I also enjoy the chemistry between the secondary couple, whose interactions are adorable.
Two endings
609 Bedtime Story has filmed two separate endings. One ending occurs in a darker timeline and finishes sadly. I prefer the happy conclusion, even though this version is too rosy and sanitized.
Solid artistry
This series has a solid presentation and pretty visuals. I love how the kissing scenes look. However, most romantic encounters occur inside the dinky apartment. The same setting gets old after a while.
65%
609 Bedtime Story has a thrilling premise. Yet, this overcomplicated BL drama doesn't portray its concepts coherently. The leads have an unpersuasive romance, which turns into a messy love triangle.
609 Bedtime Story Episodes
Episode Guide

Start Date November 26, 2022
End Date February 3, 2023
Episodes 12 episodes
Episode Length 35 to 50 minutes
609 Bedtime Story has a total of 12 episodes. Each episode is around 35 to 50 minutes long. This episode has two separate endings. Episode 11 is the sad ending, while Episode 12 depicts happier events. It is a long BL drama, and you can finish the entire series in under 9 hours. 609 Bedtime Story started on November 26, 2022 and ended on February 3, 2023.
Episode 1
Episode 2
Episode 3
Episode 4
Episode 5
Episode 6
Episode 7
Episode 8
Episode 9
Episode 10
Episode 11
Episode 12
Episode Reviews
Episode 1
Mum wakes up and meets a random stranger in his bedroom who wants to bone him. He thinks it's a kinky sex dream and goes along with it. Afterwards, he's like, "Why am I still in the dream?" LOL.
Episode 2
The plot is bizarre. Your one-night stand in a parallel universe gets killed. WTF? Also, why are Mum & Dew so close? From Mum's POV, Dew is a random stranger. Yet, they already seem intimate.
Episode 3
Are the two siblings competing for the same guy? This romance becomes even messier. 😅 To be honest, I like the secondary couple more than the leads. Mum and Dew's storyline is too convoluted.
Episode 4
I knew Dew's uncle was evil. A story doesn't introduce a random relative unless he's the villain. Aun's jealousy is annoying. Mint doesn't like you, no matter how much you pester Dew!
Episode 5
LMAO. That scene where Mum deciphers the parallel universe is so hilariously over-the-top. I don't understand what's happening in this confusing story, but the nonsense makes me laugh.
Episode 6
I can't enjoy Mum & Dew because they're hurting Mint. I feel bad for her. The men in her life are toxic. One is unstable and pulls out a gun. The other is a lying cheater stringing her along.
Episode 7
I like the secondary couple and want to see more of their cute interactions. Sadly, Vee and Games may be the only storyline I enjoy right now. The other characters, including the leads, are irritating.
Episode 8
I'm over the story. I don't care who the killer is. Also, the leads don't spend enough time together to form a compelling romance. When they meet, I'm reminded that Dew is cheating on Mint.
Episode 9
It cracks me up that Dew and Mum have sex in every parallel universe as soon as they meet. Mum's top priority is getting laid. Then, he introduces himself and tells Dew about his murder.
Episode 10
I hate how Dew cheats on Mint in every universe. If you have no feelings for Mint, don't marry her! While I like Vee & Games, they don't get enough scenes. Their cute romance is often sidelined.
Episode 11
I guess this is supposed to be the dark ending? I hate the events in this version. Does Dew break up with Mint via a text message? LOL. He's such a loser. Vee kissing his ex is kinda hot, though.
Episode 12
I like this happy ending more, but the events feel contrived. Mint is too understanding. Your fiancé dumps you to hook up with your brother, but you just smile and shrug. Where's the drama!?
609 Bedtime Story Information
Links
Director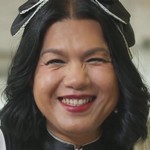 Golf Tanwarin Sukkhapisit (กอล์ฟ ธัญญ์วาริน สุขะพิสิษฐ์) is a Thai director. They have worked on various dramas throughout their career, including several works with LGBT+ themes. Golf directed the 2022 series, The Eclipse and 609 Bedtime Story.