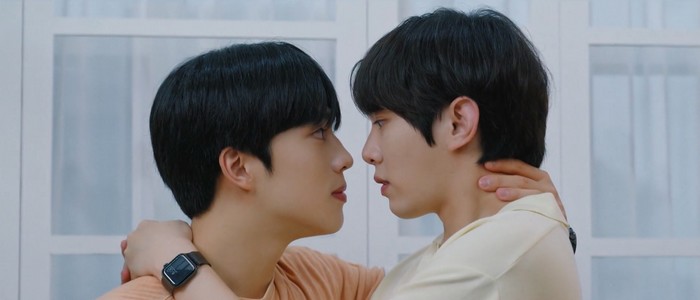 Love Mate is a Korean BL series about an office romance between two polar opposites. The main character is disillusioned about dating and avoids long-term relationships. However, a plucky new coworker is a hopeless romantic who challenges his way of thinking. Despite their initial clash, the protagonist is won over by his coworker's earnestness. He slowly opens his heart to the possibility of love.
I hate how the romance starts in Love Mate. The obnoxious main character pesters his love interest to the point that it feels like workplace harassment. The awkward plots, amateurish acting, and abundant cliches add to my uncomfortable viewing experience. The series becomes so hilariously bad that the awfulness almost becomes entertaining. I laugh at the cheesy flirting and dumb drama, not taking anything too seriously.
Love Mate Summary
What is the drama called?
러브메이트
Where was the series made?
South Korea
When was the drama released?
2023
How long is Love Mate?
Around 3 hours
What is the genre?
Office romance
How would you describe the series?
Cute and sweet
How many episodes are in Love Mate?
8 episodes
How long is each episode?
Around 15 to 25 minutes
Plot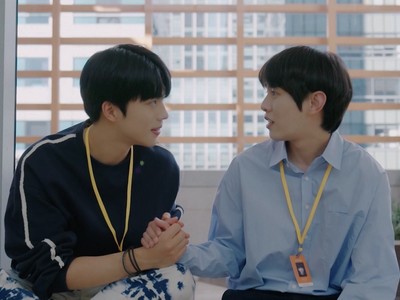 Lee Jun is a single man who feels disillusioned about love. He goes on various blind dates through hookup apps. However, he has a strict rule of breaking up with everyone after just one date. Lee Jun believes love is an unnecessary, uncomfortable, and unpleasant emotion. He advocates for single life, going against traditional norms.
Lee Jun is the team leader at a content production company. He is in charge of designing a new variety program. Lee Jun pitches his idea, Single Heaven, the antithesis of the typical dating shows. Instead of showing people falling in love, he wants to highlight the pleasures of single life. While pitching this idea to his boss, he is interrupted by his coworker Ha Ram. This new hire recently joined his company. However, he isn't afraid to speak up.
Ha Ram criticizes Lee Jun's proposal, claiming it is a terrible idea. As a hopeless romantic, Ha Ram believes this show is unrelatable to the public. He also calls Lee Jun a "relationship virgin" who spreads an unhealthy message about love. Lee Jun is so shocked that he can barely defend his concept. As a result of the poor presentation, the show's proposal was rejected. Lee Jun is furious because he had spent much time preparing for it, only to be undermined by the new employee.
Afterwards, Ha Ram apologizes for his excessive honesty. However, Lee Jun holds a grudge against him for ruining his pitch. He tries to avoid sitting next to his coworker during a team meal. Nonetheless, Ha Ram insists on being friendly with him. He offers another public apology. The rest of the team insists they make up. Lee Jun plays along due to peer pressure, even though he still resents Ha Ram and sees him as a foe.
After the meal, Ha Ram and Lee Jun have a one-on-one chat. Surprisingly, Ha Ram gives a love confession. He admits to having a crush on his coworker in a case of love at first sight. Lee Jun is shocked and confused. He believes his colleague is either drunk, joking, or teasing him. Yet, Ha Run insists on his sincerity. Lee Jun looks incredulous and rejects him on the spot, but Ha Ram seems undeterred. "I'll make sure you fall in love with me," he states firmly. In subsequent interactions, Ha Ram flirts with Lee Jun at every opportunity.
Love Mate Trailer
Love Mate Cast
Characters
Lee Jun
Cho Hyun Min (조현민)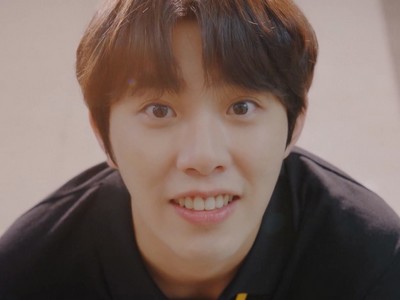 Lee Jun is a single man who doesn't believe in love. He rejects all his blind dates and refuses to go out with anyone more than once. As a team leader at a content production company, Lee Jun is in charge of creating variety programs. He pitches his new idea of creating a reality show for singles. Yet, his proposal is undermined by his coworker Ha Ram.
Cho Hyun Min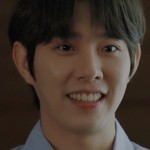 Cho Hyun Min (조현민) is a Korean actor. He is born on November 24, 1994. His first BL project is the 2023 drama, Love Mate.
Ha Ram
Cho Han Gyeol (조한결)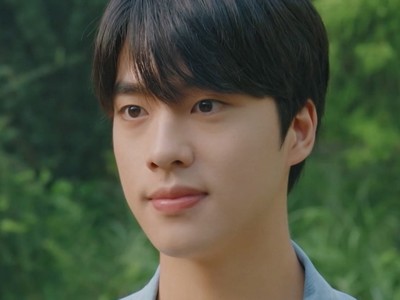 Ha Ram is a new employee who works for Lee Jun's division. During a business presentation, he causes a stir by opposing his team leader's idea. Ha Ram believes a show about single people seems unrelatable. Furthermore, he calls Lee Jun a "relationship virgin". Although Ha Ram apologizes afterwards, Lee Jun resents his coworker for sabotaging the pitch.
Cho Han Gyeol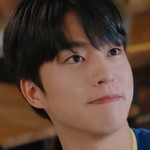 Cho Han Gyeol (조한결) is a Korean actor. He is born on September 10, 2002. His first BL project is the 2023 series, Love Mate.
Supporting Cast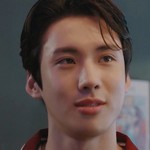 Do Kyung
Lee Chan Woo (이찬우)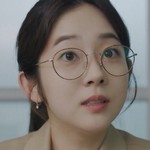 Eun Sun
Lee Sae Bom (이새봄)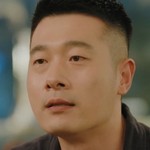 Lee Jun's coworker
Kim Min Kwang (김민광)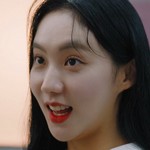 Lee Jun's coworker
Im So Young (임소영)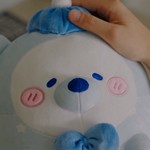 Lee Jun's doll
Love Mate Review
Review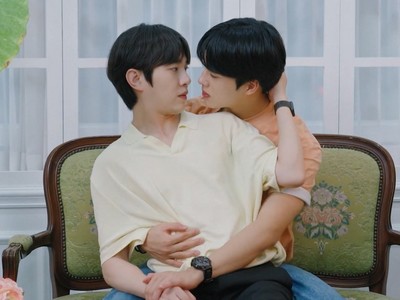 In Love Mate, the protagonist is disillusioned with relationships. He meets his polar opposite, a hopeless romantic who challenges his thinking and encourages him to give dating a chance. You can guess what happens next. Their basic love story goes on a predictable trajectory, offering many cliches and little surprises. A better drama could've transformed the standard BL formula into fun, flirty moments. Instead, Love Mate churns out awkward and contrived scenarios that make me cringe.
Love Mate quickly goes downhill in the early episodes. I hate how the main character pesters his coworker, from suggestive remarks to invasive body language. Despite being rejected in every instance, he continues to make unwanted advances on his target. The series pretends these exchanges are comical and lighthearted, yet I feel deeply disturbed by his creepy misconduct. In Episode 2, Lee Jun is forced to be physically intimate with his colleague under the pretense of a photoshoot. The entire exchange leaves me uncomfortable. Let's stop promoting sexual harassment as BL content.
Early on, Lee Jun appears aggravated by his love interest. Their hostile interactions do not convey romance. Yet, the relationship pivots midway through the series. Lee Jun suddenly switches from acting antagonistic to being lovey-dovey, even though his behavioural change seems inexplicable. I don't understand what these two characters see in each other. Ha Ram is so clingy and embarrassing. Everything he does is a turn-off, from his cheesy flirtations to his childish comments. I prefer Lee Jun to stay single if the alternative is to hook up with a nuisance like Ha Ram.
Although Love Mate offended me initially, my opinion changed after a while. The series becomes so hilariously bad that I laugh at the ridiculous nonsense. My favourite is when Ha Ram describes when he fell in love with Lee Jun. His utterly absurd explanation cracks me up. At that moment, I realize this series is best enjoyed by not taking it too seriously. As my perspective shifts, I embrace all the corny lines, cringy antics, and dumb drama. I also tolerate the amateurish acting of the two inexperienced leads, overlooking the stiffness and clumsiness in several scenes.
Love Mate has some cute moments. It follows the classic BL playbook, producing numerous romantic clichés. From matching clothes to sleeping on your boyfriend's shoulder, we've seen these ideas in other dramas. Nonetheless, the familiar tropes can be charming. The series successfully portrays a growing bond between the leads. They are playful, affectionate, and cozy with each other. A stretch of episodes in the middle convinces me that Lee Jun & Ha Ram are in love. These encounters dispel my poor first impression, improving my opinion of the couple.
Near the end, Love Mate introduces an ex-boyfriend who makes quite a splash with his sizzling physique. The shallow me wants to see this shirtless hunk star in a BL role! 😚 Unfortunately, his character brings a tedious love triangle conflict that bogs down the final stretch of the narrative. Rather than finishing triumphantly, the series exposes its worst flaws, from iffy writing to annoying leads. I remember why I didn't like this drama in the first place. Love Mate was supposed to celebrate romance. Instead, it leaves me cynical and bitter about a poorly executed love story.
Summary
Annoying story
Love Mate has a predictable story with many cliches and little surprises. I dislike how the annoying protagonist flirts. He pesters his love interest to the extent that it seems like workplace harassment.
Cheesy romance
The romance suffers from a distasteful start, setting a lousy first impression. Afterwards, the couple shares cute, affectionate scenes, although most exchanges are cheesy, childish, and cliched.
Clumsy acting
The inexperienced leads give clumsy and amateurish performances. They seem stiff in some scenes. Neither actor displays enough charisma to make their annoying characters more likeable.
Happy ending
Love Mate has a happy ending after Lee Jun separates from his ex and reconciles with Ha Ram. The love triangle conflict is irritating and brings out the worst qualities of the lead characters.
Decent artistry
The series is decently produced and looks appealing. However, a few scenes have insufficient lighting, especially the significant moment of the first kiss. I dislike looking at shadowy rooms.
60%
Love Mate is a cheesy BL drama with cliched plots, corny lines, and cringy characters. Despite a few cute moments, the romance makes me uncomfortable since it glorifies workplace harassment.
Love Mate Episodes
Episode Guide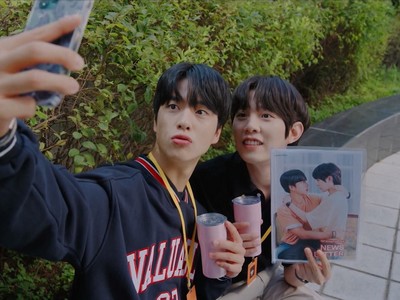 Start Date May 4, 2023
End Date May 25, 2023
Episodes 8 episodes
Episode Length 15 – 25 minutes
Love Mate has a total of 8 episodes. Each episode is around 15 to 25 minutes long. The last episode is around 25 minutes long. It is a medium-length BL drama, and you can finish the entire series in under 3 hours. Love Mate started on May 4, 2023 and ended its last episode on May 25, 2023.
Episode 1
Episode 2
Episode 3
Episode 4
Episode 5
Episode 6
Episode 7
Episode 8
Episode Reviews
Episode 1
When Ha Ram uses the euphemism "relationship virgin", does he imply his coworker is an incel? The musical chair scene is funny. However, most of the other interactions seem awkward.
Episode 2
Ugh, Ha Ram is such a nuisance. His so-called flirting resembles pestering and harassing a coworker. Lee Jun being coerced into doing an intimate photoshoot feels VERY uncomfortable.
Episode 3
Those tight swim trunks leave nothing to the imagination. 😳 I hate these romantic interactions. Lee Jun always seems aggravated around his love interest, like he can't stand being in his presence.
Episode 4
I burst out laughing when Ha Ram answered, "shoelaces". Falling in love with someone over this banal reason is absurd. I don't get how Lee Jun goes from hating Ha Ram to being lovey-dovey with him?
Episode 5
WTF is date mates? They already act like a couple in public. Ha Ram's antics are so embarrassing. Your boyfriend asked for discretion, yet you continue to be invasive and touchy-feely.
Episode 6
I'm warming to the couple. I like the focus on establishing their romance. Ooh, who's the new guy? After seeing him for five seconds, I want this shirtless hottie to have a lead role in a BL drama~ *lol*
Episode 7
Ugh, the ex-boyfriend is tiresome and unnecessary. Can they have a more imaginative storyline than cliched drama about an ex-lover? I'd rather watch lovey-dovey filler than this aggravating plot.
Episode 8
The annoying ex-boyfriend drama is such a dreary way to end the series. At least Lee Jun comes to his senses in the end. This series thinks spinning the camera make the kiss more exciting. 😵‍💫
Love Mate Behind the Scenes
Videos
Behind the Scenes #1
Episodes 1 & 2
This video contains the behind-the-scenes footage for Love Mate Episodes 1 and 2.
Behind the Scenes #2
Episodes 3 & 4
This video contains the behind-the-scenes footage for Love Mate Episodes 3 and 4.
Behind the Scenes #3
Episodes 5 & 6
This video contains the behind-the-scenes footage for Love Mate Episodes 5 and 6.
Behind the Scenes #4
Episodes 7 & 8
This video contains the behind-the-scenes footage for Love Mate Episodes 7 and 8.
Love Mate Information
Links
Studio Winsome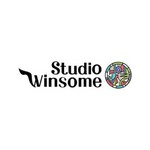 Studio Winsome (스튜디오윈썸) is a Korean BL studio. Its first BL project is the 2021 drama, My Sweet Dear. The studio has also made the 2023 series, Our Dating Sim and Love Mate.
Director
So Joon Moon (소준문) is a Korean director. He has worked on various LGBTQ+ films, including Auld Lang Syne (2007), REC (2011), I'm Horny Now! (2014), Late Bloomer (2016), Don't Worry (2017), and Kiss Kiss (2019). In addition, he is the director of several BL dramas, including You Make Me Dance (2021), My Sweet Dear (2021), Love Mate (2023), and Sing My Crush (2023).