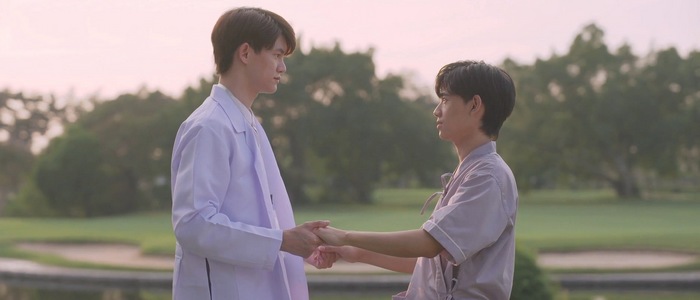 Physical Therapy is a Thai BL series about the romance between a doctor and his patient. After a recent injury, the main character is admitted to a healthcare facility, where he receives ongoing treatments. He befriends a handsome doctor who takes a keen interest in his recovery. As their relationship blossoms, the constant drama and surprising setbacks happen around them.
You will need extraordinary endurance to complete a BL drama as lousy and lengthy as Physical Therapy. The patchy plot, purposeless melodrama, and predatory love interest are just the tip of the iceberg in this travesty. The slow, strange, and snoozy series seems incoherent from start to finish.
Physical Therapy BL Summary
What is the drama called?
ผมปวดกาย นายปวดใจ
Where was the series made?
Thailand
When was the drama released?
2022
How long is Physical Therapy?
Around 11 hours
What is the genre?
Romance
How would you describe the series?
Nice and gentle
How many episodes are in Physical Therapy?
12 episodes
How long is Physical Therapy?
Around 50 to 60 minutes
Plot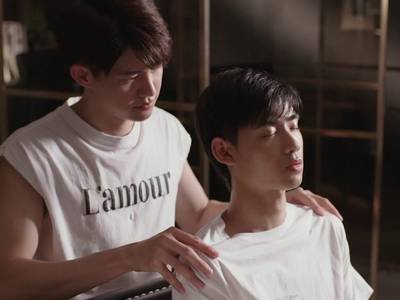 Milk works as a small video advertising company, Tomorrow Land Film. He co-founded the business with his boyfriend, Ake. They are about to merge with another marketing agency called the Half Apple Inc. However, Ake suddenly breaks up with Milk and even kicks him out of their shared flat. Milk is confused and devastated by their break-up, but his ex-boyfriend refuses to communicate with him.
The merger proceeds, although Ake quits and gives up his stake in the new company. Half Apple Inc. is run by Tim. Milk and his friends now work under him. Their first client is Rosé, who runs a division of the hospital called Very Well Greatness. This department runs long-term care and rehabilitation programs for patients with severe injuries. Rosé wants to rebrand the business and has contacted Milk's new marketing agency for help.
Milk injures himself terribly after a skateboard accident. He is admitted to the Very Well Greatness program as a long-term patient. The hospital staff doesn't know that Milk works for the marketing agency since Tim asked his employee to keep it a secret. Tim wants Milk to infiltrate the hospital to learn its background better, which will help with their branding campaign. During Milk's hospitalization, he meets Dr. Pun and Dr. Yang, two of the medical specialists at the facility.
Dr. Pun and Milk met previously through a mutual acquaintance. Pun is from China, working abroad in a Thailand hospital. The doctor seems smitten with Milk since their first encounter. Pun constantly spends time with Milk and aids his recovery every step along the way. Pun accompanies the patient, even when he is not on duty. The two men develop a friendship, bonding over their love for movies. They remain in touch even after Milk checks out and returns home to continue his healing.
Milk's best friend Ja died recently. Before his death, Ja revealed he was dating a mystery boyfriend. Milk believes Dr. Yang looks familiar and suspects he might be his friend's secret lover. He goes undercover and interrogates the doctor. Milk discovers rumours in the hospital that Yang's ex-girlfriend killed herself after he dumped her. As Milk connects the dots, he wants to know if Ja died because Yang broke his heart.
Physical Therapy Trailer
Physical Therapy Cast
Characters
Milk
Son Ravisut Patipatvasin (ซัน รวิสุต ปฏิพัทธ์วศิน)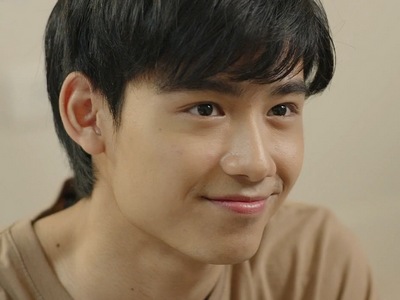 Milk co-founded Tomorrow Land Film, a small video advertising company he opened with his boyfriend, Aek. Milk agrees to merge the business with another marketing agency. Before the merger, Aek suddenly breaks up and cuts all contact. Milk is left devastated and confused. Milk comes from a close-knitted family with an older sister and two younger brothers.
Pun
Petch Jakkaphet Phiban (เพชร จักรเพชร ภิบาล)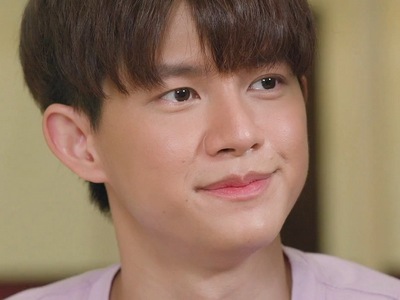 Pun is a doctor at Very Well Greatness, a hospital division specializing in long-term rehabilitation programs. Pun is originally from China, now working abroad in Thailand. He takes an immediate interest in Milk since their first encounter. After Milk's hospitalization, Pun uses this opportunity to befriend his patient, even outside work hours.
Supporting Cast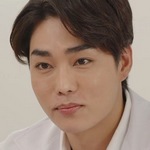 Yang
Pun's friend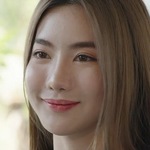 Tzuyu
Pun's fiancée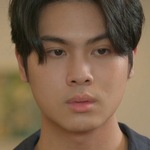 Ake
Pun's ex-boyfriend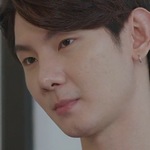 Yamyen
Milk's colleague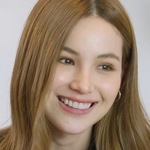 Rosé
Milk's client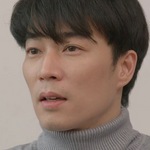 Tim
Milk's boss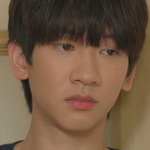 Pueak
Milk's colleague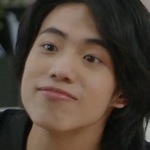 Noonan
Milk's colleague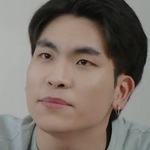 Bambam
Milk's colleague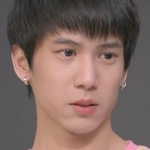 Top
Tim's employee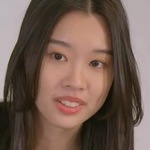 Mudmee
Tim's employee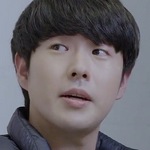 Dosan
Pun's friend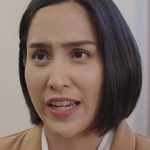 Namcha
Milk's sibling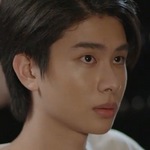 Huay
Milk's sibling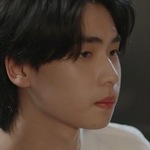 Yo
Milk's sibling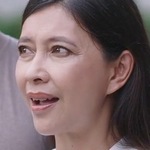 Milk's mom
Milk's parent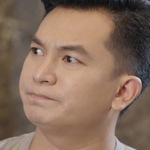 Milk's dad
Milk's parent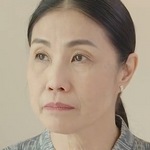 Pun's mom
Pun's parent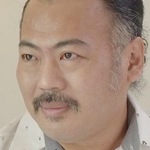 Pun's dad
Pun's parent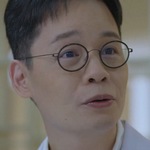 Dr. Jew
Pun's colleague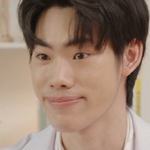 Dr. Aom
Pun's colleague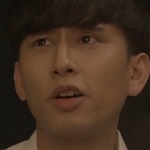 Ja
Milk's dead friend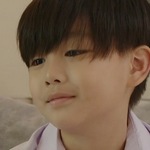 Nammon
Milk's child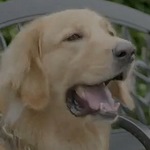 Thung-ngeon
Milk's dog
Cast Highlights
The director of Physical Therapy is Peak Peemapol Panichtamrong. Peak is a Thai actor who starred in the 2016 BL series Make It Right and its 2017 sequel Make It Right 2. He also appeared in the 2020 drama You Never Eat Alone.
Rosé's actress (Darran Zeththinich Chanavarasutthisiri) had supporting roles in the 2021 Thai BL drama Hidden Love and the 2022 series What Zabb Man!
Physical Therapy Review
Review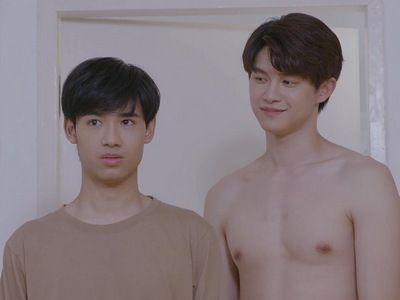 Physical Therapy is a dull and uncomfortable BL drama from start to finish. The incoherent plot is confusing to follow, plagued by shoddy writing, ridiculous events, and needless twists. Also, the romance feels off-putting with a strange love interest who shows predatory tendencies. Worst of all, the series is mind-numbingly long and stretches its slow, stagnant story to twelve full-hour episodes. Watching Physical Therapy is a laborious chore filled with chronic boredom, frustration & nonsense.
I don't even know how to critique the story because the narrative is incomprehensible. The sloppy, jumbled writing leaves me baffled about what is happening. I can't differentiate between major plots and pointless filler, which blur together thoughtlessly. I also can't identify the characters in the bloated supporting cast with awkward introductions and unclear relationship dynamics. Sometimes, I'm caught off-guard when a mundane subplot makes an inexplicably dramatic escalation. I give up trying to understand the frequent inconsistencies in the storylines.
The romance between Milk and Pun is unsettling. Pun leaves a dreadful first impression, bringing a drunk stranger to his room and stripping him naked. Later, he acts predatory and pushes his aggressive advances onto a reluctant Milk. Physical Therapy has trouble separating romantic interactions and inappropriate behaviour as if they are interchangeable. When Pun isn't indulging in sexual harassment, he oversteps doctor-patient boundaries without ramifications. This pervert always hangs around Milk, exploiting his authority to flirt sleazily.
Beyond the problematic tropes, the love story isn't well-written and suffers from a rocky start. Pun seems unusually attached to Milk since their first encounter. Poor Milk is getting over his recent break-up in the early episodes. Yet, this shameless doctor comes on very strongly, even though they just met each other. The affections become tolerable as their relationship improves, and they even share a few cute BL exchanges. Unfortunately, the story ruins the romantic vibe with a villainous ex-girlfriend, insipid love triangle drama, and general unpleasantness.
Physical Therapy has one selling point. Milk's actor (Son) is an exquisite twink extraordinaire. Oh my god, it's like they perfected him in a laboratory and trotted out the twinkiest BL star ever. 🧚🏻‍♂️ Milk's character captivates me without trying, from his pretty eyes to his delicate mannerisms. There's also the slender build, the innocent face, and the enchanting smile. Even his personality has the right amount of bashfulness and prissiness. His presence is like a lighthouse, guiding me through murky plots and keeping me vaguely focused on the dreary romance.
Still, the power of the twink isn't enough to save Physical Therapy from its sluggish storylines. The meandering series lasts twelve miserable episodes, introducing tiresome melodrama with inelegant resolutions. Each scene feels heavy with too much trite and tepid dialogue. The final arc jumps forward in time and explores random family tensions, which develop clumsily. There's no rhyme or reason to the inane narrative. As Physical Therapy slogs to an unclimactic ending, I almost become comatose. Overall, this BL journey has been unexciting and unenjoyable.
Summary
Incoherent story
Physical Therapy has an incoherent narrative with awkward plots, strange characters, and needless twists. The confusing storylines and pointless filler blur together thoughtlessly.
Unsettling romance
I feel uneasy with Pun's predatory advances and aggressive flirting toward Milk. Their relationship doesn't develop smoothly, bogged down by insipid love triangles and hackneyed melodrama.
Stiff acting
The actors give stiff performances that mark their inexperience. However, I was still enchanted by Milk's actor (Son), a delectable twink with mesmerizing eyes.
Happy ending
Physical Therapy has a happy ending after introducing awkward family drama in the last two episodes. Finishing these twelve tedious episodes has been a journey of endurance.
Average artistry
The visuals and production values are thoroughly average. I wish the soundtrack is more diverse so we could hear more than one background song on a constant loop.
44%
Physical Therapy is a dull BL series that either puts me to sleep or makes me uncomfortable. The twelve long episodes agonize me with disjointed drama, tepid dialogue & predatory behaviour.
Physical Therapy Series Explained
Analysis
Story
Boring plot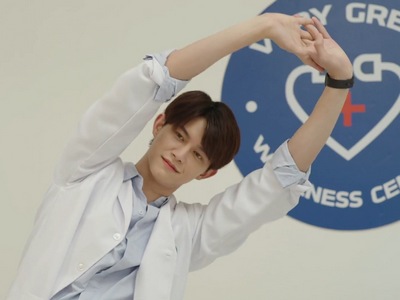 Based on the title, I assumed Physical Therapy would be a sexy BL drama with lots of touching. I was actually excited before watching it and strapped myself for a steamy series with erotic massages and sensual sponge baths. Okay, I'm kidding. I knew better than to mix up BL with gay fantasy scenarios. Still, I thought the story would focus on the healing process from an injury. Maybe Milk's condition worsens, and he starts a romance with a nurse or physiotherapist who motivates him in his recovery process.
Instead, most of the plot was randomly about rebranding a hospital. I mean, there was some focus on Milk's injury and recovery. Those scenes weren't that interesting, but at least they felt relevant to the topic. There could be complex storylines about Milk's healing process. Maybe he has trouble going back to work because of his physical impairment. Or perhaps he struggles to regain his bodily functions. There's a lot a storyteller could write about for this hospital setting. Yet, I'm watching the characters work on a boring corporate marketing campaign. Sorry, but who cares?
Even if the plot is about advertising, Physical Therapy mishandles the topic and makes it boring to watch. For some reason, Milk has to hide that he works for the agency from the hospital staff, which makes no difference. And then, there's a random team bonding session, where all the characters sleep on the floor together. Like, what? Okay, I kinda appreciate that scene and Milk has a surprisingly profound message of "just sleep and everything will get better." But still, the subplots feel unimportant and incohesive. I don't know what's the point of watching these scenes.
Pun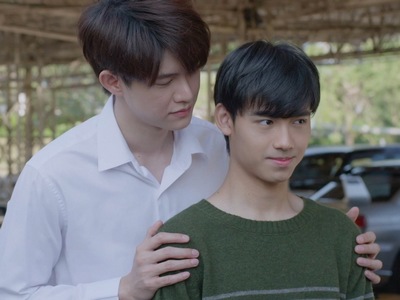 I have trouble warming to Pun's character. He can't shake away a terrible first impression, making me think of his behaviour as predatory, problematic, and perverted. Milk felt massively violated when Pun took off all his clothes while drunk. Imagine that after falling asleep, some stranger brought you to his hotel room and stripped you naked. Afterwards, Pun felt zero remorse over his actions. He only responds to Milk's outrage with a smirk instead of apologizing.
Later, Pun strikes again when he is flirting aggressively with Milk. In Episode 10, the handsy doctor insisted on spending the night together. Milk opposes many times, making it crystal clear he doesn't want to sleep with a stranger. Yet, Pun won't take no for an answer. Pun overpowers Milk on the bed until he coerces his target to say yes. Physical Therapy thinks that scene is seductive, but I just find their interactions uncomfortable to watch.
It's also weird to see this doctor spend all his time flirting with a hospital patient. He's by Milk's side 24/7, sleeping in his room despite barely knowing him. Can he act more professional and maintain some boundaries? I thought there might be a moment when that older doctor would call out Pun on his misconduct, but nothing happened. Pun shows a continuous pattern of not respecting other people's personal space. It's particularly despicable because he works in a sensitive profession. Seriously, someone needs to file an internal investigation against him.
Romance
Milk and Pun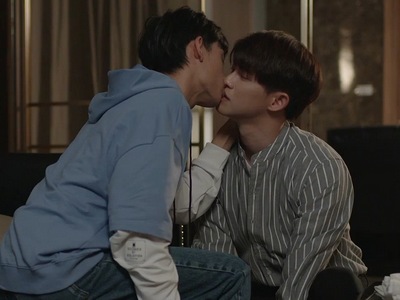 Let's assume I keep one eye closed on Pun's problematic behaviour. I don't want to paint a skewed picture that every romantic interaction between the leads is uncomfortable. There are some merits to this relationship. I like how much one-on-one time the two characters have together. Many scenes are boringly written, but the mundaneness also works in the couple's favour. These quiet moments feel like they're two ordinary guys bonding and nurturing their attraction.
Contrary to the drama's title, physicality isn't the central aspect of this relationship. Milk and Pun are physically affectionate on occasions. However, they also spend a lot of time building an emotional connection. They frequently have conversations, almost too much. Yet, their communication establishes a foundation for this relationship.
Compared to many dramas, Physical Therapy takes more time to lay the groundwork for a romance. Other BL couples often have a superficial connection, rushing through a love story without much substance. Yet, Milk and Pun have hours of content, allowing them to go deeper as they explore their attraction. Although the exchanges are often slow and dull, I think this couple has depth and development. However, the other aspects of their storyline aren't handled well, dampening the overall romance.
Pun and Tzuyu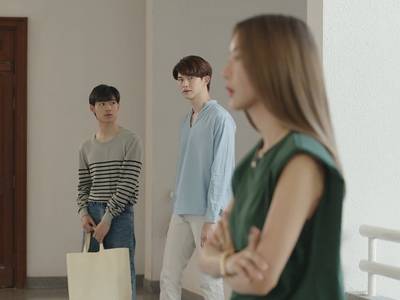 Oh, spare me the scheming ex-girlfriend from China. My god, I don't wanna watch this love triangle drama. 😩 Tzuyu may be the worst part of Physical Therapy in a series riddled with unnecessary additions. She serves no purpose to the narrative, only bringing annoyance and one-dimensional villainy in every scene. It's ridiculous she joined Milk's company to meddle in other people's relationships. Go away already.
Tzuyu also makes Pun look worse. I know she's super annoying, but he doesn't handle their relationship graciously. Pun thinks that if he just avoids his ex-fiancée, the pesky problem will go away on her own. He appears like a cad, someone who doesn't have the courage or decency to have one mature conversation. Still, Tzuyu is a nasty piece of work and I hate her more than Pun. I don't blame him for cutting this toxic woman out of his life.
Milk and Ake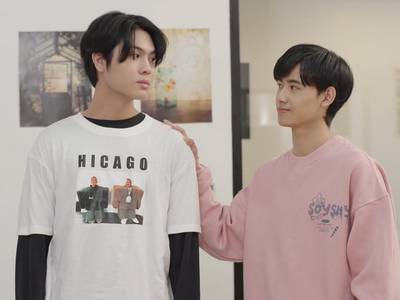 Ake is another poorly handled ex. He breaks up with Milk under unclear conditions in Episode 1. Their break-up gets neglected for most of the series, and Milk hardly ever mentions him. Suddenly, Ake becomes prominent again for one or two episodes near the end. This subplot doesn't feel smoothly introduced, like somebody tacking on extra drama to fill the time.
Ake's depression storyline needed more depth and finesse than what Physical Therapy is capable of providing. On paper, I like the idea of helping a character through their mental health trauma. The first half of the series focused on physical therapy, while the second half highlighted mental health treatment. So, I appreciate what this series was trying to do thematically. However, the storyline is clumsily executed and almost gets sidelined. I don't feel engaged in Ake's recovery process. He's just kind of a blah character for me.
Yang and Yamyen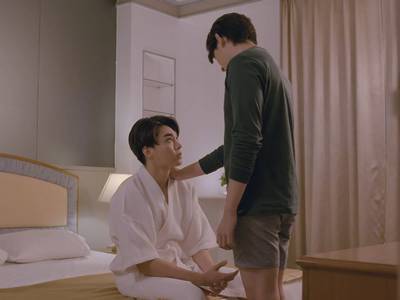 Honestly, I had no idea who Yamyen was until the last few episodes. I guess I wasn't paying attention, but his character got lost in the bloated supporting cast. I couldn't distinguish him from Milk's gaggle of friends. Imagine my confusion when some random guy suddenly starts flirting with Dr. Yang. I was like, who is he? Where did he come from? But I don't care enough to rewatch the earlier episodes to discover his identity.
Otherwise, I have no solid thoughts on Yang and Yamyen's romance. These two just happen to be together inexplicably. The series doesn't bother to develop Yamyen's character whatsoever. All he does is make brooding expressions and flirt with Yang ominously. If I'm supposed to care about this couple, it's a massive failure.
Also, I am confused about Yang most of the time. His storylines are all over the place. I guess he's mourning over his deceased ex, but that subplot is so unclear with hazy details. There's no impact because I can't understand what happened. Physical Therapy invests a lot of time into Yang's character, but the returns are unsatisfying. His scenes aren't compelling, make no sense, and lack emotional resonance. We could remove Yang from the story altogether, and I wouldn't bat an eye.
Acting
Twink therapy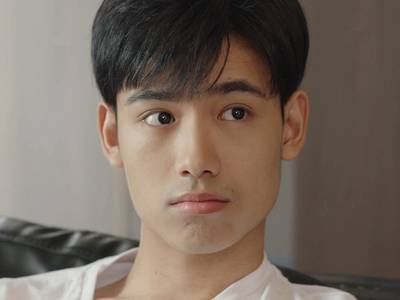 Physical Therapy's best achievement is casting Milk's actor (Son). Thank goodness they plucked this unknown actor out of obscurity and introduced him to a BL career. Wow, he looks incredibly cute on camera, blessed with a pair of bright eyes. Showcase him through a better drama, and I promise he'll put all the other twinks in the industry out of commission. 🧚🏻‍♂️
As a character, Milk doesn't have the most appealing personality. However, the actor really embodies the role and brings a distinctive charm. I like that he portrays Milk as extra prickly and delicate. If you provoke him, he'll glare or pout adorably. Milk exhibits a softness with an edge, making this type of cutesy behaviour extra effective. While the actor is inexperienced, he has potential and can develop promisingly. Let's hope Son finds his way to a better series.
Style
Gentle atmosphere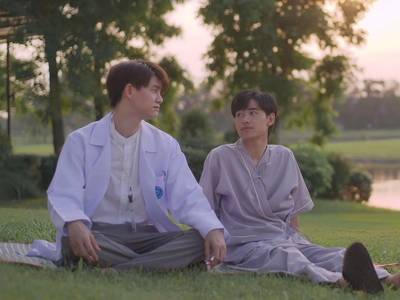 Physical Therapy captures a gentle and soothing atmosphere in some scenes. I really like Milk and Pun's outdoor conversation in Episode 3. They sit on the grass by a serene landscape, chatting casually about nothing in particular. The vibe is relaxing and almost therapeutic, complementing the story's themes. I wish the series leaned into this direction and there were more similar scenes.
The other scene I liked was the massage in Episode 5. Admittedly, the writing and acting were a bit awkward. However, I like the lighting, colours, and cinematography during that exchange. It created an ambiance that made the moment memorable.
Physical Therapy Episodes
Episode Guide
Physical Therapy has a total of 12 episodes. Each episode is around 50 to 60 minutes long. The last episode is around 55 minutes long. It is a long BL drama, and you can finish the entire series in under 11 hours. Physical Therapy started airing on January 23, 2022 and ended on April 10, 2022.
Episode 1
Episode 2
Episode 3
Episode 4
Episode 5
Episode 6
Episode 7
Episode 8
Episode 9
Episode 10
Episode 11
Episode 12
Ending
Happy ending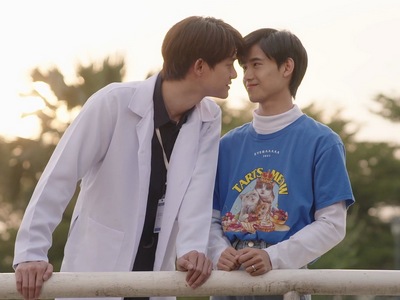 Physical Therapy captures a gentle and soothing atmosphere in some scenes. I really like Milk and Pun's outdoor conversation in Episode 3. They sit on the grass by a serene landscape, chatting casually. The vibe is relaxing and almost therapeutic, complementing the story's themes. I wish the series leaned into this direction and had more similar scenes.
Before the proposal, there was some family melodrama. Pun and Milk spent the past five years caring for Namcha's son. They welcomed Nammon into their home, treating him almost like their own son. Pun is especially attached to his child. However, Namcha suddenly declares she's ready to be a mom again. Nammon returns to his maternal mother, leaving Pun devastated. Later, Milk brings Nammon to visit Pun in their home to cheer his partner. Although they aren't together permanently anymore, the child remains a part of Pun's life.
In addition, the last two episodes introduced Pun's parents, who travelled from China to visit their son in Thailand. They don't have a close relationship due to the family debt situation. Nonetheless, Pun's dad and mom make an effort to reconcile. They are friendly toward Milk and seem approving of their relationship. Milk and Pun's mom get along exceptionally well. By the time they leave, Pun is closer to his parents than before.
Ending explained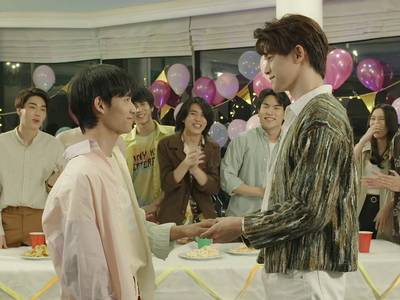 Physical Therapy tries to explore the theme of family in the final arc. As always, it struggles with poorly written scenes and can't convey its messages. Technically, the series has a happy ending, but the situation with Milk's sister and nephew left a bad taste. This woman dumps her kid onto the gay couple for five years, like a free daycare. Then, she comes one day and breaks up this happy family unit without warning. This scenario could technically happen, but the drama feels abrupt and undeveloped.
I don't like Pun as a character, so the plot with his parents doesn't interest me much. They randomly appear in the series, even though Pun's family isn't a significant focus previously. I appreciate learning more about his background, but I don't know what I learned. Most of the scenes aren't impactful, other than that one conversation between Milk and Pun's mom at night. Overall, I consider it a missed opportunity to expand on Pun's characterization meaningfully.
Another storyline in the finale is that Pun faces a lot of temptations. First, his friend lures him to sleep with some girls, which he rejects. Later, a rookie doctor hits on him, but he also turns down these advances decisively. It shows Pun is loyal to his fiancé and won't switch his love to a woman or another doctor. This subplot is necessary, considering Pun has a poor track record since his last engagement. These scenes show that he has changed and cherishes Milk more than Tzuyu.
Physical Therapy Behind The Scenes
Physical Therapy BL Information
Links