The Promise is the 2022 prequel for the 2023 Thai BL series with the same title. The main characters are university roommates who have been best friends for a long time. Their close bond makes others speculate about their relationship, although both deny having romantic feelings. As sexual tension builds between them, the protagonists have a massive fallout. Years later, they reminisce about the broken friendship and hope to resolve their conflict.
This short BL drama is divided into two parts. Each episode focuses on one of the protagonists, telling the love story from their perspective. The first episode, "Phupha", is emotionally charged. It highlights the anguish of unrequited love with heartbreaking confrontations and powerful performances. The second episode, "Nanfah", doesn't provide a satisfying follow-up. I would've liked more closure and reconciliation in the ending.
The Promise 2022 Summary
What is the drama called?
สัญญา | ไม่ลืม
Where was the series made?
Thailand
When was the drama released?
2022
How long is The Promise?
Around 1 hour and 15 minutes
What is the genre?
Romance
How would you describe the series?
Sad and emotional
How many episodes are in The Promise?
2 episodes
How long is each episode?
Around 35 to 45 minutes
Plot

Phupha and Nanfah are university roommates who have been best friends for a long time. They even have their own secret handshake. Despite their different majors and class schedules, they still constantly hang out. The pair promised to always stay involved in each other's lives.
Others have noticed their close bond. They speculate whether Phupha and Nanfah may be romantically involved. Both guys are single and good-looking, so people appear interested in their love lives. Gigi, a student with a crush on Nanfah, talks to Phupha to clarify the rumours. He confirms they are just friends. Likewise, Nanfah insists their relationship is strictly platonic.
Nanfah wants to enter a dance competition. The grand prize is a trip to Vietnam. Nanfah coerces a reluctant Phupha to be his dance rehearsal partner. They attend lessons together. However, Nanfah plans to enter the contest with his other friend Deena. Phupha notices their rapport, which bothers him. He becomes jealous when Deena seems to be chummy with Nanfah.
Phupha seems annoyed their dance lessons are used to bring Nanfah and Deena closer. After witnessing a cozy exchange between Nanfah and Deena, Phupha becomes upset. He threatens to move out of the dorm room. Yet, Nanfah insists he doesn't have a romantic relationship with Deena. They're merely dance partners. Phupha feels relieved and reassured. However, his jealousy signifies Phupha doesn't see Nanfah as just a friend. There may be romantic feelings between them.
Years later, Phupha and Nanfah are no longer friends. Contrary to their promise, they lead separate lives and don't stay in touch. An adult Phupha comes across an old photograph of them together. He reminisces about their past memories, wondering where their friendship went wrong.
The Promise 2022 Cast
Characters
Phupha
Kun Kittikun Tansuhas (กุน กิตติคุณ ตันสุหัส)

Phupha, or Phu, is a university student. He is best friends with Nanfah and shares a dorm room with him. However, Phupha grows increasingly jealous of seeing Nanfah with other girls. Years later, he runs a coffee plantation with his uncle. Yet, Phupha and Nanfah no longer keep in touch. They aren't friends anymore.
Kun Kittikun Tansuhas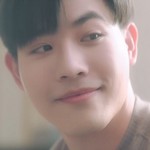 Kun Kittikun Tansuhas (กุน กิตติคุณ ตันสุหัส) is a Thai actor. His first BL project is the 2022 Thai drama, The Promise. He also stars in the expanded series in 2023. Kun is a former beauty pageant participant who competed as Mister International Thailand 2016.
Nanfah
Kiak Wattikorn Permsubhirun (เกี๊ยก วัทธิกร เพิ่มทรัพย์หิรัญ)

Nanfah, or Nan, is a university student. He has been best friends with Phupha for a long time, and they share a dorm room together. Nanfah's friends notice their close bond and speculate about their relationship. Yet, he denies they have romantic feelings. Years later, Nanfah works for an agency. He doesn't maintain contact with Phupha.
Kiak Wattikorn Permsubhirun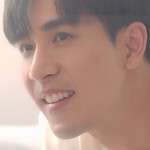 Kiak Wattikorn Permsubhirun (เกี๊ยก วัทธิกร เพิ่มทรัพย์หิรัญ) is a Thai actor. He is born on January 25, 1992. His first BL project is the 2022 drama, The Promise. He also stars in the expanded series in 2023.
Supporting Cast

Gigi
Nanfah's classmate

Deena
Nanfah's classmate

Khunkao
Nanfah's friend

Thip
Nanfah's friend

Nanfah's mom
Nanfah's parent

Nanfah's dad
Nanfah's parent

Landlord
Nanfah's landlord

Tor
Nanfah's colleague
The Promise 2022 Review
Review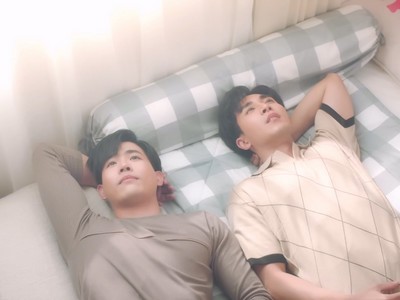 This review is about The Promise, a 2022 Thai BL series. The first episode is titled "Phupha", while the second part is named "Nanfah". They are the prequels for the 2023 remake of The Promise, which has a similar plot with the same actors. You can consider The Promise 2022 an early prototype of The Promise 2023. In addition, the Thai version of The Promise has no relation to the 2022 Vietnamese BL drama with an identical title. There are three BL series called The Promise, but they tell different stories.
The Promise delivers a stellar first episode that exceeds expectations. The series has created a riveting emotional arc in only thirty minutes, which is no easy feat. This story begins by depicting a warm, authentic friendship. Phupha and Nanfah's cute dance lessons introduce the characters, highlight their personalities, and tease a romantic spark. The beautiful visuals and the actors' smooth chemistry enhance the alluring ambiance in these scenes. Between the enigmatic smiles and the loving gazes, The Promise quickly establishes a pairing that viewers want to champion.
The first episode focuses on Phupha's perspective, portraying the anguish of his unrequited love. He sees Nanfah as more than just a friend and feels tormented since his crush isn't reciprocated. Nanfah casually breaks his heart without even knowing what's wrong. Phupha goes on an intense journey with many ups and downs. He swings from distress to relief back and forth. His sympathetic experiences are worthy of pity, making you understand why he reacts dramatically at the story's climax. As his character agonizes, The Promise has my emotions in a chokehold.
Perhaps the first episode sets the bar too high, but the follow-up pales by comparison. The plot shifts to Nanfah's perspective as he reflects on his broken friendship. However, the romantic atmosphere has dwindled since the leads separated for a long time. They only interact in quick flashbacks, which are too short and lack impact. The story also introduces a new love interest who receives little development. Most of all, the events seem implausible. I'm skeptical as Nanfah approaches strangers to ask about Phupha. His efforts feel futile, like looking for a needle in a haystack.
Despite the declining quality, the second episode still contains delicate moments that tug at my heartstrings. This BL drama's strong suit is that it can evoke emotional responses from the audience. It helps that both leads give compelling performances throughout the series. Phupha's actor (Kun) carries his scenes with a versatile range, portraying his character's many fluctuating moods. He displays infatuation, rage, hurt, and desperation convincingly. Likewise, his costar (Kiak) has a gift of conveying melancholy. His wistful eyes can shimmer with unshed tears.
The Promise has a cliffhanger ending. It doesn't resolve tensions, leaves relationships undefined, and makes you ponder unanswered questions. Understandably, the prequel refrains from a definitive conclusion and saves the best material for the remake. The lack of closure is unsatisfying, like a book without a final chapter. We must wait until the new series for the rest of Phupha & Nanfah's journey. Overall, The Promise 2022 offers a promising preview of an epic love story. If it recreates the calibre of the masterful first episode, the 2023 version seems quite intriguing.
Summary
Riveting story
The Promise begins with an enticing first episode, depicting the anguish of unrequited love. The emotional story has many highs and lows. Yet, the second episode lacks the same impact.
Emotional romance
Early on, the series establishes a compelling bond between the leads. However, their romance becomes tortured as the story progresses. They hardly interact in the second half.
Powerful acting
Both leads give powerful acting performances. Kun displays a versatile range as Phupha, portraying his character's moods convincingly. His costar Kiak can also deliver melancholic emotions.
Cliffhanger ending
The Promise has a cliffhanger ending without satisfying closure. It doesn't define the leads' relationship or resolve their tensions. Instead, the story saves the best material for the 2023 remake.
Exquisite artistry
This series has beautiful visuals that elevate the romantic ambiance. I love the artistry of the kissing scene near the end. Everything looks soft and dreamy, like an ethereal fantasy.
75%
The Promise begins with an emotionally charged first episode, backed by powerful acting performances & elevated artistry. The story falters in the second half and doesn't offer satisfying closure.
The Promise 2022 Episodes
Episode Guide

Start Date August 24, 2022
End Date November 15, 2022
Episodes 2 episodes
Episode Length 35 to 45 minutes
The Promise 2022 has two episodes. The first episode is titled Phupha, while the second is called Nanfah. They are the prequels for the 2023 Thai BL series The Promise. Each episode is around 35 to 45 minutes long. It is a short BL drama, and you can finish the entire series in around 1 hour. In addition, there are various "deleted scenes" portraying the casual interactions between the characters. Each scene is around 2 minutes long.
The Promise started on August 24, 2022 and ended on November 15, 2022. Its 2023 remake, which expands the story significantly, began on March 1, 2023.
The Promise 2022 Information
Links
DEVONTE296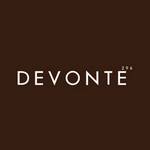 DEVONTE296 is a Thai studio that produced The Promise (2023). It also created the short prequel series in 2022. DEVONTE296 is a Thai cosmetic brand that specializes in men's skincare products.
Director
Choi Sittichai Chutsiri (ฉ่อย สิทธิชัย ฉุดศิริ) is a Thai director. His first BL project is the 2022 series, 21 Days Theory. He also made The Promise (2022).