Buddy Daddies is a Japanese anime series about two professional assassins who must raise a kid together. During a shootout, the protagonists killed a four-year-old girl's father, leaving her parentless. They accept the responsibility of becoming her caregiver. This energetic child brings unexpected joy, excitement, and chaos into their daily routines. Yet, their dangerous line of work threatens the livelihood of the untraditional family unit.
While Buddy Daddies isn't a BL anime, the story's themes contain implicit LGBTQ+ messaging. It showcases two men sharing fatherhood responsibilities in an unconventional family structure. There is no romantic content, limiting my appreciation from a BL perspective. Even so, this series is enjoyable due to its charm, humour, and enthusiasm. Each delightful episode highlights the lovable characters and their hilarious antics.
Buddy Daddies Summary
What is the anime called?
Buddy Daddies
How many episodes are in Buddy Daddies?
12 episodes
When was the anime released?
2023
How long is Buddy Daddies?
Around 5 hours
What is the genre?
Crime comedy
How would you describe the series?
Happy and funny
Is it based on a manga?
No, this anime is an original story.
Is Buddy Daddies BL?
No, Buddy Daddies is not a BL series.
Plot

Kazuki and Rei are professional assassins working together as a team. Kazuki is the brains of the operations, whereas Rei brings skilled gunmanship. Their handler, Kyu, pretends to run a bar as a facade. Secretly, Kazuki and Rei meet with him to collect intel on their upcoming missions.
In addition, Kazuki and Rei are roommates who share an apartment flat. Kazuki does most of the household errands. He is a talented chef who enjoys preparing daily meals. In contrast, Rei barely contributes. He is a shut-in who enjoys playing video games or exercising in his free time. His latest gaming obsession is Morio Kart 2.
For the latest assignment, Kazuki and Rei must assassinate the leader of a human trafficking organization. The undercover mission goes awry when a young child suddenly appears near them, throwing the plan into chaos. Despite the disruption, Kazuki and Rei successfully murder their target. However, they discover the little girl is the estranged daughter of the dead man. Since she has witnessed the gunfight, Kazuki and Rei don't want the police to find her. Instead, they adopt the orphaned kid and become her caregiver.
The four-year-old girl is Miri. She used to live with her mother. However, Miri's mom abandoned her and instructed the child to live with her dad instead. Miri was supposed to contact her father at the hotel, but the assassins killed him before their family reunion. Kazuki and Rei don't know how to get in touch with Miri's mother, who is a secret mistress. They try to get information from Kyu. However, he is upset after their latest botched mission. Kazuki and Rei decide to keep Miri's existence a secret.
Miri brings much liveliness to Kazuki and Rei's lives. These two single men are inexperienced with parenting, so Miri presents many new challenges. They struggle to do their work and care for her needs simultaneously. Despite the complexities of raising a child, Miri grows close to her two guardians. She likes calling them Papa Kazuki and Papa Rei. Over time, the three form a close relationship, developing an unusual family unit. Kazuki and Rei cherish Miri, treating her like their actual daughter.
Buddy Daddies Trailer
Buddy Daddies Cast
Characters
Kazuki
Toshiyuki Toyonaga (豊永利行)

Kazuki is a professional assassin who lives and works with his roommate Rei. Kazuki is the brains of the operation. He is responsible for devising strategies, procuring disguises, and planning the logistics of each mission. Off-duty, Kazuki does most of the household errands, including cooking. He also enjoys gambling and partying.
Toshiyuki Toyonaga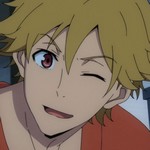 Toshiyuki Toyonaga (豊永利行) is a Japanese actor. He is born on April 28, 1984. He voiced one of the main characters in the 2023 anime series, Buddy Daddies.
Rei
Koki Uchiyama (内山昂輝)

Rei is a professional assassin who lives and works with his roommate Kazuki. He is a skilled sniper in charge of killing his targets during missions. Off-duty, Rei is a shut-in who doesn't like leaving the apartment. He spends most of his time playing video games or exercising. Rei is quiet and stoic, unlike the extroverted and enthusiastic Kazuki.
Koki Uchiyama

Koki Uchiyama (内山昂輝) is a Japanese actor. He is born on August 16, 1990. He voiced one of the main characters in the 2023 anime series, Buddy Daddies.
Miri
Hina Kino (木野日菜)

Miri is a bubbly four-year-old child. She used to live with her mother, a single parent who despised the responsibilities. Miri's mom sent her daughter to live with her biological dad instead. However, Miri's father was assassinated before they could reunite. Kazuki and Rei become her surrogate fathers, raising the kid as if she is their daughter.
Hina Kino

Hina Kino (木野日菜) is a Japanese voice actress. She is born on February 12, 1997. She voiced one of the main characters in the 2023 anime series, Buddy Daddies.
Supporting Cast

Kyu
Toshiyuki Morikawa (森川智之)

Anna
Haruka Terui (照井春佳)

Misaki
Nanako Mori (森なな子)

Yuzuko
Shizuka Itō (伊藤静)

Karin
Ikumi Hasegawa (長谷川育美)

Rei's dad
Shinshu Fuji (藤真秀)

Ogino
Mitsuaki Madono (真殿光昭)

Kaji
Hiroyuki Kinoshita (木下浩之)

Miri's dad
Kazuyuki Okitsu (興津和幸)

Taiga
Mai Fuchigami (淵上舞)

Hinata
Momo Asakura (麻倉桃)

Kotori
Yume Miyamoto (宮本侑芽)

Hinata's mom
Rena Maeda (前田玲奈)

Kotori's mom
Hibiku Yamamura (山村響)

Carol
Saima Nakano (中野彩麻)

Dorothy
Chikako Sugimura (杉村ちか子)
Buddy Daddies Review
Review

Buddy Daddies has earned the reputation as the BL version of Spy x Family. Both stories contain similar themes around crime and parenting. They also include quirky comedy, endearing characters, and heartwarming interactions. However, a notable difference is that Buddy Daddies features a male pairing who shares fatherhood responsibilities. The series challenges the tradition that a family must consist of one man and one woman. Instead, it showcases a child raised in a loving home with two same-sex guardians.
Buddy Daddies focuses on the joys, challenges, and chaos of parenthood. Raising a child can be a stressful experience, which the anime depicts comically. The plots are typically mundane, like a field trip to the zoo or the first day of preschool. Yet, the series injects its signature lighthearted humour to bring these everyday scenarios to life with hilarity. Each zany episode contains cheerful jokes, silly mischief, and entertaining mishaps. Beyond the playful antics, Buddy Daddies emphasizes sentimental ideas about nurturing family bonds.
The anime's strength lies in its endearing protagonists. Every character has a well-defined personality marked by charming eccentricities. Kazuki brings lots of paternal warmth and boisterous energy. His over-the-top reactions are often the source of comedy. Rei complements his partner with a dry, sarcastic demeanour, adding deadpan humour to their exchanges. As the antithesis of parenthood, his growth as a caregiver is a riveting journey. The heart and soul of Buddy Daddies is the adorable Miri. Her childlike sweetness serves as the heartwarming centrepiece of the story.
I appreciate the implicit LGBTQ+ messaging embedded in Buddy Daddies. The series never outright expresses that Kazuki and Rei are a gay couple. In fact, their interactions remain platonic without even a hint of homoeroticism. Yet, the anime takes a subtle stance by validating Miri's bond with her fathers. She recognizes these two men as her parents despite having no blood relation. They live happily together, sharing many scenes of domestic bliss. Buddy Daddies speaks volumes about gay parenting and chosen families without labelling the storylines as such.
Despite its LGBTQ+ undertones, Buddy Daddies is not a BL anime series. There's zero romance between the male leads, whose relationship never goes beyond co-parents. At most, they have a platonic bromance. In fact, the story confirms Kazuki's attraction to women multiple times. He never gives any inclination to seeing Rei as more than just a buddy, and vice versa. From a BL perspective, Buddy Daddies is unsatisfying. It focuses on other aspects of their relationship, such as trust and mutual support. Yet, the story offers no possibility of fantasizing about them as lovers.
Since my reviews are focused on BL, I must dock points from Buddy Daddies for its lack of romance. I have watched other stories about gay parenting that express their themes boldly. In contrast, this series alludes to the concept without making a definitive statement. Many anime fans are so starved for BL that they champion Buddy Daddies, interpreting tiny morsels as representation. However, the limited content isn't enough to please me. I still enjoy this delightful series for its charm, humour, and enthusiasm. Overall, it's a solid anime that leaves a positive impression.
Summary
Delightful story
Buddy Daddies has a funny, entertaining story that mixes the criminal underworld with the joys of parenthood. The lovable characters and their cute interactions are the highlights of the series.
Zero romance
Buddy Daddies is not a BL anime series. There is no romantic relationship between the two male protagonists. However, they form an unconventional family unit with soft LGBTQ+ themes.
Adorable visuals
The anime offers bright, colourful, and comedic visuals. I like the character designs, especially the adorable Miri. Her goofy actions or joyous expressions are depicted vibrantly.
Happy ending
Buddy Daddies has a happy ending where the characters escape their former life of crime and settle down peacefully. The last few episodes are more emotionally charged and explore heavier themes.
Cheerful style
The anime maintains a cheerful, enthusiastic tone. Each episode contains cheeky jokes, lively interactions, and entertaining reactions. Occasionally, the series dips into darker and more gruesome themes.
75%
Buddy Daddies is a charming anime that explores parenthood with a cheerful sense of humour. Although it lacks BL content, the series explores untraditional families with subtle LGBTQ+ messaging.
Buddy Daddies Episodes
Episode Guide

Start Date January 7, 2023
End Date April 1, 2023
Episodes 12 episodes
Episode Length 24 minutes
Buddy Daddies has a total of 12 episodes. Each episode is around 24 minutes long. It is a long drama, and you can finish the entire series in under 5 hours. Buddy Daddies started on January 7, 2023 and ended its last episode on April 1, 2023.
Episode 1
Episode 2
Episode 3
Episode 4
Episode 5
Episode 6
Episode 7
Episode 8
Episode 9
Episode 10
Episode 11
Episode 12
Episode Reviews
Episode 1
This episode is a cute start to the series, introducing the adorable characters and their distinct personalities. OMG, the dad holding a gun to his daughter's head is a very dark image.
Episode 2
Miri is really adorable! I love how she causes endearing chaos in Kazuki and Rei's lives. My favourite moment is when she does the veggie dance. Bringing her to the mission seems irresponsible.
Episode 3
The portrayal of the negligent mother is over-the-top. The story must demonize the biological parent to explain why she stays with her new dads. The scene where Rei calls himself Miri's papa is great.
Episode 4
Bringing Miri to daycare is a good direction for the plot, opening new storytelling possibilities. Kazuki shows so much domestic warmth. I like how he helps Miri make friends in a new environment.
Episode 5
The LGBTQ+ messaging is strong in this episode. Miri's drawing of her dads looks like a wedding picture. I like how the story implies the the characters have formed an untraditional family unit.
Episode 6
Seeing the delinquent version of Miri is hilarious. Despite a mundane field trip to the zoo, the story injects humour and hijinks to make this episode entertaining. It also contains sentimental messages.
Episode 7
I like how Buddy Daddies explores Kazuki's tragic backstory, adding more nuance to his character. I also like seeing Rei step up and handle more parenting responsibilities.
Episode 8
Like the last episode, I enjoy seeing Buddy Daddies develop Rei's backstory more. I feel more emotionally invested in his character. The ~last words~ guy is an intriguing villain.
Episode 9
I'm glad to see a more lighthearted plot since the last two episodes have taken a darker turn. The school event is an excellent showcase highlighting the characters' close family bonds.
Episode 10
This episode is more emotional and thought-provoking than others. I like the heaviness of Kazuki and Rei having to say goodbye to Miri. It's sad seeing their happy family unit dismantle.
Episode 11
Miri's parents both getting killed due to her surrogate fathers is such a dark origin story. *lol* These past few episodes have been emotionally charged. I feel more invested in the plot.
Episode 12
"He's my partner. He comes with me." Wow, that line is iconic! I'm glad everything worked out for the characters to settle down in a peaceful life. The time skip is a great way to end the story.
Buddy Daddies Music
Music
Shock
Ayase
Shock is the opening theme song for Buddy Daddies. It is performed by Ayase.
My Plan
DURDN
My Plan is the ending theme song for Buddy Daddies. It is performed by DURDN.
Buddy Daddies Information
Links
Director
Yoshiyuki Asai (浅井義之) is the director of the 2023 anime series Buddy Daddies.