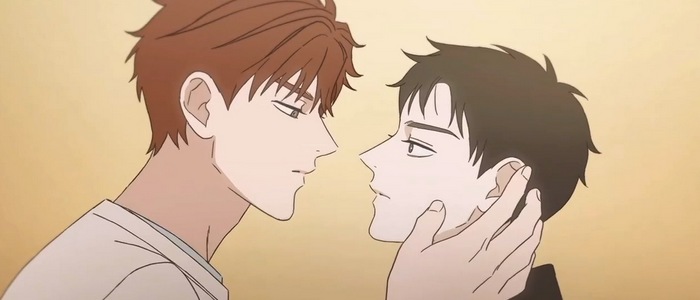 Adapted from a Korean novel, Semantic Error is a slice-of-life BL anime series with four short episodes. The main characters are two university students working on a video game project together. Despite their drastically different personalities, the attraction between them is palpable.
I liked what I saw in the Semantic Error anime, which showed tons of promise with an engaging romance. However, the series is frustratingly short at just fifteen minutes long. Any storytelling feels abbreviated, like I'm watching an incomplete remake that only covers a small part of the source material.
Semantic Error Anime Summary
What is the anime called?
시맨틱 에러
How many episodes are there?
4 episodes
When was the anime released?
2021
How long is Semantic Error?
Around 15 minutes
What is the genre?
Slice of life
How would you describe the anime?
Cute and sweet
Is it based on a novel?
Yes, written by Jeo Suri
Is Semantic Error BL?
Yes, there is a steamy BL romance.
Plot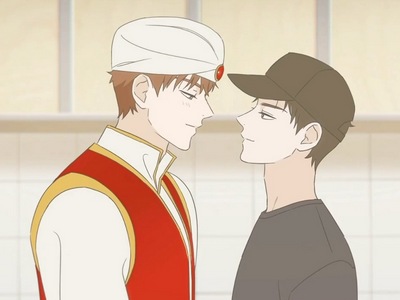 Sangwoo and Jaeyoung are students at Hanguk University. Sangwoo is enrolled in the Department of Computer Engineering, while Jaeyoung studies in the Department of Visual Design. The two of them are working on an indie video game together.
The two of them have drastically different personalities. Sangwoo is serious and hardworking, whereas Jaeyoung is more lighthearted and playful. Jaeyoung likes to tease his partner, making him flustered or annoyed. His provocative antics sometimes irritate Sangwoo, who acts a bit hostile around his companion. Nonetheless, they share a close relationship, and there's a strong sexual attraction between them.
Semantic Error Anime Trailer
Semantic Error Characters
Characters
Sangwoo Kim Minju (김민주)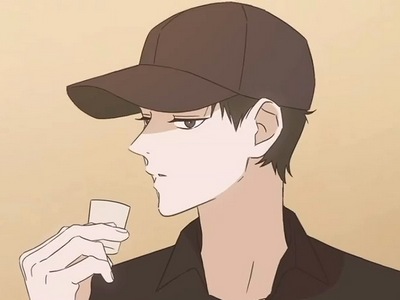 Sangwoo is a university student who studies computer engineering. He is working on a video game project with Jaeyoung. Sangwoo has a serious and diligent personality. He's usually dressed in black and wears a black cap over his head.
Jaeyoung Son Suho (손수호)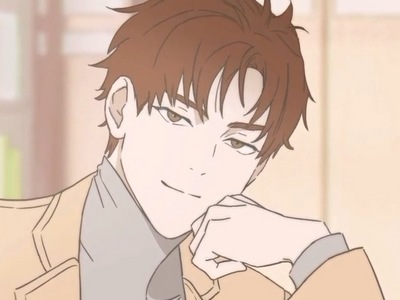 Jaeyoung is a university student who studies the visual arts. He works on an indie video game with Sangwoo. With a cheeky and playful personality, Jaeyoung enjoys teasing or seducing Sangwoo. Jaeyoung is creative, whimsical, and likes to act on an impulse.
Semantic Error Anime Review
Review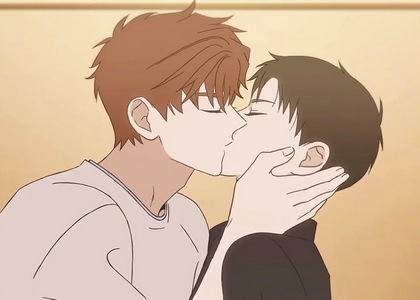 Semantic Error is an intriguing slice-of-life anime that shows much potential. However, this series is painfully short at just fifteen minutes long. Although the narrative is quick and basic, the BL content still manages to be pretty engaging. The story is told through four loosely connected episodes, each depicting a juicy and passionate moment between the main characters. I'm pleasantly surprised by Semantic Error, captivating me with the two likable protagonists and their sizzling romance.
As someone unfamiliar with the Semantic Error manhwa or novel, I don't know how this adaptation fares compared to the original. My impression is the anime seems like a very stripped-down version of the source material. For instance, we never get formal introductions to the characters. We only learn about their relationship dynamic through visual cues or random snippets of conversations. I'm sure the Semantic Error remake leaves out many other crucial details, since the gaps in the narrative feel quite noticeable.
Despite having almost no context, I still enjoy the sexy rapport between Sangwoo & Jaeyoung. The anime successfully cultivates a fun, flirty vibe between the characters. Their foreplay builds up quickly and convincingly, so it doesn't take long before they share intimate kisses or indulge in erotic exchanges. Their physical affection is also balanced with scenes that develop the emotional bond between the couple. Semantic Error does an excellent job at solidifying the BL romance, an incredible feat in such a short amount of time.
Sangwoo and Jaeyoung have attractive character designs. They can look rather dashing in some scenes from specific angles. However, the rest of the visuals are unremarkably plain. Plus, the art quality is inconsistent across the episodes, fluctuating between average and a little half-assed. You can tell this anime was made with limited resources, evident through its lack of polish. I'm sympathetic to the low-budget constraints and won't dock many points from my review. Nonetheless, it's regretful that Semantic Error couldn't look more beautiful.
Semantic Error has an impressive last episode, a delightful showcase of what this anime could've achieved with enough time and budget. As much as I like what I see, the problem is that I only get a glimpse instead of the full picture. This series is simply too short and lacks cohesive content. It desperately needs extra episodes, ongoing plots, along with adorable relationship moments. Overall, Semantic Error captures my interest, but I suspect that's due to the strength of the original story. Otherwise, the anime leaves me feeling unsatisfied and wanting a lot more.
Summary
Lack of story
There's barely a cohesive narrative in the Semantic Error anime. Instead, the anime adapts random, disjointed moments from the manhwa. It's confusing if you don't know the source material.
Sizzling romance
Surprisingly, the anime establishes a steamy and sexy romance between the leads in a short amount of time. There are strong displays of physical and emotional affection throughout the four episodes.
Basic visuals
While I enjoy the character designs, the visuals look plain and aren't consistently well-drawn. It lacks a bit of polish, falling below average quality.
Decent ending
I loved the final episode in the anime, capturing the essence of BL elegantly. I just wished there were more episodes like this one.
Okay artistry
Some of the steamier scenes are illustrated well with titillating shots and sexy ambiance. While you don't see anything explicit, I like the groove and vibe of those erotic moments.
64%
Unfortunately, the Semantic Error anime series is too short at a fifteen-minute length. The tiny episodes aren't enough to build a coherent or engaging narrative in that limited time.
Semantic Error Anime Series
Episode Guide
Semantic Error has a total of 4 episodes. Each episode is around 3 to 4 minutes long. It's a short BL anime, and you can finish the entire series in around 15 minutes. The anime started airing on March 12, 2021 and ended its last episode on April 1, 2021.
⭐ Best episode
Episode 4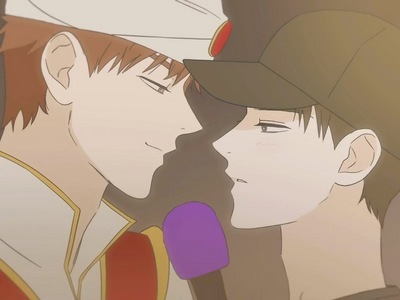 Episode 4 takes place on April Fool's Day. Incidentally, the actual episode was also released on April 1st. The plot is straightforward. Jaeyoung plans a tiny scavenger hunt around the apartment to surprise Sangwoo. His prize for completing the scavenger hunt is Jaeyoung dressed as a genie, and he will grant Sangwoo three wishes to his heart's desire.
Naturally, my mind jumps to the naughty wishes right away~ 😙 However, that's not what ends up happening. Jaeyoung uses his ~three wishes~ pragmatically, instructing his boyfriend to wash dishes, organize the shoe closet, and run ordinary household errands. The episode ends really adorably as Jaeyoung wishes for the genie to turn back into his boyfriend. Oh my gosh, that cute moment put a huge grin on my face.
I was REALLY impressed with this episode. It's the exact type of short self-contained story that I wanted from this anime. Give me ten more episodes like this one and I would be satisfied with the Semantic Error series.
Remake
Semantic Error has a live-action adaptation. This eight-episode BL drama was released on February 16, 2022. Its final episode concluded on March 10, 2022.
Semantic Error 2022 live-action series Drama review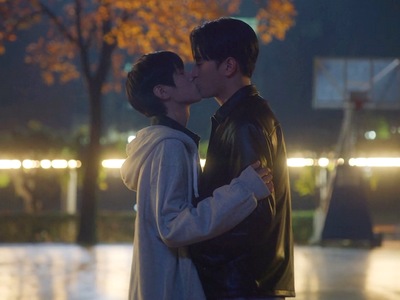 In addition to the anime, Semantic Error has a live-action adaptation released in 2022. This Korean BL drama has eight half-hour episodes, and you can finish the entire series in around 3 hours. As you can imagine, this version has way more time to expand on the plot, characters, and romance.
My opinion of the Semantic Error drama is very positive. The story and characters are introduced properly, giving me actual context to Sangwoo and Jaeyoung's relationship. If anything, the drama actually makes the anime worse because it highlights the glaring deficiencies. However, it's probably not fair to compare a three-hour drama with a fifteen-minute anime. The limitations are obvious and you know which version will be superior. Regardless, I highly recommend the Semantic Error series!
Semantic Error Anime Information
Links