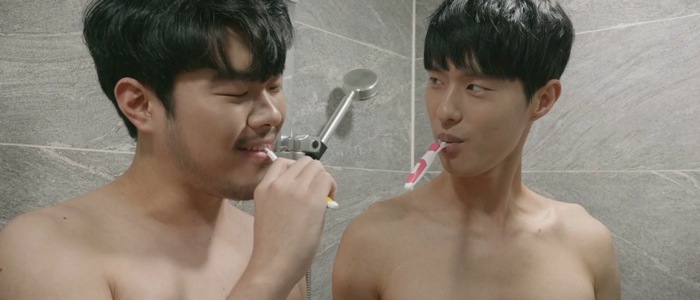 Secret Roommate is a short Korean BL movie about a gay couple who live together. Their living arrangement is interrupted when the lead character's younger brother makes a sudden arrival. He becomes an unknowing third wheel in their relationship, as they try to disguise their romance around him.
Using a simple scenario, Secret Roommate creates an amusing and lighthearted short film that hits all the right notes. It mixes romance with comedy and family drama effectively in twenty minutes. The movie also ends cleverly, wrapping up an excellent story in a satisfying way.
Secret Roommate Summary
What is the movie called?
수상한 동거
Where was the film made?
South Korea
When was the movie released?
2020
How long is Secret Roommate?
20 minutes
What is the genre?
Romantic comedy
How would you describe the film?
Cute and sweet
Who is the director?
Kang Woo
Is Secret Roommate BL?
Yes, Secret Roommate features a gay couple.
Plot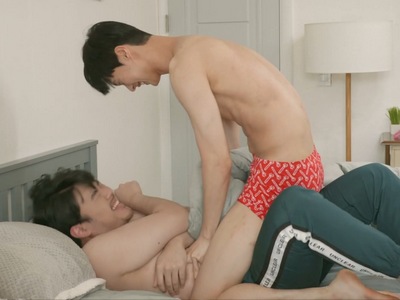 Taeho and Younghoon are in a happy and healthy relationship. This couple cohabits together in Younghoon's apartment flat. Their place is decorated with various romantic mementos, including pictures and matching cups. It's a cozy love nest for the two of them.
One morning, Younghoo's younger brother Youngmin makes a sudden and unexpected announcement. He has arrived in the neighbourhood and plans to stay with his older sibling for the upcoming days. His visit catches Younghoo and Taeho by surprise. Younghoon has not come out to his brother, who doesn't know about the secret romance between the two men.
Before Youngmin arrives, the couple quickly declutters the apartment to hide any traces of their relationship. Taeho is also introduced as merely a roommate. Youngmin begins living with the pair, sleeping in the living room. However, he is a messy and disruptive companion, unwilling to clean up after himself. His habits annoy Taeho and Younghoo, who must continue concealing their romance around Youngmin's presence.
Secret Roommate Trailer
Secret Roommate Cast
Characters
Taeho Kim Jae Heung (김재흥) Kim Jae Heung Instagram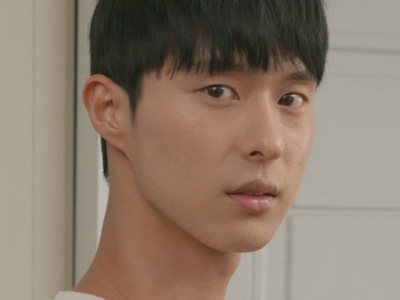 Taeho is dating Younghoon. They live in Younghoon's apartment, sharing the same bedroom together. Taeho is neat, organized, and likes to keep the apartment tidy. He has a kind personality and constantly tries to accommodate Younghoon's brother.
Younghoon Park Jong Ho (박종호)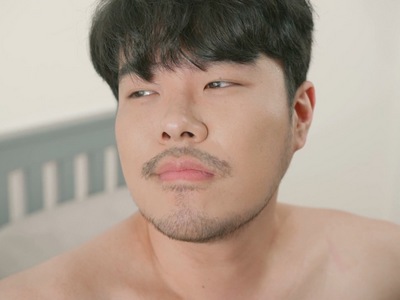 Younghoon is dating Taeho, and the two boyfriends live in his apartment. They have a happy and affectionate romance, but their relationship isn't disclosed to his family. Younghoon has a pesky little brother, Youngmin, who suddenly moves in with them. Sometimes, Younghoon loses his patience with his younger sibling.
Youngmin Kim Hyun Joon (박종호) Kim Hyun Joon Instagram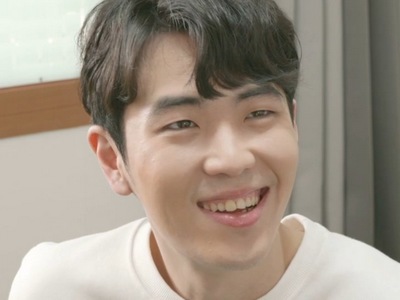 Youngmin is Younghoon's younger brother. He moves in to live with Taeho and Younghoon, sleeping on their living room couch. According to Youngmin, he wanted to get away from his nagging mother for a few weeks. Youngmin is a slob, causing many messes in Taeho and Younghoon's neat apartment.
Cast Highlights
Tae Ho's actor Kim Jae Heung appeared in several gay roles, including the 2012 movie Going South and the 2015 short film A Naked Boy.
Yeong Min's actor Kim Hyun Joon was the lead character in the 2018 gay short film My Pistachio.
Secret Roommate's director Kang Woo was also in charge of the 2017 BL series Long Time No See and the 2021 gay horror film Sweet Curse.
Secret Roommate Review
Review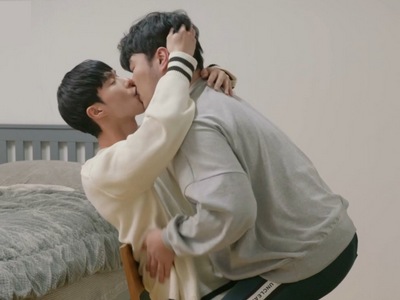 Secret Roommate gets the BL formula right with this cute and clever short movie. The only aspect holding it back from a higher grade is its length. Twenty minutes aren't enough to explore the story, romance, or characters with the sophistication I wanted. Otherwise, everything else works. I loved Secret Roommate, impressing me with a lighthearted story that's fun and engaging to watch.
The film's premise is simple and recognizable. It's easy to immerse in the scenario where a gay couple must disguise the relationship around a family member. Of course, it would've been lovely to see two out and proud boyfriends, who didn't have to sneak around inside their own residence. Nonetheless, the secret romance is a familiar trope that sets up the plot quickly and effectively. We can understand the central tensions, relate to the protagonists, and sympathize with their circumstances.
The narrative moves along at a brisk pace, using well-written scenes to portray the characters and highlight their relationship dynamics. We see Taeho's kind and caring personality shine on various occasions. We also see Younghoon navigate between accommodating his brother and prioritizing his partner's needs. Meanwhile, Youngmin is a troublemaker and drives the conflicts in the storyline. His character is the exciting wildcard variable, making us wonder how he'll respond or what he might do next.
I adore the romance portrayed in Secret Roommate. Taeho and Younghoon clearly have a happy, healthy relationship. They are physically affectionate and emotionally supportive. The family drama doesn't drive a wedge between them because Younghoon always cares about Taeho's feelings. What also makes their romance enjoyable are the charming actors, who bring enthusiasm and charisma to their roles. All three leads look comfortable on-screen, give natural performances, and share an easygoing rapport.
Secret Roommate's drawback is that the movie feels short. It tells the story successfully in under twenty minutes, but I wished we had more content. The film could benefit from extra character development and additional scenes that enrich the plot. Nevertheless, I'm satisfied with the entire experience, especially the clever ending that wraps up the story in a thoughtful way. Secret Roommate is an excellent product, and I would recommend it to anyone who enjoys sweet, casual romantic comedies.
Summary
Fun story
Secret Roommate has a relatable and recognizable plot about hiding a secret romance around a family member. The story is told briskly with well-written scenes and amusing moments.
Sweet romance
Taeho and Younghoon appear happily in love. They share many displays of physical affections on screen, and you can also feel the warmth between the couple.
Comfortable acting
All three actors do a fine job. They seem comfortable in their roles, share an easygoing rapport, and exude a natural charisma.
Happy ending
Secret Roommate has a clever ending, wrapping up this twenty-minute movie in a thoughtful and satisfying way. It's a happy conclusion that suits the lighthearted tone of the film.
Solid artistry
The movie has solid production values with bright visuals and clear camera angles. It's produced well for a small, low-budget BL film studio.
83%
Secret Roommate is an excellent romantic comedy with a fun plot, supported by a cute and affectionate romance. The story is told wonderfully in twenty minutes, but I wish it was a longer film.
Secret Roommate Behind the Scenes
Secret Roommate Information
Links
STRONGBERRY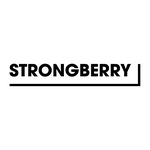 STRONGBERRY is a Korean BL studio that made Long Time No See (2017), Some More (2018), As If You Whisper (2019), Secret Roommate (2020), Sweet Curse (2021), Choco Milk Shake (2022), among many LGBT series and short films. The studio is also known as MATCHBOX.