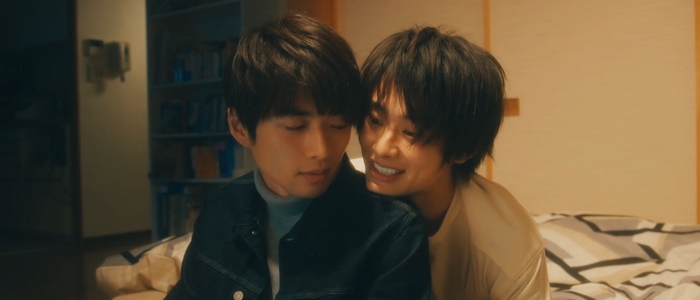 Life~Love on the Line is a Japanese BL drama adapted from a manga. The two main characters are high school students, who first meet each other under quirky circumstances when walking home from school. This series chronicles the next few decades of their relationship. The story follows their romance as the characters transition to university, the workplace, and the responsibilities of adult life.
Although Life~Love on the Line has an offbeat start, it slowly develops into a sweet, sensitive, and serious BL drama. There are plenty of sentimental moments that will tug at your heartstrings. The romance is depicted intimately, taking us through the emotional ups and downs of a gay couple.
Life~Love on the Line Summary
What is the drama called?
Life 線上の僕ら
Where was the series made?
Japan
When was the drama released?
2020
How long is Life~Love on the Line?
Around 2 hours
What is the show's genre?
Romance
How would you describe the series?
Deep and thoughtful
How many episodes are there?
4 episodes
How long is each episode?
Around 25 to 30 minutes
Plot

Akira and Yuki are students who come from different high schools. They share the same route when walking home from school. Both teenagers have a peculiar habit of walking along the painted white line on the road. With every step taken, they are careful about staying very closely within the line.
One day, Akira and Yuki encounter each other when walking on the painted line at the same time. After noticing their similar quirks, the two of them strike an unusual friendship. Akira and Yuki would meet up after school, crossing paths every time they arrive at the midway intersection of the line.
Over time, Akira realizes his feelings for Yuki goes beyond friendship. He starts to become bashful around his friend, hesitating whenever they make physical contact. Yuki doesn't pick up the signals though and continues to be super friendly around him. As his feelings intensify, Akira makes a bold and impulsive move that alters the nature of their friendship forever.
The rest of the series follows Akira and Yuki after they graduated from high school. We check in on them every few years at various points of their lives. From university life to the start of their careers, Akira and Yuki go on an interesting journey as they navigate adulthood together.
Life~Love on the Line Trailer
Life~Love on the Line Cast
Characters
Akira Jin Shirasu (白洲迅) Jin Shirasu Instagram

Akira is a high school student who's quite popular among his female classmates. He is sensible and obedient, unlike his older sister Hitomi who often clashes with their parents. After graduation, Akira settles into an office job, where he feels an increasing need to conform with his colleagues. Akira is a regular smoker and consumes lots of cigarettes particularly when he's stressed.
Yuki Raiku (楽駆) Raiku Instagram

Yuki is a high school student with a cheerful disposition and a creative imagination. He is easily excitable with an innocent and childlike view towards life. As he grows older, Yuki admits to feeling uncertain about his future or what he is passionate about. After graduation, Yuki finds an office job, but that doesn't seem to be his calling.
Supporting Cast

Honoka
Kojima Fujiko (小島藤子)

Hitomi
Doi Shiori (土居志央梨)

Akira's mom
Osada Nao (長田奈麻)
Cast highlights
In a surprising crossover, the two lead actors (Wayne Song and Huang Chun Chih) from the Taiwanese BL drama HIStory 3: Make Our Days Count make a cameo appearance in Life~Love on the Line. The two of them play tourists with a very small speaking role in the last episode of the series.
Life~Love on the Line Review
Review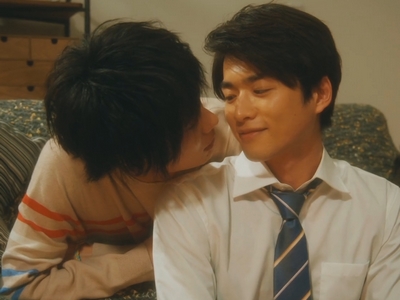 Life~Love on the Line was such a pleasant surprise, catching me off-guard with its emotional nuances and depth. The series began innocently enough as a cute school romance, slowly evolving into a sophisticated and complex relationship drama. Even though the first encounter between Akira and Yuki seems so silly, this story is actually quite serious and explores a lot of mature themes.
The storytelling in Life~Love on the Line is well-crafted. I love how the story is told, giving the viewers a glimpse into the couple's relationship and their personal lives every few years. It's enjoyable watching Akira and Yuki make progress, go through memorable experiences, and discover more about themselves. As the characters grow older, the tone of Life~Love on the Line also shifts accordingly. The plots in the first half were bright and optimistic, whereas the second half felt heavier and more sombre.
The romance between Akira and Yuki is a highlight, developing at a cozy and comfortable pace. We get many cute scenes of them as an ordinary couple, exchanging intimate kisses, inside jokes & intelligent discussions with each other. By the time the serious drama kicks in, I feel emotionally connected to these characters and I care a lot about what happens to their relationship.
There's a significant turning point in the second half of the drama, which is where Life~Love on the Line falters slightly. A severe decision from Akira came with dire consequences, making it tough to sympathize with his character afterwards. This pivotal storyline felt rushed and didn't receive enough development. It needed more context leading up to Akira's decision, and it needed to expand on the fallout afterwards. Don't just do a time skip a few years later. Show us the full version of events and dive deeper into the emotional intricacies of each moment.
Overall, Life~Love on the Line is a touching and thoughtfully produced BL series that I would recommend. With a two-hour length, this is a compact and concise love story packed with many poignant moments. It's sweet, it's intimate, and it fills my heart with lots of wonderful emotions.
Life~Love on the Line Episodes
Episode Guide
Life~Love on the Line has a total of 4 episodes. Each episode is around 25 to 30 minutes long. This is a short BL drama, and you can finish the entire series in under 2 hours. The series aired its first episode on June 19, 2020 and ended on July 10, 2020.
Life~Love on the Line also has a director's cut available, which contains a few extra scenes and an extended ending. I highly recommend that you watch the director's cut instead of the regular episodes for a more well-rounded experience.
Life~Love on the Line Information
Links