Unforgotten Night is a Thai BL series about a passionate romance after a one-night stand. The heartbroken protagonist wants to get over his ex-boyfriend and hooks up with a random stranger. Following a steamy evening together, he discovers his sex partner works for the mafia. The crime boss is enthralled with their chemistry and insists on a long-term relationship. The couple goes through turmoil as they navigate their incompatible lifestyles.
Amazingly, Unforgotten Night is so bad that it almost reaches iconic status. This crime BL drama epitomizes high camp, from the outrageous mafia plots to the cheesy sexual encounters. The problem is it doesn't deliver consistent entertainment, so some uneventful episodes can be dull. Nonetheless, I appreciate this over-the-top series with awful characters, toxic tropes, and unintentionally funny scenes.
Unforgotten Night Summary
What is the drama called?
ร้ายนักนะ รักของมาเฟีย
Where was the series made?
Thailand
When was the drama released?
2022
How long is Unforgotten Night?
Around 10 hours
What is the genre?
Crime drama
How would you describe the series?
Spicy and romantic
How many episodes are in Unforgotten Night?
12 episodes
How long is each episode?
Around 45 minutes
Plot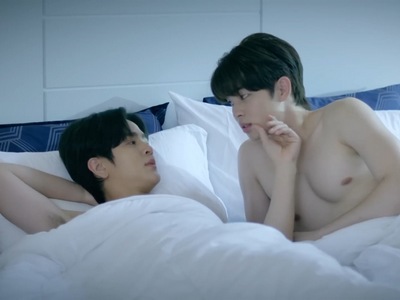 Kim is the owner of a small auditing firm. He recently faced heartbreak from his ex-boyfriend Day, who broke up with him to be with another guy. Although their separation is amicable, Kim feels devastated and has trouble moving on from his old relationship. One night, Kim visits a bar with his colleagues. He locks eyes with a man named Kamol, who seems to fancy him. Kamol propositions Kim during their first chat. Kim responds positively and hooks up with this stranger to get over his breakup.
Kim and Kamol spend a passionate evening together. Both men are into S&M, enjoying the thrills of bondage gear and sex toys. In the past, Kamol had trouble finding a suitable partner who could handle his extreme tastes. He's pleasantly surprised by his chemistry and compatibility with Kim. On the following day, Kim's body is covered in bruises. He regrets having the one-night stand with an anonymous stranger. In contrast, Kamol is lovestruck and wants to continue their relationship for the long term.
Unbeknownst to Kim, Kamol is a mafia boss who runs multiple bars, nightclubs, and casinos. He also conducts shady business activities, which often involve violent tactics. Kamol's loyal bodyguards include Khom, Kit, Lop, and Ruj. Coincidentally, Kim's ex-boyfriend Day used to work for Kamol as one of his henchmen. Day's new boyfriend Itt convinced him to quit this dangerous job. Nonetheless, Kamol remains in contact with his former employee. Kamol knows Day and Kim are friends, but he doesn't realize they used to be lovers.
Recently, Kamol has plans to secure a significant project to launch a casino. However, his mafia rival Danai is after the same project. Kamol and Danai clash over the competition, where only one can win the deal. Kamol's friend Cherry is his connection to Danai. Cherry, the daughter of a famous politician, is Danai's niece. She gathers intel from her uncle and passes the information to Kamol. Cherry has developed feelings for Kamol, but he doesn't seem interested in her romantically. Her recent advances put a strain on their friendship.
After their unforgettable night together, Kamol tracks down Kim at his home and workplace. He hopes to win over his partner and start dating him. However, Kim deduces Kamol's line of work and feels disturbed by his invasive tactics. An ordinary guy like Kim doesn't want to be in a relationship with a mafia boss. However, Kamol refuses to take no for an answer and continues following his crush everywhere. As Kamol intensifies his advances, Kim's average life becomes intertwined with his dangerous suitor.
Unforgotten Night Trailer
Unforgotten Night Cast
Characters
Kamol
Yoon Phusanu Wongsavanischakorn (ยุ่น ภูษณุ วงศาวณิชชากร)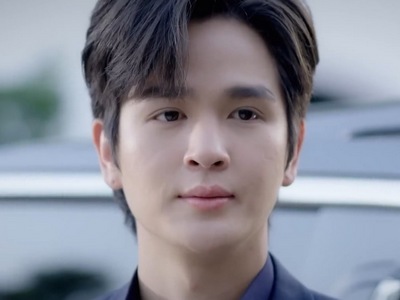 Kamol is a mafia boss who runs bars, nightclubs, and casinos. He's also involved in illegal business activities, which often involve violent tactics. Kamol enjoys S&M. However, he can't find a compatible partner who seeks pleasure in the same activities. Kamol becomes smitten with Kim after their one-night stand, delighted by their sexual chemistry.
Yoon Phusanu Wongsavanischakorn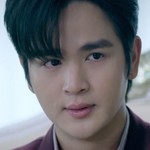 Yoon Phusanu Wongsavanischakorn (ยุ่น ภูษณุ วงศาวณิชชากร) is a Thai actor. He is born on April 1, 1994. His first BL project is YYY (2020). Yoon starred in the series, Unforgotten Night (2022). He also had supporting roles in Paint with Love (2021) and My Ride (2022). In addition, Yoon appeared in the anthology series, Y-Destiny (2021) and Close Friend (2021).
Kim
Ton Saran Anantasetthakul (ศรัณญ์ อนันตะเศรษฐกูล)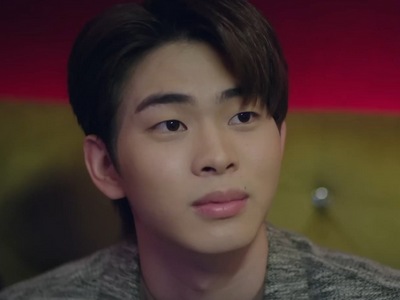 Kim is the owner of a small auditing firm. Recently, his ex-boyfriend Day broke up with him to be with another guy. Kim is devastated by their separation and can't seem to move on from his old relationship. He agrees to anonymous sex with Kamol, a stranger at the bar. Kim regrets their one-night stand after discovering Kamol's connections to the criminal underworld.
Ton Saran Anantasetthakul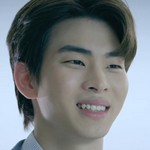 Ton Saran Anantasetthakul (ศรัณญ์ อนันตะเศรษฐกูล) is a Thai actor. He is born on October 22, 1998. His first BL project is Y-Destiny (2021). Ton starred in the series, Unforgotten Night (2022).
Supporting Cast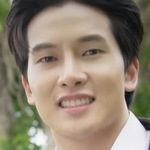 Khom
Gun Thapanawat Kaewbumrung (กันต์ ฐปนวัฒน์ แก้วบำรุง)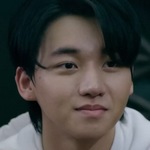 Baiboon
Peat Suchanon Chueluecha (พีท สุชานนท์ ชื่อลือชา)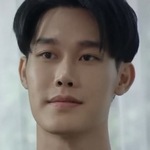 Day
Khopkhet Natkharin Tankaew (ขอบเขต ณัทครินทร์ ตันแก้ว)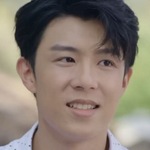 Itt
Ice Saranwich Nilsinthop (ไอซ์ ศรัลก์วิชญ์ นิลสินธพ)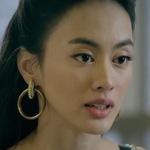 Cherry
Ging Areeya Pholphutrakul (กิ่ง อารียา ผลฟูตระกูล)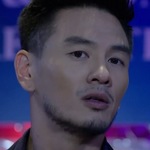 Danai
Beam Sarunyu Prachakrit (ศรัณยู ประชากริช)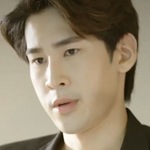 Kit
Ku Deachit Daosaengpetch (กุ เดชิษฐ์ ดาวแสงเพชร)

Lop
Tong Supanut Sudjinda (ศุภณัฐ สุดจินดา)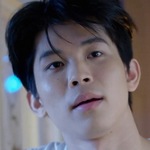 Ruj
Tan Tanchanit Limsilatham (ธัญ ธัญชนิต ลิ้มศิลธรรม)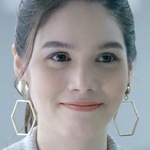 May
Baitoey Punnisa Sirisang (ปุณณิศา ศิริสังข์)

Jin
Samantha Melanie Coates (ซาแมนท่า เมลานี่ โค้ทส์)

Nee
Jeab Paweena Charivsakul (เจี๊ยบ ปวีณา ชารีฟสกุล)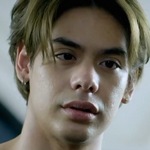 Danil
Amen Sotthibandhu Komeluecha (อาเมน โสตถิพันธุ์ คำลือชา)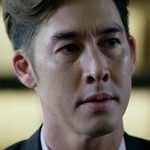 Evan
Utt Uttsada Panichkul (อัษฎา พานิชกุล)

Kim's dad
Suchao Pongwilai (สุเชาว์ พงษ์วิไล)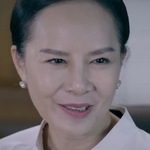 Kim's mom
Tai Penpak Sirikul (ต่าย เพ็ญพักตร์ ศิริกุล)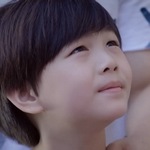 Salmon
Kuma Punnathorn Pornprasit (คุมะ ปัณณธร พรประสิทธิ์)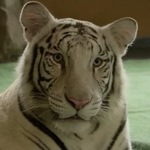 Whipped Cream
Cast Highlights
Kamol's actor (Yoon) had multiple BL roles throughout his career. He starred in the 2020 BL series YYY. He also had supporting roles in the 2021 dramas Paint with Love and My Ride. Yoon's other works include Y-Destiny (2021), Close Friend (2021), and Club Sapan Fine 2.
Kim's actor (Ton) appeared in the 2021 Thai BL anthology series Y-Destiny.
The actress who portrays Cherry (Ging) appeared in the 2022 Thai BL series My Ride as the protagonist's best friend. She also had a supporting role in Secret Crush on You, portraying one of the villains.
The actress who portrays Jin (Samantha) had supporting role in multiple Thai BL dramas. Some of her appearances include What the Duck (2018), Love by Chance (2018), 2 Moons 2 (2019), Until We Meet Again (2019), and My Gear and Your Gown (2020).
Lop's actor (Tong) has a supporting part in the 2023 series Destiny Seeker. However, he isn't involved in a BL romance.
Unforgotten Night Review
Review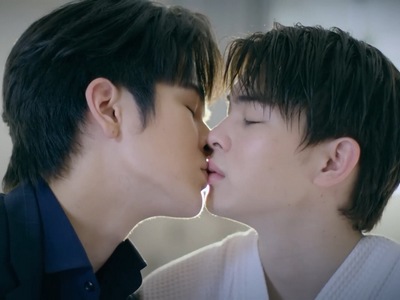 Unforgotten Night is high camp. It combines a ridiculous plot, tacky characters & cheesy sex scenes into a hilariously bad BL series. The story revolves around outlandish mafia conflicts, which unfold so idiotically that everything feels comical. The writing lacks realism and sophistication, turning the gritty gangster drama into dumb, preposterous nonsense. From the silly gunfights to the even sillier catfights, I can't stop laughing at the absurdity in Unforgotten Night. It deserves an ironically high score because this mess is iconic.
If you judge Unforgotten Night critically, it's easy to scrutinize the senseless narrative, lousy acting, and toxic tropes. However, the series becomes more tolerable if you enjoy it as an unintentionally funny parody. My favourite example is Episode 2, where the protagonist cries hysterically as his ex-boyfriend hooks up with another man. I crack up at the jarring juxtaposition between the gloomy melodrama and steamy erotica. Other highlights include any time the characters take a shower. Unforgotten Night transforms the cleaning ritual into an incredibly sexualized gay fantasy scenario.
Once I stop taking Unforgotten Night seriously, I appreciate the random shenanigans in the outrageous plot. The problem is that not every episode delivers consistent entertainment. This series experiences dull stretches of uneventfulness, especially in the middle. It drags out the casino feud and love triangle drama for too long. Some lively hijinks excite me once in a while, but the story falls back to a tepid rhythm. Unforgotten Night suffers because it isn't diabolical enough. Let's inject more scandals, theatrics, and debauchery to energize the narrative!
Unforgotten Night leans heavily into portraying lust, passion, and sensuality. The leads engage in S&M, getting frisky with handcuffs, candle wax & bondage gear. While you don't see anything explicit, the series prides itself in being kinkier than your average BL drama. The sex scenes are more comedic than erotic, but at least I'm amused. Despite the physicality, I'm not fond of the couple. Kamol grows weirdly obsessed with Kim, acting like the clingiest one-night stand ever. I can't warm to his controlling behaviour, jealous streak, violent outbursts, or fragile ego.
Kamol's actor (Yoon) seems miscast as the lead. I don't think his performance is poor, but he lacks the menacing demeanour of a mafia boss. Kamol's harmless appearance contradicts his sinister actions, undermining the character's authenticity. His costar (Ton) can't recover from those exaggerated crying scenes, setting a memorable first impression for the wrong reasons. The supporting cast is generally underwhelming. Only Danai's actor (Boom) understands the assignment and portrays his villainous role with juicy flamboyance.
Unforgotten Night bursts alive during the last stretch. The series utilizes everything from its bag of tricks, including assassins, kidnappers, evil exes, shameless nudity, and even orgies. It unleashes enough razzle-dazzle to keep me enthralled until the end. I wish it embraced this frantic energy in the early episodes, not just for the final arc. Although Unforgotten Night is a terrible BL drama, it surprisingly works as a guilty pleasure. The wacky twists, campy humour, and over-the-top chaos have produced this unforgettable cult classic.
Summary
Outrageous story
Unforgotten Night is a hilarious bad BL drama with outlandish mafia plots, tacky characters, and cheesy sex scenes. The story becomes so unhinged near the end that it becomes ironically entertaining.
Tacky romance
The series features physicality prominently. It showcases many passionate encounters between the leads. However, Kamol is a clingy and controlling love interest with problematic behaviour.
Underwhelming acting
Kamol's actor (Yoon) seems miscast. He doesn't feel believable as a menacing mafia leader. His costar (Ton) cannot overcome a poor first impression with his hysterical crying scenes.
Happy ending
Unforgotten Night has a happy ending where Kamol defeats Danai in their ongoing rivalry. Later, Kamol settles down in a blissful life with Kim, officially separated from crime.
Campy artistry
There are a few pretty shots throughout the series, making expert use of neon lighting. Despite the luxurious surroundings, the set decorations have a strangely low-budget feel.
69%
Unforgotten Night is an over-the-top crime drama with preposterous plots and toxic romances. This campy BL series can be entertaining if you don't take the ridiculous story seriously.
Unforgotten Night Series Explained
Analysis
Story
One-night stand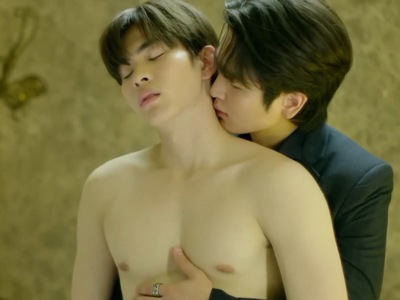 The "unforgotten night" refers to Kim and Kamol's one-night stand in Episode 1. The "unforgotten" part is a euphemism for their mind-blowing sex, leaving a memorable impression on Kamol. Previously, he had trouble finding a compatible partner for his aggressive S&M tastes. Kamol is delighted by his physical chemistry with Kim and becomes lovestruck after one evening together.
I guess it's normal to catch feelings after your one-night stand. However, what's not okay is Kamol's weirdly obsessive behaviour after the incident. He uses his frightening mafia boss powers to stalk, harass, and control his sex partner. Kim wants nothing to do with him. Yet, Kamol keeps pestering him at work and home. There's a dominance and submission power dynamic to their relationship. Kamol dominates Kim's entire life until he finally submits to his aggressor's will.
Kamol's behaviour seems clingy and creepy. If Kamol wanted to date after their one-night stand, he should've courted Kim through regular channels. Ask him politely for a second unforgettable night without all the extra antics. No bodyguards, no surveillance, and no moving in together. I hate that poor Kim doesn't actually have a choice in their relationship. Poor Kim is held captive at Kamol's house, forced into loving the mafia boss. Their romance is like a cautionary tale for anonymous sex. Be careful about which stranger you hook up with, or else you may end up in a predicament like Kim!
Kamol vs Danai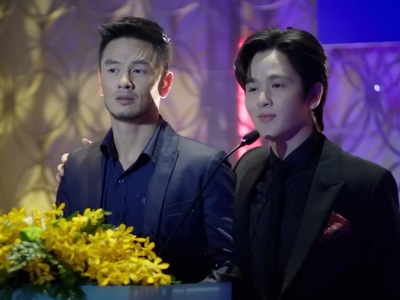 Unforgotten Night focuses too much on Danai in the story. I know he's the ~final boss~ and the central villain of the series. Yet, he's still a minor supporting character not involved in any BL romance. If we look at the big picture, Danai doesn't need prominence to make an impact. Yet, Danai features in many scenes, constantly feuding with Kamol over casino investments, nameless henchmen, or whatever. These subplots are vaguely similar, carrying little consequences. The series keeps reiterating the Danai x Kamol rivalry when it doesn't deserve emphasis.
The other problem with Danai's high visibility is that it nerfs him as a villain. The bomb threat debacle makes Danai look so silly that I can't take his character seriously anymore. How am I supposed to find this doofus threatening when he gets outsmarted by Kamol in every episode? The more we see of Danai, the less menacing he seems. It lessens his appeal as the final boss because we know he isn't going to win over Kamol. Danai's character is okay as a comical villain, but most of his screen time could've been allocated to other storylines instead.
Tigers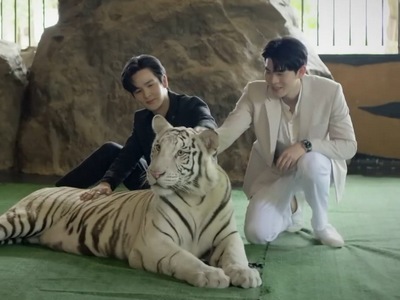 Unforgotten Night has tigers! Other BL leads have cats as pets, but Kamol must one-up them and get domesticated tigers instead. This quirky detail adds to Kamol's characterization, highlighting his ~rich asshole~ persona. I appreciate the series for going the extra length to do something differently. Having tigers is a cool novelty you don't see in other BL dramas. 🐯
With that said, Unforgotten Night must've splurged its budget on the tigers and wanted to get their money's worth. They keep making the characters go inside the cage and pet the tigers. Petting the tiger may be unusual imagery the first time, but not when there are multiple scenes of the same activity. By the fourth or fifth tiger-petting session, I was like, "Again!? How much attention do these tigers need?"
The producers' thought process must be, "We paid a lot of money for these tigers! We want as many shots with them as possible!" The same logic goes for the airplane because Kamol and Kim keep riding the private jet everywhere. Since the series spent its budget on tigers and planes, it must shoehorn these props into the narrative!
Romance
Kim & Kamol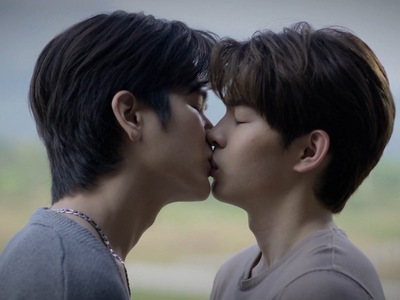 I don't ship the romance in Unforgotten Night, and it's all because of Kamol. Kim is a sweetheart who deserves better than his evil love interest. Before meeting the mafia boss, Kim seems like a regular guy with an upstanding personality. He comes from a loving family, gets along with his colleagues, and doesn't put on pretentious airs. My favourite part about Kim is how kindly he interacts with Kamol's staff, especially the housekeeper, viewing them as equals. Kim is a good egg.
As much as I like Kim, his partner Kamol is detestable. Kamol acts like an arrogant ass for the entire series. Cherry claims he's a "kind" person, but his actions speak otherwise. Kamol harasses his love interest, abuses his employees, and treats human lives as collateral damage. The dude was ready to blow up all the guests at Danai's party like a terrorist! In Episode 5, Kamol punches his bodyguard for not protecting Kim from the tiger. It's disgraceful how Kamol hurts his loyal subordinates who risk their lives for him. He resorts to gruesome violence just because his lover gets a little spooked!
Yet, nobody confronts Kamol about his deranged behaviour because of his mafia position. They're all afraid of him. Kim is the only person who challenges Kamol, but he doesn't have that much power in their lopsided dynamic. Unforgotten Night wants us to think Kamol is a "changed" man just because he quits being a criminal. However, I won't commend him for doing the bare minimum. Being slightly less evil doesn't absolve Kamol's misdeeds or redeem his character. I end the series thinking Kamol is a thug, and I don't want him anywhere near Kim.
Kim, Day & Itt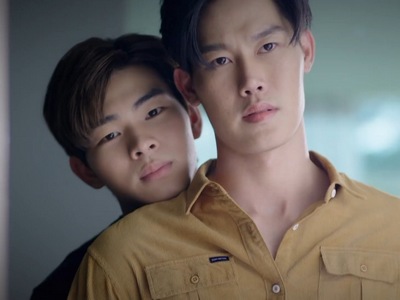 The series begins with Kim getting dumped by his ex-boyfriend Day, who moved on with another man. Despite their breakup, these two spend an inexplicable amount of time together. Typically, you'd want to distance yourself from your ex as much as possible. Yet, Kim hangs out at Day's house and acts like an awkward third wheel. Unforgotten Night teases a love triangle conflict between Kim, Day & Itt. Yet, nothing exciting happens between them.
Day's new lover Itt is friendly toward Kim and welcomes him with hospitality. However, he's almost too chummy. He isn't guarded around Kim at all, weirdly enough. Itt keeps reassuring Day & Kim that he harbours no resentment, to the extent that his behaviour seems insincere. Itt came in between the relationship between these two former lovers. Realistically, there should be some tension in their dynamic. So, I was suspicious of Itt's relaxed demeanour. I thought there would be a plot twist where Itt drops his nice-guy act and reveals himself as a villain.
In Episode 7, Kim goes into witness protection and lives with his ex. However, he still gets attacked by Danai's henchmen. I was so convinced that Itt issued the hit on him. I thought I saw through his evil agenda against his boyfriend's ex. Aha! Itt must be using his nephew as a cover-up for his malicious intentions! To my surprise, Itt isn't responsible for the home invasion. I pegged his character completely wrong. It actually disappointed me that Itt turned out to be a regular guy, instead of becoming the villain like I imagined. 😅
Kamol & Cherry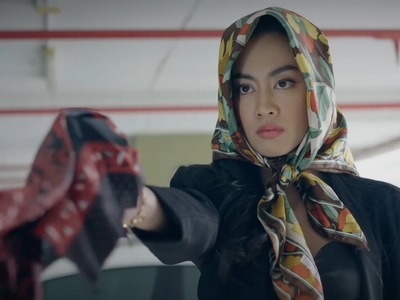 Like Danai, Unforgotten Night may have spent too much time on Cherry's storyline, which didn't yield exciting scenes. I'm bored watching her play double agent between Kanol and Danai. I also dislike watching Cherry flirt with Kanol, who always rejects her. Occasionally, she has a few amusing moments in her catfight with Kim. However, they aren't enough to salvage Cherry's character, who feels like a spare part of the narrative. She's an irrelevant supporting character who doesn't need that much prominence.
That said, Cherry starred in one of my favourite moments in this series. In Episode 11, she suddenly appears in the parking lot, wearing a ridiculously over-the-top disguise. Cherry points a gun at Kim, but she fails to kill him. Oh my god, I cracked up! 🤣 The clothes, the circumstances, and the botched assassination attempt were so absurd that everything circled back to being hilariously camp. Cherry goes from an annoying love rival to a silly walking parody. If only Cherry had exuded this evil energy throughout the series, I would like her much better!
Kamol, Danil & Kim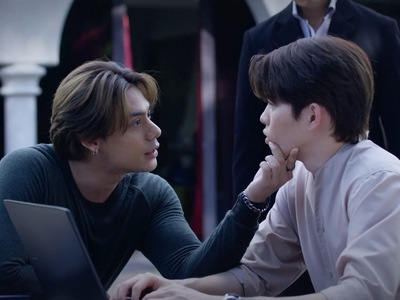 Danil seems redundant since his character repeats a similar love triangle conflict as Cherry. He inherits her storyline after Episode 9, serving the role of the jealous, jilted ex-lover. Like Cherry, Danil is also useless and annoying most of the time. I'm embarrassed for him, coming in between an established relationship. He stirs up shit despite having zero chance of getting back together with his ex.
Although I'm not fond of Danil, I like his character better than Cherry. His scenes are a bit campier, more unhinged, and sexually charged. In Episode 11, there's a saucy moment where Danil gets naked and seduces Kamol. Later, he sticks that thick sausage in his mouth, a crude sexual innuendo that still made me giggle. I also like Danil's character development in the finale as he comes to terms with Kim & Kamol's relationship. While his redemption arc is shallow and nonsensical, it's decent when judging by Unforgotten Night's low standards.
Since nobody seems to be asking, I'll be the one to start the roundtable discussion: What is Kamol's appeal? I'm mystified about why Cherry, Danil, and Kim are drawn to this evil mafia leader with a terrible temper. It can't be because of the money because Cherry and Danil are pretty well-off. Surely, it can't be because of his winning personality. I don't understand what Cherry or Danil see in Kamol to the point that they develop a fatal attraction. Is this manipulative bastard really worth your time of day? Is his dick that good?
Khom & Baiboon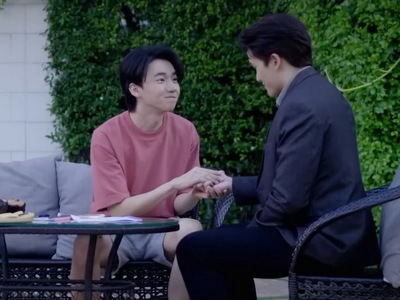 I sorta like Khom and Baiboon together. They share a few sweet exchanges. They're a weirdly wholesome couple in a series with S&M, orgies, and drunken hookups. Khom & Baiboon's pairing makes this BL drama less sleazy. Unforgotten Night proves it can tell a sweet romance without relying on shock, scandal, or sensuality.
However, I must acknowledge this secondary romance feels irrelevant and superfluous. I can't pinpoint any memorable moment between the couple. As much as I find Kim and Kamol's dynamic problematic, at least they leave an impression. In contrast, Khom and Baiboon are a really forgettable pairing. They need more drama, passion, and substance in their storyline.
Throuple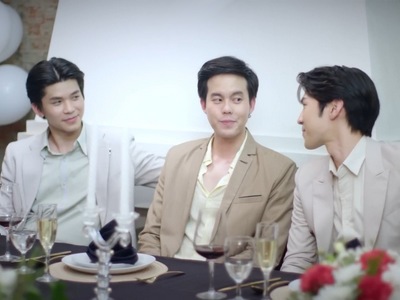 I'm into Kit, Lop, and Ruj as a throuple. When the trio hooked up in Episode 10, that was the best plot twist ever! The story never hinted any sexual attraction among Kamol's three henchmen. I assumed they were just minor characters who fought bad guys and delivered exposition. Suddenly, the three guys are involved in this over-the-top gay fantasy scenario in the shower. OH MY GOD. I'm shocked! What just happened!? Their shower orgy came out of NOWHERE. 🚿
First, Kit and Lop start making out, which is already surprising. Then, Ruj jumps into the action, leaving me bewildered. WOW. To be fair, I know the gay orgy is meant as titillating fanservice. It's gratuitous erotica to stimulate the viewers. However, I believe the storyteller should've gone all-in on this romance. I wanna see more! Scrap the stupid mafia storylines and give us more throuple content! Sadly, the Kit, Lop & Ruj throuple gets little focus outside this scene. Unforgotten Night missed an opportunity to highlight a unique subplot that fits their series perfectly.
The throuple is scandalous, sexy, and strange in a good way. Their dynamic is something we don't often see in BL dramas, like a selling point that would have fans talking. Imagine if Unforgotten Night takes the time to develop these three characters and cultivate their sexual tension. Show us how they get to the point of the shower orgy, and then explore their aftermath. Don't just give us one shocking moment and leave it be. Give us a complete storyline and take their attraction seriously.
Acting
Miscast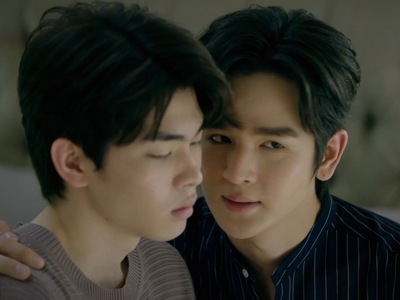 It's my fourth time watching Kamol's actor (Yoon) in a BL drama. He stars in YYY, a quirky comedy about two apartment roommates who fall in love. His other works include My Ride, portraying a flirty doctor who clashes with his senior. He also has a supporting part in Paint with Love, where his character gets involved with an actor. Sadly, I haven't liked any of those past pairings, and Unforgotten Night suffers the same fate. Four different pairings and four different series later, Yoon still hasn't landed a winning role.
Honestly, I don't think it's the actor's fault. The reason why I haven't liked the pairings is due to other factors, like the writing or the characterizations. In the case of Unforgotten Night, the Kamol character has such an awful personality that I can't warm up to him. I also think Yoon is miscast in this role. He lacks the rugged demeanour of a gangster. Danai's actor (Beam) isn't intimidating either, but at least he has the swagger and imposing stature to portray a mafia leader. In contrast, Kamol's bravado doesn't feel convincing enough, making it hard to sell his performance.
Style
Meeting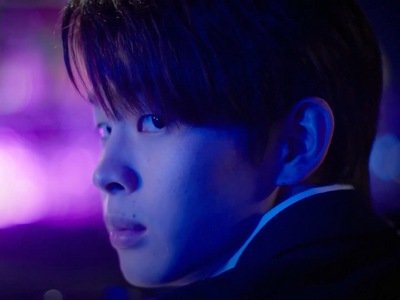 I like how the series uses lighting to produce ambiance throughout the series. The fluorescent purple, green, or blue hues can create a striking appearance, although it's more effective in some scenes than others. It works really well in Episode 1. I love the atmosphere of Kamol and Kim's first meeting.
The setup isn't that fancy. Kim sits at the bar, Kamol walks past him, and the two men exchange gazes. That was the entire interaction. Yet, the slow camera movements, dark lighting, and tense background music created a compelling mood. I felt danger, excitement, and intrigue as the characters stared at each other without speaking. It's one of the several times where Unforgotten Night does a great job of highlighting the attraction between the leads.
Unfortunately, I don't get a romantic vibe during the sex scenes. I find the over-the-top eroticism kinda cheesy, like watching a bad porno. I'm more amused than aroused when Kim and Kamol screw each other. But hey, at least I'm entertained! 😅
Ending
Happy ending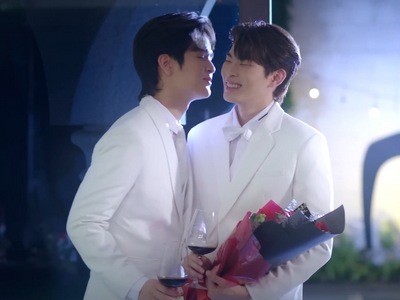 Unforgotten Night has a happy ending where Kamol quits his criminal career to settle down with Kim. The finale featured an intense final showdown between the two mafia factions, where Kamol triumphs over his rival. Danai held Kim, Cherry, and Danil hostage. He threatens to hurt his captives unless Kamol transfers ownership over the casino investment contracts. A gunfight ensues, and Kamol's boss Evan kills Danil to end this feud.
After the fight, Evan allows Kamol to quit his mafia leader position. Kamol switches to running legal businesses, but his staff still remains employed. Danil also breaks down in tears, feels guilty for treating Kim terribly, and makes up with him. Likewise, the leads clarify their misunderstanding over Day. Both acknowledge that Kim is no longer in love with his ex, unlike how he was at the start of the series. They also visit Kim's parents, who show support for their relationship.
Unforgotten Night ends with a wedding celebration. Kamol and Kim get married as their friends celebrate their union at a private party. The final scene shows them exchanging wedding rings outside at nighttime. Afterwards, they put on handcuffs around each other. It's a cheeky joke that references their one-night stand. Symbolically, the handcuffs also represent how they're locked into this union. It's a little tacky to express your love through handcuffs on your wedding day, but I'm secretly a fan of this gesture lol. Unforgotten Night remains hilariously camp until the end. 😆
Unforgotten Night Episodes
Episode Guide

Start Date June 22, 2022
End Date September 7, 2022
Episodes 12 episodes
Episode Length 45 minutes
Unforgotten Night has a total of 12 episodes. Each episode is around 45 minutes long. The last episode is around 60 minutes long. It is a short BL drama, and you can finish the entire series in under 10 hours. Unforgotten Night started airing on June 22, 2022 and finished its last episode on September 7, 2022.
Episode 1
Episode 2
Episode 3
Episode 4
Episode 5
Episode 6
Episode 7
Episode 8
Episode 9
Episode 10
Episode 11
Episode 12
Episode Reviews
Episode 1
I like the moment Kamol & Kim first exchanged glances at the bar. That was a mood. I don't find the S&M antics erotic, but they crack me up with the cheesiness. Is it supposed to be this funny?
Episode 2
OMG. This series is so hilariously camp. I can't get over Kim's crying face, juxtaposed with his ex having sex with another guy. Not every BL drama can achieve this level of unintentionally funny cringe. 😆
Episode 3
I'm not a fan of Kamol's clingy and controlling behaviour. Why is he so creepily obsessed over his one-night stand? Was the sex between them that good? Leave Kim alone and give him some space!
Episode 4
It's so scary this mafia boss holds Kim captive because of a one-night stand! Poor Kim hooked up with the wrong stranger at the bar. Unforgotten Night is like a cautionary tale for anonymous sex. 😨
Episode 5
LMAO. Why does Kamol keep real-life tigers at his house!? That's so extra. 🐯 I gasped when Kamol punched his bodyguard. This douche has anger issues! If I was Kim, I'd be scared to hook up with him.
Episode 6
The bomb threat drama is SO stupid that it makes me laugh. How am I supposed to take Danai seriously as a villain after this debacle? I'm kinda over the casino drama and want a break from this subplot.
Episode 7
Unforgotten Night keeps forcing this awkward love triangle with Kim, Day & Itt. Why are they hanging out so much? Itt tries too hard to act friendly towards his boyfriend's ex. His hospitality seems phony.
Episode 8
Even Danai gets a sexy bathtub scene! This series will not let any of its male cast members stay clothed. *lmao* The story has too much Danai, though. Let's focus less on him and introduce new plots.
Episode 9
How often have I seen the characters take showers & baths in this series? There's a disproportionate amount of body cleansing. 🚿 Bathing is their second favourite hobby next to petting the tiger.
Episode 10
OMG. I *SCREAMED* at the three henchmen hooking up in a shower orgy! What did I just watch!? What is this gay fantasy!? I want more scenes with them! This throuple should be the secondary romance!
Episode 11
I laughed so hard at Cherry's disguise during her failed assassination attempt. 🤣 It's funny how Baiboon injures himself from swimming & skateboarding, but he makes it out of a gunfight unscathed.
Episode 12
The Unforgotten Night ending runs on total senseless chaos, but you know what? The messiness works and I'm entertained. OMG. Are the leads seriously getting married in handcuffs? That's so tacky lmao~
Unforgotten Night Best Scenes
Best Scenes
I'm obsessed with how often the characters take baths & showers in Unforgotten Night. For fun, I will list every body cleansing scene throughout the series. You can always count on BL Watcher to deliver useless trivia that no other website thinks to write about. 🛁
Episode 1
Kamol & Kim bath

The first bath takes place in Episode 1! Kim and Kamol are anonymous strangers who meet at the bar. They just finished having a wild one-night stand, which includes kinky BDSM antics.
Afterwards, the couple soaks in the bath together. We see all these red bruise marks on Kim's body, indicating how rough their intercourse was. He seems to be in pain but also enjoys the sensations. Episode 1 ends with Kim searching online about why he feels aroused from having violent sex.
Episode 2
Day after-shower sex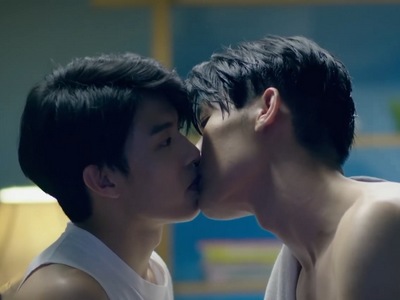 The second shower scene takes place in Episode 2! We actually don't see Day during the shower. He comes out of the bathroom, drying his hair, face, and body with a towel. Nonetheless, I'll include this moment in the list.
After the shower, Day joins his boyfriend on the bed. They proceed to kiss and have sex. Hilariously, Unforgotten Night juxtaposes their steamy sexual encounter with Kim's crying face as he thinks about his ex-boyfriend. One moment, we see this couple getting hot and heavy. Immediately afterwards, the camera cuts to a close-up shot of Kim's tears, as he says melodramatic lines like, "HOW DO I FORGET ABOUT HIM???"
Episode 4
Kamol back tattoo

The third bath scene takes place in Episode 4! Once again, we don't see Kamol in his bathroom. However, he's walking around in a towel and drying his face. We can safely assume that he just finished a bath or shower.
The purpose of this scene is to explain the origins of the tiger tattoo on Kamol's back. Initially, I assumed his character had scars on his back from some childhood trauma. My theory is that he used the tattoo to cover up his marks. However, there's actually no backstory lol. Kamol explains he got this tattoo as a personal preference when he turned eighteen. He thought having a ginormous tiger's face on his back simply looked badass. Fair enough, I guess!
Episode 5
Kim and Kamol shower sex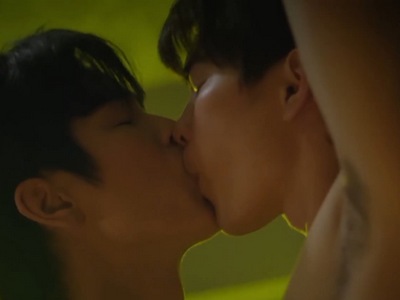 The fourth shower takes place in Episode 5! Kim and Kamol get frisky in the shower and have sex. Not that the context matters, but Kim was upset after his catfight with Cherry. Kamol reassures Kim he doesn't love her and only feels attracted to him.
The couple proceeds to kiss and have sex, eventually taking their action into the bathroom. This scene isn't filmed clearly, so we don't quite know where the characters are. However, we see water spraying in the background, so I assume that's the shower. Anyway, Kim has his arms chained as Kamol kisses his body sensually. The sexcapade ends with the leads making out.
Episode 7
Kim bathtub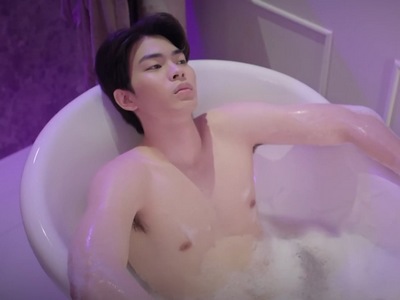 We go through a dry spell for a while, but the fifth bath scene takes place in Episode 7! Kim feels upset after arguing with Kamol over his living arrangements. His lover wants him to move away for security reasons. Following their stressful disagreement, Kim decides to detox by taking a bubble bath.
The previous baths or showers seemed to serve a purpose in the narrative. This time, Unforgotten Night doesn't even bother making up an excuse. They simply want a gratuitous scene of Kim in a bathtub, highlighting his body. Let me explain the hypothetical thought process. The producers are like, "Damn, we can't possibly have two consecutive episodes without a shirtless scene! The BL fans are gonna get bored! It's time to strip!"
Episode 8
Danai bath

The sixth shower takes place in Episode 8! Surprisingly, we see Danai take a soak in the bathtub. This series demands an obligatory shirtless scene from all its male cast members, even a supporting character like Danai. The bathtub claims everyone!
In this scene, Danai emerges from the bathtub and answers a phone call from Kamol. His business rival taunts him about capturing his henchmen, upsetting Danai. We actually don't see much of his body since he never gets out of the tub. However, we know he's covered in tattoos on his arm and back.
Kim morning shower

The seventh shower also takes place in Episode 8! This time, Kim has just woken up in the bedroom and wants to take a morning shower. Kamol jokes that he wants to join his lover. However, Kim laughs at the idea and calls him a pervert.
The couple also has a decent chat about their relationship. It's the first time Kim suggests that Kamol quit his criminal work. Kamol hasn't decided yet, but he will consider the idea. Their chat ends with Kim heading off to the bathroom, and Kim decides to join him. We don't actually see the morning shower between the couple.
Episode 9
Kim naked shower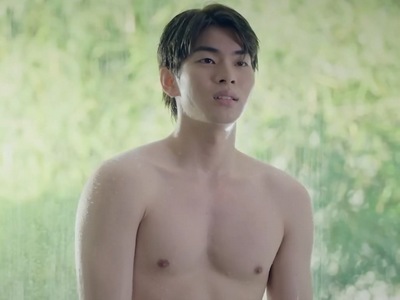 The eighth shower takes place in Episode 9! Kim is in a bathroom with a large window, standing under the shower system. The camera pans over his wet shirtless body, giving us an eyeful of his chest and torso. Kamol enters the bathroom and watches Kim take a shower for a while. Kim is slightly surprised, but he doesn't seem too self-conscious about the nudity. Kamol hands him a towel as Kim finishes up the shower.
This episode starts a fascinating trend where various characters (Kim, Kamol, Khom, and Danil) get completely naked. However, each scene is filmed in a way to obstruct any explicit body parts from being displayed. The series chooses a clever angle to show almost the entire body without going nude. I actually like this tactic because the series puts creative thought into the scene composition. I appreciate the artistry of hiding the nudity tastefully.
Episode 10
Kamol bath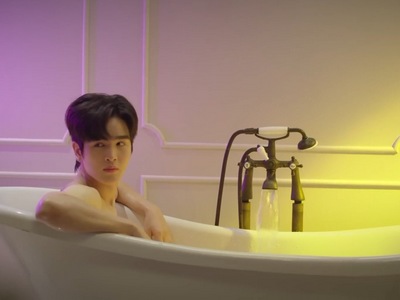 Are you ready for a bath and shower extravaganza? Episode 10 is overloaded with lots of bathroom action! The episode actually begins with Kamol in the bathtub. If you're keeping track, this is the ninth bath scene of the series.
After a while, Kamol finishes taking a bath and gets out of the bathtub. He is completely naked. However, the camera obstructs his nudity as he puts on a bathrobe. There's no significant context or purpose other than showing the lead in an unclothed situation.
Kit, Lop & Ruj shower orgy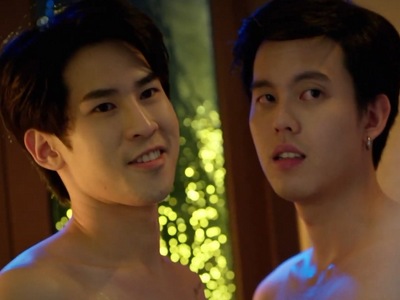 The tenth shower scene happens in Episode 10, and it's a shocker! The scene begins with Lop taking a shower. Kit enters the bathroom and sees his coworker. He's about to excuse himself, but Lop suddenly asks Kit to join him. Crammed inside the tiny bathroom, it doesn't take long before the two characters kiss.
Just then, their other coworker Ruj enters the bathroom! He's surprised to see them hooking up. Kit and Lop invite their friend to join them in the shower. Ruj enters the shower and starts kissing the other guys. It quickly becomes an erotic shower orgy! OH MY GOD. Sadly, we don't see much of the throuple beyond this one titillating scene. The threesome is still together by the finale, but we don't get any more shower orgies between them.
Kamol and Kim shower sex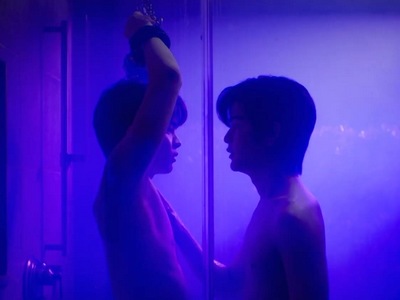 Not to be outdone by the supporting characters, the leads also have a steamy shower sex scene in Episode 10. It's the eleventh shower scene of the series. Kim and Kamol spent a lovely day drinking wine (straight from the bottle). Kim is a little tipsy, but he initiates a sexual encounter with Kamol in the shower.
Shot in purple fluorescent light, it's a sexy exchange with the leads kissing and touching each other. As usual, Kim's arms are chained as Kamol kisses his body in different places. Kamol asks his partner what he wants to do. Kim replies sultrily, "You can do anything to me." The scene ends with Kamol lifting Kim's leg, and you can fill the rest of the action with your imagination. Ohohohoho~ 😚
Khom shower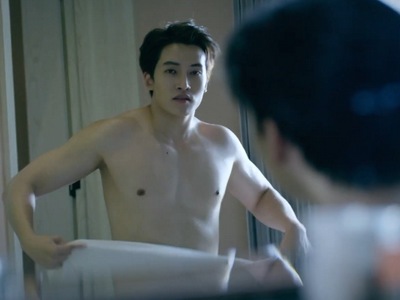 We're still in Episode 10. There's one last shower scene in the episode, and it's the twelfth of the series. Near the end, we see Khom taking a shower in the bathroom. He walks out completely naked. His nudity is obstructed, of course. Khom begins picking out clothes in the closet. However, he doesn't realize that his roommate Baiboon is in the same room. Baiboon can see Khom's naked body through the mirror.
Baiboon speaks up to let Khom know about his presence. Khom is embarrassed and immediately covers himself up with a towel. The bodyguard apologizes for being naked. Khom thought he was alone in the room, but apparently not. Baiboon laughs playfully and doesn't seem to mind. As the scene progresses, Baiboon notices the injury on Khom's back. The episode ends with the two characters touching each other sensually, although they never kiss.
Episode 11
Danil shower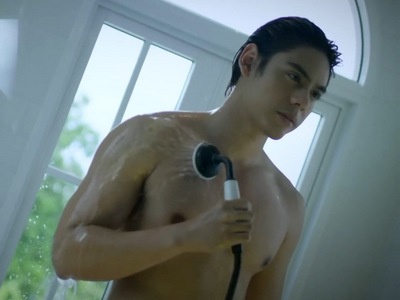 The thirteenth shower scene takes place in Episode 11! It features Kamol's ex-boyfriend Danil, who is madly jealous of Kim. Danil is staying in the guest room of Kamol's house. He takes a shower, and the camera pans seductively at his body.
After the shower, Danil walks into his bedroom completely naked. By coincidence, Kamol happens to arrive at the same time. Danil doesn't make any effort to cover up. In fact, he even teases Kamol and tries to flirt. As Danil makes suggestive advances, Kim is nearby and spies on them with a concerned look. At one point, Kamol kneels in front of Danil's nude body! However, he only picks up a shirt from the floor to give it to his ex. Nothing happens between Kamol and Danil.
Kamol bathtub again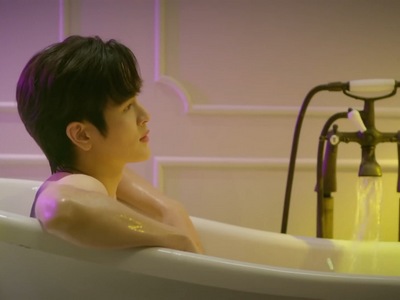 The fourteenth and final shower scene is in Episode 11. It happens right after Danil and Kamol's close encounter in the guest bedroom. Kamol is in the bathtub, seemingly contemplating his thoughts. It's a short scene that only lasts a few seconds. In fact, I think the series may have recycled the duplicate footage from Episode 10?
And there we have it! That's the last shower scene in Unforgotten Night. We have a total of fourteen baths and showers in this series. I don't know the world record for BL dramas, but 14 seems like a disproportionately high number lmao. I'm sure everyone's bodies are squeaky clean after the series~
Unforgotten Night OST
Music
คนแรกและคนสุดท้าย
Boy Sompob
The opening theme song of Unforgotten Night is คนแรกและคนสุดท้าย. The lead singer is Boy Sompob.
Unforgotten Night Information
Links
Y.Entertainment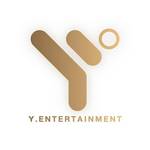 Y.Entertainment is a Thai BL studio that created the 2022 series Unforgotten Night. It is the first drama in their work portfolio.