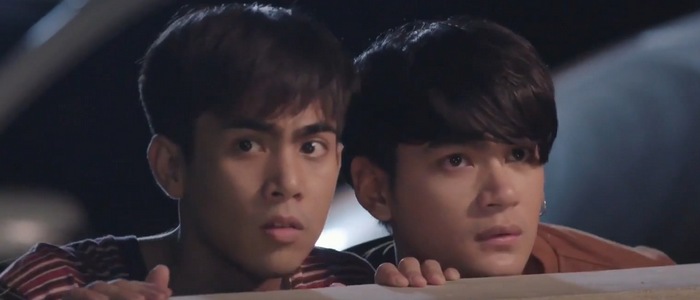 Siew Sum Noi Summary
What is the series called?
เสี่ยวซำน้อย
When was Siew Sum Noi released?
2021
Where was Siew Sum Noi made?
Thailand
What is the language used?
Thai
What is the series genre?
Drama
How would you describe the series?
Happy and upbeat
How long is Siew Sum Noi?
12 episodes
How long is each episode?
Around 40 to 50 minutes
Plot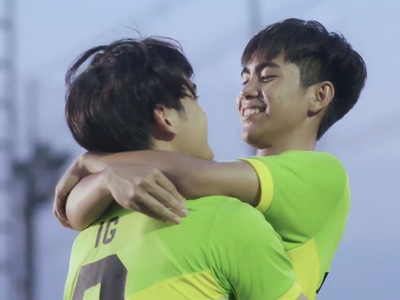 Ruk is a student who recently transferred to a school in Bangkok on a sports scholarship. He originally came from Isan, the northeastern region of Thailand, which meant moving away from his family and hometown to attend this school. On the football team, Ruk clashes with his teammate IG over a misunderstanding. IG is a popular student who recently returned to his studies after taking a two-year break, but almost gets expelled because of Ruk.
To retaliate, IG invites Ruk to a party as a prank, hoping to embarrass him. During the party, IG is flustered by his ex-girlfriend Fangkao, who started dating IG's teammate Kim recently. IG tries to make her jealous by pretending he's in a relationship too. He randomly kisses Ruk on the lips and lies about the two of them being boyfriends. As photos of their kiss circulate on social media, Ruk is reluctant to go along with this charade. However, this fake relationship does bring them closer than before.
During a school break, Ruk returns to his hometown to visit his dad and older brother Nukrop. IG is also nearby, accompanying his mom on a trip to visit his grandma. Ruk is surprised to learn that his football teammate also comes from Isan, although IG doesn't seem proud of his cultural background. Due to their vicinity, the two of them run into each other frequently during the break. Ruk introduces IG to his neighbour Petch and his childhood friend Noinae.
IG's grandma manages a local band, which is headed by the lead vocalist Grateen. Unbeknownst to almost everyone, Grateen is in a secret relationship with Ruk's brother Nukrop. The two of them could only sneak around in secret dalliances, because Nukrop's father is terribly homophobic. Lately, the band has been declining in popularity and struggling with its finances, making Grateen doubtful about his future.
IG's teammate Gui, along with their group of friends, are also visiting. Gui, who is popular with the girls back at school, develops an interest in Petch and feels curious about his same-sex attraction. Meanwhile, IG's friends are trying to raise money for their club activities. Unfortunately, they encounter a shady con artist named Tunwa, who doesn't have their best interests at heart. Ruk and Tunwa are good friends who have known each other for a long time. However, IG is suspicious of Tunwa and starts growing jealous of his close bond with Ruk.
Siew Sum Noi Trailer
Siew Sum Noi Cast
Characters
Ruk Champ Chenrach Sumonwat (แชมป์ เชณรัช) Champ Instagram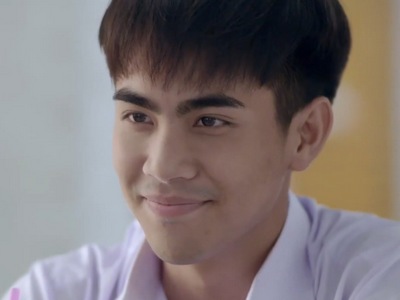 Ruk is an aspiring football player who transfers to a new school on a sports scholarship. He is originally from Isan, where his father is running an election to be a village chief. Ruk doesn't make too many friends in his new school, ruffling the feathers of his football teammate IG and his clique. Back in his hometown, he is actually quite popular with a bunch of close childhood friends.
IG Virgo Nakharin Phanwong (นครินทร์ ผ่านวงษ์) Virgo Instagram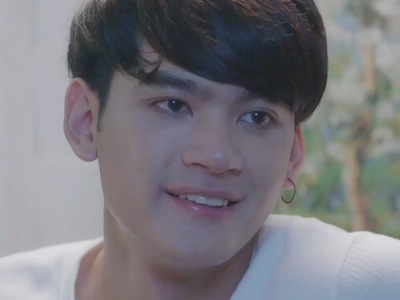 IG is a popular student and Ruk's football teammate. Previously, he took two years off school to find himself and pursue his passions in life. During his sabbatical, he became a popular YouTuber with a large online following. Coming from a wealthy family, IG has close relationships with his mom and grandmother. His full name is Intat Gorsaengsin.
Nakrob Ohm Pracha (ประชา) Ohm Instagram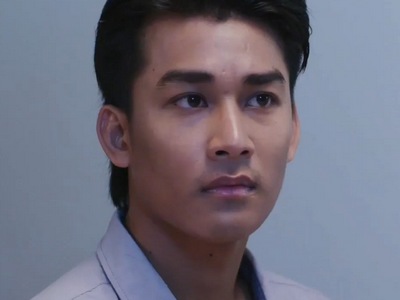 Nakrob is Ruk's older brother. He lives with his father in Isan and works as a schoolteacher. A family-oriented guy, he enjoys close relationships with his dad and brother. Nakrob is in a secret relationship with Grateen, but hasn't come out to anyone because he worries about his homophobic dad's reaction.
Grateen Mooyong Tao Yong (ต้าวหยอง ยุคลเดช) Mooyong Instagram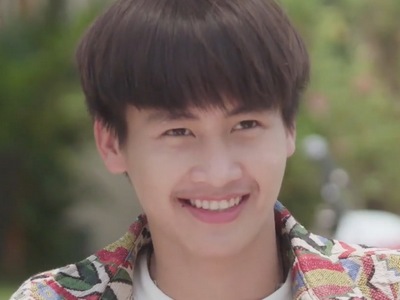 Grateen is a professional singer and the lead vocalist of his band. Since his parents died, he has remained under the care and guidance of Grandma Yoi. Grateen is currently dating Nakrob, but they don't disclose their secret romance. He has an intense allergy to shrimp.
Kui Bomp Premsama Punn (บอม ภีมศมา) Bomp Instagram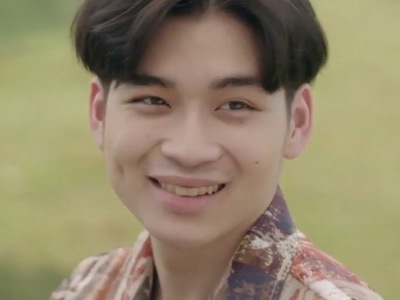 Kui is IG's friend and football teammate. He is friends with Mes, Kaengsom, Tong, and Katty, forming a school clique called the "The God Guys" because of their elite popularity. Kui is flirty and quite popular with the girls in his school. He takes an interest in a guy for the first time upon meeting Petch.
Petch Got Sarun Kanyamoon (ศรัณญ์ กันยะมูล) Got Instagram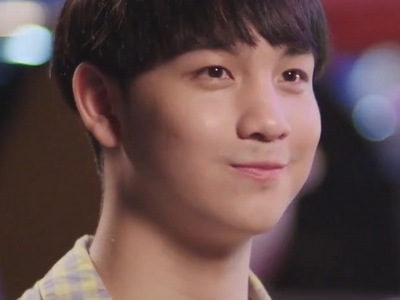 Petch is Ruk's neighbour from his hometown in Isan. He is openly gay and doesn't hide his sexuality. According to Ruk, his friend is an easygoing guy with a straightforward personality, but clams up around guys he likes. Petch develops an attraction towards IG's friend Kui as soon as they meet.
Supporting Cast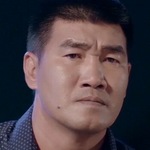 Yinrod
Ruk's dad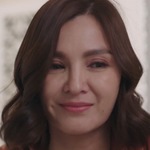 Kaewdtah
IG's mom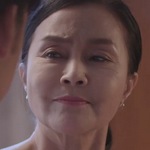 Grandma Yoi
IG's grandma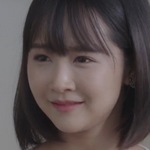 Noinae
Ruk's friend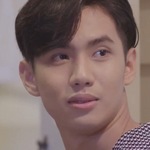 Tunwa
Ruk's friend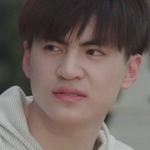 Mes
IG's friend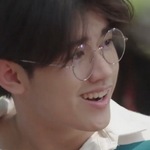 Kaengsom
IG's friend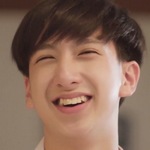 Tong
IG's friend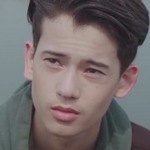 Katty
IG's friend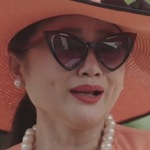 Sis Suang
The sponsor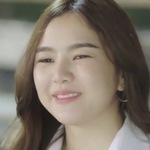 Fangkok
IG's ex-girlfriend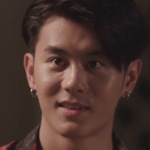 Kim
IG's teammate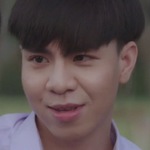 Nong
Ruk's dormmate
Cast highlights
The actors playing IG, Nakrob, and Tunwa (Virgo, Ohm, and Pitchy) all featured in the 2019 Thai BL drama Love Poison and its sequel Love Poison 2.
Kui and Mes' actors (Bomp and Fam) appeared in the 2019 BL drama Love at 7-11.
Katty's actor (Christiaan) had a minor role in the 2020 BL series I Told Sunset About You.
The actress playing IG's mother (Candy) had a role in the 2021 BL series Brothers, where she played another mom character.
Siew Sum Noi Review
Review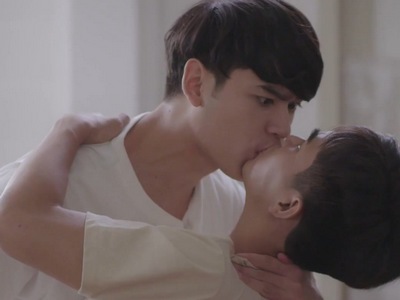 Siew Sum Noi suffers from a weak start. Its early episodes don't offer the most favourable first impression, quickly turning you off with its generic storylines. There's a lot of ruckus without any substance, and the plot with the ex-girlfriend is particularly dire. The one-dimensional characters, the convoluted relationships, and the nonsensical drama are all written poorly, leaving you with little confidence about the rest of the episodes.
Fortunately, Siew Sum Noi starts picking up steam in Episode 4. There's a refreshing change in the setting, moving the story from a boring school campus to a cozy hometown by the countryside. Exciting narrative opportunities open up as a bunch of dynamic new characters get introduced. They bring along cheerful music, clandestine romances, and complex family relationships that enrich the plot significantly. It almost feels like a fresh reboot to the series, as if the real story is now getting started.
Despite some improvements, the writing and the characterizations still aren't that sharp. There're a few clunky moments where the events do not flow smoothly or coherently. The reason you'll enjoy Siew Sum Noi won't be due to its storytelling, but more because it's entertaining in a silly, campy way. You'll laugh at the ridiculous scenarios, like when the leads end up in a bathtub naked together, or every time the mom stumbles upon the characters in a compromising situation. The scenes are kinda dumb, but they're also mindlessly fun.
This drama features three BL couples, each offering a different flavour of romance. If you like a spicy love story, Ruk and IG go through a turbulent relationship, which can be interesting or infuriating based on your perspective. For a more bittersweet romance, Grateen and Nakrob alternate between heartbreaking hardships and amorous affections. Finally, the last couple with Kui and Petch is like a cute, sugary storyline that carries out delightfully. Each romance has its strong and weak points, but I enjoy the chemistry between all the couples.
The selling point in Siew Sum Noi is its regional setting. Taking place in Isan, the northeastern part of Thailand, this series boasts a strong cultural identity. There's a distinguishable countryside charm to the scenery, the music, and the community. It offers a different point of view from the glossy and glamorous backdrop in most Thai BL dramas. We see animals instead of cars, pastures instead of skyscrapers, and local festivities instead of urbanite lifestyles. Plus, it shows that gay characters can fall in love at other parts of the country too, not just the big cities!
Siew Sum Noi grew on me over time. I'm often charmed by its enthusiastic energy, upbeat musical numbers, and silly lighthearted jokes. As much as I appreciate these elements, the drama is just too uneven overall. The quality isn't consistently good, going through low periods of mediocre writing and shallow character development. Even if it rebounds from time to time, the positives and negatives mix together to form an enjoyable yet flawed BL series.
Story
Music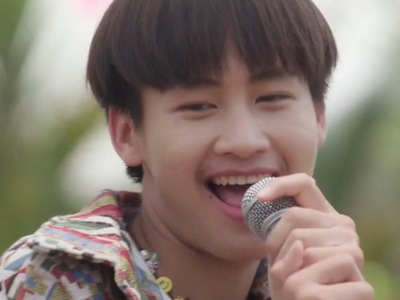 Did anyone like the musical numbers in Siew Sum Noi? I know I did, especially Grateen's performance in Episode 4 where he sang the drama's OST in full length. The energetic song is a successful way to introduce his character. We see him in his natural element, singing, dancing, smiling, and performing on stage. Without speaking a single line of dialogue, he already made a positive impression on me. Plus, the song is honestly a bop! The melody is so fast and upbeat, putting me in a very enthusiastic mood every time I hear it.
The rest of the musicals were fun too, a cute way to break off the monotony of the plot with some song and dance. It felt like I was watching Glee, which is not a bad thing. Perhaps a few songs went on a little too long, and the other singers weren't as memorable as Grateen. Nonetheless, the music is a positive aspect of Siew Sum Noi that I enjoyed.
Speaking of Grateen, the actor has a bright smile and carries a very likable energy. I wish his character got more development though. A few interesting personal details could've been explored more, such as his close relationship with ~foster parent~ Grandma Yoi, or his commitment to a music career in a failing band. Touching upon these storylines would round out his characterization instead of being a one-dimensional love interest who just sings and smiles.
Ruk's father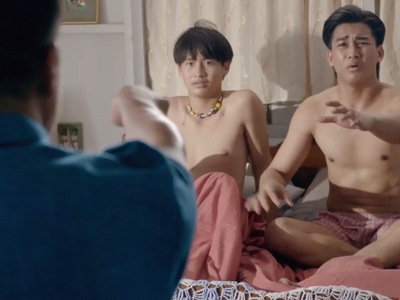 The most dramatic scene in Siew Sum Noi is when Nakrob's father catches his son in bed with Grateen. In my opinion, the moment could've been handled better. For starters, I don't understand why Nakrob and Grateen would choose to have sex in the most dangerously conspicuous location. I thought this couple was hiding their relationship, so why are you having loud raunchy sex in your dad's house with the door unlocked? I feel bad they have to sneak around, but maybe err on the side of caution? 😓
Nonetheless, it was an intense moment for sure. The father's homophobic fury felt raw and real. I was taken aback when he grabbed Grateen by the head (‼) and started bashing him violently (‼) to the point that he was bleeding afterwards. (‼) I didn't think Siew Sum Noi would go that far in their portrayal, but they did and it was a little scary! What the hell!?
I'm glad the dad eased up on his homophobia after his heart attack, accepting his sons for who they are. With that said, I think he changed his mind too quickly from a narrative point of view. It felt like Yinrod had one casual chat with Grandma Yoi, and then he magically went from a stern homophobe to an open-minded PFLAG. The story could've made more impact if his journey to acceptance was gradual. A few more heartfelt scenes between the dad and his two sons would definitely help, making the storyline feel more organic.
IG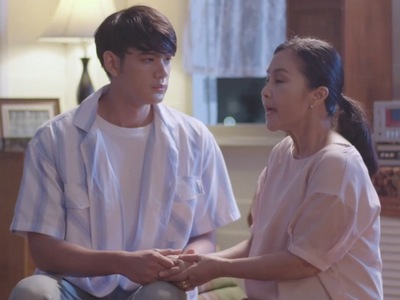 Although I sometimes find IG a bit unlikable, he has the best character development in Siew Sum Noi. IG is introduced to us as someone going through an identity crisis. He took two years off from high school just to ~find himself~. He wants to quit school, quit the football team, and even quit his YouTube career at one stage. Here's a guy who feels lost in life and doesn't know the direction of his future.
Another interesting facet of IG is his cultural identity. At the start, he doesn't identify with the heritage in northeastern Thailand, where his mom and grandmother came from. In Episode 4, Ruk teases him for hiding his Isaan roots, making IG very defensive. Similar to how Nakrob has been closeted about his sexuality, IG is also hiding a part of his identity. He isn't open and proud about being himself.
IG goes through a personal transformation during the series. Thanks to Grandma Yoi's influence, the hometown trip made him realize that he's passionate about music. It also inspired IG to recognize the beauty of the Isan culture, even writing a song in his native language. This trip helped IG achieve so much self-enlightenment, setting him on a decisive path as he pursues his future. He goes on a decent coming-of-age journey, and it's one of the few plots that Siew Sum Noi handles relatively well.
Tunwa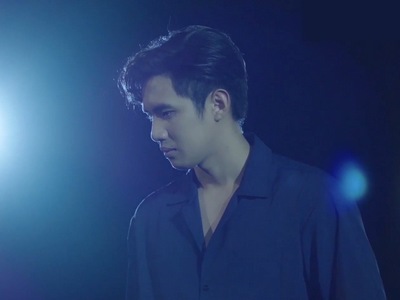 Another character who has been lying about his identity is Tunwa, the antagonist of Siew Sum Noi. Whereas IG became honest and open about himself, Tunwa continued his trajectory of hiding who he was up until the end. He hid his ulterior motive, hid his gambling debts, hid his bad family relationships, and hid his romantic feelings for Ruk. Tunwa is a very closed-off character who refuses to show his vulnerabilities to anyone. Ruk comes the closest to making him open up, but even then he's still full of secrets and lies.
Tunwa could've been a fascinating character if Siew Sum Noi wasn't so intent on making him the cartoonish villain. The story obviously wants us to see IG as the good guy and Tunwa as the bad guy in black-and-white terms. I think Tunwa is more interesting if they redeemed him a little and made him morally ambiguous. Once he starts pulling out guns and ordering hit jobs, this character goes too far and there's no complexity to his actions. He loses any type of intrigue and becomes a really flat antagonist.
I also think Siew Sum Noi spent WAY too much time on the scam artist storyline. Even though those four fundraising friends are supposed to be minor characters, they get so much screentime in this series. I don't have a problem with them, but their narrative isn't that dynamic and those repetitive scenes start to drag very quickly. Siew Sum Noi didn't prioritize their storylines well, focusing too much on this insignificant subplot over the more substantial characters and relationships.
Romance
Ruk and IG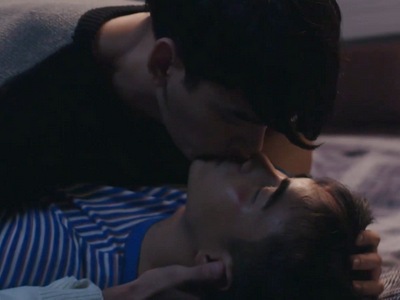 The first thing I notice about Ruk and IG is their dramatic height difference. Oh my gosh, IG towers over Ruk when they are standing side-by-side. Some BL couples are compatible because the two leads look kinda similar, whereas others work because they look so wildly different. It's definitely the latter with this couple.
The Ruk and IG relationship suffers from too much drama. In BL, I simply want to watch an easy, breezy romance between two guys, but Siew Sum Noi throws all these random love interests at us. There is IG's ex-girlfriend, Ruk's childhood friend, and Ruk's other childhood friend, all of whom complicate the romance unnecessarily. On top of everything else, the couple also has to endure the homophobic dad. The romance between Ruk and IG feels extremely strained due to all the annoying, irrelevant third-party conflicts.
However, I do think the two actors have chemistry together with lots of physical intimacy between them. Plus, their sex scene in Episode 11 is pretty memorable. In my long history of watching BL, I've witnessed so much lovemaking that it doesn't faze me normally. But holy crap, the moment when IG and Ruk took off their shirts got a reaction out of me. 😳
Siew Sum Noi filmed that sex scene in such a titillating way. The intimate camera angle panned over their torsos and nipples in a slow lingering motion. It was erotic for sure, but also kinda artistic in how it depicted the beauty of the male physique. If you enjoy watching BL for the physicality, this sex scene is worth a look, even if you don't like the rest of the series.
Nakrob and Grateen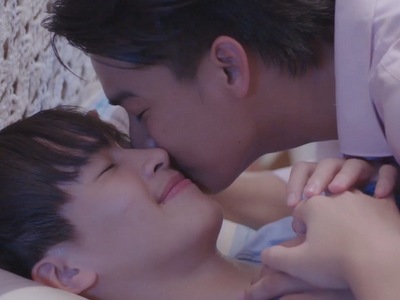 Nakrob and Grateen are my favourite couple in Siew Sum Noi, probably because they're likable characters with very relatable circumstances. These are two ordinary guys who have fallen in love, but they must hide their relationship in a traditional society with conservative values. Their experiences are relevant to marginalized gay couples anywhere, particularly in East Asia, and especially for those living in a similar environment.
The two of them have their sweet moments together, but they also go through plenty of hardships in their romance. In Episode 10, there's a scene where that evil kid throws eggs at Grateen, and Nakrob immediately puts himself in front of his boyfriend to shield him from the attack. He would rather get hurt himself to keep Grateen safe. Moments like these will make you root for them as a couple, like a pair of underdogs that you want to prevail and persevere.
Fortunately, Nakrob and Grateen have a happy ending together. Once the homophobic dad eases up, he's suddenly a-okay seeing his son with another man. I guess once you've caught them having sex, taking a soapy shower together doesn't seem like a big deal in perspective. 😅 Anyway, I think Grateen and Nakrob suffered enough by that point, so I'm glad there's a positive turning point in their love story. They can kiss openly and no longer have to sneak around with their relationship anymore, yay!
Kui and Petch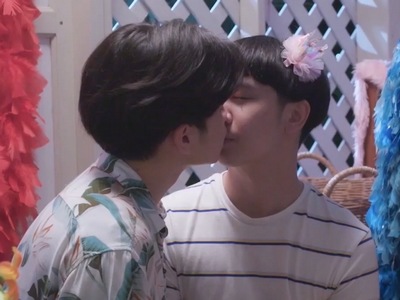 As the tertiary couple in Siew Sum Noi, Kui and Petch have a simple, straightforward romance that doesn't feel complicated. Kui likes girls in the past, but discovers that he's also attracted to guys after meeting Petch. Feeling bicurious, he experiments with a kiss and concludes that he can swing towards guys too. The two start dating, and then Petch closes their long-distance relationship by transferring to the same school.
It's a satisfying romantic arc for a minor couple in a BL drama, and I'm totally okay with the two of them. With that said, they got a little sidelined, not receiving as much emphasis as the other two couples. Hell, even those four cheer squad friends received more screentime than Petch. I would've liked to see a few more scenes between Kui and Petch, amplifying their relationship.
There's a memorable scene between them in Episode 5, where Kui spills some water on his shirt. He immediately strips off, then tells Petch to wipe his body, while staring at him with come-hither eyes. Dude, I know you're flirting with him, but it seems awkward when your agenda is so transparent. Afterwards, Kui has the cheek to be like "omg idk y ur so flustered~ 😏" as if he wasn't the one coming onto Petch like some thirsty ho. In that moment, I remember giving Kui the biggest side-eye ever. I like his character, but this playa is playing some deliberate games. 🙄
Acting
Okay acting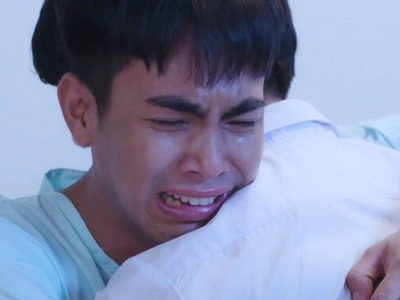 The acting in Siew Sum Noi is okay. No one does a lousy job, and the entire cast meets an acceptable standard. Maybe the actress playing IG's mom shows some extravagant flair, so she tends to be a scene-stealer more often. It's a good thing though! Her character is super likable and the actress does a good job being ~the cool mom~.
With that said, none of the acting performances were really remarkable until the final episode. There's a scene where Ruk cries in the hospital after injuring his leg, and it's the first time I have noticed someone's acting. Ruk's actor (Champ) surprises me with how natural his tears look. He gives a persuasive portrayal of an aspiring athlete who is devastated by his injury. In that scene, he might've given the best performance out of everyone in the entire series.
Seeing his talent makes me wish that Ruk received better characterization. While Ruk is a pleasant protagonist, he doesn't get much character development throughout the series. Primarily, he's involved in some mundane relationship drama with Noinae, Tunwa, and IG. The injury subplot finally gives him some different material. Yet, it gets resolved too quickly instead of exploring his trauma more. This emotional storyline could've been a fantastic showcase for the actor, but Siew Sum Noi misses another opportunity here.
Ending
Happy ending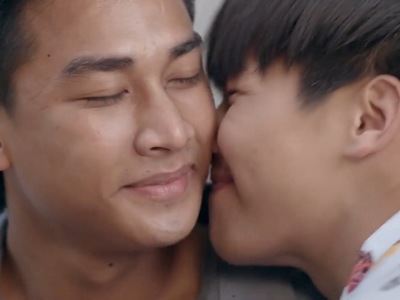 There's a happy ending in Siew Sum Noi, wrapping up all the storylines in very tidy ways. After the hit-and-run accident, the police have caught the culprit, who confesses that Tunwa paid him to hurt Ruk. (No wonder Tunwa finds himself in debt if this is how he wastes his money…) The debt collectors catch up to Tunwa, beating him up so severely that he gets sent to the hospital, where the police then arrest him for fraud.
Although Ruk injures his leg, he makes a full miraculous recovery a month later. He even gets scouted to a football tryout by a professional team. Meanwhile, IG has gotten a studio contract to launch his music career, but he will be situated elsewhere from his boyfriend. Although this long-distance relationship initially upsets IG, Ruk has a very mature outlook, stating their separation is only temporary as they chase their dreams. They'll reunite again in the future, not leaving each other behind.
When the homophobic dad sees IG comforting his son in the hospital, it makes him sentimental. Yinrod is finally at peace with his two gay sons, relieved that they both found someone who makes them happy. Now that the father is more open-minded, Nakrob can go public with his boyfriend. Grateen's band is also picking up momentum again, booking a series of new gigs that keep his schedule busy. In the finale, they share a quick kiss right before Grateen heads for his next performance.
Ending explained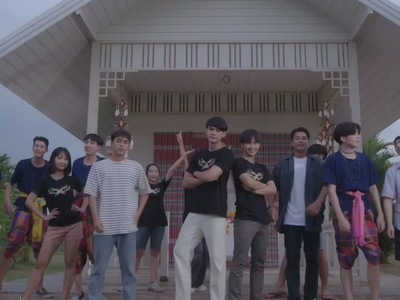 Meanwhile, the minor characters get happy endings too. Basically, everyone is happy except for Tunwa, who rots away in prison. Here's a quick summary of what happens to the others:
Kui and Petch are still together! Petch transferred to the same school as Kui in the city, so that they could become a couple together.
Ruk forgives Noinae for outing him. Tong suddenly confesses his feelings towards her, who accepts his advances.
Thanks to IG's music performance that went viral online, he won a cash prize. He donates this money to his friends for fundraising their club activities.
IG also makes amends with his ex-girlfriend, wishing Fangkok the best in her new relationship with Kim.
In the last scene, the entire cast assembles together to perform a group song and dance of the OST. Grateen's actor busts some serious dance moves, while everyone else just sways their bodies left and right. 😅 Nonetheless, it's a pretty lovely way to conclude the series, giving everyone enough closure so that there aren't any loose ends. I'm satisfied with how Siew Sum Noi finishes off, and I thought the ending was one of the stronger episodes in the drama.
Siew Sum Noi Episodes
Episode Guide
Siew Sum Noi has a total of 12 episodes. Each episode is around 40 to 50 minutes long. The last episode is around 40 minutes long. This is a long BL drama, and you can finish the entire series in under 9 hours. Siew Sum Noi aired its first episode on May 12, 2021 and ended on July 28, 2021.
⭐ Best episode
Episode 4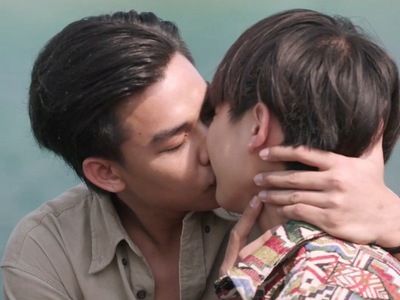 Episode 4 is such a promising episode of Siew Sum Noi. After the first three mediocre episodes, I was rapidly losing interest in the story. However, this next episode takes the plot to a new and different location that feels refreshing. Plus, it introduces some dynamic characters, including a ready-made couple in Nakrob and Grateen.
This episode really feels like a reboot to the series, revitalizing my waning interest in Siew Sum Noi. Everything feels so much more vibrant than before, and I was excited to watch this drama again!
💕 Most romantic episode
Episode 11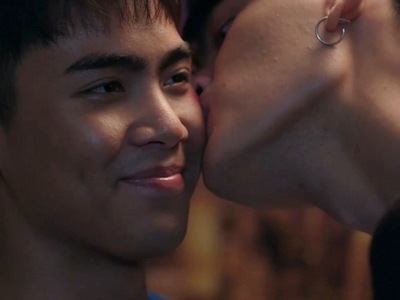 I can't keep track of how many times IG and Ruk have argued throughout the series, but Episode 11 is where they finally reconcile again. They do a lot of kissing, which is followed by their first sexual encounter. The scene is filmed very sensually, packed with gratuitous shots of their shirtless bodies. It's a very evocative scene for sure, and maybe one of the series highlights, if I'm honest with myself. 😳
In the same episode, there's also a cute scene of Nakrob and Grateen cuddling in bed as they exchange a light kiss. We also get a quick moment with Petch and Kui as they skip off holding hands.
😭 Tearjerker episode
Episode 9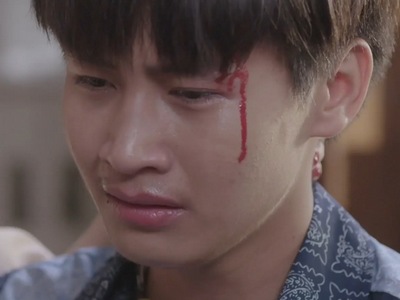 Episode 9 is devastating, depicting the aftermath of Yinrod's violent homophobic attack on Grateen. His character is normally very cheerful and smiley, so it's a stark contrast to see him look in this downtrodden emotional state. It's also quite alarming to see BLOOD dripping down his face, indicative of how much force Yinrod used on him.
Grateen is wounded both physically and emotionally. Later in the episode, he encounters his boyfriend in the middle of the night, but Nakrob simply walks away without speaking to him. Grateen cries again, and who can blame him? It's devastating and I just want to give him a hug!
😡 Most triggering episode
Episode 8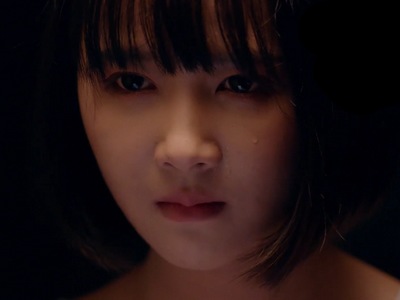 Episode 8 is where the homophobic dad beats the daylights out of the gay couple, so it's obviously the most triggering episode of the series. Furthermore, what preceded this gay-bashing is Noinae outing Ruk and IG as a couple because she feels jealous of them. After getting rejected, Noinae feels so bitter that she sends a scandalous picture to Ruk's dad without considering the consequences.
It isn't the first time a female love interest pulled this trick in BL, but that doesn't mean it gets any less triggering. This scene hurts more coming from Noinae, who has been a pretty fun and energetic character up until now. It's kinda hypocritical how she pretends to be this LGBT ally by supporting Nakrob and Grateen's relationship. Yet, she goes and pulls this evil stunt on her friend Ruk out of pure pettiness. It made me lose all respect for her character and I still couldn't forgive Noinae even by the end of the series.
💪🏻 Episodes with skin
Episode 2, 3, 5, 8, 10, 11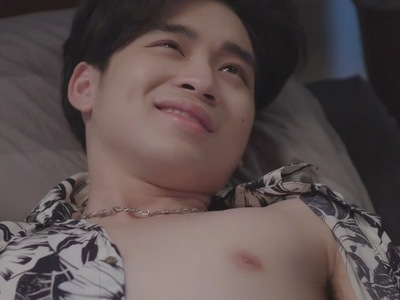 Siew Sum Noi is full of various shirtless scenes. We see Ruk shirtless in Episode 2, 3, 10, and 11. We see IG shirtless in Episode 3 and 11. The scene in Episode 3 is where they end up in the bathtub naked together. It's a really ridiculous scenario with unbelievable circumstances, but the incident is still kinda funny nonetheless.
We also see Nakrob and Grateen shirtless in Episode 8, as well as an outdoor shower scene in Episode 10. Kui's actor also gets shirtless in Episode 5, while Kim's actor gets shirtless in Episode 3 and 10.
💋 Episodes with kissing
Episode 2, 4-8, 10-12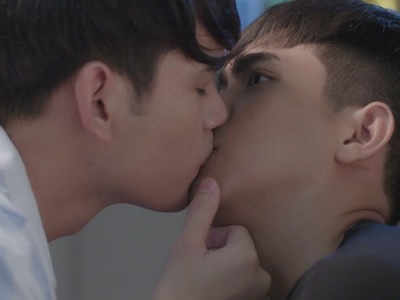 The characters kiss quite frequently in Siew Sum Noi. Their first kiss is at the party in Episode 2, where IG meant to kiss the girl, but accidentally grabbed Ruk instead. They also kiss once more near the end of the episode, where IG convinced him to fake a kiss in front of his ex-girlfriend. Afterwards, Ruk and IG kiss twice in Episode 6, once in Episode 8, many times in Episode 11, and one last kiss in Episode 12.
Nakrob and Grateen kiss in Episode 4 for the first time, where we're introduced to their relationship. They kiss again in Episode 5, get caught by Noinae, but she already knows about their relationship. They kiss once again in Episode 6, but get caught by a bunch of Nakrob's students. Their next kiss is in Episode 8, where they get caught by the dad. Yes, it seems like a recurring pattern that every time they kiss, someone sees them. 😅 Afterwards, the couple shares more kisses in Episodes 11 and 12 respectively.
Finally, Kui and Petch share their first kiss in Episode 7, along with a quick peck on the cheek in Episode 8. There's also a kiss in Episode 10 where Tunwa forces himself on Ruk. IG catches the two of them in the act and thinks his boyfriend is "cheating". After calling them out, IG angrily storms off and flips the middle finger on them.
👨‍❤️‍💋‍👨 Episodes with intimacy
Episode 8, 11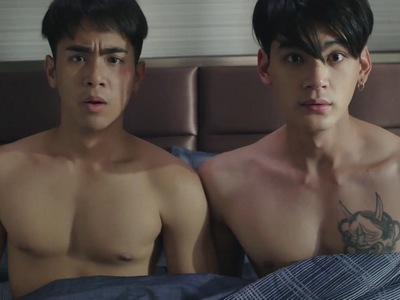 In Episode 8, we see Nakrob and Grateen in bed together, presumably after they had sex. Unfortunately, they're being too loud and raunchy, so Yinrod barges into the (unlocked) bedroom and the rest is history.
In Episode 11, Ruk and IG have steamy, passionate sex for the first time. Next morning, IG's mom walks in on them by accident, leading to an embarrassing situation. It's a funny recurring gag throughout Siew Sum Noi that the mom always encounters them in their most compromising positions.
In Episode 3, she walks in on them while they're naked in the bathtub. In Episode 6, she catches them in the precise moment where they accidentally kiss. And in this episode, she stumbles into the bedroom after they had sex. Fortunately, IG never has to come out to his mom because she has ~seen~ enough. 😉
Siew Sum Noi OST
Siew Sum Noi Online
Links