Something in My Room is a Thai supernatural BL series about a haunted house. The main character and his mom move into a new property, unaware there is a cheeky ghost trying to catch their attention. Once the protagonist gains clairvoyant vision, he befriends the spirit in his room. They form a profound bond while searching for the phantom's memories in the living world.
I enjoy the supernatural mystery, family drama, and gentle romance that propel Something in My Room. Packaged as a quirky ghost story, there's an undercurrent of wistful melancholy as the characters try to move on from their grief. At times, this emotional BL series resonates elegantly as it explores the themes of loneliness and abandonment.
Something in My Room Summary
What is the drama called?
ผมกับผีในห้อง
Where was the series made?
Thailand
When was the drama released?
2022
How long is Something in My Room?
Around 12 hours
What is the genre?
Supernatural drama
How would you describe the series?
Sad and emotional
How many episodes are in the drama?
10 episodes
How long is each episode?
Around 60 to 75 minutes
Plot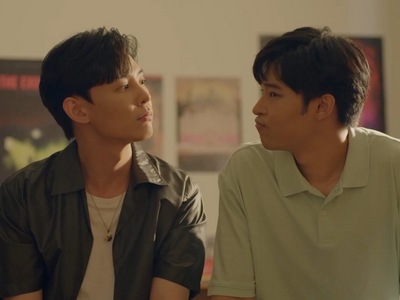 Phat is a university student who lives with his newly single mother. Recently, Phat's dad left his family to become a monk. His dramatic life decision devastated his wife and child. Determined for a fresh start, Phat's mom Chris moves into a new rental property with her son. She clashes with the landlord Nuan, a secretive woman who leans heavily into superstitions. Nonetheless, Chris and Phat settle down in their new home.
Phat is uncomfortable with his surroundings and feels a disturbance in the bedroom. Items like the door or the laptop would mysteriously open without his intervention. He tries sharing these concerns with his mom. However, Chris believes her son has been concocting wild stories to rebel against her since his dad's departure. Their mother-son relationship becomes strained, especially since Phat's sleepwalking problem often causes stressful situations.
Still spooked by something in his bedroom, Phat confides in his childhood friend about the strange occurrences. Dream has psychic abilities, a supernatural gift inherited from her father. Dream helps her friend by performing a mystical ritual in his room. The spiritual ceremony reveals the presence of Phob, a ghost who resides in Phat's home. Phat gains clairvoyant vision with Dream's help. He can now interact with Phob, who has been trying to catch his attention.
Phob is around Phat's age. He recently passed away and became a ghost. However, Phob lost his memories after dying. The confused spirit doesn't know his identity, the circumstances of his death, or why he lingers in the living world. Phob's spiritual mentor Nong tells him that he only has 49 days to resolve any lasting regrets. Otherwise, he is unable to move on to the afterlife peacefully. He would suffer a miserable fate as an undead phantom, wandering aimlessly for eternity.
Although Phat is initially scared of his new companion, he feels sorry for Phob after learning about his situation. Phat decides to help the ghost investigate his mysterious identity. They develop a close bond, discovering a comfortable and compatible rapport. However, Phat's mom is worried about her son's eccentric behaviour. She notices him talking to himself, hiding secrets, and sleepwalking every night. Phat struggles to tell her the truth. Would his mother understand that he befriended a ghost in their house?
Something in My Room Trailer
Something in My Room Cast
Characters
Phat
Plan Thanawat Koosuwan (แปลน ธนวัฒน์ คูสุวรรณ)

Phat is a gentle, soft-spoken university student who aspires to become a filmmaker. Recently, his father abandoned his family to become a monk. Phat lives with his newly single mother as they move into a new house. However, he feels disturbed by strange occurrences and suspects there's something unusual in his bedroom. Phat suffers from sleepwalking, an unpredictable condition that stresses out his mom.
Plan Thanawat Koosuwan

Plan Thanawat Koosuwan (แปลน ธนวัฒน์ คูสุวรรณ) is a Thai actor. He is born on May 1, 1996. His first BL project is the 2022 series, Something in My Room
Phob
Nut Supanut Lourhaphanich (นัท ศุภณัฐ เลาหะพานิช)

Phob is a cheeky ghost who resides in Phat's bedroom. He tries to grab his roommate's attention by pulling various supernatural stunts on him. They become friends after Phat gains clairvoyant abilities. Phob recently passed away, but he can't remember his identity due to memory loss. Phob's spiritual mentor Nong warns that he only has 49 days to resolve any lasting regrets in the living world.
Nut Supanut Lourhaphanich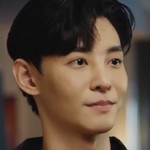 Nut Supanut Lourhaphanich (นัท ศุภณัฐ เลาหะพานิช) is a Thai actor. He is born on May 13, 1993. His first BL project is the 2020 series, Oxygen. He is the star of the 2022 drama, Something in My Room.
Supporting Cast

Phat's mom
Took Chanokwanun Rakcheep (ตุ๊ก ชนกวนันท์ รักชีพ)

Nuan
Phiao Duangjai Hiransri (ดวงใจ หิรัญศรี)

Dream
Faii Sumitta Duangkaew (ฝ้าย สุมิตตา ดวงแก้ว)

Luck
Big Thanakorn Kuljarassombat (ธนกร กุลจรัสสมบัต)

Ben
Green Phongsathorn Padungktiwong (กรีน พงศธร ผดุงเกียรติวงศ์)

Nong

Phob's dad
Jome Sukol Sasijulaka (โจม ศุกล ศศิจุลกะ)

Phob's mom

Phat's dad
Kradum Thanayong Wongtrakul (กระดุม ธนายง ว่องตระกูล)

Dream's mom

Win
Act Tanachai Kulcharoentanachot (ธนชัยกุลเจริญธนโชติ)
Cast Highlights
Nut's actor (Solo) was the lead character in the 2020 Thai BL series Oxygen.
Luck's actor (Big) appeared in multiple Thai BL series, including Gen Y (2020), Gen Y 2 (2021), and My Mate Match (2021).
Ben's actor (Green) starred in the 2022 Thai BL series The Tuxedo. He also appeared in 2 Moons (2018), 2 Moons 2 (2019), and Chapter of Green (2021)
Kinn's actor (Jome) has portrayed the father character in multiple Thai BL series. He was the lead character's dad in Lovely Writer (2021) and The Miracle of Teddy Bear (2022).
You may have noticed several shoutouts to Lovely Writer throughout Something in My Room. That's because the director (Tee Bundit Sintanaparadee) worked on both series. He also directed the 2019 Thai BL drama TharnType.
Something in My Room Review
Review

Something in My Room is a supernatural love story between a ghost and a human. This BL series balances romance, drama, mystery, and horror, successfully weaving the different genres into its complex narrative. It focuses on family, emphasizing the delicate bond between parent and child. It also explores grief, particularly the themes of loneliness and abandonment after a loss. Something in My Room can be emotionally profound, making you reflect on life and the afterlife.
There's an undercurrent of wistful melancholy throughout Something in My Room. Each character struggles quietly with sorrow, trauma, and uncertainty. However, their journeys aren't just packed with doom and gloom. This series uses a sweet, gentle romance to maintain a warm, cozy atmosphere. It also injects quirkiness at the appropriate moments to lighten the mood and soften the heavy topics. You won't find Something in My Room depressing to watch, although it feels beautifully poignant at times.
The series might be slow at the start, perhaps taking too long to progress the narrative. A compelling storyline emerges around Episode 6, impressing me with elegant writing and sensitive acting. I also enjoy how several character arcs unfold, including Phob's troubled family and the villainous Nuan. The supporting cast is flawed and complicated, evoking powerful feelings of sombreness once you learn their tragic backstories. Unfortunately, a few other subplots are less successful. The Dream and Luck couple stands out as a misguided waste of time.
The BL content is mildly pleasant, featuring many cute interactions and intimate kisses. However, the pairing doesn't resonate fiercely due to a few shortcomings. For starters, the entire love story takes place over a few weeks. The limited timeline isn't enough to build an epic relationship, no matter how quickly the leads have bonded. In addition, Phat is a bland protagonist with a vague personality, dimming the romantic sparks. Also, I was taken by another love interest introduced midway. Phob & Ben share an intriguing connection, almost eclipsing the main couple.
Phob's performer (Nut) is handsome and charismatic with an undeniable charm. However, I'm not a fan when he acts too cutesy with the pouting or the goofy expressions. He's better at handling the dramatic material than the casual, playful moments. His costar (Plan) is fine but unremarkable. I don't really like his crying in the finale. Generally, the younger cast seems less experienced, outshined by the older actors. My favourite is Nuan, whose fabulous actress (Phiao) snatches every scene. She captures the wiliness, desperation, and heartbreak of her role perfectly.
Something in My Room has a sad, emotional ending. While I don't mind the misery, the final episode feels dull and dreary. The uneventfulness is pronounced in the finale, but it's also prevalent during other parts of the narrative. I must acknowledge the plot moves at a slower pace and doesn't always have an exciting momentum. Nonetheless, I appreciate the insightful themes, sentimental storytelling, and graceful aura from Something in My Room. I'm glad I watched this tender, touching, and tremendously thoughtful BL drama.
Summary
Thoughtful story
Something in My Room has a thoughtful story that reflects on the themes of loss and loneliness. Some moments can be profound, poignant, and emotionally compelling.
Gentle romance
Phob and Phat have a pleasant romance, exchanging many sweet interactions. There's also an intriguing connection between Phob and Ben, a love interest introduced midway through the story.
Decent acting
Nuan's actress (Phiao) is fabulous in her role and snatches every scene. Overall, the older performers seem more comfortable on-screen than the younger cast.
Sad ending
Something in My Room has a sad, emotional ending. Unsurprisingly, Phob and Phat don't stay together as a couple. Other than a few highlights, the finale is too slow and unexciting for me.
Solid artistry
This BL drama is supported by solid production values. Maybe a few scenes are darkly lit and could use more illumination. Nonetheless, there's an elegant ambiance that elevates the series.
80%
Something in My Room is a supernatural BL series with a balance of romance, drama, mystery, and horror. The emotional story is packed with complex plots, flawed characters & melancholy messages.
Something in My Room Series Explained
Analysis
Loss

Something in My Room is a powerful and poignant examination of loss. Death is definitely a prevailing theme, but the story isn't just about bereavement. The series acknowledges that loss comes in many forms, affecting each individual differently. The agony of losing somebody still alive can be just as bitter as losing someone who passed away. You'll notice every character is in mourning after a precious loved one disappeared from their lives:
For Phat and his mom, they're dealing with the sorrowful aftermath of a family member's sudden departure. Dream, Luck, and Phob's dad also face parallels in their situations. Each character reacts differently, and some turn to artwork or sci-fi conspiracies to rationalize the loss.
For Nuan, she behaves eccentrically to cope with the heartbreak of her lost love. Likewise, Ben's character is in a similar predicament.
Most poignantly, Phob's character faces devastating losses on multiple levels. He lost his identity, lost his family, and lost his existence. As we learn his circumstances, we discover Phob tragically lost his will to live.
Something in My Room doesn't make grand statements about moving on from loss. We see the characters struggle and suffer, unable to displace their lingering grief. Some make progress and distance themselves from trauma. Others are lost as they navigate their tragedy. The series displays the emotional experiences, highlighting the pain and confusion. Losing someone is awful, and the storyteller doesn't offer consolation or inspirational insights. Something in My Room simply focuses on portraying the raw anguish instead of presenting a solution.
Phat

Phat lost his father due to unusual circumstances. His dad experienced a spiritual awakening, cutting ties with his family to become a monk. We don't know the character well enough to understand his rationale. However, the dramatic life decision wasn't received well by his wife. They only have one exchange in the entire series, but she leaves chilling words to her ex-husband. "Can you disappear from our memories? And never come back again." She harbours intense resentment, which trickles into her interactions with Phat.
As his parents go through an emotional separation, it takes a toll on Phat's mental health. He suffers vivid nightmares and scary sleepwalking incidents, caused by the anxiety of his broken family. Phat also faces escalating tensions with his mom, who feels stressed by her son's behavioural problems. She thinks he's acting out against her, claiming the house is haunted by ghosts. By not believing in him, she sets precedence where Phat feels uncomfortable sharing any problems with his mom. He internalizes his anxieties, handling the grief on his own.
After the dad left, you'd think Phat and his mom would unite because they only have each other. Instead, the opposite happens. They drift further apart, losing trust and communication. Both are devastated and feel abandoned by a family member, yet they choose to suffer alone. Maybe Chris should've shown more sensitivity to her son when he confided his problems with her. Or perhaps Phat could've cared more for his mom, a woman deeply wounded by her failed marriage. Unfortunately, the tragic family loss alienates them instead of pulling the mother and son together.
Phob and Phat

Phat was at a low point in his life when he met Phob. His dad abandoned him, his mom offered little comfort, and his mental health deteriorated severely. Without Phob, maybe Phat would've descended further on this downhill trajectory until he hit a psychological rock bottom. Thankfully, Phob enters his life at the appropriate time. This cheeky, jovial, and omniscient ghost brings reprieve to Phat's overwhelming loneliness.
Phat quickly gets over his initial fears of interacting with a ghost. Afterwards, his time with Phob feels therapeutic. This friendly ghost keeps his mind preoccupied, distracting him from his solitude. Phat thinks less about his family situation, less about his unhappiness, and less about feeling alone in this foreign house. Instead, Phob helps Phat channel his energy positively, moving forward instead of lingering in the past. Phob encourages Phob to enter the film contest, meet new people, and live life more outside his room.
Phob also has a distinctive ability to enter Phat's dreams, seeing his innermost fears. Frustratingly, Phat can't keep a secret from Phob, who knows everything about his roommate. This lack of discretion is a blessing in disguise. Unlike his mom, Phat knows he can be honest and transparent with Phob, who understands all his anxieties. Phob is there to offer advice, flash a smile, and simply listen to his problems. Phat no longer has to internalize his suffering because he finds a new confidante. He doesn't feel alone anymore because of ~something in his room~.
Phat's mom

Unfortunately, Phat's mom drifts in and out of the narrative. She loses her prominence after the first few episodes, appearing sporadically in the second half of the series. Something in My Room handles too many storylines and Chris gets lost in the shuffle. The decreased visibility reduces her character's impact, making the narrative arc less fulfilling. Phat came out and admitted to dating a ghost, but his mom's reaction was like a footnote in a very packed episode. We could've used more scenes with Phat and Chris to flesh out their reconciliation.
Nonetheless, Phat and his mom repair their relationship by the end. We see Phat opening up to his mother instead of keeping secrets from her, as he did initially. In return, she also makes an effort to become a better parent. She listens compassionately, holds back her judgment, and offers a comforting shoulder for her son. In the finale, he confides in her about losing Phob. She supports her son and comforts him, a stark contrast to her angry reaction in the first episode.
You'll also be pleased to know Phat was there for his mom in her final moments. After the divorce, Chris suffered from abandonment issues. She feared her son would suddenly cut ties and leave, just like her husband. Thankfully, Phat stayed with his mom until she died years later. It's comforting to know the mother and son leaned on each other for continuous support. They weren't alone anymore, united together as a family once more.
Phat and Dream

Besides his mom and Phob, Dream is another pivotal figure in Phat's life. These two are childhood friends who have known each other for a long time. Intriguingly, Phat admitted to having romantic feelings for Dream since middle school. Yet, their relationship remained platonic and never grew into anything more. While they have a cozy bond, you can tell Phat isn't as close to Dream as he is with Phob. Phat feels less attached to Dream, physically and emotionally.
Dream's boyfriend Luck is jealous of this tight friendship, suspecting their bond might not be as platonic as it seems. Let me preface by saying that Luck is a stalking creep and I HATE his character. However, I don't think his suspicions are entirely unfounded. After observing Dream and Phat's interactions for ten episodes, I sense a bit of attraction between them. It doesn't justify Luck's twisted actions, but I agree that Dream likes Phat for more than just a friend.
Dream's crush is subtle and vague enough to have varying interpretations. However, Dream and Phat's scene in Episode 9 carries ambiguity. When he tells her to get back together with Luck (😩), there's a tiny look of despondence in her expression. Dream seems disappointed to hear that Phat pushes her towards Luck. However, she knows her friend has feelings for Phob. Admitting defeat, Dream holds back her love confession and settles for Luck as her second choice. Maybe I'm reading it wrong, but that's the vibe I get from their dynamic.
Dream and Luck

I hated Dream and Luck as a couple. His character makes an awful first impression after planting a hidden camera on Phat's laptop to spy on him. WTF!? Oh my god, I was SO disturbed by what he did! Luck's illegal surveillance terrified me more than any ghosts or dead spirits in this series. Something in My Room makes a statement that humans can be the scariest monsters.😨
It's chilling because Phat trusted his friend, invited him to the house, and let him access the laptop out of good faith. Yet, Luck violated his friend's privacy and captured intrusive footage of his intimate moments. If Phat undressed, masturbated, or picked his nose in the seclusion of his bedroom, everything is recorded on camera. Luck's reasoning is that he didn't trust his girlfriend. If your jealousy drives you to the extreme of using spy cameras for reassurance, maybe this relationship isn't for you.
After what he did, Luck's character is irredeemable in my eyes. I'll always see him as a creepy stalker, regardless of any apology or tragic backstory. Worst of all, Luck has a dull personality and shares no chemistry with Dream. Their scenes are tedious to watch, wasting time that could be used to develop better storylines. I cheered when Dream dumped his ass and groaned when they got back together. Girl, you can do better.
Phob

Phob is a tragic character, although we might not realize it at first. He's introduced as a perky personality, seemingly full of enthusiasm and liveliness. He plays pranks, makes cheeky remarks, and smiles from ear to ear, almost like death has never dampened his spirit. In the early episodes, we see a side of him without the memories of his trauma. Phob could've been such a chipper guy under different circumstances, yet he felt driven to agonizing despair in his final moments alive.
What causes a young, healthy man to lose so much hope that he throws himself into ongoing traffic? Unfortunately, multiple tragedies led to Phob's suicide:
The most prominent catalyst is his mother's death. Phob had a close relationship with his mom, so her terminal illness must've affected his state of mind. She suffered, deteriorated, and died before his eyes.
To make matters worse, his dad pulled the life support, a controversial decision that upset Phob terribly. Even if his mom might've agreed to it, Phob felt very emotional about ending his loved one's life.
The optics of Phob's father flirting with Nuan didn't help either. It created a false narrative that his dad was a heartless man who didn't love his wife. Seemingly, he had already moved on to the next-door neighbour, at least from Phob's POV.
Phob's last interaction with his father was a heated argument, where he slapped his son out of anger. Phob's dad was his last living relative. Instead of leaning on him for support, their strained relationship added more psychological stress.
Similarly, Phob had an unpleasant encounter with Ben before his death. They were friends, almost close enough to be boyfriends. Yet, they ended their relationship after exchanging hurtful words. Whether Ben was wrong or not, leaving him in tears must've made Phob feel worse about himself.
These distressing events accumulated, creating a snowball effect until Phob felt jaded and defeated. Nothing seemed to be going right in his life as he faced one heartbreaking loss after another. Maybe killing himself was a swift, hasty decision, or perhaps he mulled over it for a long time. Either way, the suicidal thoughts infiltrated Phob's mind at the lowest point in his emotional state. Unable to feel happy or hopeful about the future, he finally succumbed to his dark impulses.
Phob's mom

Phob's mom has a memorable first flashback, setting the tone of the fraught relationship with her son. When her child misbehaved, she spoke severely and made him cry until he learned his lesson. Their tense exchange ended with tears and hugs, revealing her harshness was a form of tough love. This provocative introduction leaves you intrigued, conflicted, and uneasy about her character. She doesn't behave like a conventional parent.
Phob grew up in a family environment with an edge of hostility. His mom showed him love, but her feelings were jagged and mixed with subtle scorn. Some people have an inherent parental instinct, but she isn't one of them. In fact, Phob's mom felt resentful since she sacrificed her dream after having a child. Phob was an accidental pregnancy that ruined his mom's modelling career. Giving birth sabotaged her body, made her sick all the time, and led to post-partum depression. Phob's mom couldn't shake off the bitterness around her son, and his upbringing suffered as a result.
Her video message in Episode 9 is brutally honest. "I used to hate you so much," She tells her son bluntly, not the type of statement you'd expect from a mother. "I slowly loved you more and more, but I couldn't bury the hate." Her feelings towards Phob are complicated, fluctuating between fondness and frustration. "The hate I feel hasn't faded, but I love you." This complex statement sums up the tragic dichotomy of her character. Phob's mom wants to be a better parent, but she's unable to overcome her baggage and express the maternal warmth her child deserves.
Phob's dad

Phob's dad is portrayed in an unflattering light, so it's easy to hate him and only see his wrongdoings. However, he also suffered a lot. He's a widower with a terminally ill wife and his only son died in a car accident. These traumas are devastating enough to break anyone. Kinn must live with the consequences, constantly feeling guilty he wasn't a better husband or father.
A nasty argument between Phob and his dad was their last exchange in the living world. Kinn provoked a fight after insulting his son's fashion design, while Phob accused him of killing his wife. After losing a loved one, emotions were high and both characters made cruel remarks. This painful memory weighs on Phob's father. When given a chance to talk to his son's ghost, Kinn is remorseful and speaks sensitively. Maybe if they had communicated earlier, Phob might reconcile with his dad instead of choosing to face death alone.
Phob's dad had a hazy relationship with his next-door neighbour, Nuan. He appeared passive as she made advances toward him, perhaps giving her false hope when there weren't any sparks. In his defence, he was fragile and emotionally exhausted after caring for his sick wife. Nuan preyed on him with a deliberate agenda. To his credit, Kinn was never romantically involved with Nuan. "I don't love you, and I can't love you." He tells her, a decisive remark that she needed to hear long ago. Admirably, Kinn remained faithful before and after his wife's death.
Nuan

Nuan is the villain of Something in My Room, but I loved watching her character. The actress (Phiao) is fabulous with a dynamic range, serving juicy performances in every appearance. I was lapping up all her messy antics along the way. OMG, I screamed in delight when this wily temptress unbuttoned her blouse before Kinn. Go girl, seduce that widower! 😆 Admittedly, Nuan's behaviour is problematic, from spying on Phat's family to hitting on a man days after his wife died. I won't defend her actions, but her motivations are worth examining.
Nuan's parents pressured Nuan to settle down, even setting up arranged marriages. Her dad instilled an unhealthy mindset, making Nuan feel inferior because she couldn't find a partner. However, she had health problems and couldn't bear children. As she struggled to find a suitor, the rejections knocked her self-worth and made her feel unwanted. Then, she met the charming Kinn, but her dream man was already married. Once again, Nuan couldn't have what she desired, a recurring theme in her life.
After Kinn's wife fell ill, Nuan saw an opportunity to secure her happiness. Yet, her seduction backfired. Nuan wanted the relationship too badly and forced a grieving widow to fall in love with her. Driven by urgent desperation, she didn't care that her tactics were conniving or inappropriate. Nuan's character arc is heartbreaking because we witness a lonely woman who wants to be loved, but her life is filled with constant rejections. At the end, she accepts another crushing defeat and moves on. Nuan exits the series without a companion, but at least she regains her dignity.
Phob and Ben

Ben appeared in Episode 5 as a mysterious ex from Phob's past. Technically, Ben and Phob weren't in an official relationship, but they shared an intriguing romantic history. I love the vignette of how the characters met, developed an attraction, and shared a climactic kiss at the end of the episode. I also enjoy the dark twist to their relationship, revealing Ben's conniving side.
When we first met Ben, he seemed like the picture-perfect boyfriend from a fairytale romance. He was suave, charming, and effortlessly self-assured. However, Episode 6 exposed the façade and highlighted his secret insecurities. Ben would tell little white lies to prop up himself, fearing that Phob wouldn't like his real personality. Everything he presented about himself was a deliberately calculated performance to win over Phob.
You may have noticed the similarities between Ben and Nuan, whose characters are hopelessly lovestruck. They take their infatuation to an extreme, resorting to underhanded tactics and manipulating others to achieve their hidden agenda. In both cases, their actions are driven by desperation. They are lonely, scared of not being wanted, and suffer a crippling fear of unreciprocated love.
Ben

Something in My Room treated Ben as a villain and portrayed his deceit unflatteringly. However, I kinda felt sorry for him. He might be two-faced, but his phoniness manifested out of low self-esteem. Ben saw himself as plain and ordinary, unable to catch the attention of the campus stud. So, he compromised his personality and faked his interests to seem more appealing. It's pitiful that he didn't have the confidence to be himself around Phob.
I like that Ben was a vulnerable figure with all his flaws on display. It made him a more compelling love interest than Phat. To be honest, I was never invested in Phat & Phob as a couple. Phat seemed like a nice guy, but he was kinda vanilla and didn't excite me as a protagonist. After Ben was introduced, I finally felt the ~BL magic~ that was missing from Something in My Room so far. Comparing the two romances helped me realize that I prefer Ben and Phob, who had a complex and emotionally gripping relationship.
Ben and Phob have their final chat at the end of Episode 6. Ben flat-out asks Phob whether there was ever any romance in their relationship. We don't hear the actual response. Subsequently, we see Ben crying and burning the mementoes, an implicit sign that he must have gotten rejected. However, the final shot of Ben is him smiling poignantly through his tears. The imagery is surprisingly hopeful, indicating he isn't devastated by his heartbreak. We feel reassured that Ben won't be hung up on Phob anymore, and he's ready to move on.
Something in My Room Episodes
Episode Guide

Start Date January 19, 2022
End Date March 23, 2022
Episodes 10 episodes
Episode Length 60 – 75 minutes
Something in My Room has a total of 10 episodes. Each episode is around 60 to 75 minutes long. The last episode is around 75 minutes long. It is a long BL drama, and you can finish the entire series in around 12 hours. Something in My Room started airing on January 19, 2022 and ended its last episode on March 23, 2022.
Episode 1
Episode 2
Episode 3
Episode 4
Episode 5
Episode 6
Episode 7
Episode 8
Episode 9
Episode 10
Ending
Sad Ending

Something in My Room has a sad ending where Phob and Phat don't end up together. As expected, Phob resolves all his lasting regrets and gets reincarnated into the next life. There's no last-minute twist where he becomes a human or finds some excuse to remain in the living world. Once the 49 days have passed, Phob disappears from Phat's life forever.
In a way, it's a happy ending because Phob transitions into the next life peacefully. He doesn't become a lost wandering spirit, forever confined to the living world. However, Phob's reincarnation means that Phat doesn't have his boyfriend anymore. The two characters spent the first half of the finale kissing, having sex, and enjoying their remaining time as a couple. However, Phob suddenly departs without saying goodbye, leaving Phat devastated. Phat spends the rest of the episode moping and weeping, although his mom is there to comfort him.
Ending Explained

The final scene of Something in My Room occurs decades later. Phat is now an adult. In his narration, we learn that Phat became a teacher. He married a woman and started a family, but this relationship ended in a divorce. Recently, his mom passed away from illness. Phat is also diagnosed with a terminal disease, although he seems at peace and has accepted his fate.
Phat revisits his old family home, making his way to the bedroom. He lies in bed, closes his eyes, and hugs the pillow. Afterwards, we see him leaving home, where Phob suddenly appears at the front gate. Phob extends his hand, asking Phat if he is ready to go. The adult Phat has transformed into his younger self again. Phat smiles and replies that he waited so long for this moment. The two leads hold hands as they walk down the street, with the camera slowly panning upwards at the sky.
The implication is that Phat has passed away and reunites with Phob after his death. He sees Phob, who might be a hallucination or simply a piece of symbolism. Either way, both leads can finally be together now that they're dead. This ending indicates how Phat hasn't forgotten about the love of his life years later. In fact, Phob is so special to him that he's the one to greet Phat on his death bed. Before he passes away, the last person on his mind is Phob, who's there to help him reincarnate into the next life.
Something in My Room Interview
Something in My Room Information
Links