La Pluie is a Thai BL series about two protagonists who can communicate telepathically in the rain. The main character has a rare condition that causes a temporary loss of his hearing on rainy days. He also gains the supernatural ability to transmit his thoughts to a soulmate. However, this introvert has ignored his unique powers and tried to live ordinarily. On one fateful day, he meets his partner in person and becomes lovestruck.
Despite the intriguing fantasy twist, La Pluie underutilizes its creative premise and doesn't explore the ideas interestingly. The story emphasizes the concept of soulmates too much, diminishing the fun of seeing the leads fall in love. The telegenic actors share chemistry and have passionate encounters. Yet, their romantic journey is bland. The last few episodes suffer from overwrought relationship drama.
La Pluie Summary
What is the drama called?
ฝนตกครั้งนั้นฉันรักเธอ
Where was the series made?
Thailand
When was the drama released?
2023
How long is La Pluie?
Around 11 hours
What is the genre?
Fantasy
How would you describe the series?
Cute and sweet
How many episodes are in La Pluie?
12 episodes
How long is each episode?
Around 50 to 55 minutes
Plot

Tai has a condition called Sudden Sensorineural Hearing Loss. Anyone with this illness temporarily loses their hearing whenever it rains in proximity. Although it affects a small population, there is no treatment. Tai regains his hearing once the rain stops. He finds ways to cope with his disability, like bringing a pen and paper to communicate with others.
Beyond losing his hearing, Tai gains a new supernatural ability after becoming an adult. Whenever it rains, he can communicate telepathically with another person with the same condition. Due to their unique relationship, this individual is supposedly his "soulmate". Destiny allows them to hear each other's thoughts. Two years ago, Tai's soulmate started communicating with him. However, the introverted Tai ignored his prompts and never replied to his partner. Nonetheless, the anonymous soulmate continued talking to him in a one-sided conversation.
Tai doesn't believe in the idea of having a soulmate. His parents have the same condition. They met after communicating telepathically, fell in love, and started a family with four sons. Despite their happy family life, they eventually got a divorce. Tai reacted terribly to their separation. He blames his mom and distances himself from her. Tai's pessimism also stops him from communicating with his own soulmate. He doesn't want them to have any relationship.
Tai works as a writer for a magazine, La Boy Magazine. He reports to his boss Bow, who is also a close friend. Typically, Tai works from home instead of appearing at the office. Bow encourages him to stop being so introverted and socialize with people more. While working at the cafe, he meets a veterinarian named Patts. Tai instantly recognizes his voice and identifies Patts as his soulmate. As the two chat casually, they form a connection. After meeting in person, Tai changes his earlier stance and begins communicating with Phat more.
Tai has three siblings. His little brother Tien is a university student attending film school. Tien clashes with his classmate Lomfon and doesn't get along with him. However, Lomfon becomes interested in Tai and wants to know him better. Like Tai, Lomfon also doesn't believe in the idea of soulmates. He thinks telepathic communication is the mutual symptom of an illness, not because two people are bounded by destiny. As Tai explores his relationship with Patts, he reassesses the concept of them being soulmates.
La Pluie Trailer
La Pluie Cast
Characters
Tai
Title Tanatorn Saenangkanikorn (ไตเติ้ล ธนธร เสนางคนิกร)

Tai, also known as Saengtai, is a writer who works for his friend's magazine. He has a condition that causes temporary deafness on rainy days. Despite his telepathic ability, he ignores his soulmate's attempts to reach out to him. A natural introvert, Tai doesn't like socializing with others. He's cynical about love after his parents' divorce. Tai is the second oldest of four brothers.
Title Tanatorn Saenangkanikorn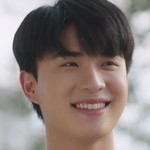 Title Tanatorn Saenangkanikorn (ไตเติ้ล ธนธร เสนางคนิกร) is a Thai actor. He is born on June 27, 2000. His first BL leading role is the 2023 drama, La Pluie. He also appeared in Until We Meet Again (2019), TharnType 2 (2020), My Only 12% (2022), Remember Me (2022), and Future (2023).
Patts
Pee Peerawich Ploynumpol (พี พีรวิชญ์ พลอยนำพล)

Patts is a veternarian. He has the same condition as Tai and loses his sense of hearing whenever it rains. The sociable Patts likes to chat, especially with his patients. He tries reaching out to his soulmate via telepathy, even though Tai ignored him for two years. Patts is good friends with his coworkers, Dream, Din, and Fin. During his adolescence, Patts had a close relationship with his grandmother.
Pee Peerawich Ploynumpol

Pee Peerawich Ploynumpol (พี พีรวิชญ์ พลอยนำพล) is a Thai actor. He is born on February 21, 1998. His first BL project is the 2020 drama, YYY. He also appears in Y-Destiny (2021) and La Pluie (2023).
Tien
Suar Kritsanaphong Sripattiyanon (เสือ กฤษณะพงศ์ ศรีภัททิยานนท์)

Tien, also known as Saengtien, is Tai's younger brother. He is the third oldest of four siblings. Tai is a film student and friends with Wittaya, Jessada, and Ratchanon. Tien clashes with his classmate Lomfon over an incident at the bookstore. Tien is upset since Lomfon purchased the last remaining copy of his favourite book. Since then, he has held a grudge.
Suar Kritsanaphong Sripattiyanon

Suar Kritsanaphong Sripattiyanon (เสือ กฤษณะพงศ์ ศรีภัททิยานนท์) is a Thai actor. He is born on September 24, 1998. His first BL project is a supporting role in the 2020 series, You Never Eat Alone. He is the lead of the 2022 drama, You're My Sky.
Lomfon
Copter Nuntapong Wongsakulyong (คอปเตอร์ นันทพงศ์ วงศ์สกุลยง)

Lomfon is Tien's classmate in film school. A natural loner, he clashes with Tien over an incident in the bookstore. Against their wishes, the pair must reluctantly work together on a school project. Lomfon meets Tai and forges a connection with him. Lomfon is curious about Tai's condition, particularly his ability to communicate telepathically. However, he doesn't believe in the concept of soulmates.
Copter Nuntapong Wongsakulyong

Copter Nuntapong Wongsakulyong (คอปเตอร์ นันทพงศ์ วงศ์สกุลยง) is a Thai actor. He is born on September 11, 1999. His first BL project is the 2023 drama, La Pluie.
Supporting Cast

Yadfah
Lek Funden Janyathanakorn (เล็ก ฝันเด่น จรรยาธนากร)

Warun
Lek Funden Janyathanakorn (เล็ก ฝันเด่น จรรยาธนากร)

Nara
Pakpai Pareena Busayasiri (ปารีณา บุศยศิริ)

Dream
Ormsin Supitcha Limsommut (ออมสิน สุพิทชา ลิ้มสมมุติ)

Bow
Ampere Suttatip Wutchaipradit (แอมแปร์ สุทธาทิพย์ วุฒิชัยประดิษฐ์)

Kung

Din

Fin

Pingpong
James Punnaphat Danaiarunphat (เจมส์ พัณณภัทร์ ดนัยอรุณพัฒน์)

Wittaya
Fourwheels Chayanond Boonmanawong (โฟร์วีล ชญานนท์ บุญมานะวงศ์)

Jessada
Kong Sarun Boonmongkol (ศรัณย์ บุญมงคล)

Ratchanon

Nuea
Boss Jettanut Mahattanapruet (บอส เจตนัตว์ มหัทธนะพฤทธิ์)

Jan
Palm Veerapat Chalermponprapha (ปาล์ม วีรภัทร เฉลิมพลประภา)

Nu

Professor
Chat Chatchai Peangapichart (ฉัตร ฉัตรชัย เพียงอภิชาติ)

Patts' grandma

Duer
La Pluie Review
Review

La Pluie has an original premise. On rainy days, the protagonists lose their hearing and gain the ability to communicate telepathically with each other. I was immediately intrigued by the unique concept, which offered lots of storytelling potential. This BL drama uses a supernatural twist to convey the complexities of living with a disability. How creative! Unfortunately, the series doesn't explore the topic with enough depth. La Pluie underutilizes its promising ideas and misses the opportunity to tell a meaningful story.
My favourite part about La Pluie is Title, the adorable actor playing Tai. He carries the series with a poised performance. This role seems tailor-made to highlight the performer's best qualities, from his bashful smile to his sensitive persona. The moment that swayed me was when he played with the stray cat in Episode 1. The overload of cuteness in that scene made me weak in the knees. Also, I'm fond of his character archetype in fiction. A shy, slightly tormented protagonist in glasses unlocks the way to my heart. La Pluie has cast a dreamy lead that I can easily champion.
The other cast members aren't as strong, showing limitations in dramatic scenes. Patts' actor (Pee) seems reserved when his role demands more charisma. With that said, he looks handsome on camera and forms a telegenic couple with his co-star. Their image is marketable in the BL industry. Also, they share great chemistry in intimate scenes. Each romantic encounter oozes passion and desire. One of the later episodes cracks me up due to the sex montage. We see the characters doing it in the bedroom, the shower, and the bathtub. Wow, they're everywhere!
Despite their sexual compatibility, Tai and Patts don't have an engaging romance. They fall in love quickly with little bonding, which takes away the fun of seeing them nurture their attraction. Patts seems smitten with Tai before even meeting the guy. The series emphasizes how the leads are soulmates so much that it feels obnoxious. The more it pushes the idea of a pre-destined bond, the less organic their connection feels. La Pluie also teases a love triangle with Lomfon, who challenges the notion of destiny. Yet, it doesn't execute the storyline compellingly.
The first half of La Pluie is mostly mediocre. However, the second half becomes aggravating. Firstly, the plot focuses too much on the ex-girlfriend, who brings needless drama. Secondly, Patts behaves like a jerk in Episode 10. Driven by jealousy, his feelings for Tai turn into an unhealthy infatuation. He loses control over his emotions to the extent that I worry about his mental health. His over-the-top response makes me doubt whether this couple should be together. As someone not invested in their relationship early on, I became even less of a fan during these last few episodes.
La Pluie annoys me with other storylines. Tai's hostility toward his mom is uncalled for. He throws childish tantrums over his parents' divorce instead of considering their feelings. Likewise, I have no interest in the secondary couple. Tien made an awful first impression with his pettiness toward Lomfon, and the rest of their scenes don't entertain me. This series has too many underwhelming plots that never fulfill the immense potential. As much as I like the adorable lead, the sexy encounters, and the mesmerizing atmosphere, La Pluie is ultimately disappointing.
Summary
Mediocre story
La Pluie has a creative premise, mixing a love story with a supernatural twist. Yet, it doesn't explore the topic with enough depth. Many storylines are annoying and not executed interestingly.
Inorganic romance
The leads share chemistry during intimate scenes. However, their love story is unengaging. I dislike the emphasis on them being soulmates, which makes their connection feel inorganic.
Adorable acting
The cast shows limitations in dramatic scenes. Nonetheless, Tai's actor (Title) is adorable and elevates the material with his poised performance. He forms a marketable couple with his costar (Pee).
Happy ending
La Pluie has a happy ending where Tai and Patts reconcile after their quarrel. The secondary couple also makes up. The finale feels uneventful and wastes too much time on filler.
Mesmerizing artistry
The series produces a mesmerizing atmosphere, especially when it films in the outdoors. The couple has many epic scenes in the rain, adding a dramatic flair to their exchanges.
67%
La Pluie has an adorable lead actor who shares decent chemistry with his handsome costar. Despite its creative premise, the love story underwhelms me and becomes increasingly aggravating.
La Pluie Episodes
Episode Guide

Start Date April 29, 2023
End Date July 15, 2023
Episodes 12 episodes
Episode Length 45 minutes
La Pluie has a total of 12 episodes. Each episode is around 50 to 55 minutes long. The last episode is around 55 minutes long. It is a long BL drama, and you can finish the entire series in under 11 hours. La Pluie started on April 29, 2023 and ended its last episode on July 15, 2023.
Episode 1
Episode 2
Episode 3
Episode 4
Episode 5
Episode 6
Episode 7
Episode 8
Episode 9
Episode 10
Episode 11
Episode 12
Episode Reviews
Episode 1
I like the vibe of the premiere, even if not everything is perfectly executed. The creative premise intrigues me, exploring disabilities through the lenses of a fantasy love story. Tai's actor is adorable! 😚
Episode 2
Who is cuter: Tai or the cat? I laugh that Tai suddenly cares about his soulmate after discovering he's an attractive doctor. 😆 A few subplots annoy me, like the family scenes and the secondary couple.
Episode 3
I adore whenever La Pluie films scenes in the rain. Rainy days always make Tai & Patts' meetings feel epic. I wish the story focused on their disability instead of the schmaltzy romantic encounters.
Episode 4
Tai's actor is doing a good job! I like how he emotes in the scene when reading Patts' letter, showcasing cuteness and shyness. The love story progresses too slowly. Let's trim some of the filler.
Episode 5
I enjoy the scene where Patts has dinner with the father, highlighting Tai's closeness with his dad. Tai and Lamfon's budding bond also intrigues me. Wow, Tai took off his clothes in lightning speed! LMAO.
Episode 6
The kissing scene is decent, conveying juicy sexual tension. I giggled when Tai threw his glasses on the floor. I like his cute bashfulness at the start. The rest of the episode is slow and feels like filler.
Episode 7
My least favourite plots in BL dramas are the needless love triangles. 😒 We need more sex scenes and less aggravating relationship drama. I giggle at the lustful camera angle before Tai's BJ, hehe~
Episode 8
Tai's reaction to his boyfriend's kiss is over the top. I dislike how he endangers his safety and makes everyone else worry about him. The outdoor scenes in this episode are very pretty.
Episode 9
I like how La Pluie doesn't vilify the ex and gives her a sympathetic portrayal. However, let's move on from her dull subplot, which occupies too much time. I want to learn more about Patts' character.
Episode 10
Is Patts psychologically unwell? His jealous behaviour in this episode is too melodramatic. He goes from a boring nice guy to an unreasonable asshole. I'm glad Tai breaks up with him.
Episode 11
OMG, I'm worried about Patts' mental health. He's having a total meltdown. Please get therapy and pull yourself together. While I'm glad Tai reconciles with his mom, the family scenes are boring.
Episode 12
I'm excited about the GL pairing, hehe! The finale takes forever to bring the leads together and resolves their conflict shallowly. It focuses too much on Tai's POV, whereas Patts barely appears.
La Pluie Information
Links
Acttraction Entertainment

Acttraction Entertainment is a Thai studio. Its portfolio of work includes La Pluie (2023), the studio's first BL drama.