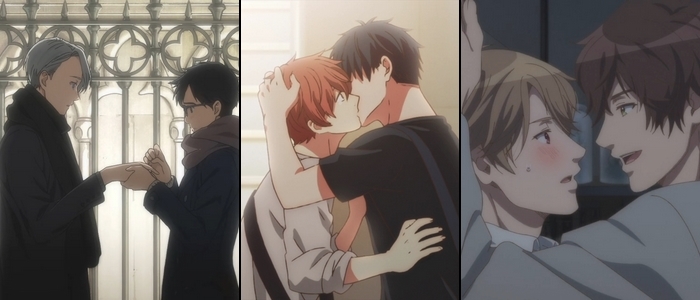 From my memory, it always felt like BL anime existed as a genre for as long as I can remember. Before BL dramas or movies became mainstream, BL animes and mangas were like the first frontier, depicting male romances in fiction even when it was taboo in society.
In anime, the BL genre is closely related to yaoi or shounen ai, which are labels that describe a very similar type of story. Yaoi is more explicit, shounen ai is more innocent, and BL tends to be the best of both worlds. This genre is a popular niche among certain demographics. I don't love using the term fujoshi, which has somewhat negative connections. Let's just say that people with good taste usually watch BL animes!
Despite its long history, there is surprisingly not a lot of anime to watch in this genre. Trust me, I've done my research on this topic, searching high and low for some BL anime recommendations. You'd be amazed and disappointed at how little the selection there is compared to all the other genres.
And since the selection is so small, this makes it even harder for a good anime series to come along. As rare as they may be, there're still some excellent options. BL Watcher has consumed them all and here are some of my best BL anime recommendations!
List of BL Anime and Yaoi
2023 BL
2022 BL
2021 BL
2020 BL
2019 BL
Pre-2019 BL
BL Anime in 2023

Buddy Daddies is a Japanese anime series about two professional assassins who must raise a kid together. During a shootout, the protagonists killed a four-year-old girl's father, leaving her parentless. They accept the responsibility of becoming her caregiver. This energetic child brings unexpected joy, excitement, and chaos into their daily routines. Yet, their dangerous line of work threatens the livelihood of the untraditional family unit.
While Buddy Daddies isn't a BL anime, the story's themes contain implicit LGBTQ+ messaging. It showcases two men sharing fatherhood responsibilities in an unconventional family structure. There is no romantic content, limiting my appreciation from a BL perspective. Even so, this series is enjoyable due to its charm, humour, and enthusiasm. Each delightful episode highlights the lovable characters and their hilarious antics.
Non-BL comedy
Happy & funny
12 episodes
5 hours

Mask Danshi is a Japanese BL anime about a shy high school student. The protagonist is self-conscious and always wears a mask to hide his appearance. He catches the interest of a handsome classmate who wants to befriend him, even though they are total opposites. One has a quiet and nervous personality, while the other is outgoing and popular. Despite their differences, they start hanging out and form an unusual relationship.
The Mask Danshi anime tells a solid love story in twenty minutes. Each relationship scene is playful, sassy, and flirty. Adrenaline builds in the couple's romance and unleashes exciting displays of passion. However, their feelings for each other seem superficial, resembling a physical attraction rather than an emotional connection. Also, the narrative is too rushed and lacks substantial development. Don't expect anything too profound.
School romance
Nice & heartwarming
1 episode
20 mins

Mignon is an 18+ Korean BL anime series about a cage fighter and his intense relationship with a doctor. The main character is an up-and-rising boxer who participates in arena fights for money. Each violent match leaves him wounded and in need of medical attention. A compassionate doctor attends to his injuries and tries to convince him to quit this dangerous career. Despite their close bond, a shocking revelation changes their relationship forever.
A gritty and sexy anime, Mignon reveals a bold twist at the end of the first episode. The rest of the series follows the couple's exhilarating journey amid dangerous circumstances. With many twists and turns, this exciting story evokes intrigue, anticipation, and brooding emotions. It also teases palpable sexual tension, leading to a racy sexual encounter in the finale. Everything comes together beautifully thanks to the stylish, atmospheric artwork.
18+ drama
Dark & toxic
12 episodes
1 hour

Sasaki and Miyano: Graduation is the movie sequel to the Japanese BL anime series. It continues the sweet love story of a high school couple who recently started dating. The main characters must find a way to express their feelings and explore their physical desires. In addition, they worry about how friends and family will react to their relationship. The protagonist also deals with the stress and uncertainty of university entrance exams.
The Sasaki and Miyano movie will appeal to fans of the anime series. This excellent sequel contains the same genuine charm and compassionate spirit as the original. It portrays the school romance enchantingly, capturing the thrills and tenderness of a newly dating couple. Each exchange unfolds like a teen fantasy. The film also approaches mature topics with gentle sensitivity, displaying so much sincerity and emotional depth.
School romance
Nice & heartwarming
Movie
1 hour
BL Anime in 2022

Mori no Kuma-san, Toumin-chuu is a Japanese 18+ BL anime series with humanoid animals. The protagonist is a gentle bear who finds an orphaned baby dog and adopts him in his home. Later, the bear goes into hibernation. When he wakes up, the puppy has matured from infancy and developed a sexual appetite. The characters must figure out the blurry line between a familial bond and an irresistible attraction.
I don't want to take Mori no Kuma-san too seriously since it's a raunchy anime with little substance. The narrative is heavy on senseless eroticism and light on everything else. Among many problems, I'm most troubled by the icky romance between an adoptive parent and his rapidly aging child. Also, a steamy love story with two animals has no appeal to me, especially one as plotless as this series.
18+ erotica
Sexy & steamy
9 episodes
1 hour

Sasaki and Miyano is a BL anime series about the tender love story between two high school students. The main character is a BL fanatic who befriends an upperclassman, introducing him to the world of Boys Love manga. As they bond over their mutual interest, their relationship develops from a casual friendship to a blossoming attraction. However, the protagonist is hesitant to acknowledge his feelings and feels insecure about a romance.
I love the endearing characters, emotional romance, and empathetic messages in Sasaki and Miyano. This heartfelt series features an introspective coming-of-age journey. The story portrays a wholesome teenage crush with warmth and compassion. It reminds me of a cozy YA novel, capturing the giddy feelings of falling in love for the first time. This sweet, gentle anime will appeal to many fans of the BL genre.
School romance
Nice & gentle
12 episodes
5 hours
BL Anime in 2021

Dakaichi: Spain Arc is the movie sequel of the Japanese BL anime series, Dakaichi. This film continues the volatile love story between two famous actors. The protagonist travels to Spain to polish his dancing skills for an upcoming drama. He meets some quirky, memorable locals who share a history with his love interest.
The Dakaichi movie has a thin, meandering plot that takes a while to get to the point. Later, the story perks up with a few compelling scenes that leave an emotional impact. This film is stylish and atmospheric with beautiful visuals. Unfortunately, it continues to glorify ugly nonconsensual encounters, just like the original series.
Romance
Nice & gentle
Movie
75 minutes

Fairy Ranmaru is a fantasy anime series with homoerotic undertones. The story focuses on five fairies from a fallen kingdom. They descend to the human world, using magical superpowers to help various ordinary women with their troubles. As the fairies fight for justice, a rogue enemy works against them to spread discord and despair.
Although Fairy Ranmaru includes multiple gay romances and kissing scenes, the BL content has a minimal focus. Nonetheless, this campy anime is a titillating guilty pleasure with provocative visuals, skimpy outfits, and lots of flamboyant flair. Regrettably, this series suffers from oversimplified plots and formulaic episodes, limiting the entertainment value.
Non-BL fantasy
Dramatic & intense
12 episodes
5 hours

Reincarnated Into Demon King Evelogia's World is an 18+ BL anime adaptation, also known as Everything for Demon King Evelogia. In this nine-episode series, a young man is transported into a fictional video game world. He meets the game's final villain, an innocent-looking demon king, and they embark on an adventurous journey together. The anime has an uncensored version, packed with erotic scenes between the main characters.
As long as you don't take the story seriously, Reincarnated Into Demon King Evelogia's World is pretty imaginative for smut. Even though it doesn't have a sophisticated plot or a sensible romance, this raunchy yaoi series is mindlessly entertaining. It won't be everyone's cup of tea, but the anime is more enjoyable than I expected.
18+ erotica
Sexy & steamy
9 episodes
1 hour

Adapted from a Korean novel, Semantic Error is a slice-of-life BL anime series with four short episodes. The main characters are two university students working on a video game project together. Despite their drastically different personalities, the attraction between them is palpable.
I liked what I saw in the Semantic Error anime, which showed tons of promise with an engaging romance. However, the series is frustratingly short at just fifteen minutes long. Any storytelling feels abbreviated, like I'm watching an incomplete remake that only covers a small part of the source material.
Slice-of-life
Cute & sweet
4 episodes
15 minutes

The Night Beyond the Tricornered Window is a paranormal horror anime series with subtle BL undertones. The main characters use their supernatural abilities to exorcise ghosts and cursed spirits in the living world. Over time, they go from a working partnership to developing a close bond.
With a high-concept story, The Night Beyond the Tricornered Window is often confusing and does not explain its narrative clearly. There's also a lack of romantic content for BL fans. Nonetheless, this anime adaptation takes you on a dark, intriguing, and psychologically thrilling adventure. Despite not being satisfied with every aspect, the series grew on me and I liked it more than I expected.
Non-BL horror
Dark & toxic
12 episodes
5 hours
BL Anime in 2020

The Given Movie takes place where the anime series previously left off. This film sequel follows the band's progress as they work towards a music festival audition. Unlike the anime series, the movie shifted its focus towards a messy love triangle, fuelled by lots of arguments, tears, and sexual tension.
For those of you excited about this movie, you may want to keep your expectations down. Sadly, the Given movie doesn't capture the same magic as the anime series.
Romance
Spicy & romantic
Movie
1 hour

Adapted from a manga, The Stranger by the Beach is a slice-of-life BL anime movie about two guys who live on an island. They first met on the beach as strangers, back when they were still kids. Now that they are older, their relationship takes a more intimate turn.
The Stranger by the Beach is an aesthetically beautiful anime with bright and colourful visuals. However, the storytelling is pitiful, the pacing is totally off, and the movie doesn't feel friendly to those who haven't read the source material.
18+ romance
Deep & mature
Movie
1 hour

The Titan's Bride is an 18+ BL anime about an ordinary student magically summoned into the land of the titans. Against his will, the human protagonist becomes the bride of a powerful titan king. He must adjust to his foreign surroundings, the arranged marriage, and a horny husband who wants to share his affections.
Ugh, can you feel me shudder? The Titan's Bride is the type of terrible BL that tests my resolve to watch every show in this genre. I think this yaoi series is garbage in almost every aspect, from the problematic tropes to the ridiculous romance. The story is rushed beyond comprehension with shallow characters, stupid scenarios, and senseless sex scenes.
18+ erotica
Sexy & steamy
9 episodes
1 hour

Twittering Birds Never Fly: The Clouds Gather is an anime movie based on a yaoi manga. I have not read the manga beforehand, but I think I was able to follow the gist of the story based on watching the movie adaptation.
With that said, this anime was a lot more intense than I expected, thrusting me into the criminal underworld of a promiscuous yakuza and his spiraling life. It's a provocative tale about sex, power, crime, and most importantly – the lasting repercussions of trauma.
18+ crime drama
Dark & toxic
Movie
90 minutes

Yes, No, or Maybe Half? is a BL anime movie based on a Japanese light novel. The main character is a TV presenter who maintains a poised persona in public, even though his real personality is petty and belligerent. Only his new acquaintance has seen both sides of him, but is unaware these two drastically different personalities belong to the same person.
For a short one-hour film, Yes, No, or Maybe Half tells a cute, compelling love story at a comfortable pace. This anime deals with the theme of duality, exploring the discrepancies between perception and behaviour.
18+ romance
Nice & gentle
Movie
50 minutes
BL Anime in 2019

On the surface, Given has a simple premise. This is an anime series about a group of guys who get together to form a band. As you dive deeper into the series, you'll discover there's a bigger, more intimate story beneath the bright visuals and cool guitar riffs.
This BL anime takes its time to build up to the main plot, but it's an emotional journey that will tug at your heartstrings. When Given reaches its climax near the end, this anime comes pretty close to perfection.
Drama
Nice & gentle
11 episodes
4 hours

Papa Datte, Shitai is an 18+ BL anime about a single father and his young housekeeper. The main character is a divorced dad busy with a full-time job and raising his young son. He hires a new housekeeper to take care of the household errands. Their relationship quickly escalates past professional boundaries when an attraction forms between the two men.
Initially, I dismissed Papa Datte, Shitai as frivolous yaoi erotica with zero sense or substance. As the storyline progresses, I begrudgingly admit the anime tackles more mature themes than expected. Nonetheless, this steamy series is too shallow, too sleazy, and too silly to be taken seriously beyond smut.
18+ erotica
Sexy & steamy
8 episodes
40 minutes

Partner's Territory is a short slice-of-life Korean BL anime. The first episode is a quick prologue that describes a critical moment in a gay couple's relationship. The second episode is an extended epilogue, highlighting the happy domestic life between the main characters. These two romantic partners live together, enjoy passionate encounters, and even adopt a dog.
Loosely adapted from a webtoon, Partner's Territory has a relaxing vibe with plenty of affectionate encounters between the couple. Unfortunately, it feels like an incomplete story, where we only see the beginning and the end of a romance. This slice-of-life anime is ultimately too short, simple, and inconsequential to make a lasting impression.
Romance
Cute & sweet
2 episodes
15 minutes
Other BL Anime Series

Antique Bakery is an anime series about a newly opened bakery shop. The protagonist hires a talented and openly gay pastry chef, despite sharing a troubled history together. They are joined by other employees with colourful personalities, as the characters work together to help this business flourish.
Adapted from a manga, Antique Bakery will keep you entertained with its endearing characters and charming storylines. Admittedly, the BL content is minimal and won't satisfy those expecting a full-fledged gay romance. Nonetheless, this anime mixes lighthearted comedy with bittersweet melancholy to create a consistently enjoyable series.
Non-BL drama
Deep & mature
12 episodes
5 hours

Dakaichi: I'm Being Harassed by the Sexiest Man of the Year is a BL anime about two high-profile celebrities and their secret romance. The main character is a talented actor with a famous reputation as the most desirable man in show business. However, he is unnerved by an up-and-coming star who steals the spotlight from him. As they work together on a movie, their relationship is mixed with tension and temptation.
The glaring issue in Dakaichi is its offensively irresponsible approach to consent. This problematic anime fetishizes many nonconsensual sexual encounters, creating an uncomfortable and dangerous relationship dynamic. Even if the story is compelling in some places, I remain deeply disturbed by the excessive amount of toxic tropes.
18+ romance
Spicy & romantic
13 episodes
5 hours

Hyperventilation is an 18+ Korean BL anime series with six short episodes. The protagonist used to be a social outcast in high school due to his lung condition, causing him to hyperventilate all the time. He formed a connection with the popular class president, who showed compassion towards him. Years later, they meet again during a school reunion, rekindling old feelings between the former classmates.
I'm impressed with Hyperventilation, a breathtaking love story that really hits the mark. The narrative is riveting and wraps up elegantly in just fifteen minutes. Although the art quality is inconsistent, this anime maintains a beautiful atmosphere that highlights the delicate emotions.
18+ romance
Spicy & romantic
6 episodes
20 minutes

Love Stage!! is a BL anime series that focuses on the celebrity world. The main character comes from a family of actors and musicians, but he personally has no interest in chasing fame. His world changes forever when one of the most popular celebrities develops a romantic interest in him.
I have extremely mixed emotions about Love Stage, a bright and vibrant anime series overshadowed by its problematic elements. What should have been a lighthearted romantic comedy is marred by the uncomfortable main romance. Sadly, I can't overlook the nonconsensual relationship dynamic, which dampens any positives about this BL anime.
Romance
Happy & funny
10 episodes
4 hours

Merman in My Tub is a quirky slice-of-life anime adapted from a manga. This comedy series features a larger-than-life merman living with a human in his bathroom. As the characters develop an unusual bond, they are occasionally joined by the merman's eccentric friends from the sea.
There's no BL content in Merman in My Tub, although some elements may appeal to fans of the genre. This charming comedy can win you over with lighthearted stories, silly characters, and offbeat comedy. The series is perfectly enjoyable as long as you don't have any relationship expectations.
Non-BL slice-of-life
Happy & funny
13 episodes
1 hour

Someone Else's BL Cartoon is a Korean BL anime about a high school romance. The story focuses on a straight-laced student who befriends a delinquent in his class. They develop an unlikely friendship over their mutual tastes in music. As the two teenagers spend time together, their platonic relationship starts to intensify.
Loosely based on a webtoon, Someone Else's BL Cartoon is a terrible adaptation. This low-budget series suffers from a dull narrative, ugly visuals, and an incoherent romance. The story also stops suddenly and doesn't provide closure for the viewers. It feels like they barely put any effort into creating this pitiful BL anime.
School romance
Sad & emotional
11 episodes
20 minutes

Yuri!!! on Ice is a BL anime about a figure skater's journey after he hit rock bottom in his professional career. Just as the main character was about to give up on his lifelong dream, one of the elite pros sees tremendous potential in him and agrees to be his mentor. Their teacher-student relationship causes quite a stir in the skating world, as Yuri is taken on a whirlwind adventure in his professional life.
Anyone who watches BL and anime knows that Yuri!!! on Ice is like the pinnacle series. You'll find it on all the recommendation lists of the best BL anime. With crisp animation, colourful characters, and dazzling storylines, I can attest that Yuri on Ice does live up to the massive hype. This series is considered the gold standard for all BL anime.
Sports drama
Deep & mature
12 episodes
5 hours