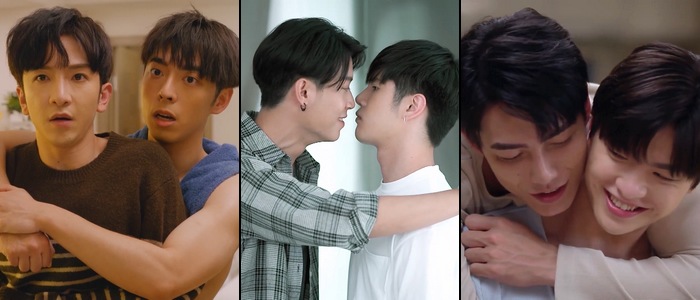 This year introduced many new 2021 BL series, including numerous Japanese, Korean, Taiwanese, and Thai dramas. There was also a dramatic increase in BL shows from the Philippines, Vietnam, and Hong Kong. Unfortunately, the pandemic imposed tricky filming restrictions, causing delays or significantly impacting production schedules. Nonetheless, the popularity of BL continued to grow worldwide, and 2021 remained a strong year for this genre.
In my opinion, one of the top 2021 BL dramas was Bad Buddy. This delightful romantic comedy features a captivating story and a juicy relationship, carried by two charismatic leads with immense chemistry. The series gets every detail right, creating a sweet, sentimental, and sexy romance. Bad Buddy is the very definition of BL, and it captures all that I love about this genre.
Another highlight is A Tale of Thousand Stars. You don't often come across such a thoughtful and uplifting love story, set in a unique backdrop of a small Thai village. In addition to an engaging romance, the plot also contains many meaningful themes and messages. A Tale of Thousand Stars sets a new standard for BL excellence, and it will stay as one of my lifetime favourites.
I also adore Ossan's Love Hong Kong, a remake of the original Japanese drama from a few years ago. This charming romantic comedy is hilarious, lighthearted, and incredibly polished. It's also the first televised BL series in Hong Kong, portraying a gay couple endearingly to demographics of all ages. This TV show sets a culturally momentous milestone in the city's LGBT history.
My list of the best BL series in 2021 includes:
Hong Kong: Ossan's Love Hong Kong
Japan: What Did You Eat Yesterday?, My Love Mix-Up
South Korea: Light On Me
Taiwan: Papa and Daddy
Thailand: Bad Buddy, A Tale of Thousand Stars, Not Me
There were many other entertaining BL dramas, movies, and anime series released in 2021. Notably, some popular BL shows were released around the end of the year. To keep track of everything, I have compiled a list of 2021 BL dramas to watch, ranked from best to worst.
Please note it's nowhere near a comprehensive list of all the BL shows released this year. I'm aware numerous entries from various countries are missing. My problem is I have too much to watch and too little time! As I watch each drama one by one, the 2021 BL series list will be routinely updated.
Other 2021 Series